In August 2021, a May 2020 map purportedly depicting "states with a population less than DFW" (Dallas-Fort Worth, Texas) continued circulating on Facebook: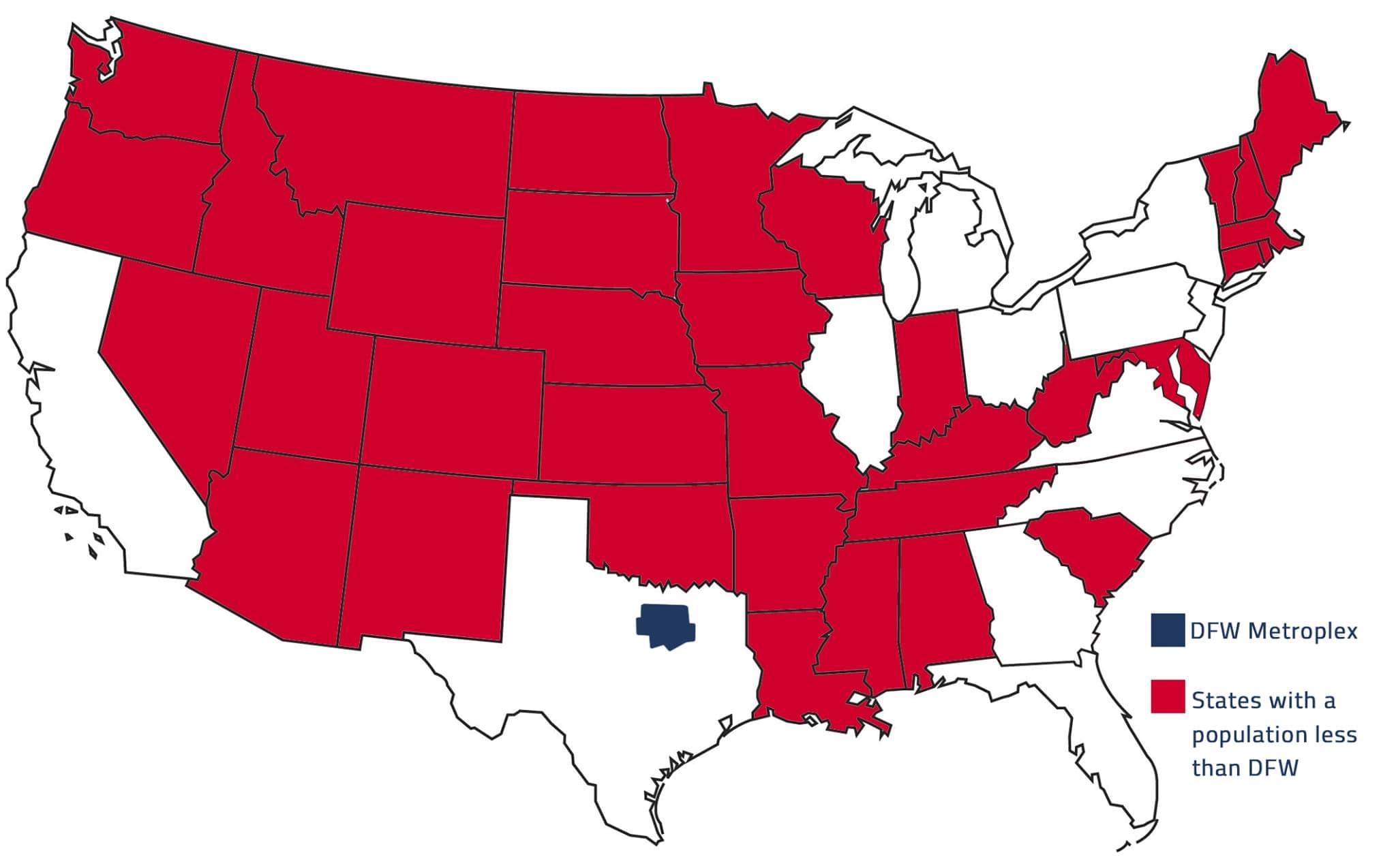 In an appended post, the sharer wrote: "Wow this just blew my mind ????". However, no source or context was included, and the post approached 30,000 shares as of August 2021.
Reverse image search indicated that versions of the map absent that labeling circulated as early as 2017, as did an August 2017 Reddit r/MapPorn match with slightly different framing — states with a population "smaller than New York City":
A more similar map (and likely template) appeared on r/MapPorn in January 2017:
On May 14 2020, a user shared the "DFW" iteration to r/Dallas:
In esssence, both variations — states less populous than New York City, and states less populous than Dallas-Fort Worth — were predicated on the same basic math. The January 2017 "New York City" version labeled the states on the map, making the math slightly easier.
On the labeled map, twelve states labeled as having a population higher than that of Dallas Fort-Worth or New York City were:
California;
Texas;
Michigan;
Illinois;
Ohio;
New York;
Pennsylvania;
New Jersey;
Virginia;
North Carolina;
Georgia, and;
Florida.
According to Wikipedia's Dallas–Fort Worth metroplex entry, the "Dallas–Fort Worth–Arlington metropolitan statistical area's population was 7,637,387 according to the U.S. Census Bureau's 2020 US Census." That particular broader classification of "metropolitan statistical areas" in the United States used a slightly different scale than the New York City version of the map, grouping New York City with Newark and other densely populated localities.
Per that list, Dallas-Fort Worth was the fourth-largest "metropolitan statistical area" in the United States. The top three were (by location and population as of 2020]:
New York City-Newark-Jersey City, NY-NJ-PA MSA [20,140,470];
Los Angeles-Long Beach-Anaheim, CA MSA [13,200,998];
Chicago-Naperville-Elgin, IL-IN-WI MSA [9,618,502], and;
Dallas-Fort Worth-Arlington, TX MSA [7,637,387].
Figures for the population of DFW were identical on both entries: 7,637,387.
Encyclopedia site InfoPlease.com hosted a list of states ranked by population as of 2019, with the only additional state absent from the DFW map being Washington, with a population of 7,614,893:
California, 39,512,223;
Texas, 28,995,881;
Florida, 21,477,737;
New York, 19,453,561;
Illinois, 12,671,821;
Pennsylvania, 12,801,989;
Ohio, 11,689,100;
Georgia, 10,617,423;
North Carolina, 10,488,084;
Michigan, 9,986,857;
New Jersey, 8,882,190;
Virginia, 8,535,519, and;
Washington, 7,614,893[.]
The fourteenth most populous state on the list was Arizona at 7,278,717, its population lower than the 7.6 million estimate for the DFW area. A WorldPopulationReview.com list of states ranked by population for 2021 featured slightly different numbers, with Arizona still below the 7.6 million threshold at 7.5 million.
A popular Facebook post's map, "States with a Population Less Than DFW," appeared to be based on an earlier map delineating states with a population smaller than that of New York City. As of August 2021, estimates for the population of DFW (Dallas-Fort Worth) appeared to be at around 7,637,387, whereas the state of Washington had an estimated 7.7 million residents (a difference of roughly 68,000 people). As such, the map is somewhat accurate, if somewhat out of context.