On June 6 2023, business reporter Max Abelson shared a photograph to Twitter which purportedly showed a "Donald J. Trump Resuscitation Room" at "the White Plains hospital":
Abelson described the image as a "real thing in the White Plains hospital," but offered no further information about the sign or image. For context, White Plains is a smaller city north of Manhattan, in Westchester County, New York:
White Plains is a city in Westchester County, New York, United States. It is the eleventh-largest city in the state of New York, an outer suburb of New York City, and the county seat and commercial hub of Westchester County, a densely populated suburban county that is home to approximately one million people. White Plains is located in south-central Westchester County. Its downtown (Mamaroneck Avenue) is 25 miles (40 km) north of Midtown Manhattan.
White Plains, New York was home to at least three facilities listed as "hospitals," one of which was a "rehabilitation center." NewYork-Presbyterian's White Plains hospital appeared to be primarily focused on psychiatry, leaving White Plains Hospital as the sole general hospital located in White Plains.
A search for "Donald J. Trump Resuscitation Room" (without quotes) led to a March 11 2016 MedPage Today article, "Tweet of the Week: The Donald J. Trump Resuscitation Room." It was published before Trump's election to the office of President in 2016, as part of a series of "tweets of the week" on MedPage Today.
It read in part:
This week's [tweet of the week] winner is … Patrick DiJusto … [who] shared this photo taken in a White Plains, N.Y., hospital that, we're sure, doesn't do justice to the very amazing care provided, which we guarantee you, is probably the best in the world, and is going to be "yuge."
MedPage Today embedded DiJusto's tweet from March 2016. It featured what appeared to be a different image of the same "Donald J. Trump Resuscitation Room" plaque (apparently captured when the sign was in a newer condition):
In the MedPage Today excerpt, text reading "this photo taken in a White Plains, N.Y., hospital" was hyperlinked. That link pointed to White Plains Hospital's website, and opened as an error page: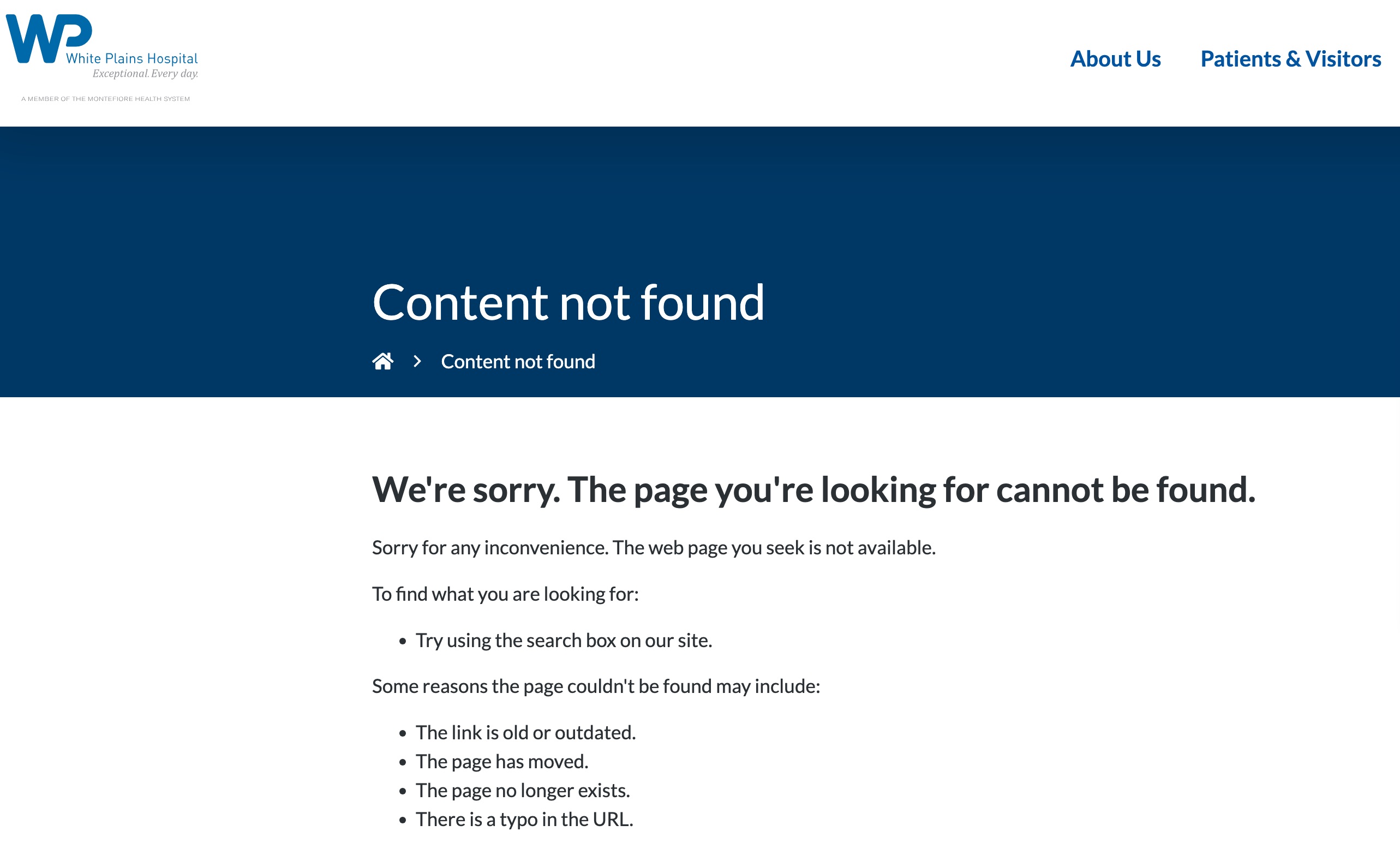 Using the Internet Archive's Wayback Machine, we searched for an archived copy of the linked URL. It was archived 16 times between October 2014 and June 2017, and a 2014 copy of the page looked like this: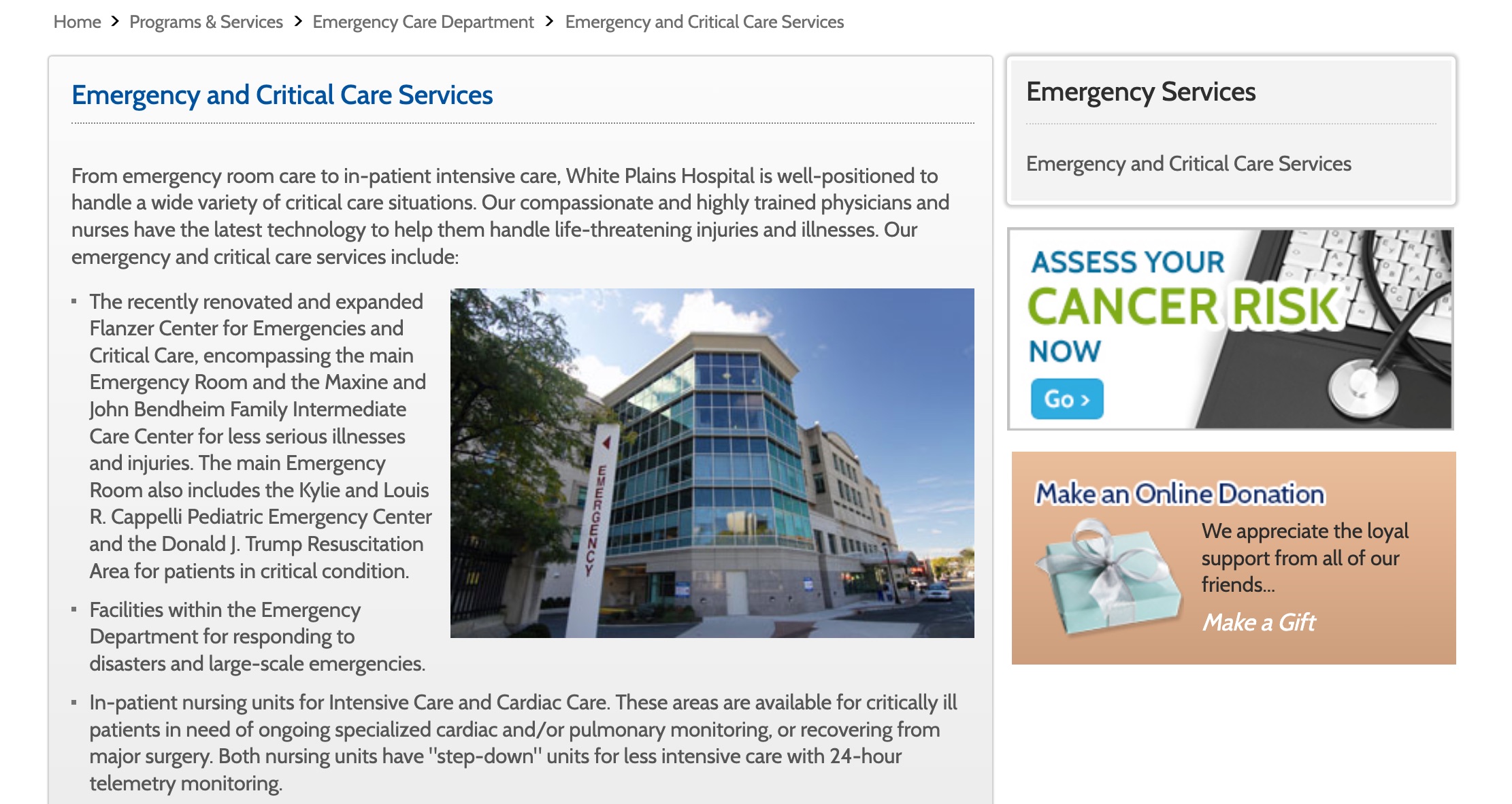 Originally, the linked page appeared on White Plains Hospital's website; text at the top placed it under "Programs & Services > Emergency Care Department > Emergency and Critical Care Services." Text in the screenshot above confirmed that a Donald J. Trump Resuscitation Room existed at White Plains Hospital at one point, but it wasn't clear if the room had been renamed or otherwise decommissioned.
Websites for facilities and other public-facing services were often renovated, breaking years-old links as information is moved from place to place on the site. A possibility remained that the information about White Plains Hospital's Donald J. Trump Resuscitation Room remained on White Plains Hospital's website (wphospital.org), but it had been moved at some point in the intervening years.
We used wphospital.org's internal search function to search for "Trump," seeking any pages confirming the Donald J. Trump Resuscitation Room remained in service in June 2023. There were no matching results: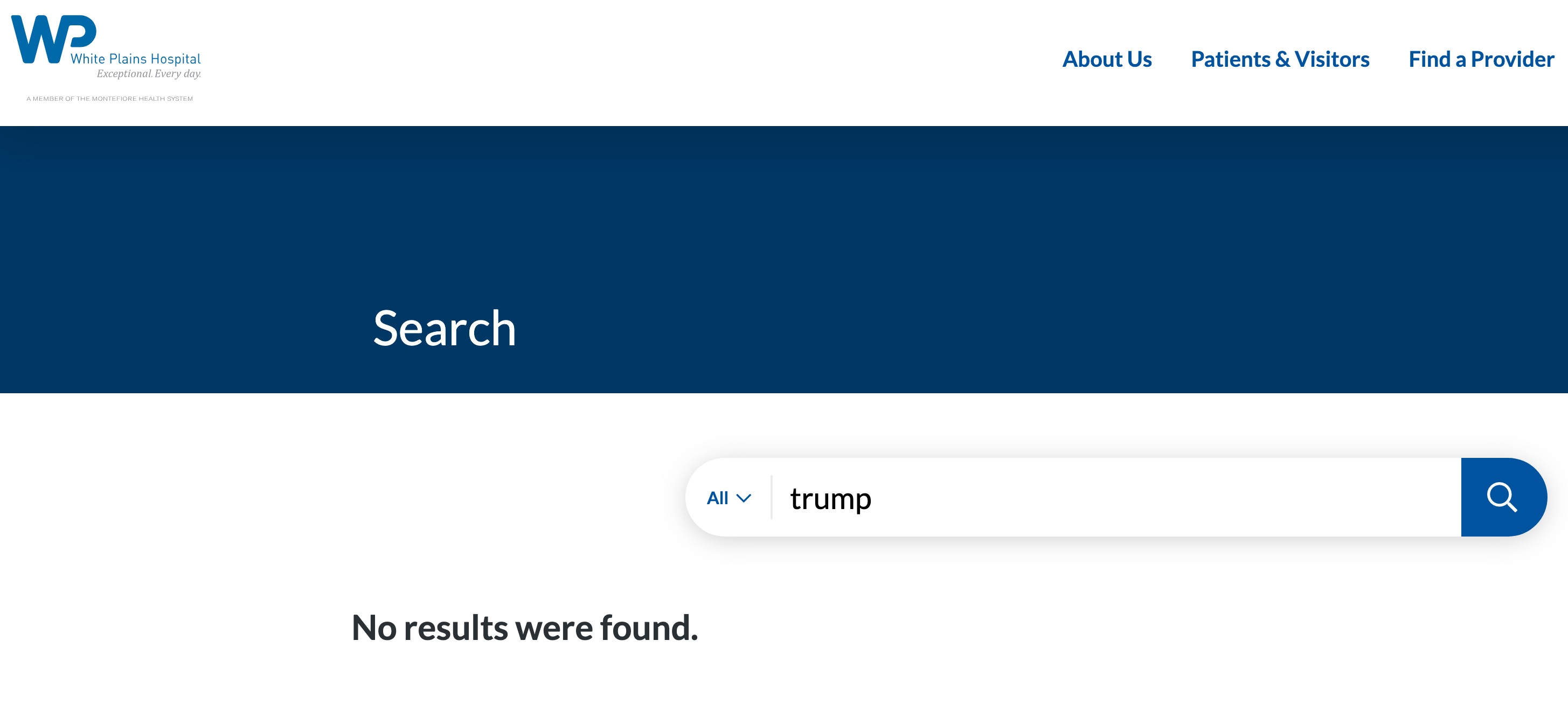 The Internet Archive last captured a live version of the White Plains Hospital page in question on June 19 2017, a possible indicator that the entry was taken down due to a controversy or political issue around the time of its final capture. Pinpointing what — if anything — about the Trump administration in the news cycle in June 2017 might have prompted that decision would be difficult, thanks to the sheer number of ongoing controversies at any given time in any given year of his presidency (a sure sign of firehosing.)
Trump's single term in office was sufficiently eventful, warranting a large category on Wikipedia with the title "Timelines of the Donald Trump presidency." In total, the category had 28 distinct and often detailed entries; we found the timeframe we needed featured in the "Timeline of the Donald Trump presidency (2017 Q2)" entry.
In contrast to Trump's Wikipedia categories in a single-term presidency, the former President's two-term predecessor Barack Obama also was the subject of a "timelines" category. In total, Obama warranted nine distinct entries for an eight-year term.
Each week in the Trump entry's quarter was numbered, with the week beginning Monday June 12 2017 at "Week 22." Trump successor Joe Biden's timelines were also broken down into weeks instead of years.
Biden's entry for the second quarter of his first year in office (2021) can be found here, and in Biden's "Week 22," four bullet points in total appeared across those seven days. The first five days of Trump's "Week 22" alone evidenced the volume of potential controversies occurring at the time, and how difficult it would be identify any particular occurrence or occurrences that might have prompted White Plains Hospital to remove the plaque or, at least, the page about it:
Monday, June 12 [2017]

President Trump holds his first full cabinet meeting at the White House since his inauguration, blaming the Democrats for delaying some of his nominees.
President Trump hosts the NCAA champions Clemson Tigers at the White House.
The Attorneys General of Maryland and the District of Columbia file a lawsuit against President Trump, alleging violation of the emoluments clause.
A second federal court rejects President Trump's appeal to lift the injunction against Executive Order 13780, citing a lack of 'sufficient justification' for the travel ban.

Tuesday, June 13 [2017]

President Trump hosts a luncheon at the White House with Republican senators to discuss repealing the Affordable Care Act.
It is reported that 70% of Trump Organisation properties sold since the election have been to anonymous LLC's, while before the election the figure was 2%.
The president blocks VoteVets, a veterans group representing 50,000 veterans, on Twitter.
President Trump promotes opening technical apprenticeships to teenagers in a workforce development roundtable discussion in Milwaukee, Wisconsin.
Attorney General Sessions testifies to the Senate Intelligence Committee on matters related to alleged Russian interference in the 2016 U.S. presidential election.

Wednesday, June 14 [2017]

Special counsel Robert Mueller is conducting an investigation into whether the president obstructed justice.
President Trump and Vice President Pence send messages of support to those affected by a shooting incident in Alexandria, Virginia.
Almost 200 Congressional Democrats file against President Trump a third lawsuit alleging violation of the Foreign Emoluments Clause, the ongoing suits being D.C. and Maryland v. Trump and CREW v. Trump.
The Department of Education withdraws its finding that an Ohio school district discriminated against a transgender girl.

Thursday, June 15 [2017]

President Trump and First Lady Melania Trump visit congressman Steve Scalise, who was critically wounded in the Virginia shooting incident a day earlier.
President Trump describes on Twitter alleged collusion with Russia as a "phony story" in response to reports that he has been under investigation for possible obstruction of justice following the dismissal of James Comey on May 9 [2017].
President Trump appoints Eric Trump's wedding planner to run federal housing in New York.
DNI Dan Coats meets with the Senate Intelligence Committee in closed session to address issues from his testimony of June 7 [2017].
President Trump signs an executive order promoting apprenticeships, increasing the funding for job-training programs by 5.5%, and giving more freedom to third-party companies and schools to craft these programs.
President Trump and First lady Melania Trump attend the investiture ceremony of Justice Neil Gorsuch at the Supreme Court.

Friday, June 16 [2017]

The administration partially rolls back the thawing of ties with Cuba.
The White House tries to lessen the severity of a sanctions bill on Russia.
Deputy Assistant Secretary for Strategic Operations and Outreach in the Office for Civil Rights (OCR) of the U.S. Department of Education (and the Office's Acting Assistant Secretary) Candice Jackson releases new guidelines regarding bathroom policy for transgender students.
In a Twitter post, President Trump confirms that he is under investigation for obstruction of justice, reiterating his claim that it is a 'witch hunt.'
President Trump announces a roll-back of the Obama administration's policy of easing restrictions with Cuba at a rally in Miami, Florida.
The presidential Commission on Combating Drug Addiction and the Opioid Crisis, led by New Jersey Governor Chris Christie, holds its first meeting at the White House.
On June 6 2023, a viral tweet depicted the "Donald J. Trump Resuscitation Room," described as a "real thing in the White Plains hospital." A search for the Trump "resuscitation room" plaque led to a March 2016 MedPage Today entry, linking to a page on White Plains Hospital's website. The page was last archived in June 2017, and a June 6 2023 search for "Trump" on the site did not return any links to live pages. The plaque was real, however, and White Plains Hospital listed the Trump room on its website from October 2014 to June 2017. The page and any mention of Trump appeared to have been scrubbed in or around June 2017, and it wasn't immediately clear whether the room itself still bore the name of the disgraced former president.