NBC Sports Presenter Takes Up Right-Wing 'Litter Boxes' Smear
NBC Sports presenter Tony Dungy promoted — and quickly deleted — the right-wing hoax about students "identifying as cats," a further sign of how disinformation can be laundered from fringe online circles into legitimate media.
Dungy, a member of the Pro Football Hall of Fame, wrote on January 18 2023:
That's nothing. Some school districts are putting litter boxes in the school bathrooms for students that identify as cats. Very important to address student needs.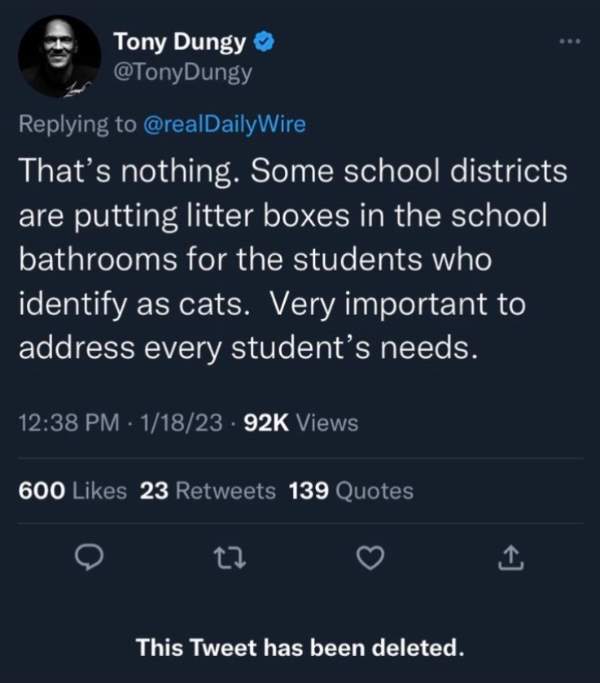 The tweet was in response to one from a right-wing blog complaining about a proposed bill in Minnesota that would require menstrual products to be placed in school restrooms for grades 4 through 12; the bill's sponsor, Democratic Rep. Sandra Feist, drew attention from both actual media and anti-LGBTQ blogs for saying "not all students who menstruate are female" in response to an amendment limiting the products to girls' bathrooms.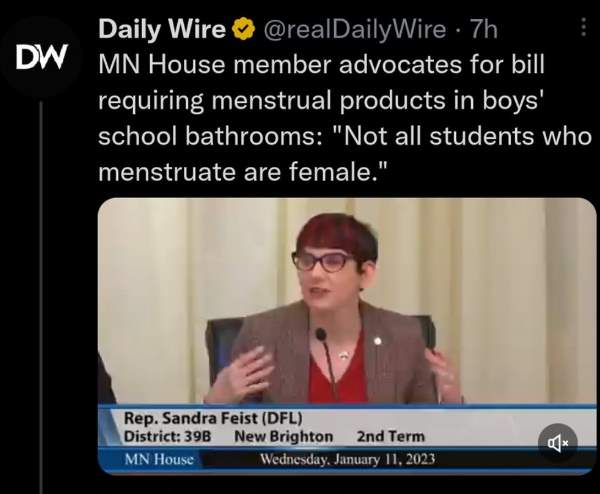 Dungy's quickly-deleted lie made him the figure with the highest national profile to push the repeatedly debunked claim that students were "identifying as cats" and requesting litter boxes. In reality, only one school has confirmed using kitty litter in classrooms, and that was for a legitimate, far darker reason — officials in Colorado school district said in November 2022 that they placed boxes for students to use for classroom lockdowns during mass shooting attacks.
But Dungy taking up the smear in response to a transphobic complaint also tracks with a history of anti-LGBTQ behavior on his part. In 2006, Dungy (at the time the coach of the Indianapolis Colts) was the guest of honor for a homophobic group, the "Indiana Family Institute" (IFI). As Outsports reported at the time:
IFI is affiliated with Focus on the Family, a rabidly anti-gay organization that has made it its mission to oppose gay marriage rights, among other issues of gay equality. Focus on the Family hosts a conference series called Love Won Out, which asserts that gay people can be "cured" of being gay. Among the group's online initiatives is No Moo Lies, which claims that, because dogs can't moo like a cow, people aren't supposed to be gay.
Seven years later, he said on Twitter that he did not agree with the "lifestyle" of Jason Collins, a gay pro basketball player. That tweet remains active:
@StampedeBlue I don't agree with Jason Collins' lifestyle but think he deserves respect and should have opportunities like anyone else!

— Tony Dungy (@TonyDungy) May 3, 2013
In July 2014 Dungy was criticized for saying he would not have drafted Michael Sam, a college player entering the league who made history by revealing he is a gay man. Dungy claimed at the time that Sam's sexuality would be too much of a distraction to the team that selected him.
"Not because I don't believe Michael Sam should have a chance to play, but I wouldn't want to deal with all of it," he said. Later that month, Dungy claimed in a statement that he meant the "distraction" would be created by media coverage of Sam.
A week before Dungy's "litter boxes" tweet, Outsports also reported that both he and fellow presenter James Brown had appeared for years at events organized by anti-LGBTQ religious figure Andrew Wommack:
Wommack's anti-gay stance is not subtle. In 2021, he declared that being gay is so detrimental to people's lives, "we ought to put a label across their forehead: 'This could be hazardous to your health.'"

He added that homosexuality is worse for someone's health than smoking cigarettes:

In one of his online teachings, Wommack spends an hour lashing out at homosexuality and the homosexual "lifestyle."
Dungy also spoke at an anti-abortion "march" event in Washington D.C. in January 2023. Journalist Zach D. Roberts captured footage of a member of the right-wing extremist group Patriot Front handing flyers out at that event:
Members of patriot front heading out flyers once again at March for life in Washington DC today pic.twitter.com/fWD5MTHJT3

— Zach D Roberts – Photojournalist (@zdroberts) January 20, 2023
NBC Sports has yet to publicly comment on Dungy's remarks.