Did Trump Say Amy Coney Barrett is 'Much Better Looking' Than Other Supreme Court Justices?
Claim
United States President Donald Trump said Supreme Court nominee Amy Coney Barrett "is much, much better looking than the women we have had" on the court.
Like this fact check?

Reporting
As the United States Senate proceeded with the Supreme Court confirmation process for Judge Amy Coney Barrett on October 13 2020, a fabricated quote recirculated on Facebook repackaged as a graphic.
Within hours of being posted, the meme had amassed more than 1,000 shares. The key to the graphic is that the quote is made up to resemble U.S. President Donald Trump's speech patterns — in other words, to sound like "something he would say" in praising Barrett:
Reporters: Mr. President? Can you tell us your biggest reason for the choice of Amy Barrett?
Trump: "Well, you know you have to look at what we have had in the court. I think, I think it's important that they have a good image, they need a terrific image, so people will say they can, believe me. I'm not saying any names, but you look at these people, and they are not that nice, not nice to look at, not at all. I think Amy is much, much better looking than the women we have had.

I think people know this, they know. If people are more attractive, they get a fantastic amount of respect, and we need to have that, we need that now. That I can tell you."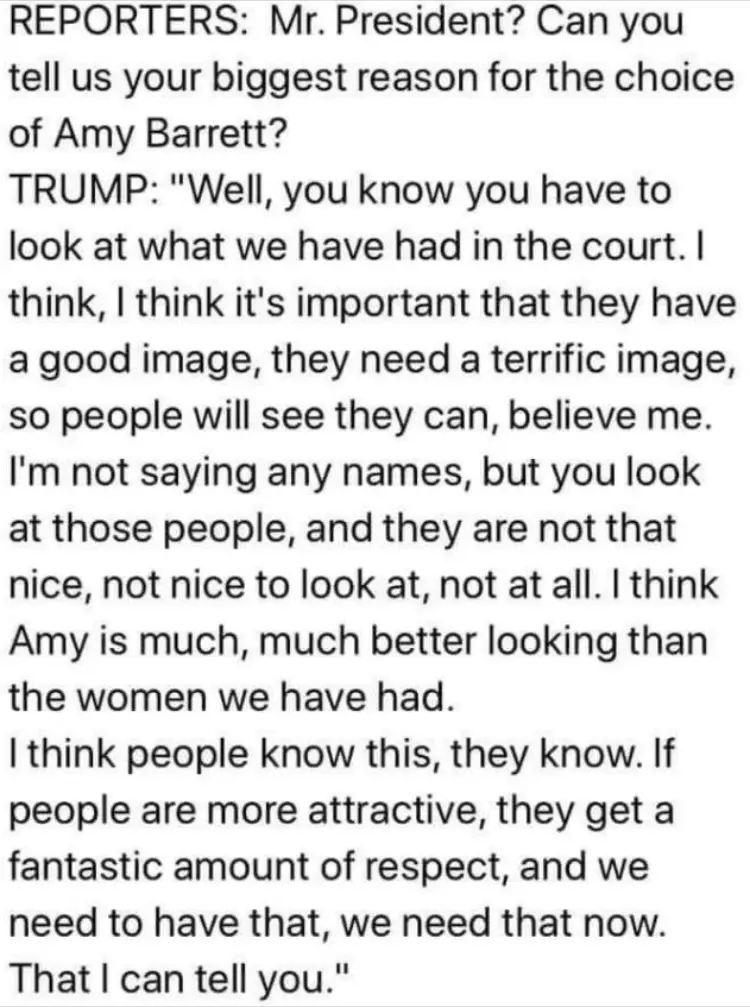 There is no evidence that Trump has described Barrett in this fashion anywhere, including at the September 26 2020 White House event that has been described as a "superspreader event" since several Republican lawmakers and White House personnel subsequently tested positive for COVID-19.  However, the text matches up exactly with a separate user's post that month that has been shared more than 450 times. When asked to provide proof of that it was a real quote, they replied, "I think I'll let you go ahead and do your own research."
Barrett was nominated to the high court after serving less than three years on the U.S. Court of Appeals for the 7th Circuit. An analysis of her work there by SCOTUSBlog said she showed "a high rate of ruling for conservative outcomes in all types of decisions." Critics have described her nomination — coming amid both the ongoing pandemic and the GOP Senate's refusal to take up relief legislation — as part of a right-wing push against not only reproductive rights but also the Affordable Care Act, which the Trump administration has targeted in a case slated to come before the court the week after the 2020 presidential election.
Barrett was also part of the team of Republican operatives in 2000 sent to Florida to help count mail-in ballots in Florida on behalf of then-Republican Party presidential nominee George W. Bush. The Supreme Court ultimately upheld the tally, giving Bush the victory over Democratic Party nominee Al Gore, despite the latter famously winning the popular vote by hundreds of thousands. In 2020, Trump has launched several false claims attacking mail-in voting, while at the same time pushing for the high court to be made up mostly of conservatives in the event of another disputed election.