On April 5 2023, a Reddit user shared a screenshot indicating that Twitter had abruptly applied a "state-affiliated media" label to the main feed for the National Public Radio network:
A Twitter screenshot itself contained a screenshot of what appeared to be NPR's primary Twitter account. Underneath @NPR, a label read "[United States] state-affiliated media."
Fact Check
Claim: Twitter added a "state-affiliated media" label to NPR's account.
Description: On April 5, 2023, it was noticed by a Reddit user and reported on truthorfiction.com that Twitter had added a 'state-affiliated media' label to NPR's account. This conclusion was supported by screenshots and visits to NPR's Twitter timeline. The claim also highlighted that Twitter's definition and labelling policy was changed about the same time. Though it was not clear why the label was added in the first place, speculation arose that it might be related to owner Elon Musk's push to monetize Twitter's verification systems.
NPR's Twitter Timeline
We visited @NPR's Twitter timeline on April 5 2023. As shown in the screenshot, a "state-affiliated media" label was visible in its "bio" field; the label also preceded every tweet: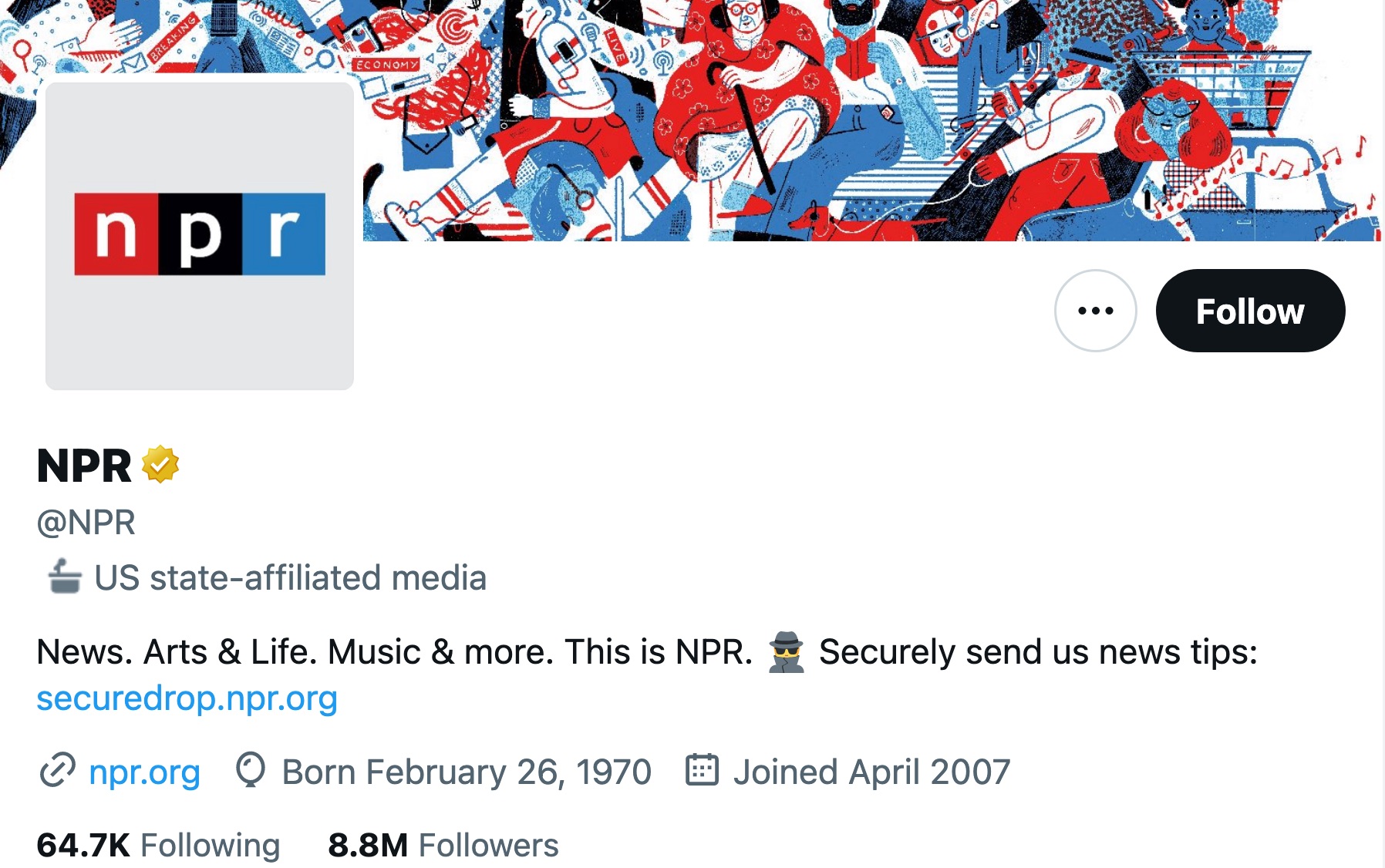 A copy of twitter.com/NPR was archived on April 4 2023, and the "state-affiliated media" label had not yet been added. Clearly, the claim was accurate. However, the relevance and reasoning behind the label required context.
State-Affiliated Media
On August 6 2020, technology news site The Verge reported the introduction of "state-affiliated" labels in order to cut back on state-sponsored disinformation:
Twitter will label the accounts of government officials and state-affiliated media outlets, following similar policies from Facebook and YouTube. The new labels are already being applied [in August 2020] but will roll out gradually, with government labels being applied to officials from China, France, Russia, the United Kingdom, and the United States. Twitter will also stop recommending tweets from state-affiliated media.

Twitter says the labels will provide context to help users make informed decisions. Its public officials rollout focuses on accounts that represent "the voice of the nation-state abroad" and are likely to engage in geopolitical discussion on Twitter. The US State Department has a label (as does Secretary of State Mike Pompeo), for example, while the Treasury Department doesn't. Twitter also isn't labeling the personal accounts for heads of state, saying these accounts already enjoy "widespread name recognition, media attention, and public awareness."
An embedded tweet from @TwitterSupport described the labels on August 6 2020:
A Reuters article published on the same day referenced a blog post from Twitter further explaining the labels:
Our mission is to serve the public conversation and an important part of that work is providing people with context so they can make informed decisions about what they see and how they engage on Twitter.

Twitter provides an unmatched way to connect with, and directly speak to public officials and representatives. This direct line of communication with leaders and officials has helped to democratize political discourse and increase transparency and accountability. We also took steps to protect that discourse because we believe political reach should be earned not bought. In 2019, we banned all state-backed media advertising and political advertising from Twitter. Today we're expanding the types of political accounts we label.

We will add new labels to the following categories of Twitter accounts….
After defining the types of accounts for which the labels were introduced, Twitter addressed specific aspects. One section ("How do we define state-affiliated media accounts for these new labels?") explained why "state-affiliated media" was subject to labeling.
In fact, the initial blog post cited NPR as an example of an organization with "editorial independence," and which was therefore not subject to labeling:
State-affiliated media is defined as outlets where the state exercises control over editorial content through financial resources, direct or indirect political pressures, and/or control over production and distribution. Unlike independent media, state-affiliated media frequently use their news coverage as a means to advance a political agenda. We believe that people have the right to know when a media account is affiliated directly or indirectly with a state actor. State-financed media organizations with editorial independence, like the BBC in the UK or NPR in the US for example, will not be labeled. As part of the development of this process, we consulted with a number of expert groups, including members of the Digital and Human Rights Advisory group in Twitter's Trust & Safety Council.
We will also no longer amplify state-affiliated media accounts or their Tweets through our recommendation systems including on the home timeline, notifications, and search. Government accounts listed in category one are not affected by this change.

To offer even more context to the public, clicking the labels on both categories of accounts directs people to an article explaining the policy and referring them to the Twitter Transparency Report for additional information.
On February 11 2021, Twitter's "state-affiliated" labels were in the news again, due at that point to the ban of former U.S. President Donald Trump from the platform following the January 6 insurrection. On February 28 2022 (amid Russia's invasion of Ukraine), Politico.com reported on Twitter's renewed focus on disinformation campaigns as they related to active war zones.
That coverage indirectly demonstrated the manner in which such labels were perceived:
Twitter will begin labeling content from Russian state-affiliated media websites, the company announced [on February 28 2022], amid a flood of Russian-backed disinformation related to the Kremlin's invasion of Ukraine.

The company began labeling and de-amplifying official Russian media accounts in 2020, Twitter said. The additional action announced on [February 28 2022] applies to individual Twitter accounts that share links from those state-affiliated sites.

"Since the invasion, we've seen more than 45,000 Tweets a day from individuals on Twitter sharing these links — meaning that now the overwhelming majority of content from state-affiliated media is coming from individuals sharing this content, rather than accounts we've been labeling for years as state-affiliated media," Twitter spokesperson Elizabeth Busby told POLITICO in an email.
When Was NPR Categorized as 'State-Affiliated Media' on Twitter, and Why?
A copy of Twitter Help's "About government and state-affiliated media account labels on Twitter" page retrieved on April 5 2023 contained a slightly modified version of the "editorial independence" excerpt:
State-financed media organizations with editorial independence, like the BBC in the UK for example, are not defined as state-affiliated media for the purposes of this policy.
A copy of the page archived on April 4 2023 contained the original language, indicating that Twitter had made the change on April 4 or 5 2023:
State-financed media organizations with editorial independence, like the BBC in the UK or NPR in the US for example, are not defined as state-affiliated media for the purposes of this policy.
On April 5 2023, several prominent news organizations reported on Twitter's labeling of NPR. Many of the articles vaguely hinted that a dispute about newsrooms being forced to pay for verification badges prompted owner Elon Musk to add the designation as retaliation:
The move by Twitter follows a decision to remove the "Verified" checkmark from the New York Times' main Twitter account after the news organization said it would not pay for Twitter Blue, a service launched before Musk's Twitter takeover but revamped by the Tesla founder. Musk also criticized the Times after announcing he would have the icon removed.

Musk said in 2022 that legacy blue checks would be removed and that the only way to have one would be to pay for Twitter Blue, sparking controversy and concern about the possibility of misinformation on the site. Legacy checkmarks were set to be removed on Apr. 1 [2023], causing many verified outlets and users – including basketball star LeBron James – to say they would not pay for the service. So far, the legacy checkmarks are still visible on the site.
British newspaper The Independent reported that Musk had falsely applied the label to NPR, adding that NPR stated that less than a single percent of its budget came from the United States government:
According to NPR, less than 1 per cent of its annual operating budget comes from grants awarded through federal agencies and the Corporation for Public Broadcasting, a publicly funded nonprofit organisation with a board appointed by US presidents, and with a statutory obligation to a "strict adherence to objectivity and balance in all programs or series of programs of a controversial nature."

Since its founding more than 50 years ago, NPR has asserted editorial independence from any government agency.

The outlet is repeatedly targeted by right-wing critics, from "#DefundNPR" campaigns to statements from members of Congress accusing the company of "illegally" using taxpayer funds.
On April 5 2023, NPR President John Lansing tweeted a statement in response to the action by Twitter:
Summary
Around April 5 2023, Twitter added a "state-affiliated media" label to NPR's @NPR account. As of April 4 2023, Twitter's "state-affiliated media" help pages described NPR (along with the BBC) as editorial outfits free of governmental influence. It was not precisely clear why the label was added, but several news organizations speculated that it related to owner Elon Musk's push to monetize Twitter's verification systems.