Amid the public devaluing of Twitter's subscription and "verification" service, a satirical photo gained traction by feeding into the worst public perception of the platform's right-wing owner.
A tweet circulating on April 22 2023 featured a photograph made up to resemble Twitter's terms of service webpage and claiming that the platform's "Hateful Conduct" policy had been altered to include the $8 Twitter Blue label:
Fact Check
Claim: Twitter has added "Twitter Blue" subscriptions to its terms of service as a protected status against hateful conduct.
Description: The claim made was that Twitter has added the Twitter Blue subscription service to its terms as a protective status within its Hateful Conduct policy.
You may not directly attack other people on the basis of race, ethnicity, national origin, caste, sexual orientation, gender, gender identity, religious affiliation, age, disability, serious disease, or Twitter Blue status.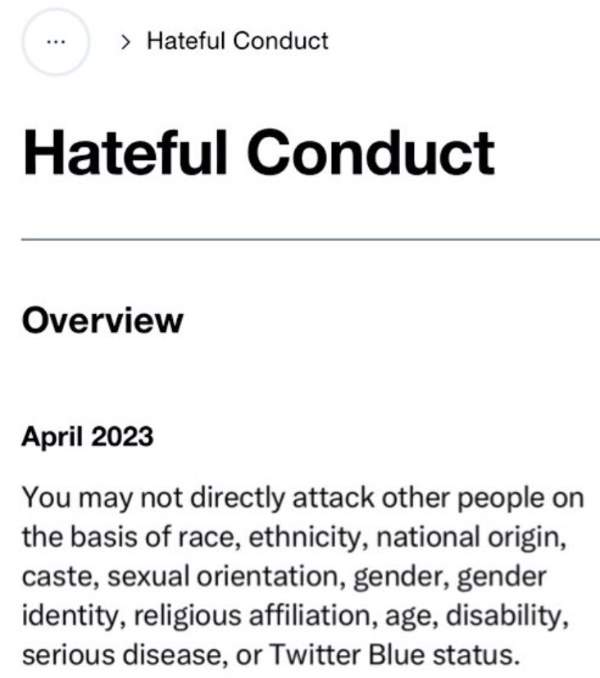 A look at the actual website shows that this is not the case. What is true is that Twitter removed langauge protecting transgender users from harassment on the platform. As the technology news site Ars Technica reported:
An archived version of Twitter's prior policy, dated April 7, clearly stated that Twitter prohibited "targeting others with repeated slurs, tropes or other content that intends to dehumanize, degrade or reinforce negative or harmful stereotypes about a protected category. This includes targeted misgendering or deadnaming of transgender individuals." ("Deadnaming" refers to calling a trans person by their former name.)

But on April 8, the policy language changed to strike that last line.
As Mashable reported, that decision has prompted several LGBTQ+ community organizations to leave the platform.
"Twitter has become increasingly unsafe in recent months for LGBTQ and BIPOC people with anti-LGBTQ, anti-trans, anti-Black, and antisemitic tweets on the rise. The removal of this policy was the last straw," said Denise Spivak, head of the non-profit network CenterLink, which includes more than 300 groups serving those communities.
The debate around Twitter Blue membership and its worth took several turns beyond the spread of the faux "Hateful Conduct" graphic, which was published two days after Musk's deadline for "verified" users — that is, public figures or institutions who had confirmed their identities to Twitter and had the original "blue checks" attached to their profiles — to begin paying the $8 monthly Twitter Blue subscription or be stripped of that distinction.
As NBC News correspondent Ben Collins reported, the vast majority of verified users did not accept Musk's terms.
"Of the 420,000 legacy verified blue checks, about 320 signed up for Twitter Blue and around 290 got rid of Twitter Blue," Collins wrote on April 21 2023.
Collins himself was one of several journalists expressing support for what has become known as the #BlockTheBlue campaign, urging Twitter users to pre-emptively block Twitter Blue subscribers — several of whom are largely known for falling in line with Musk. As Mashable reported, an app specifically created to expedite blocking of subscriber accounts allowed more than 10,000 accounts to perform at least 610,677,100 blocks against Twitter Blue subscribers.
"99% of twitter blue guys are dead-eyed cretins who are usually trying to sell you something stupid and expensive, and now they want to pay a monthly subscription fee to boost their dog shit posts front and center," said Paul Dochney, popularly known on Twitter as @dril.
The following day, hours after the "Hateful Conduct" photo had spread, dril was several prominent users on the platform remarked that their verification status had been reinstated — despite them not paying any fee for it:
According to Mashable, "this latest crop of spite checkmarks is an unambiguous attempt to antagonize people who overtly criticize Musk and people who pay for Twitter."
As Rolling Stone reported, Musk himself had admitted to paying for author Stephen King and pro basketball player LeBron James' accounts to be "re-verified." The Twitter accounts formerly belonging to deceased celebrities like Anthony Bourdain, Chadwick Bozeman, and Kobe Bryant — and journalist Jamal Khashoggi — were also re-issued verification status, though it is unclear who paid for that to happen.
The "verification" debacle unfolded less than a month after Bloomberg News reported that the top 10 advertisers on the platform spent a combined $7.6 million in March and April 2023 — an 89 percent decrease compared to a combined $71 million in advertiser spending for September and October 2022.