Was Brooke Shields Photographed for 'Playboy' at Age 10?
Claim
Brooke Shields was photographed for "Playboy" when she was ten years old.
Reporting
In March 2019, the following meme appeared (archived here), containing a claim that Brooke Shields had been photographed suggestively for Playboy magazine when she was just ten years old: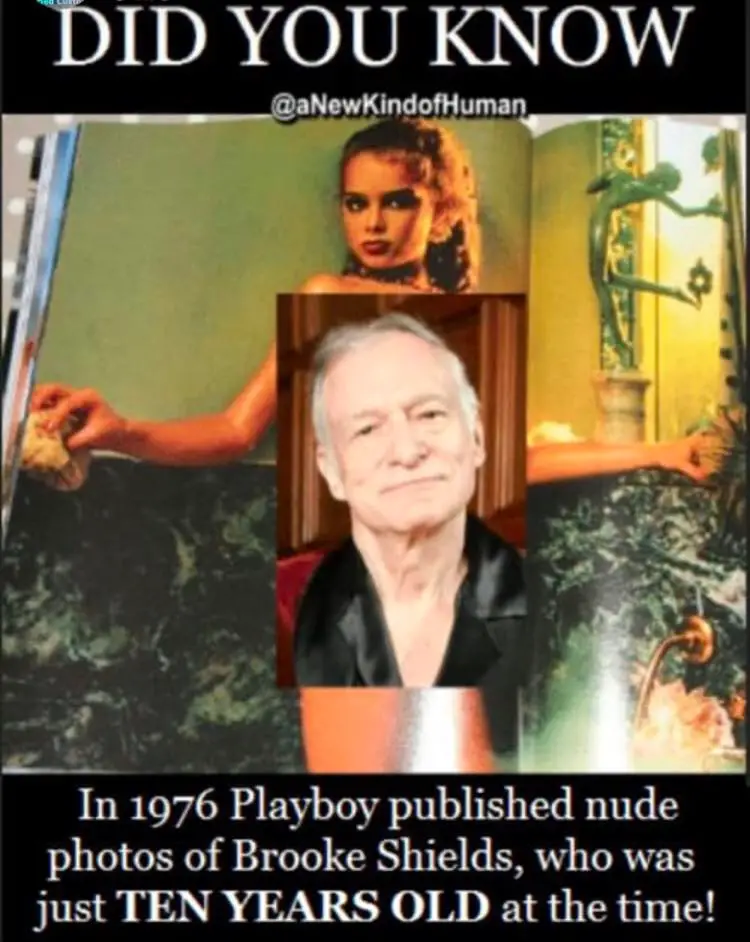 The image featured a heavily made-up small girl who looked quite a lot like Shields and an inserted image of Playboy founder Hugh Hefner covering her presumably naked body, with text that read:
DID YOU KNOW?

In 1976 Playboy published nude photos of Brooke Shields, who was just TEN YEARS OLD at the time!
No comment, sources, or citations were provided, and a watermark on the image (@aNewKindofHuman) suggested that it originated elsewhere earlier.
In 2009, the Guardian published a story about the image and its photographer Garry Gross. It provided a recounting of a controversy involving photographs captured of a then-ten-year-old Brooke Shields in 1975 (not 1976). The photographs did not appear in Playboy, but they were shown in a related publication called Sugar 'n' Spice:
The Richard Prince photograph of Brooke Shields that Tate Modern recently withdrew from the exhibition Pop Life, after Scotland Yard suggested it might break obscenity laws, travelled across the Atlantic carrying a long history of controversy. It shows a 10-year-old Shields, oiled and glistening, naked and made-up, posing in a marble bathtub with a seductive danger that belies her years. She has, in Prince's description, "a body with two different sexes, maybe more, and a head that looks like it's got a different birthday."

When artist Collier Schorr sublet Prince's studio in the 1980s, the photograph was hanging in the hallway. "I always thought that it was a perverse picture," says Schorr, who has since made a documentary about Prince, and befriended Shields when she photographed the actor/model last year for Interview magazine. "I found it really disturbing, but my impression always was that Richard made the piece because it was disturbing … It tells you everything about what we fear and desire."

Prince, Schorr tells me, has never met Shields. Intent on questioning notions of authorship and originality, he rephotographed an existing image that had already inspired two years of legal debate. The original picture, for which Shields was paid $450, was taken by fashion photographer Garry Gross in 1975 for a Playboy publication titled Sugar and Spice. It was one of a dozen images of Shields designed, according to Gross, to reveal the not-so-latent sexuality of the prepubescent child.
We were able to find a 1981 lawsuit: Shields v. Gross (N.Y. 1983). That document included an appeals court opinion authored by two judges, indicating that at 15, Shields legally sought to withdraw the image set from circulation due to distress and embarrassment. The ruling was not in her favor:
Plaintiff [Brooke Shields] is now a well-known actress. For many years prior to these events she had been a child model and in 1975, when she was 10 years of age, she obtained several modeling jobs with defendant through her agent, the Ford Model Agency. One of the jobs, a series of photographs to be financed by Playboy Press, required plaintiff to pose nude in a bathtub. It was intended that these photos would be used in a publication entitled "Portfolio 8" (later renamed "Sugar and Spice"). Before the photographic sessions, plaintiff's mother and legal guardian, Teri Shields, executed two consents in favor of defendant. * After the pictures were taken, they were used not only in "Sugar and Spice" but also, to the knowledge of plaintiff and her mother, in other publications and in a display of larger-than-life photo enlargements in the windows of a store on Fifth Avenue in New York City. Indeed, plaintiff subsequently used the photos in a book that she published about herself and to do so her mother obtained an authorization from defendant to use them. Over the years defendant has also photographed plaintiff for Penthouse Magazine, New York Magazine and for advertising by the Courtauldts and Avon companies.

In 1980 plaintiff learned that several of the 1975 photographs had appeared in a French magazine called "Photo" and, disturbed by that publication and by information that defendant intended others, she attempted to buy the negatives. In 1981, she commenced this action in tort and contract seeking compensatory and punitive damages and an injunction permanently enjoining defendant from any further use of the photographs….
Additionally, the court ruled the images were "not pornographic," and earlier decisions prohibited the future use of the photographs in "pornographic publications." The controversy became newsworthy in September 2009, when police in the United Kingdom preemptively shuttered a scheduled exhibition featuring art based on the images:
The child actress is shown standing naked in a bathtub, staring directly at the viewer, with a heavily-made up face and an oiled torso.

The image is by Richard Prince, a New York artist, and is the centrepiece of the Pop Life: Art In A Material World exhibition at the Tate. So controversial is the photograph that it has been separated from the other exhibits and hangs in its own room behind a closed door. A notice on the door warns visitors that they may find the work "challenging".

It is the first time that the piece, entitled Spiritual America, has been displayed in a British gallery, although it has been shown in the US. The Tate consulted lawyers before including it in the exhibition, which opens on October 1.

A Tate spokesman said: "As with any artwork that contains challenging imagery, Tate has sought legal advice and evaluated the situation. Tate has taken measures to inform visitors of the nature of the work, providing information outlining the intentions of the artist."
In October 2017, following the death of Playboy founder Hugh Hefner, the media returned to the controversy once again, this time to examine the photographs through the lens of the #MeToo movement:
The most surprising detail to emerge after Hefner's death was that Brooke Shields had featured in a Playboy publication called Sugar and Spice when aged only 10 years old in 1975. Photographer Gary Grosse received $450 to take the photographs of the heavily made-up Shields posing naked in a bathtub. The Sugar and Spice series of books in which the images appeared promised "surprising and sensuous images of women" from contemporary photographers, coding them as "artistic".

The ongoing controversy about the images, particularly once Shields was old enough to realise that she did not want them in the public domain, affected Gross's career as a fashion photographer and he eventually became a dog trainer. Yet the fallout from the exploitative images did not significantly tarnish the Playboy name or Hugh Hefner. Shields featured on the cover of Playboy in 1986 at age 21.
The image in the meme was taken from the original photographs of Shields, captured in 1975 and published in 1976 for Playboy publication Sugar 'n' Spice. By the time Shields reached the age of 15, she attempted to suppress the images but was unsuccessful.