Was 'Citi Bike Karen' Right All Along, as Evidenced by a Receipt?
Claim
In May 2023, New York City nurse Sarah Comrie ("Citi Bike Karen") proved she paid for the bike at issue in a viral video.
Like this fact check?

Reporting
On May 19 2023, a highly popular Reddit post to r/facepalm was a confident assertion that "Citi Bike Karen" (a New York City nurse named Sarah Comrie) had been "right all along":
"Bike Karen" Was Right After All. She Has Shown Proof She Paid for That Bike.
by u/Unusual_Fishing9348 in facepalm
On May 18 2023, a Reddit user shared a similar claim to r/NYCbike. That post was locked on or before May 19 2023, and was not as popular as the r/facepalm iteration.
Many of Reddit's most popular posts linked to news articles or other forms of content evidencing the claims made in post titles, but the r/facepalm post didn't link to anything, instead using a collage of photographs in lieu of a citation. More broadly, the post referenced a controversy involving "Citi Bike Karen," which requires a bit of context to understand.
What Is Citi Bike?
A website for Citi Bike's "About" page briefly summarized its introduction and function:
Citi Bike is New York City's bike share system, and the largest in the nation. Citi Bike launched in May 2013 and has become an essential part of our transportation network. It's fun, efficient and affordable – not to mention healthy and good for the environment.

Citi Bike, like other bike share systems, consists of a fleet of specially designed, sturdy and durable bikes that are locked into a network of docking stations throughout the city. The bikes can be unlocked from one station and returned to any other station in the system, making them ideal for one-way trips. People use bike share to commute to work or school, run errands, get to appointments or social engagements, and more.

Citi Bike is available for use 24 hours/day, 7 days/week, 365 days/year, and riders have access to thousands of bikes at hundreds of stations across Manhattan, Brooklyn, Queens and Jersey City.
New York City's general information website (NYC311) maintained an entry on Citi Bikes as a form of public transportation:
Citi Bike is New York City's bike sharing system. Bikes are available at hundreds of bicycle stations 24 hours a day, 7 days a week, 365 days a year.

Each bike station has:

A touch-screen kiosk
A system map
Docks where bikes are stored

To participate you must:

Be 16 years or older
Obtain annual membership or an access pass
Citi Bike is a bike sharing service, much like Uber and Lyft are ridesharing services, and pricing began at $4.49 for 30 minutes of use. Citi Bike's website explained that rides were "available for purchase on our website" and "in the Citi Bike app for iPhones and Androids," a detail relevant to the "Citi Bike Karen" controversy.
'Citi Bike Karen,' in Brief
Ongoing developments in the controversy were such that most news articles addressed a singular element of the story. A KnowYourMeme entry ("Citi Bike Karen") summarized the controversy in a more comprehensive way:
On May 13th, 2023, Twitter account @Imposter_Edits uploaded a one-and-a-half minute long video that showed a pregnant woman in a nurse uniform refusing to give up a rental Citi Bike bike to a Black man who claimed that he paid for it. In the video, filmed in the vicinity of Bellevue Hospital in New York, the woman cries for help as both she and the man hold onto the same rental bike. The repeatedly asks the man to stop touching her and then starts crying until eventually agreeing to give up the bike. The video (shown below) garnered over 14,800 retweets and 87,400 likes in five days.
KnowYourMeme embedded the May 13 2023 tweet by @Imposter_Edits:
https://twitter.com/Imposter_Edits/status/1657581292681064451
Around May 19 2023, a "Readers added context …" box was appended to the tweet. It claimed:
The woman in this video, through her lawyer, has provided receipts proving that she paid for the bike. None of the men in the video have done the same.
At the end of the "context box," a link to an aggregated Insider.com piece on Yahoo News was provided as a source.
Did 'Citi Bike Karen' Prove She Paid for the Bike?
Insider.com articles were frequently prefaced by bullet points, sometimes labeled "key takeaways," and the linked article featured them:
A woman accused of trying to take a rental bike from a Black man paid for the bike, her lawyer says.
The attorney provided Citi Bike receipts to Insider, saying that it proved it was her bike to take.
The video of the incident drew millions of views online as some condemned her reaction as "racist."
Before the article itself began, Insider.com emphasized the source of the claim — an attorney representing Sarah Comrie.
(In a separate incident on May 1 2023, subway passenger Jordan Neely died at the hands of fellow passenger Daniel Penny, and an attorney for Penny began disseminating a statement disparaging the victim.)
Some comments on the r/facepalm thread asserted that Comrie's "receipts" proved that the number on the "receipt" matched the number on the bike in the video:
"She's also 6 months pregnant. It takes a certain POS to fight a pregnant woman. Also we only see the struggle, not the beginning of the interaction. She had RSVP the bike with the tag number to match. Why would he unknowingly just take a bike once it's release from the base? He's clearly trying to steal it."

"Bro, there's a 6 month pregnant woman sitting on a bike providing a receipt with the matching number. Even without the receipt, the alternative is that Super Karen left her job and then forced this dude that's noticeably bigger than her off the bike that he rented and sat her pregnant self on the bike quickly enough for this argument to take place.

I don't see why that is a more believable story than these guys trying to steal the bike from her or frame her for the lols. The idea that the pregnant woman was so dominant in her theft that she's the one sitting on the bike is a ridiculous story at face value."
One comment mentioned the bike's number, and linked to an article published by British newspaper The Independent, "'Citi Bike Karen' claims viral video of confrontation with Black man was taken out of context."
As it happens, the linked article did not indicate that the receipt proved anything:
A woman dubbed "Citi Bike Karen" for calling for help as she fought with a young Black man over a rental bike outside of a New York hospital alleges a viral video of the encounter — and discussion about it on social media — doesn't capture the full story.

Justin Marino, a lawyer for Sarah Comrie, a physician's assistant at Bellevue Hospital who is six months pregnant, said the bike in question belonged to his client originally.

Receipts from the 12 May [2023] encounter sent to The Independent appear to show a serial number matching the bike pictured in the video. The receipts capture Ms Comrie checking out the bike, then docking it a minute later, without paying a charge.
Several news organizations reported that they they received a copy of the "Citi Bike Karen receipts" from Comrie's attorney, but actual copies of the receipt were scarce. We located one version on a scraper site, matching the portion visible in the image-based Reddit post: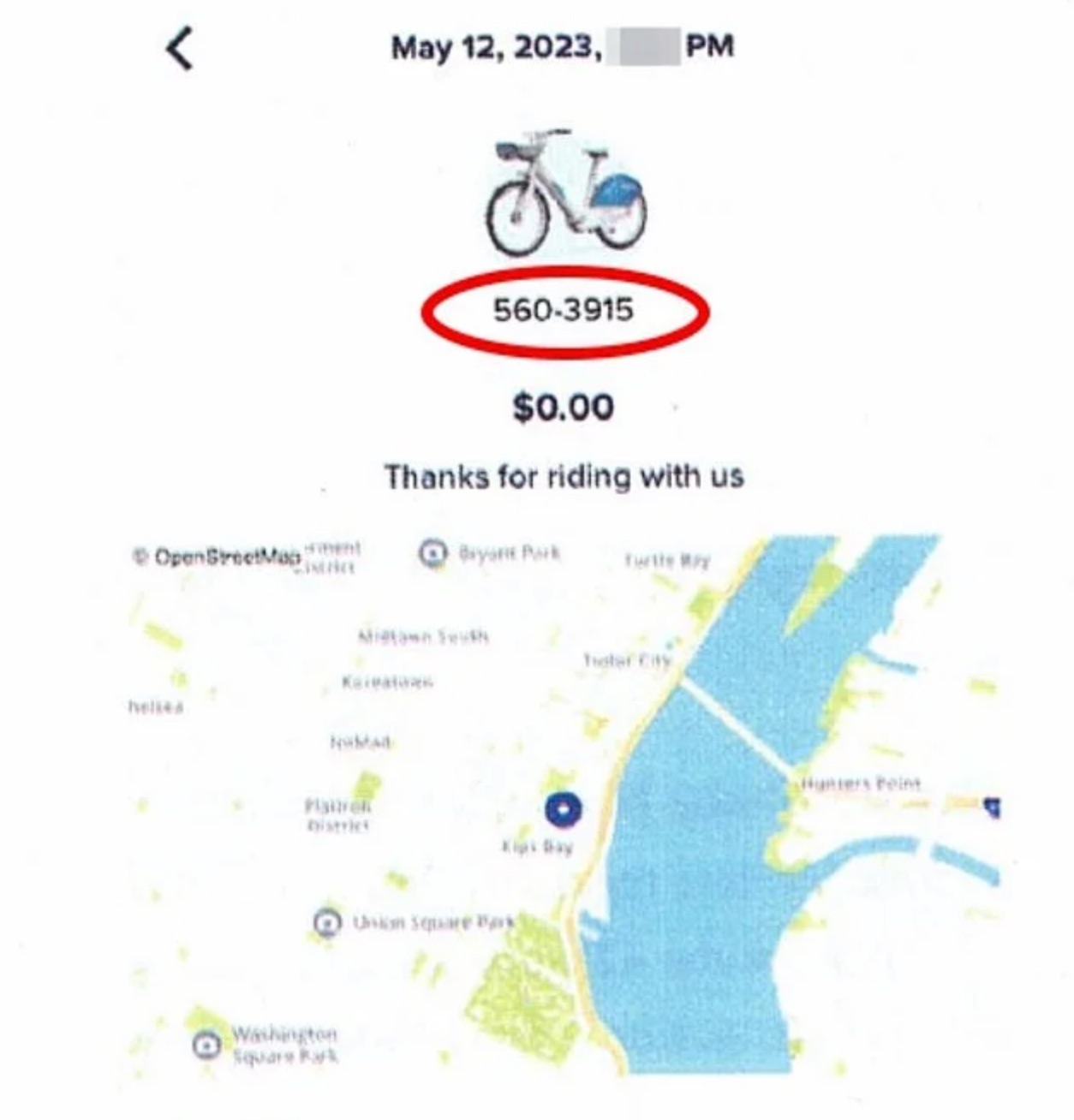 Citi Bike Karen's 'Receipt,' Explained
As indicated above, the video of the Citi Bike dispute began virally circulating on May 13 2023; Comrie's lawyer appeared to produce the "receipt" roughly a week after the controversy began.
Despite the certainty with which social media users and news outlets asserted Comrie's receipt disproved the video, the copy of the receipt that we found was questionable. In addition to displaying a charge of $0.00, it was blurry and pixellated, and the bike's serial number was visible in the original video (making it easy to obtain a specific "receipt" after the fact).
Its most suspicious detail, however, was none any of those things. It was, instead, the redacted time next to the May 12 2023 date at the top.
On the r/NYCbike thread, the most upvoted comment observed:
Unsurprisingly shoddy reporting from the NY Post, those receipts don't really prove anything, just show she returned a bike and rented another around that time, not that it was the bike in question. The reality is most of the backlash is coming from her behavior and body language while screaming for help in a cynical manner when not under attack and fake crying then turning it off, especially in contrast with the dudes sitting around normally and not acting aggressively. Obviously we dont know what happened before or after and maybe she rented and they pushed it back in and rented it after, but there is nothing in the video that suggests that except the word of her lawyer being reproduced in the post and the lawyer has an obvious incentive to spin the story for his client.

edit: just rewatched it and she never once claims she rented the bike, but does try to take his phone out of his hands and then does not refute it when they claim that he has currently rented the bike to the guy that tries to intervene. It's pretty clear at the time of the video that the bike had been rented by the dude in the video.
A self-labeled daily Citi Bike user added:
As a daily citibike user I can attest that her story is incredulous. In the video the lady walks away from the bike, something a person who has rented the bike would not do as the rented bike would be on their account. You can see her walk away from the bike the kid is holding and she goes over to rent another bike. If it was in her account then she would have to dock the contested bike to take out another. I don't buy her story.
Another provided details about how bike selection does and does not work:
Citibike definitely doesn't let you take out two bikes at once, so something doesn't make sense. The article says that the first bike was re-docked, but in the video it seems that she got the second bike while the first was still out.

Honestly, I'm not sure about the whole situation and it seems like nobody really was explaining themselves just being mad at each other in the video, so it's hard to tell what's going on.
Summary
Against the backdrop of amplified racial tensions in New York City in May 2023, a New York City nurse dubbed "Citi Bike Karen" was accused of taking a Citi Bike paid for by a Black teenager on May 12 and 13 2023; on or around May 18 2023, an attorney representing Comrie produced a purported "receipt proving" Comrie paid for the bike. The clearest copy of the receipt we located was attached to a spam site, the image and its backstory did not "prove" anything, the amount shown was $0, and the timestamp was inexplicably redacted. The receipt could have been doctored or generated on the night of the incident as insurance in the event that the video went viral — which it later did.
Update, May 25 2023, 5:39 PM
On May 24 2023, "Citi Bike Karen" Sarah Comrie's attorney Justin Marino tweeted a slightly less redacted version of Comrie's purported receipt, showing that the obscured timestamp was at 7:24 pm.
Marino's tweet did not enable any replies, conveniently ensuring any discrepancies observed were not visible under his tweet. Perplexingly, Marino claimed that the original copy was withheld "to protect Ms. Comrie's safety"; Marino's tweet is archived here:
We previously redacted the first receipt to protect Ms. Comrie's safety by withholding the time and location. Given this information appears to be public, we hereby enclose the unredacted first receipt.

No further comments/responses will be made. pic.twitter.com/Z7wjuMx3Z0

— Justin Marino (@AttorneyJMarino) May 24, 2023
One day earlier, USA Today published an editorial about the controversy, with the headline, "'Citi Bike Karen' viral video shows why we shouldn't rush to judgment." In it, Dustin Siggins of "Proven Media Solutions" chided readers for not "thinking critically" and spreading "false narratives":
There was just one problem with the story: It went viral not for its accuracy, but because it fit many people's preconceived notions about race in America. It turns out that Comrie was the victim – and the person with the right to the bike – and her attorney has the receipts to prove it.

NBC News' New York affiliate was one of several news outlets that confirmed that the receipt matched the rental code on the bike, causing NBC News to update its original story and Crump to delete his tweet.
Siggins was correct on one matter, that the receipt matched the rental code on the bike. No mention of the initial redactions appeared, and Siggins made no effort to identify or explain the discrepancy.
Somewhat ironically, Siggins added:
All of us can take three steps to overcome confirmation bias and easy access to social media from endangering people and making ourselves look like fools. The first is to slow down and think critically when we read something that perfectly fits our worldview. Second, we must wait for all the facts to come out and look for original sources. Third – and hardest of all – let the evidence dictate our opinion, not the other way around.

It's not easy to overcome confirmation bias. I've deleted my share of thoughtless, factually incorrect Facebook posts. But it is our obligation to try … We've all been the fool who contributed to the problem of not waiting for the facts or going to the trouble of finding them.
The article relied entirely on the word of an attorney paid to represent Comrie, and therefore present facts in a light favorable to her. On May 25 2023, NewsOne published an interview with the family of the boy in the video (identified by the outlet only as "Michael.")
NewsOne reported that the media had made no effort to locate or speak with Michael nor anyone in his family:
Michael is the teen in the infamous Citi Bike video with Sarah Jane Comrie, the woman who has been accused of weaponizing whiteness and her tears in an effort to take the bike from the teen in New York City.

[Michael's mother] Betty has seen video after video of racists and trolls calling her son a "thug" and a "thief" and labeling him as a "man" when, in her words, "He's just a boy."

It hurts her that people are saying these things — things that she knows are not true — about him.

Betty is upset because she says the narrative has been one-sided.

"No one bothered to contact us to find out Michael's story," she said in a low voice during an interview on Wednesday [May 24 2023]. "They write all of these things about him, but no one bothered to ask him what happened or look at his receipts."

Michael interjected: "That's because if they have my side of the story, she doesn't have a case."

Mary agreed with him, saying, "Right."
As it happened, Michael and Betty also had a receipt — which, unlike Comrie's receipt, was clear, had zero redactions, and included much more ancillary details visible on the Citi Bike app.
In fact, the teen's receipt was presented in an uncropped screenshot with high resolution, and other elements (such as the displayed time and battery percentage) had not been cropped. As with Comrie's purported receipt, the bike's number matched the number visible in the video.
Comrie's receipt was generated at 7:24 pm, 90 minutes after the teen's rental of Citi Bike 560-3915. Marino's tweet indicated that no "further comments/responses will be made."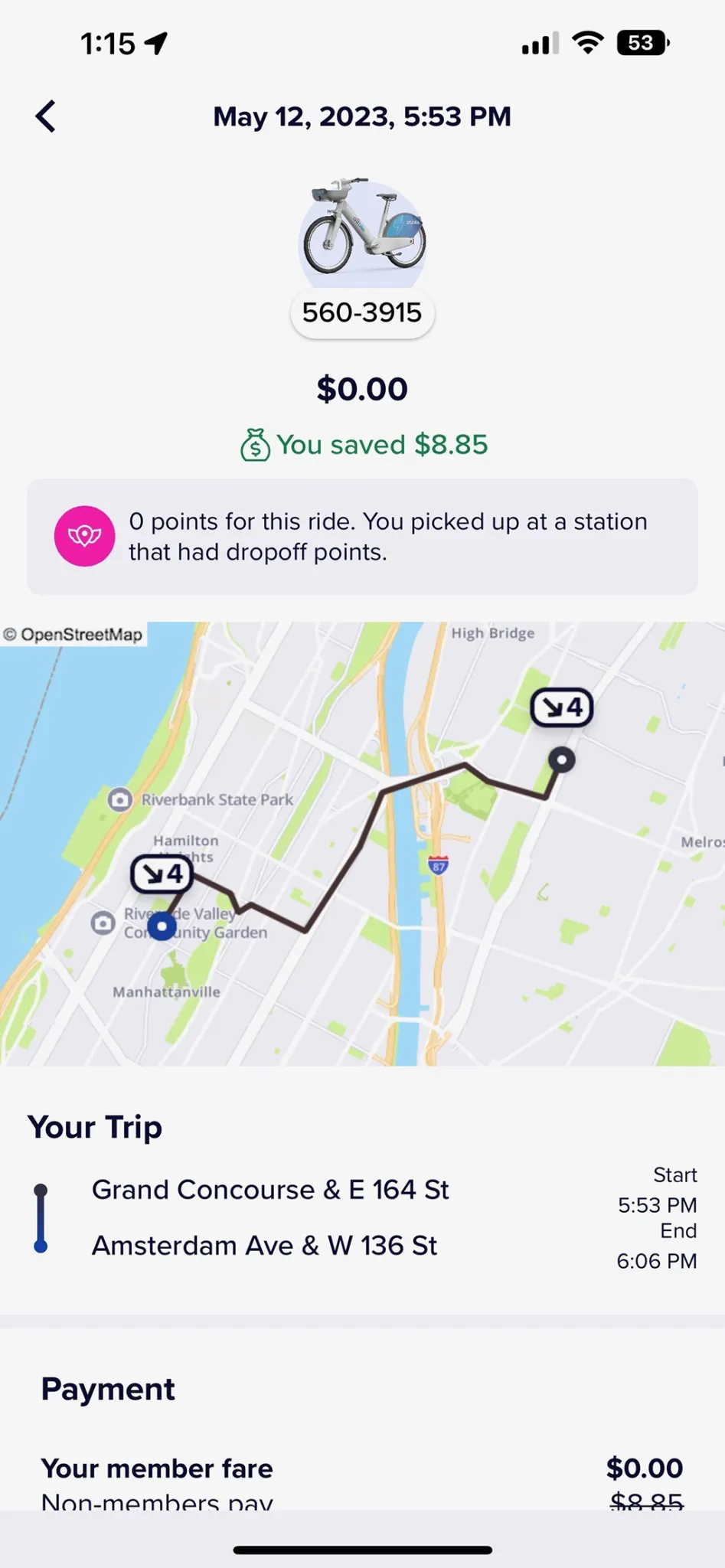 The family told NewsOne how the situation unfolded from their perspective:
According to Michael, Sarah Jane Comrie asked him, "Can I please have this bike?"

Michael said he declined.

"No, I'm about to take it back out," he told her.

Michael said Sarah Jane Comrie then said to him, "I'm pregnant. Can you help a pregnant woman out?"

Michael said he then told her, "I'm sorry ma'am. I've ridden this bike all the way from the Bronx, and I need this bike to go back home."

Michael says that is when Sarah Jane Comrie moved closer to him and his bike, leaned over him, and scanned the QR code with her phone even as he had his hands on the handlebars.

She then pushed her way onto the bike and attempted to remove it from the docking station and take it.

It was 7:24 p.m., and that is when the boys began recording.
There is a GoFundMe fundraiser to assist with the family's legal fees that can be found here.
On May 13 2023, a video of "Citi Bike Karen" spread virally, and roughly one week later, Comrie's attorney produced a blurry and redacted "receipt." On May 23 2023, USA Today published an editorial chiding readers for "spreading false narratives." On May 24 2023, Marino tweeted a receipt without the timestamp redacted, indicating Comrie generated it at 7:24 pm on May 12 2023. The following day, Newsone published an interview with the teen's family. It included a clear and unedited receipt, indicating the boy rented Citi Bike 560-3915 at 5:53 pm on May 12 2023. Marino has not addressed the story.