Was Emmett Till's Sign Vandalized Again, 35 Days After it Was Replaced?
Claim
In September 2019, a sign commemorating the life of slain teenager Emmett Till was shot up just 35 days after it was replaced.
Like this fact check?

Reporting
In September 2019, a BlackNewsAlerts.com article headlined, "Emmett Till's Memorial Sign Shot Up Again 35 Days After Being Replaced" circulated on Facebook:
After 35 days of being replaced for vandalism, the memorial sign of Emmett Till has been filled with bullet holes again.
The piece consisted primarily of bullet points, describing "what we know" about the alleged vandalism. In addition to linking to a foundation named in honor of Till, it also linked to a TIME magazine article. (The TIME piece included graphic, prominently displayed images of Till's remains.)
However, the TIME article was dated August 7 2018 — 13 months prior to the subsequent article's publication. TIME in turn linked to an August 3 2018 Clarion Ledger report about the Till sign being vandalized. It reported that the sign had been installed and subsequently vandalized four times in total as of August 2018:
Just 35 days after a bullet-riddled Emmett Till sign was replaced, it has been shot again.

If the Emmett Till Memorial Commission were to replace the sign again, it would mark the fourth time it has been replaced.

The sign marks where Emmett Till's body was recovered from the Tallahatchie River.

Ever since the state began to memorialize Till, first with the naming of a highway after him in 2005, signs commemorating him have been frequent targets of vandalism.
The Washington Times published a story about Emmett Till's sign being vandalized on September 11 2019, not citing the Black News Alerts article, but failing to recognize or report that the incident occurred more than a year before the article.
A poignant element of the original reporting included an author's position the sign ought to be left as is, riddled with bullet holes, which "bear eloquent witness to the fact that work remains to be done" and visually impress that the memory of Till's life and murder "still cuts a rift through the heart of the modern day Delta":
Dave Tell, author of the upcoming book, "Remembering Emmett Till," said tire tracks leading from the site to the riverbank led Sheriff William Brewer to conclude that the sign had been tossed into the Tallahatchie River, just as Till's body was — "an irony not lost on the local black community."

Not long after installing a second sign in 2013, the sign was riddled with bullets.
Alvin Sykes, president of the Emmett Till Justice Campaign, agreed with Tell, saying then that the "sign going back up is a sign of progress" and the "bullets are showing how much further we need to go."
However, neither of the two September 2019 versions of the August 2018 news about the vandalism captured a July 2019 update to the story, which was also published by TIME:
A repeatedly-vandalized sign remembering the death Emmett Till, a 14-year-old boy whose August 1955 murder in Mississippi called attention to the epidemic of racist violence against African Americans, will be replaced with a bulletproof sign, the Emmett Till Memorial Commission has said.

The sign, which has been replaced three times since it was first erected in 2007, will be replaced with a metal marker weighing between 500 and 600 pounds, Patrick Weems, the commission's executive director, tells TIME.

Vandals have repeatedly attacked the sign and previous markers. In a little over a decade, the signs have been tossed in a river, splattered with acid, shot up, defaced with KKK graffiti and stolen, according to the commission.
In September 2019, an article titled "Emmett Till's Memorial Sign Shot Up Again 35 Days After Being Replaced" went viral on Facebook, accruing shares at a rapid rate. The brief article was a confusing redux of an August 2018 TIME article, itself written from original coverage by the Clarion Ledger. At the time of publication, the most recent update available was that the sign had been vandalized for a fourth time. In July 2019, the Emmett Till Memorial Commission confirmed that the sign was being replaced with a new, bulletproof version that had not yet been created.
Update, November 4 2019, 4:21 PM: On November 3 2019, Facebook user Sheldon B. Lamey shared video of purported attempted vandalism of Emmett Till's memorial sign:
https://www.facebook.com/sheldon.lamey/videos/10157831308728184/
He added details in a caption:
White supremacists often go to Emmett Till's #Mississippi memorial, to ceremoniously shoot it up. This group wearing #BlackShirtTanPants returned to desecrate & shoot up the newly restored memorial, & then found out the memorial is bullet proof, with an alarm & surveillance….😂😂😂
Mississippi reporter Ashton Pittman reported that these particular white supremacists represented a known group:
I'd also just like to put a fine point on the fact that the League of the South is a neo-Confederate group that seeks to "finish" the work of Southern secession, but chooses to use what is a predominantly white flag as its symbol. Oddly appropriate. #TheseColorsRun pic.twitter.com/QYbZN1bf37

— Ashton Pittman (@ashtonpittman) November 3, 2019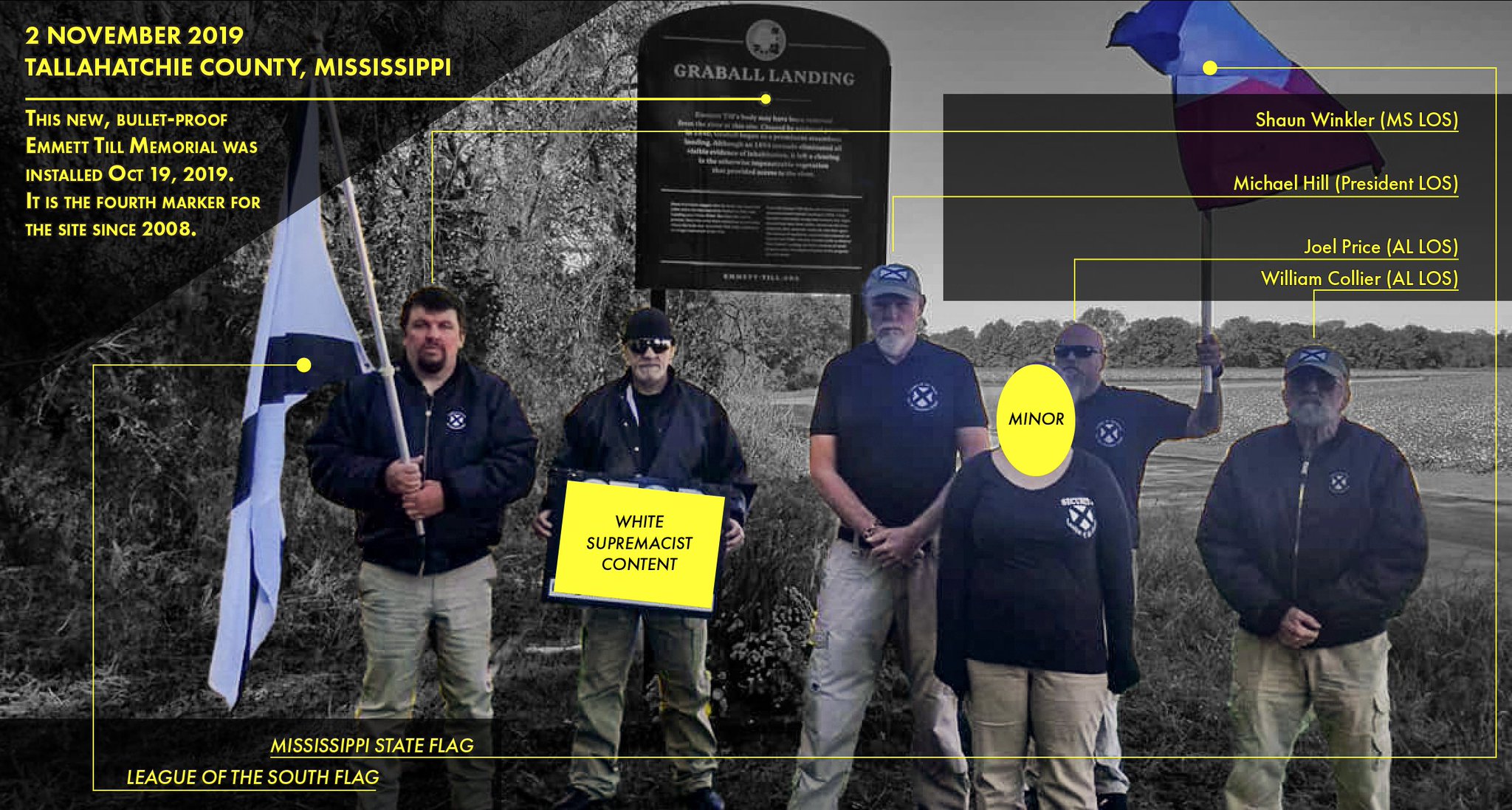 Predictably, the same white supremacists who were caught on camera running away from their failed attempt at vandalizing the memorial of a young murder victim saw themselves as the victims:
UPDATE: The League of the South posted their video (not linking). What leader Michael Hill said was:
"Where are all the white people over the last 50 years that have been murdered, assaulted, & raped by blacks going to be memorialized like this? We are the League of the South." pic.twitter.com/60TlFFXnpb

— Ashton Pittman (@ashtonpittman) November 3, 2019
Pittman's accompanying Jackson Free Press story mentions that the group was interrupted as they tried to film a propaganda video:
A small group of white supremacists gathered around the Emmett Till memorial in Tallahatchie County, Miss., on Saturday morning, carrying a Mississippi flag and a League of the South flag. They were apparently filming a propaganda video when alarms went off at the new memorial to Till, who became the victim of a white supremacist slaying when he was just 14 years old.

"We got to go now, come on," said the bald man with the Mississippi flag who, like the others, wore a dark top and khaki pants, surveillance footage shows. He was clearly waving the rest of the group over to the get video going.

"We got to get the f-ck on," another man agrees.

Then the filming begins.

"We are here at the Emmett Till monument that represents the Civil Rights movement for blacks. What we want to know is, where are all of the white—," League of the South leader Michael Hill says while two women film. The video cuts off before he can finish his sentence.
That same day, CNN published an article ("A white supremacist group filmed in front of the Emmett Till sign weeks after it was made bulletproof"), reporting:
A white supremacist group filmed a video in front of the Emmett Till Memorial in Sumner, Mississippi, [on November 2 2019], officials say. A security camera video posted on the Sumner Courthouse and Emmett Till Interpretive Center's Facebook page shows seven people standing in front of the sign Saturday [November 2 2019], while some of them film.

"We are all here are the Emmett Till monument that represents the civil rights movement for blacks," a man is heard saying. "What we want to know is where are all of the white people."
On Saturday November 2 2019, the Facebook page of Sumner Courthouse and the Emmett Till Interpretive Center shared original video of the vandalism attempt, writing:
A white supremacist group visited our Emmett Till historic marker, dedicated just weeks ago, [on November 2 2019]. Thank them for reminding us why this work matters by donating at http://emmett-till.org
The organization has been raising money for a permanent memorial site. It has brought in at least $9,000 since the attempted vandalism.