Was Pastina Discontinued?
Claim
In January 2023, pastina was discontinued in the United States due to low sales.
Like this fact check?

Reporting
In December 2022, social media posts began to appear with the claim that the small, star-shaped pasta known as "pastina" had been discontinued.
A humorous December 30 2022 TikTok post titled "When they find out they discontinued pastina" illustrated the backlash:
Twitter hosted discourse about pastina's purported endangerment:
When you hear pastina is getting discontinued pic.twitter.com/W0vC2u16iK

— anthonybarberio (@antbarberio1) January 6, 2023
My dad has been grouchy lately because so many shows he likes to watch have been getting cancelled and it turns out that cancelling pastina was the last straw pic.twitter.com/bMGbCEthBN

— Danielle Sepulveres 🌻 (@ellesep) January 6, 2023
A January 7 2023 Facebook post from The Italian-American Podcast lamented:
VERGOGNA! ["SHAME!"]

@ronzonipasta, you were supposed to be the #ItalianAmerican pasta brand, born here, like us, in 1915. Like each of us, the offspring of a brave #Italian immigrant.
But now you have discontinued our beloved #pastina – the soul food/baby's first macaroni/medicine that we lovingly called #ItalianPenicillin.

Perhaps we neglected you as we were tempted by fancy imports over the years. Perhaps through the sale-and-sale-again of the brand, you lost your sense of belonging to the Italian American community. Someone should ask 8th Ave Food & Provisions CEO Scott McNair is he knows where Italy is on a map, let alone the crime against Italian America he has just committed.

Either way, the relationship is over on this end.

#ProudToBeItalian #ItalianPower #ItaliansDoItBetter #LuckyToBeItalian #Italy #Italians #Italian #Italia #Ronzoni #pasta #ItalianCulture #ItalianFood #ItalianTradition #ItalianFamily #KissMeImItalian #ItalianPride #ItalianPodcast #ItaloAmericani #ItalianLife #ItalianAmericans #BeItalian #ItalianAmericanPodcast #famiglia
A memorial image for pastina was appended to the post, calling it "Italian penicillin." As with many social media posts, Ronzoni brand pastina was the focus: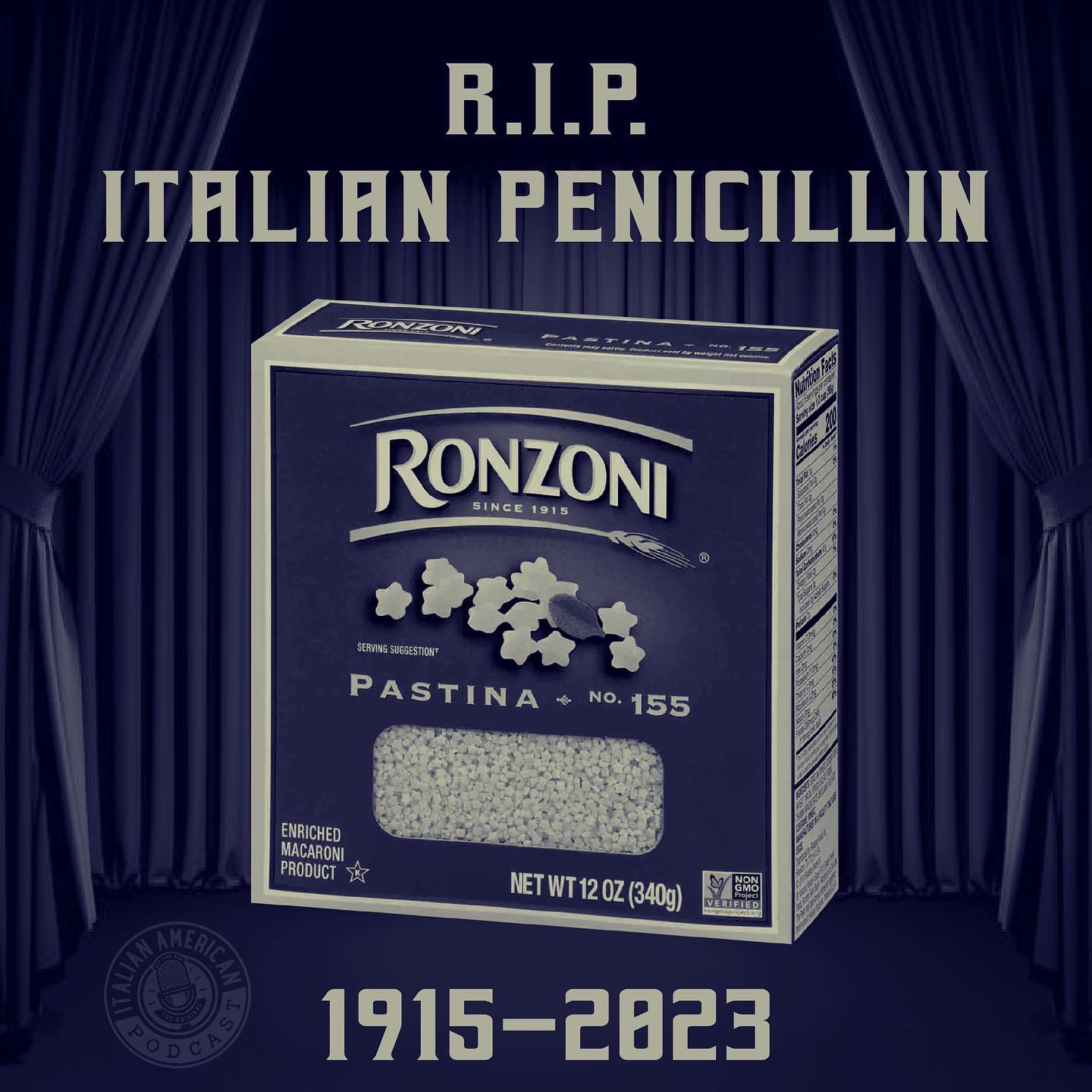 Attendant news coverage about the fate of pastina in general trended toward the dramatic, with Fox News' January 6 2023 headline indicating that Italian-Americans were "not ok." On January 12 2023, MarketWatch.com claimed boxes of pastina were selling on eBay for $180.
A January 11 2023 Salon.com piece by columnist Michael La Corte examined why pastina caused such a ruckus on social media, explaining:
Truthfully, pastina wasn't ever really a staple in my household. However, I know the significance it holds for so many. This was soon especially evidenced after I posted a quick tweet and Facebook status, asking what about pastina did you hold so dear? What about your family's usage of it evokes such a deep, emotional response?

This opened the floodgates. I was soon overwhelmed with responses galore: some were essay-length, some were lyrical, some were poetic, some were one-sentence, some were recipe-driven, some were nostalgia-focused, but they all focused on one, unifying thing: pastina means a lot to a lot of people (and prompts many references to cheese, butter and the term "Italian penicillin").
Many news articles embedded a January 3 2023 tweet from pasta manufacturer Ronzoni, seemingly confirming the rumors:
— Ronzoni (@ronzonipasta) January 3, 2023
It was clearly true (as of January 12 2023) that one popular brand — Ronzoni — had indeed discontinued its pastina, leading to social media posts mourning the decision. What was not necessarily clear in the news and in posts was that Ronzoni was not the sole manufacturer of pastina sold in the United States.
We visited the Twitter timeline of Barilla (U.S.), where one of the most recent engagements pertained to Barilla's pastina. Barilla U.S. did not directly confirm the ongoing availability of their pastina in 2023, but appeared to tacitly do so in a response to a user:
We appreciate your loyalty to us!!💙

— Barilla US (@BarillaUS) January 5, 2023
On Barilla's website, "pastina" was still listed among the shapes in their "classic Blue Box" section. A blurb acknowledged the shape's "comfort food" status:
There are few children in Italy who do not grow up eating Pastina, these classic tiny pasta stars are what parents first serve as a child's introduction to the delicious world of pasta. Others love this small pasta in their favorite chicken soup recipe.
Barilla was not the sole remaining source of pastina — De Cecco, another brand of pasta widely available in the United States, listed the shape on its website. Barilla's pastina was labeled pastina, but De Cecco's version was called "Acini de Pepe no. 78."
De Cecco's pastina was characterized by a slightly different shape ("peppercorns," not stars) but its description described pastina:
Acini di Pepe no. 78

Acini di Pepe (peppercorns) belong to the minute pasta family to be cooked in broth. This pasta shape was undoubtedly invented to stimulate the imagination of children who commonly eat this pasta in baby food and vegetable soups. It is shaped like peppercorns and is fun and appealing. It is especially good for preparing clear soups such as broths or consommé, enhanced with croutons or vegetables cut in julienne strips. This pasta can be used in thick creamy or velvety soups. Available in 16.0 oz pack.
Claims that pastina was "discontinued" across the board caused significant concern among those who called the pasta shape "Italian penicillin," and those who considered the item essential comfort food. Ronzoni confirmed it was discontinuing its pastina in January 2023. However, two other major brands available in the United States — Barilla and De Cecco — did not discontinue their respective versions of pastina, and it was likely other variations existed among other regionally popular pasta brands, meaning that at least for now, pastini is safe.