Were Black WWI Veterans in Uniform Lynched During the Red Summer of 1919?
Claim
Black soldiers were lynched after World War I during the "Red Summer" of 1919.
Like this fact check?

Reporting
In February 2019, the following image appeared (archived here), with the description "victorious black soldiers returning to the U.S. from World War I are lynched while still in uniform." An attached image showed a black man being dragged from a streetcar by several white men, captioned "the massacre they don't teach you about in history."
However, the photograph did not appear to show a man in a military uniform. A reverse image search revealed that it was attributed to the Associated Press in June 1943, not 1919. A caption read:
A man is dragged from a street car on June 21, 1943, during fighting near Detroit's downtown section.
That photograph was seventeenth in a gallery titled "Detroit in the 1940s," the sum of which were described by The Atlantic in 2015:
The early part of the 20th century saw the city of Detroit, Michigan, rise to prominence on the huge growth of the auto industry and related manufacturers. The 1940s were boom years of development, but the decade was full of upheaval and change, as factories re-tooled to build war machines, and women started taking on men's roles in the workplace, as men shipped overseas to fight in World War II. The need for workers brought an influx of African-Americans to Detroit, who met stiff resistance from whites who refused to welcome them into their neighborhoods or work beside them on an assembly line. A race riot took place over three days in 1943, leaving 34 dead and hundreds injured. After World War II ended, the demand for workers dried up, and Detroit started plotting its postwar course, an era of big automobiles and bigger highways to accommodate them.
A June 2003 Detroit Metro Times piece about the 1943 riots included elements of the backstory presented on Facebook:
As the night [of June 20 1943] wore on, a police riot erupted in the ghetto. Hostile officers charged through the streets, beating senseless many innocent blacks, some of whom were in military uniform. When confronted, police didn't hesitate to use deadly force.

[…]

[White Detroit residents] began stoning blacks who were driving to work, breaking windows. They caused a car to crash and the black driver to stumble out. As the man lumbered to safety, his car was set on fire. Mobs ranged up and down Woodward, pulling black motorists from cars and beating them senseless while their autos were turned over and torched.

By midmorning [on June 21 1943], whites crowded streetcar stops, waiting to drag black straphangers off trolleys and beat them. When motormen tried to pass through without stopping, the mobs yanked the streetcars off the wires. Blacks trying to flee found themselves falling right into the hands of the waiting mob.
Although the image is real and black veterans of World War II were attacked in the 1943 Detroit riots, the photograph did not show any events related to World War I or 1919. However, while the description of this particular photograph is inaccurate, it does describe real events. The same nativist frenzy that swept in massive changes to immigration laws just a few years later also sparked and fed horrifying violence against black Americans in what came to be called the Red Summer of 1919:
During the Red Summer of 1919, white mobs attacked African Americans in six cities, deadly episodes of collective violence that often lasted for days. Chicago's riot, one of the worst, lasted a week and claimed the lives of 38 men (23 black, 15 white). The mobs, in Chicago and the other cities (Charleston, S.C.; Bisbee, Ariz.; Longview, Texas; Washington, D.C.; and Knoxville, Tenn.), sought to drive African Americans from industrial jobs or from majority white neighborhoods; to punish blacks for their prosperity; and to "protect" white women against the alleged assaults of black men.

Why, then, were African Americans blamed for the Red Summer? During Chicago's riot, for example, a local newspaper printed a false report that "a group of twelve discharged negro soldiers, all armed, terrorized small groups of whites in various parts of the south side this afternoon." In fact, these men had tried to protect black residents because the city's police were unable to halt white mob attacks. This wasn't just a problem in Chicago. During all six riots of the Red Summer, local authorities failed to restore law and order. In some instances police abetted the violence by protecting white rioters or joining in the attacks. Denied protection of the law, African Americans took up arms to defend themselves. Especially in Chicago and Washington, newly returned black veterans of World War I organized and carried out this armed resistance. Calling themselves New Negroes, these veterans and other African Americans fought to stop the violence and to demand — and receive — long denied constitutional rights. Many white observers unjustly blamed the summer's violence on blacks' armed resistance.
A primary archival source for the violent lynchings in the "Red Summer" appeared to be an October 1919 New York Times item [PDF], "FOR ACTION ON RACE RIOT PERIL; Radical Propaganda Among Negroes Growing, and Increase of Mob Violence."  Its author claimed that 1919 race riots were caused in part by the World War I, as here had been "no trouble with the Negro before the war when most admitted the superiority of the white race."
The article went on to claim that due in part to the war, black American no longer focused on the sacrifice of "white men's lives" in ending slavery: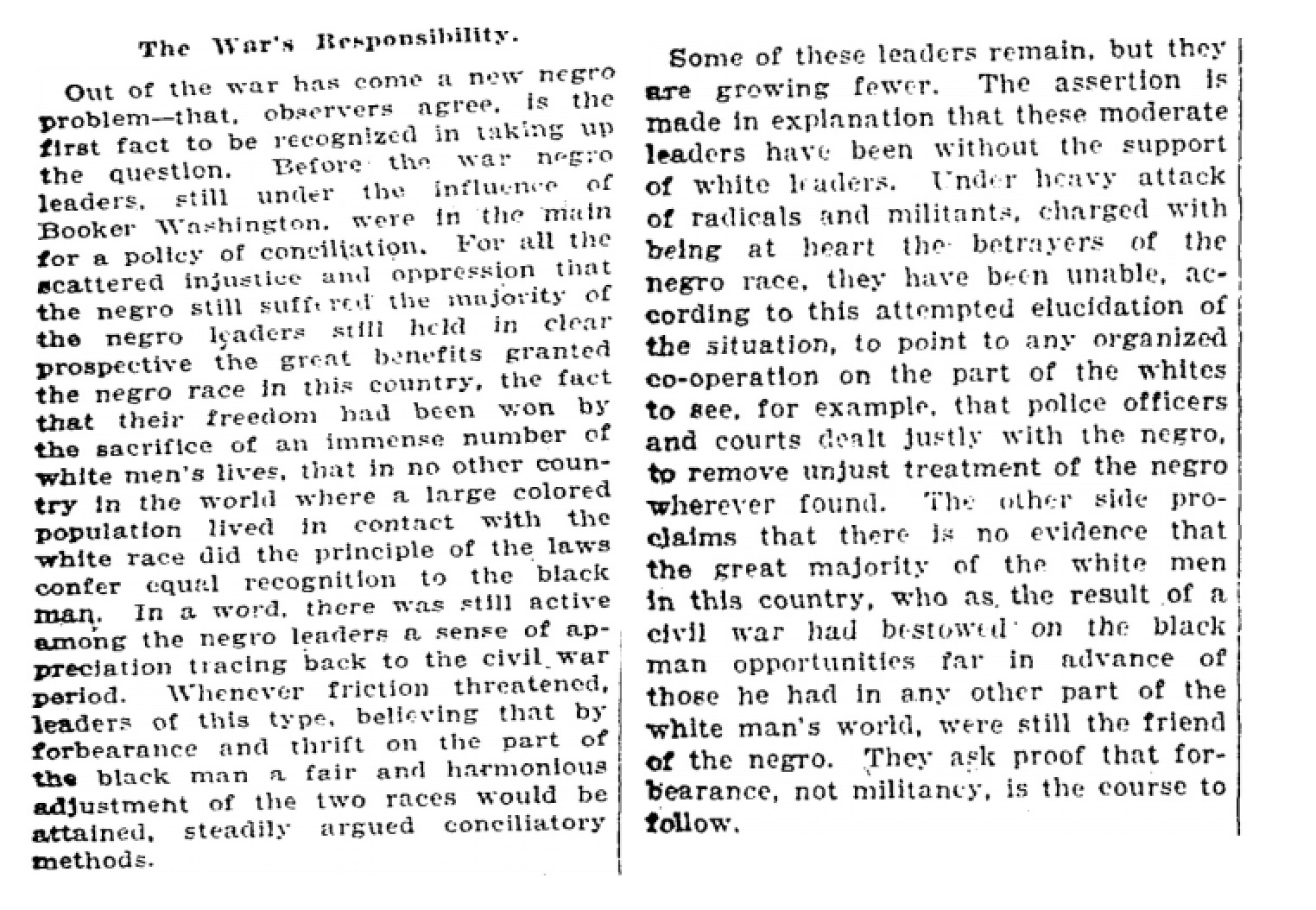 PBS published an undated entry in its "The Rise and Fall of Jim Crow" series about the 1919 race riots, detailing some of the events:
On the afternoon of July 27, 1919, a stone-throwing melee between blacks and whites began after a black youth mistakenly swam into territory claimed by whites off the 29th Street beach in Chicago. Amidst the mayhem, Eugene Williams, a black youth, drowned. When a white police officer refused to arrest the white men involved in the death, and instead arrested a black man, racial tensions escalated. Fighting broke out between gangs and mobs of both races. Violence escalated with each incident, and for 13 days Chicago was in a state of turmoil. By the time the riot ended, 23 blacks and 15 whites were dead, 537 injured, and 1,000 black families were left homeless. The Chicago riot was part of a national racial frenzy of clashes, massacres, and lynchings throughout the North and the South. All of the incidents were initiated by whites. In Washington, D.C., from July 19 to 23, four whites and two blacks were killed; whites were astonished that blacks dared to fight back. The NEW YORK TIMES lamented the new black militancy: "There had been no trouble with the Negro before the war when most admitted the superiority of the white race."
As noted in the New York Times article from October 1919, one of many outbreaks of violence occurred in July 1919 in Norfolk, Virginia. A homecoming ceremony for black soldiers returning from World War I was attacked by a white mob; six people were shot. The role of the war and the return of soldiers was examined in the 2011 book Red Summer: The Summer of 1919 and the Awakening of Black America. A November 2011 review summarized its focus:
Black servicemen fighting in Europe encountered a white population often less hostile than American whites. The talk of a "New Negro" appeared in print and was heard on the streets. Civil rights protests erupted in the North and South. It was not unreasonable for African-Americans to think — or at least hope — that wartime gains would be maintained and even extended.

Instead of rewarding black Americans for their military service or even acknowledging their patriotic sacrifice, however, white Americans resolved to restore the pre-war status quo. Southern states cracked down hard on black protest organizations. The summer of 1919, argues journalist Cameron McWhirter, witnessed the "worst spate of race riots and lynchings in American history." From April to October, American cities exploded in an orgy of violence whose extensive bloodshed led Johnson to name it the "Red Summer." "Though no complete and accurate records on the eight months of violence were [ever] compiled," McWhirter notes, "at least 25 major riots erupted and at least 52 black people were lynched" in those months. "Millions of Americans had their lives disrupted. Hundreds of people — most of them black — were killed and thousands more were injured. Tens of thousands were forced to flee their homes."
A February 2019 Facebook post claimed that "victorious black soldiers returning to the U.S. from World War I [were] lynched while still in uniform," alongside a photograph of 1943 race riots in Detroit. However, the deadly "Red Summer of 1919" is a part of American history, the product of racism and  race-related tensions exacerbated by World War I. Many black civilians were killed, but in at least one instance a homecoming event for black soldiers was marred by racist violence in July 1919. Although the image is misleading, the claim is accurate.