'Who is Derek M. Chauvin?'
Claim
Former Minneapolis law enforcement officer Derek Chauvin was involved in several incidents prior to the death of George Floyd in May 2020.
Like this fact check?

Reporting
The extrajudicial killing of 46-year-old George Floyd in Minneapolis in May 2020 led to increased scrutiny of Officer Derek Chauvin, who was caught on video pinning his knee on Floyd's neck for several minutes prior to Floyd's death.
Around social media, users circulated a graphic showing several incidents involving Chauvin: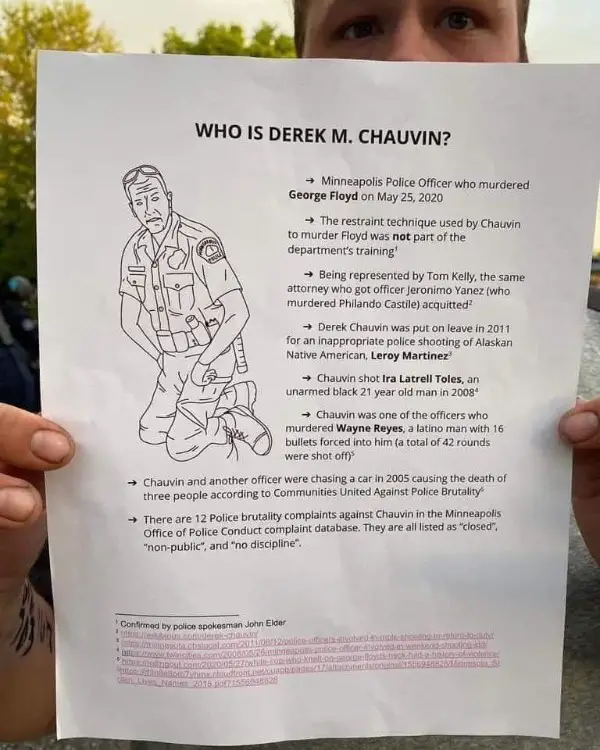 Floyd died at a local hospital after he was stopped by Chauvin and fellow officers J. Alexander Kueng, Thomas Lane, and Tou Thao for allegedly trying to pass a counterfeit $20 bill at a convenience store. All four officers were terminated from the Minneapolis Police Department a day after the incident, which was caught on video and posted on Facebook, where it first garnered attention and widespread coverage.
Chauvin was arrested on May 29, 2020 in connection with Floyd's death. On April 20 2021, he was convicted on charges of second-degree unintentional murder, third-degree murder and second-degree manslaughter.
Hennepin County Attorney Mike Freeman announced that the other three officers at the scene were still under investigation.
We did, however, examine several of the other claims listed in the graphic:
The restraint technique used by Chauvin was not part of his department's training.
True. Police spokesperson John Elder confirmed this claim in statements to news outlets, saying, "In my years as an officer, that would not be what I would ever consider a chokehold."
However, Elder has also claimed that Floyd was "physically resisting" at the time of his arrest and that the officers were wearing body cameras during the incident. But surveillance video from the scene contradicts the allegation that Elder was resisting officers, and there is no indication that Chauvin was wearing a body camera at the time of the encounter. We contacted Elder looking for comment on these discrepancies, but have yet to hear back.
Chauvin is being represented by Tom Kelly, the attorney who also represented Jeronimo Yanez — the officer who shot and killed Philando Castile in 2016.
True. Both local and national news outlets have confirmed that Kelly is representing Chauvin. Yanez was working for as an officer for the suburban community of St. Anthony when he carried out an extrajudicial killing of Castile during a traffic stop on July 6, 2016.
Castile's death gained national attention after being broadcast on Facebook by his partner Diamond Reynolds. Both Reynolds and the couple's 4-year-old daughter were in the car at the time that Yanez shot and killed Castile. Yanez was charged with second-degree manslaughter and dangerous discharge of a firearm, but was acquitted on June 16 2017. Yanez was fired from the department the same day.
Chauvin was put on leave following the shooting of Leroy Martinez by police in 2011.
True. It is standard procedure for officers to be placed on leave following a shooting. And as the Associated Press reported, Chauvin was one of several officers who responded to a call saying that Martinez, who was 23 at the time, had been spotted at the Little Earth of United Tribes housing complex with a gun. Authorities said that Martinez brandished the weapon at officers and refused to drop it. He was shot by another officer, identified as Terry Nutter.
One witness, Delora Iceman, told the Minneapolis Star-Tribune at the time that Martinez actually did drop his weapon and put his hands in the air before Nutter shot him. A police spokesperson said her account was "not consistent with other statements … from other independent witnesses." None of the officers involved were disciplined, and then-police chief Timothy Dolan said that they acted "appropriately and courageously."
Chauvin shot Ira Latrell Toles, an unarmed 21-year-old Black man in 2008.
True. As the St. Paul Pioneer Press reported at the time:
According to police:

Just before 2 a.m., 911 dispatchers received a call from a residence at 1828 Columbus Ave. S. According to police, the 911 call remained open, and an operator could hear a woman yelling for someone to stop hitting her.

Chauvin and another officer who responded had to force their way into the apartment.

Toles ran from the officers as soon as they got inside, but they caught and tried to subdue him, according to police. In the struggle, Toles grabbed at one of the officer's guns. Chauvin fired at Toles and hit him in the torso.
Chauvin was involved in the extrajudicial killing of 42-year-old Wayne Reyes in 2006.
True. According to a report from the advocacy group Communities United Against Police Brutality, Chauvin and five other officers responded to reports that Reyes had stabbed his girlfriend and a male friend and drove away from the scene. Police said that after being stopped, Reyes got out of his car and pointed a shotgun at them. The group said that Chauvin and his cohorts shot and killed Reyes at the scene.
Chauvin and another officer were chasing a car in 2005 causing the death of three people according to Communities United Against Police Brutality.
Unknown. The same group's report also stated:
Darwin Vivar, age 28 and Klevar Jacome, age 35, were killed instantly when a car fleeing Minneapolis police officers Derek Chauvin and Terry Nutter slammed into their car. Everett Vivar, 35, died a few days later.
We contacted Minneapolis police seeking confirmation that Chauvin and Nutter were in pursuit of the vehicle involved in the fatal crash.
There are 12 police brutality complaints against Chauvin in the Minneapolis Office of Police Conduct complaint database. They are all listed as 'closed,' 'non-public,' and 'no discipline.'
True. Though the number of complaints listed against him is accurate, it should be noted that those listings are not separate. Chauvin has incurred seven complaints to the city's Office of Police Conduct Review and another five to the city's Civilian Review Authority. In each case, "non-public" is listed under the allegation brought against him; "no discipline" indicates the outcome; and "closed" is listed as the status for each case.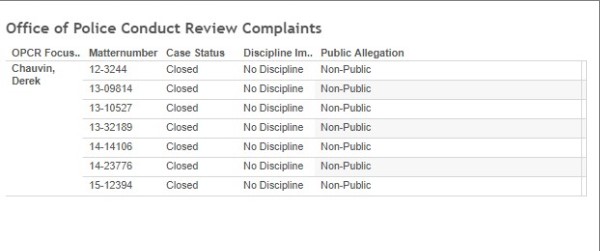 Update May 29, 2020 11:29 am PST: Updated to reflect the arrest of Derek Chauvin on May 29, 2020.
Update April 20, 2021 2:12 p.m. PST: Updated to reflect the conviction of Derek Chauvin on April 20, 2021.