On June 12 2023, a screenshot of a tweet about a ZipRecruiter "crisis actors" job listing for Miami, Florida was shared to r/WhitePeopleTwitter:
Titled "Be careful out there folks," the post depicted a June 11 2023 tweet by Twitter user Ron Filipkowski:
Fact Check
Claim: Image depicts a job posting on ZipRecruiter, seeking "crisis actors" in Miami in June 2023.
Description: 'Crisis Actor' jobs were posted on ZipRecruiter for Miami, implying a planned or staged crisis event in the area.
The Tweet
Several unarticulated concepts were present in the tweet. One was a reference to "Tuesday" (in Miami), presumably regarding disgraced former U.S. President Donald Trump's scheduled hearing in federal court at that location on June 13 2023; an ABC News liveblog explained:
Former President Donald Trump has landed in Florida ahead of his Tuesday afternoon [June 13 2023] appearance in federal court in Miami.

Trump is spending Monday night [June 12 2023] at his golf club in Doral, Florida.

Miami police prepared for crowds of 5,000 to 50,000

Preparations are underway in Miami ahead of former President Donald Trump's [June 13 2023] appearance in federal court, city officials said at a news conference [on June 12 2023].
In the tweet, Filipkowski asserted that it was "shaping up to be quite a scene" on that date, adding that the turnout wouldn't likely "be boring either." An attached screenshot depicted Google results for ZipRecruiter.com, and visible text on the screenshot read:
$13-94/hr Crisis Actor Job in Miami Beach, FL (NOW HIRING)

Browse 12 MIAMI BEACH, FL CRISIS ACTOR jobs from companies (hiring now) with openings. Find job opportunities near you…

$13-93/hr Crisis Actor Job in Miami, FL (NOW HIRING)

Browse 13 MIAMI, FL CRISIS ACTOR jobs
Filipkowski's tweet emerged against a backdrop of concerns over open calls to violence ahead of Trump's June 13 2023 hearing. On June 12 2023, Vice.com reported:
Other members of [message board] The Donald used language associated with white supremacist groups that advocate for acts of violence they claim will hasten a race war. "Accelerate, the quicker the normies realize this isn't a free country, the quicker things can be fixed," one user wrote under a post about Trump's indictment.
At the end of the piece, Vice.com described Trump's social media activity ahead of the hearing:
Trump himself has done nothing to tamp down any potential threats, repeatedly calling for his own supporters to turn up en masse in Miami on Tuesday, just as he did ahead of the Jan. 6 [2021] Capitol riot … [On June 10 and 11 2023,] Trump raged on Truth Social, and called Bill Barr a "gutless pig" after the former attorney general called the indictment "seriously damning." Trump also shared a meme about his indictment with a caption declaring, "THIS IS NOT A GAME, THIS IS WAR."

In his first post-indictment interview, Trump spoke to his former adviser Roger Stone, who played a key role in mobilizing the protest movement ahead of Jan. 6th [2021].

"Our country has to protest," Trump told Stone [in June 2023], framing the indictment as a political persecution and claiming, without evidence, that the charges were brought only to "cover up a massive crime" perpetrated by Hunter Biden. "We've lost everything."
ZipRecruiter 'Crisis Actor' Jobs in Miami
Immediately, one thing in the screenshot's text stood out. Variable elements of the entries (such as job title and location) rendered in all capital letters, as if the entries fluctuated to match search keywords.
The top comment on the r/WhitePeopleTwitter thread stated:
If you actually click on the link you'd see those jobs don't exist and ziprecruiter is simply searching their data base for the keywords you typed in yourself. This is a very easy test to perform.
Another user added:
It's actually a lot dumber than [it seems]. ZipRecruiter matches keywords and then throws random jobs that match those keywords in order to bait users in. I googled it just for fun and the top results are a crisis management position, emotional support hotline operator, and an HR position.
A third commenter replied:
Learned this during my last job search when I googled "is Zip recruiter Useless?" Needless to say I got a good chuckle with the results.
That commenter shared an image illustrating their point: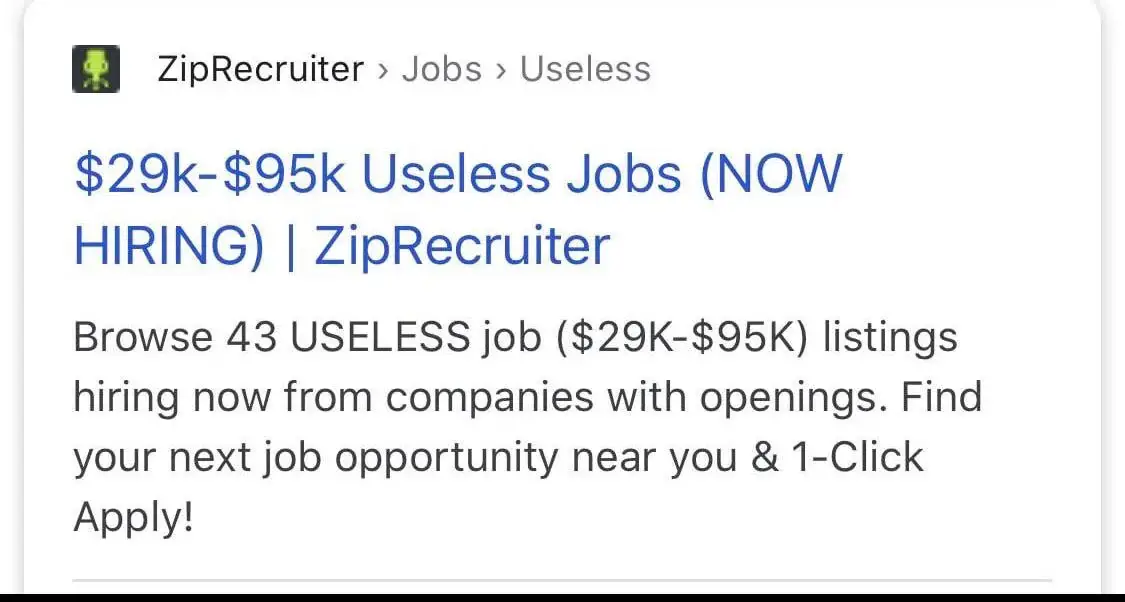 To test the claims made in the Reddit comments, we searched the names of cryptids or mythological creatures alongside "ZipRecruiter." For "Mermaid ZipRecruiter" and "Sasquatch ZipRecruiter," the following results were returned: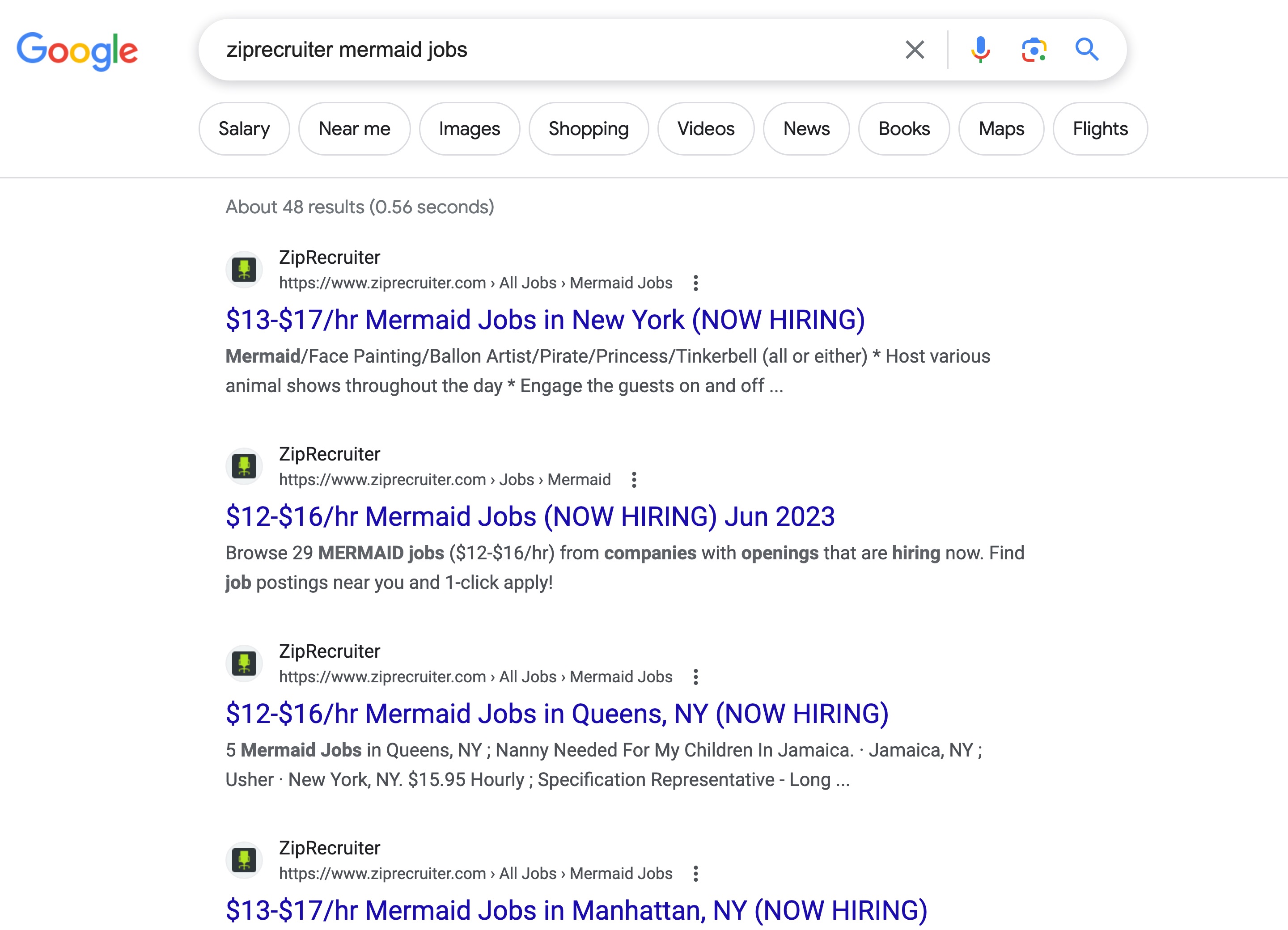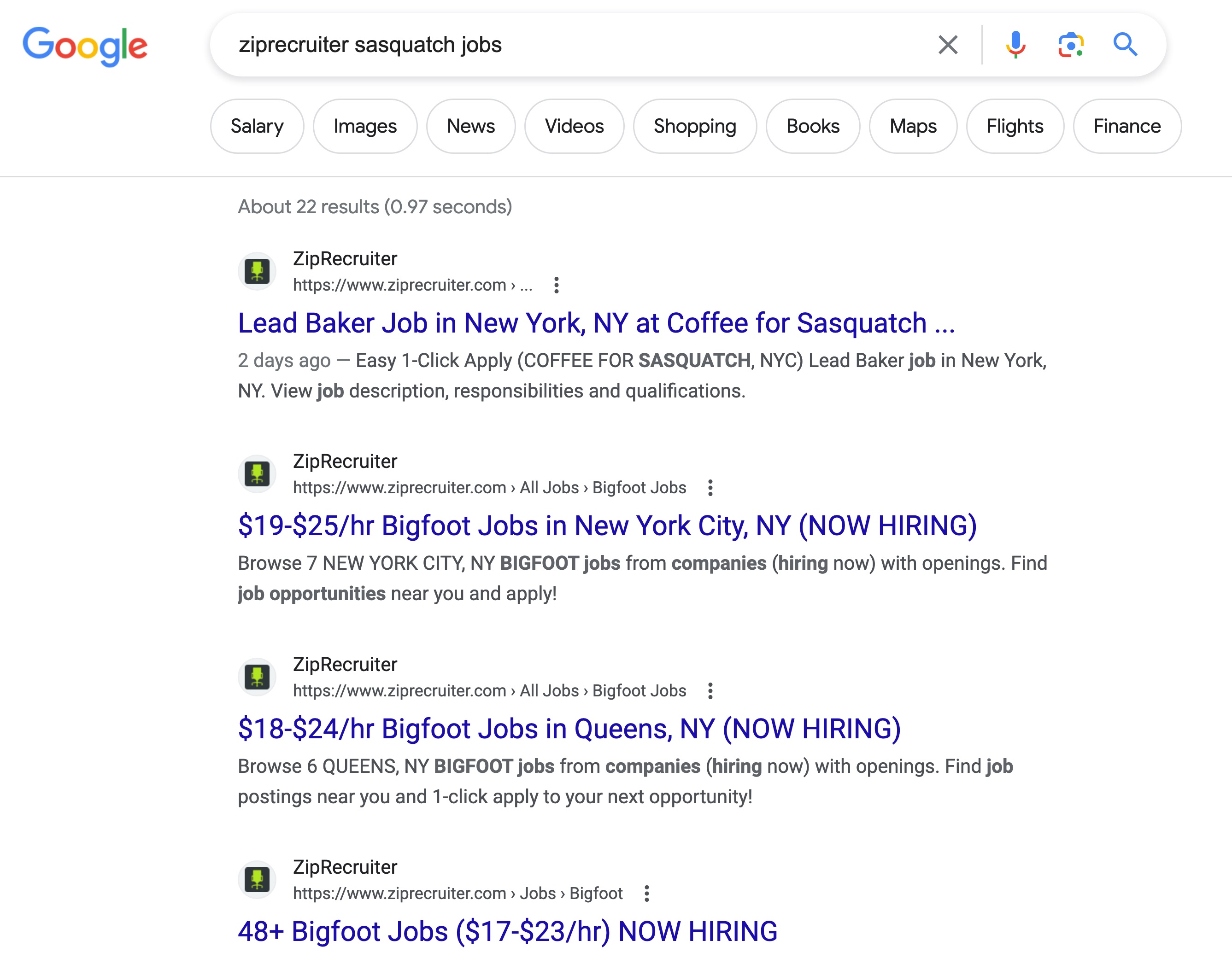 A third search for "ZipRecruiter" and "crisis actor" (minus location) returned a bevy of purportedly available "crisis actor" jobs in and around New York City: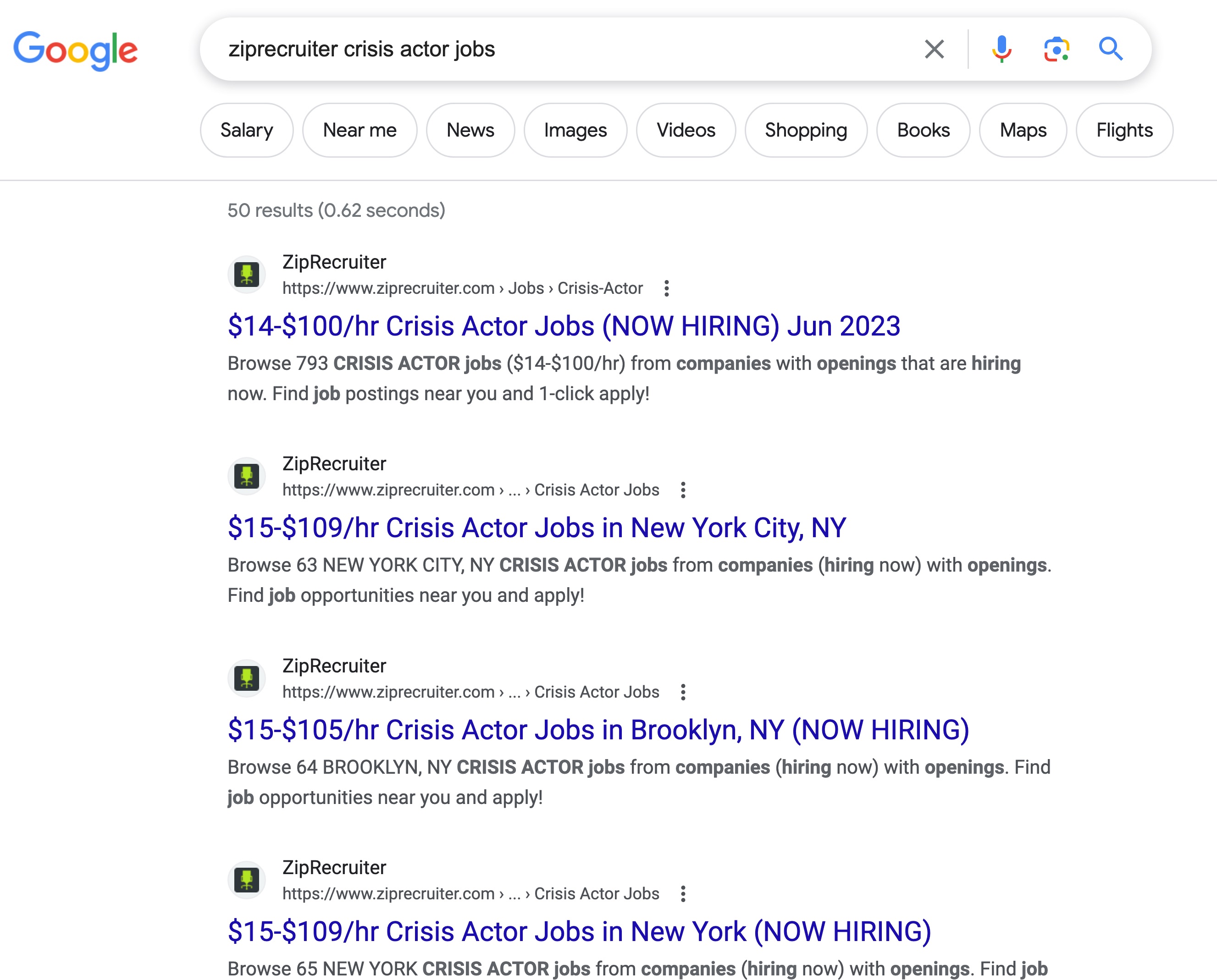 The 'Crisis Actor' Thing, in Brief
The phrase "crisis actor" is a conspiracy theory mainstay used to discredit mass casualty events; it entered the conspiracist mainstream with the Sandy Hook mass shooting in December 2012, as a Wikipedia entry for the term explains in a subsection:
In the United States, the term ["crisis actor"] has been used by conspiracy theorists who claim that some mass shootings and other terror events are staged for the advancement of various political objectives. Conspiracy theorists' use of the term is thought to have originated in 2012, when a blog post by former professor and professional conspiracy theorist James Tracy suggested that the government could have hired an acting agency named Visionbox to help stage the Sandy Hook Elementary School shooting. Visionbox offered dramatic training "in criminal and victim behavior" to actors intended to help "bring intense realism to simulated mass casualty incidents in public places."

Tracy also promoted a crisis actor conspiracy theory of the Boston Marathon bombing. Conspiracy theorists have falsely claimed such attacks are "false flag operations" staged by conspirators, usually government or corporate forces, in order to achieve some goal such as justifying increased government surveillance, disarmament of the population, or military action against blamed nations or groups. Crisis actors are claimed in this context to play the part of bystanders or witnesses, emergency response personnel, and (with the aid of stage makeup) wounded victims of the attack.

Advocates of the conspiracy theory include Alex Jones and outlets such as True Pundit …
After entering the mainstream, the concept was attached by conspiracy theorists ("hoaxers") to every major casualty event. In February 2018, the Southern Poverty Law Center (SPLC) observed that the baseless conspiracy theory had been almost instantly used to smear survivors of the Parkland, Florida mass shooting at Marjory Stoneman Douglas High School:
The "crisis actor" narrative gained traction in some of the most extreme corners of the online radical right. Mike Peinovich's viciously racist blog, "The Right Stuff," features a spirited discussion on the conspiracy in its 504um, complete with the usual speculation about imagined Jewish influence and the distasteful slurs to match. [In February 2018], The Daily Stormer piled on with a blog post from founder Andrew Anglin, called, "So are These Florida Gun Control Kids Crisis Actors or What?"

Anglin stopped short of insisting the shooting was entirely fabricated, counseling his audience to please, "not go crazy with the conspiracy stuff." But he didn't rule it out. "The Jews are extremely desperate right now, and basically willing to do whatever," he wrote.

Other extremist groups propagated the conspiracy on social media. Ryan Ramsey, of the American Guard, shared a "crisis actor" meme on Instagram. The American Guard has been designated a hate group by the Southern Poverty Law Center because of the organization's association with violent skinheads. A Facebook page for the III% Security Force, an antigovernment militia, featured multiple articles from Infowars attacking Hogg.
In April 2022, the New York Times published an article about Russia's use of the conspiracy narrative after it bombed a Ukrainian maternity hospital:
Using unrelated images from social media, dodgy "reports" and constant repetition, the Russian Defense Ministry falsely claimed the airstrike was a "staged provocation" by Ukraine. The hospital, Russian officials falsely said, was nonoperational and a base for Ukrainian fighters. Moscow's ambassador to the United Nations dismissed Associated Press photographs of the aftermath as "fake news," and the Foreign Ministry alleged that bloodied, pregnant women evacuated from the rubble were crisis actors.
Summary
On June 12 2023, screenshots of a tweet about ZipRecruiter crisis actor jobs in Miami, Florida began circulating. As Reddit users noted, ZipRecruiter appeared to tailor search results to any keyword search — even for mythical creatures. The "crisis actor" conspiracy theory took root in the American  mainstream after the Sandy Hook school shooting. Filipkowski's tweet circulated amid ongoing concern about outbreaks of violence in or near Trump's Miami federal court hearing on June 13 2023.