Aldi Giving Away 40% Off Coupons-Scam!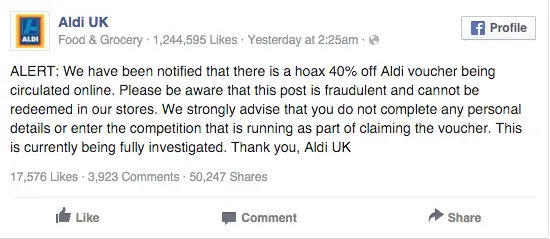 Summary of eRumor:
A 40% off Aldi coupon is making the rounds online.
The Truth:
A 40% Aldi coupon that has appeared on social media sites is a scam.
The fake 40% off coupon first appeared on CouponsForChristmas.com in December 2015. Shoppers were told that they had to share, like and comment on the 40% off coupon on Facebook in order to redeem it.
Aldi UK quickly warned shoppers that there was no 40% off coupon and that scammers were using the fake offer to get their victims to reveal personal information:

Similar fake coupons have become common on Facebook. Shoppers are promised free products or discounts for liking, sharing and commenting on coupon offers. Scammers use these fake offers for a number of reasons. In what's known as "like farming scams," fake offers are used to generate "likes" for a Facebook page that can later be sold for a profit due to its high visibility. Victims may also be prompted to fill out surveys with personal information that could be sold to third parties or used to sign victims up for expensive subscriptions without permission.
When redeeming coupons online, make sure that you're go through a company's official website or Facebook page — not a third-party site like CouponsForChristmas.com.