Allegations Swirl Around Pete Buttigieg's 'Douglass Plan'
Claim
Democratic Party presidential candidate Pete Buttigieg's campaign released a statement claiming that more than 400 Black South Carolinians had endorsed his plan to fight racial inequality.
Like this fact check?

Reporting
Democratic Party presidential candidate Pete Buttigieg and his campaign have come under criticism after Black leaders in South Carolina questioned their inclusion in a statement promoting his plan to address racial inequality should he be elected.
The statement, published in the HBCU Times on October 24 2019 (the acronym stands for Historically Black Colleges and Universities) stated:
We are over 400 South Carolinians, including business owners, pastors, community leaders, and students. Together, we endorse his Douglass Plan for Black America, the most comprehensive roadmap for tackling systemic racism offered by a 2020 presidential candidate.

Pete recognizes that our challenges are intertwined–that you cannot talk about criminal justice reform without talking about an issue like economic empowerment, and you cannot talk about economic empowerment without talking about things like how our neighborhoods were segregated.
Three political figures from South Carolina — Johnnie Cordero, chair of the South Carolina Democratic Party Black Caucus, Columbia City Council member Tameika Devine and state Rep. Ivory Thigpen — were listed on the byline for the statement, along with "more than 400 Douglass Plan endorsers."
However, all three refuted the implication that their inclusion constituted an endorsement of Buttigieg, the mayor of South Bend, Indiana. Additionally, The Intercept reported that Thigpen is actually endorsing another candidate, Sen. Bernie Sanders (I-Vermont).
Devine, meanwhile, said Buttigieg's campaign was "intentionally vague" about the way her involvement was presented.
"Clearly from the number of calls I received about my endorsement, I think the way they put it out there wasn't clear, that it was an endorsement of the plan, and that may have been intentionally vague," she said:
I'm political, I know how that works. I do think they probably put it out there thinking people wouldn't read the fine print or wouldn't look at the details or even contact the people and say, "Hey, you're endorsing Mayor Pete?"
Cordero, whose name was later removed from the statement, said he never endorsed the Douglass Plan and asked Buttigieg's staff for more details on how it was put together, but to no avail.
"I know Pete didn't draft the plan. I'm sure he had his advisers do it," he said. "But I wanna know who was involved in this plan such that you can claim that you speak for black America. The long and the short of it was they never sufficiently answered my questions, so I never actually endorsed the plan. They went ahead and used my name."
The campaign responded in a statement to the Intercept:
We asked a number of Black South Carolinians, as well as South Carolinians from many backgrounds, to support the Douglass Plan, and we are proud and grateful that hundreds agreed to do so.

In the HBCU Times op-ed and in communications with the press, we've been clear that not every supporter of the plan is Black, and have never claimed otherwise in any public communication. We never gave the impression publicly that these people were endorsing Pete, only that they supported the plan. After they indicated their support, we reached out to people multiple times giving them the opportunity to review the language of the op-ed and the option to opt-out. We did hear from people who weren't comfortable being listed and we removed them.
Compounding the issue, the Intercept also reported that the lead photograph on a Buttigieg campaign webpage promoting the plan was a stock image of a Kenyan woman who was unaware that her image was being used for that purpose.
Buttigieg's campaign told the Washington Post that while the contractors who chose the photo were not aware of its origin, it was taken down from the site in September 2019.
But the criticism spread even further on Twitter with a popular tweet from Rachel R. Gonzalez, a Democratic Party activist out of Missouri:
Yesterday Pete Buttigieg put out a list of 400 Black South Carolinians that endorse him/his plan.

-A lot of the people are confused because they didn't endorse.

-42 percent of the list is white.

-They used stock photos from Kenya.

Yet we have heard nothing from his campaign.
Gonzalez also pointed out that far-right activist Charlie Kirk — perhaps best known for his involvement with a stunt that included a college student wearing diapers to a "free speech" event — lifted her original tweet verbatim, but without once acknowledging her as the source: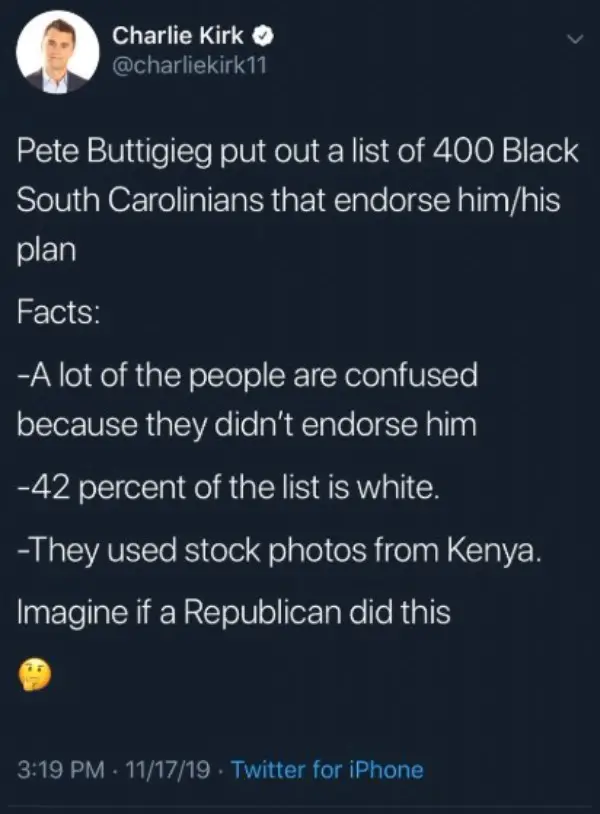 While some of her claims seem to employ hyperbole — "a lot of the people" expressing confusion, for example, when the reporting focused on three people; and "stock photos" in place of the singular — but the claim that 42 percent of the people in the list is sound.
While the statement does not claim that all of the 422 people listed by name at the conclusion are Black, the Intercept has reported that at least 297 of them appear on the South Carolina state voter rolls.
"But for 184 of them, the voter file lists either one name, or lists multiple people, all of whom self-identify as white — so at least 42 percent of the entire list is white. And that means 62 percent of the 297 names that can be reliably checked are white," the site said.
The South Carolina Democratic primary is scheduled for February 20 2020. According to a Quinnipiac University poll released on November 18 2019, Buttigieg has amassed the support of 6 percent of all likely voters.