'Allegedly, This Is From a 1958 UK Government Report'
Claim
A study commissioned by the British government listed several "types of homosexual" including the "war queer."
Like this fact check?

Reporting
A nearly 70-year-old catalog of "types of homosexual" continued getting attention online in April 2020, with social media users reclaiming at least one of its definitions.
Photographs of a page from Austrian sociologist Richard Hauser's book The Homosexual Society: A New Approach to the Problem, Including a Sociological Report Prepared for the Home Office circulated on Facebook in April 2020, with some of them accompanied by the caption, "Allegedly this is from a 1958 UK government report" above the list of terms including "The Pub Type," "The War Queer," "Sugar Daddies," and "The Fully Sublimated Homosexual or Bisexual," among others.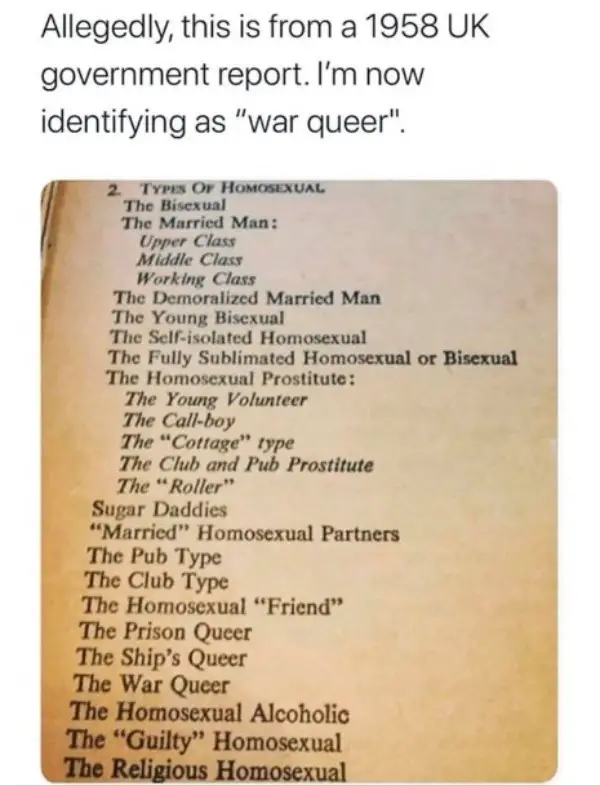 But the photograph's social media history actually dates back to April 2016; it first gained attention online (as well as news coverage) after comedian Ivan Kirby posted it to his Twitter account:
A full list of homosexuals available in 1958. pic.twitter.com/Mf06DofclR

— Ivan Kirby (@hellothisisivan) April 14, 2016
He also posted a photograph of the cover identifying the book:
@martinjdixon Here you go. pic.twitter.com/ipHhY788x4

— Ivan Kirby (@hellothisisivan) April 15, 2016
"I'm part annoyed, part proud I've finally tweeted something people want to steal," he wrote as other users shared the photos.
Hauser's report — listing 46 "types" of gay men in all — was, in fact, commissioned by the British government and published in 1962, as confirmed in Parliament in February 1964 by then-secretary of state for the Home Department Henry Brooke. According to an analysis of Hauser's research published in the Journal of British Studies in 2012:
In many respects, The Homosexual Society, commissioned by the Home Office Research Department, was a throwback to an earlier era, with Hauser arguing that psychological immaturity was characteristic of the homosexual, an individual who needed to be urged to develop more socially useful roles. Like earlier postwar thinkers, he also argued that homosexuality could be "environmentally produced" and that, consequently, "there is a great need to understand the issues primarily in order to contain the evil" and "handle it properly when it occurs."