'Amazon Banned Parler, But Allowed People to Buy This Shirt from Their Website.'
Claim
After Amazon Web Services discontinued hosting Parler, users found a listing on Amazon.com for a shirt reading "Kill All Republicans."
Like this fact check?

Reporting
On January 16 2021, a claim about Amazon selling a "Kill All Republicans" shirt went viral as part of backlash over Amazon Web Services' (AWS) decision to discontinue hosting controversial social media platform Parler.
In a tweet, right-wing pundit Ryan Fournier wrote: "Amazon banned Parler, but allowed people to buy this shirt from their website. Unbelievable":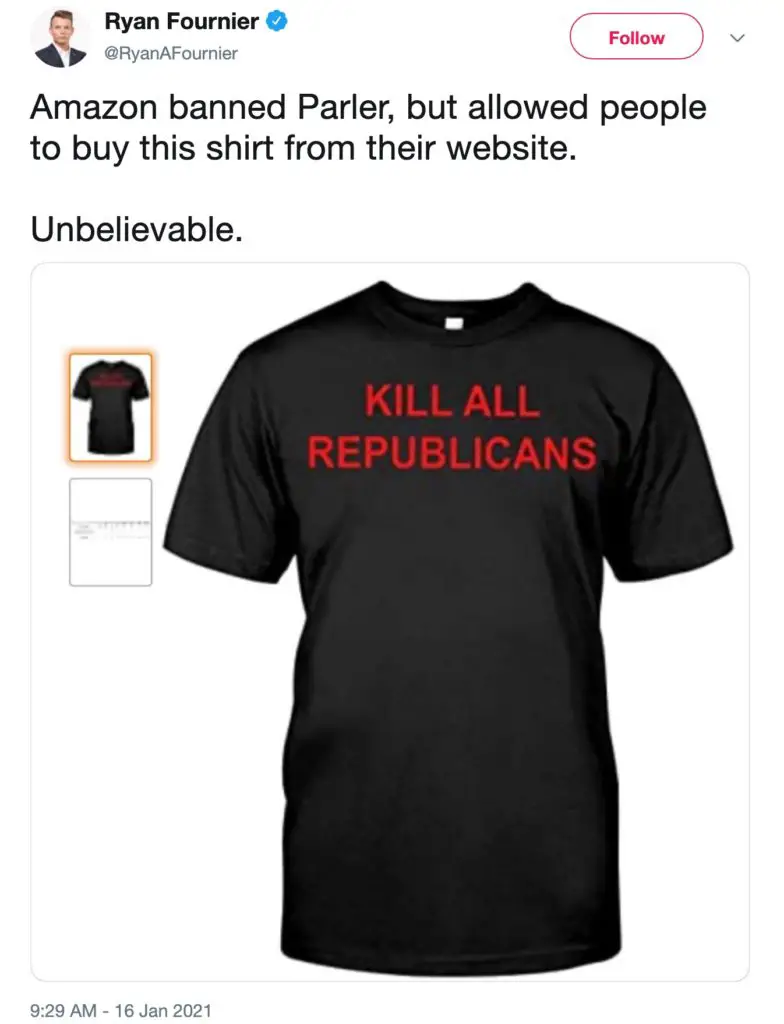 On the same day, chronic disinformation purveyor Jim Hoft published a post to The Gateway Pundit titled "Amazon Bans Parler for 'Violence' But Allows Kill Trump Merchandise," claiming:
Always Remember: The Left is projecting on you what they are doing in spades.

Last week the tech giants colluded together in an attempt to destroy social media alternative Parler. The final straw came when far left Amazon banned Parler from using its cloud service.

Ryan Fournier later pointed out that Amazon is selling "Kill all Republicans" on its website.

Amazon has since taken this product down.
The claim contains a few moving parts.
'Amazon 'Banned' Parler'
On January 9 2021, BuzzFeed reported that Amazon Web Services (a hosting provider and subsidiary of Amazon) had discontinued hosting Parler after the January 6 2021 Washington, D.C. insurrection, during which a right-wing mob rioted at the United States Capitol building, leaving widespread destruction and at least five people dead:
Amazon notified Parler that it would be cutting off the social network favored by conservatives and extremists from its cloud hosting service Amazon Web Services, according to an email obtained by BuzzFeed News. The suspension, which will go into effect on [January 10 2021] just before midnight, means that Parler will be unable to operate and will go offline unless it can find another hosting service.

People on Parler used the social network to stoke fear, spread hate, and allegedly coordinate the insurrection at the Capitol building on Wednesday [January 6 2021]. The app has recently been overrun with death threats, celebrations of violence, and posts encouraging "Patriots" to march on Washington, DC, with weapons on Jan. 19 [2021], the day before the inauguration of President-elect Joe Biden.

In an email obtained by BuzzFeed News, an AWS Trust and Safety team told Parler Chief Policy Officer Amy Peikoff that the calls for violence propagating across the social network violated its terms of service. Amazon said it was unconvinced that the service's plan to use volunteers to moderate calls for violence and hate speech would be effective.
Ars Technica quoted the email obtained by BuzzFeed:
It's clear that Parler does not have an effective process to comply with the AWS terms of service. It also seems that Parler is still trying to determine its position on content moderation. You remove some violent content when contacted by us or others, but not always with urgency. Your CEO recently stated publicly that he doesn't "feel responsible for any of this, and neither should the platform." This morning, you shared that you have a plan to more proactively moderate violent content, but plan to do so manually with volunteers. It's our view that this nascent plan to use volunteers to promptly identify and remove dangerous content will not work in light of the rapidly growing number of violent posts.
Early in the afternoon on January 18 2021, The Independent reported that Parler appeared to be moving back online:
Parler, the social media website popular with Donald Trump supporters which was banned on Apple, Google, and Amazon's platforms, has returned online.

While the social media site has not regained full operability, there are now two messages at its URL.

"Now seems like the right time to remind you all — both lovers and haters — why we started this platform. We believe privacy is paramount and free speech essential, especially on social media. Our aim has always been to provide a nonpartisan public square where individuals can enjoy and exercise their rights to both", a statement on Parler's website reads.

"We will resolve any challenge before us and plan to welcome all of you back soon. We will not let civil discourse perish!"
'Amazon … Allowed People to Buy This Shirt from Their Website'
Fournier neither linked to Amazon.com nor did he present a screenshot immediately identifiable as originating on Amazon.com when he made his claim. Manual retweets of the tweet displayed the image as it appeared in archived versions of Fournier's tweet:
Wow, this makes me sick. And they really do want to knock us off too, for real. RT @RyanAFournier: Amazon banned Parler, but allowed people to buy this shirt from their website.

Unbelievable. pic.twitter.com/oR1G96cNTw

— Annie Mae (@anniemae1000) January 17, 2021
A search for any Amazon.com listings for the "Kill All Republicans" shirt led to an error page and an intact URL (https://www.amazon.com/Florence-Partner-1596514268484-Kill-All-Republicans-Black-Shirt-hooz-Shirts/dp/B08F9DZQ96):
We located a version of the page archived on January 18 2021. The item was listed by the third-party merchant Florence & Partner (a storefront for which was live on January 18 2021), under ASIN (Amazon Standard Identification Number) B08F9WDQ1Y.
We were unable to find any comment from Amazon — either on social media accounts or to news organizations — addressing the shirt and its removal from the Amazon platform.
Summary
On January 16 2021, right-wing pundits and chronic disinformation purveyors Ryan Fournier and Jim Hoft objected to a third-party listing of a shirt reading "Kill All Republicans" on Amazon.com, citing Amazon Web Services' decision to no longer host Parler. It is true that on January 9 2021, AWS terminated Parler's hosting, and further true that a third-party Amazon Marketplace seller sold a "Kill All Republicans" shirt in January 2021. Amazon removed the listing after it went viral. In sum, the claim was true; however, the shirt — much like Parler — was quickly removed from Amazon.