'Amazon Customers Blocked From Using Visa Cards'
Claim
Amazon customers were "blocked" from using Visa-issued credit or debit cards in November 2021.
Like this fact check?

Reporting
On November 17 2021, Twitter curated a headline — "Amazon customers blocked from using Visa cards" — to its trending topics and as an "event"; it looked like this: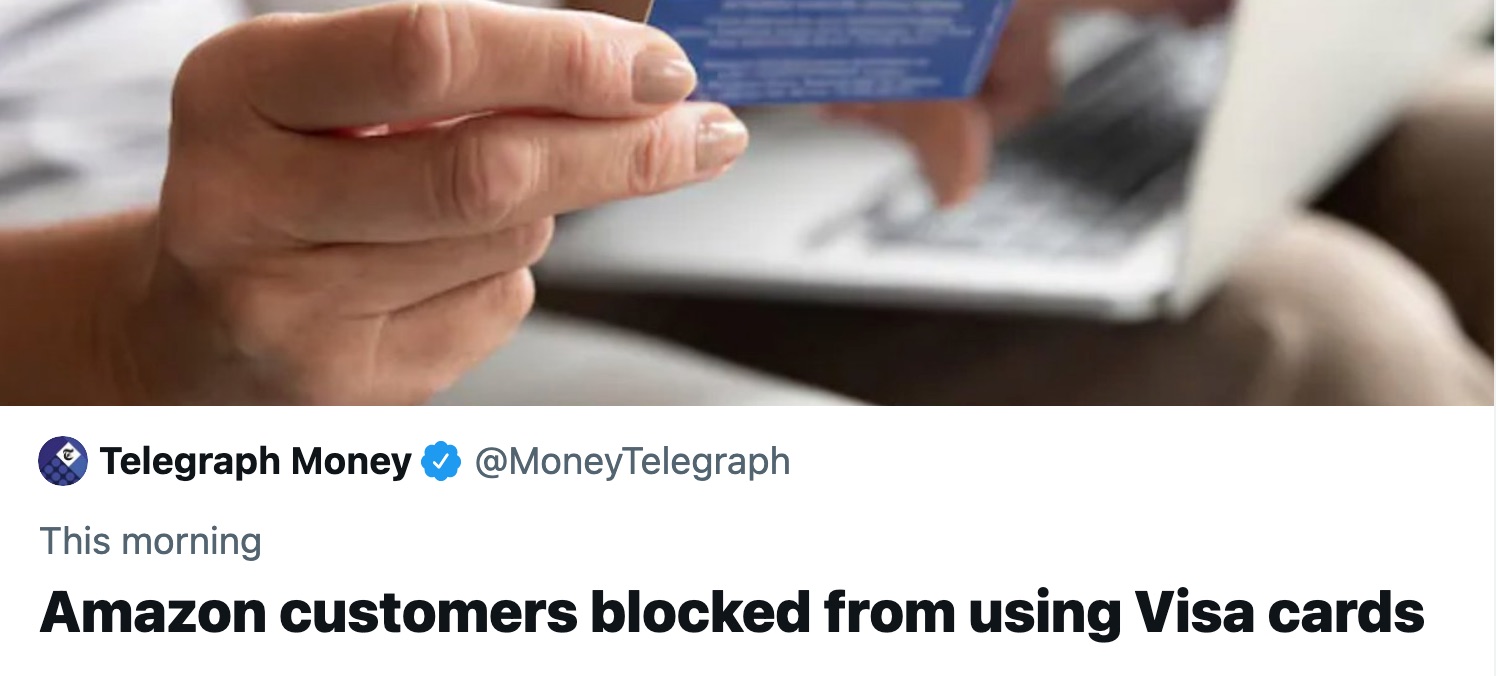 Twitter's trending topics and "events" were frequently illustrated in short excerpts and images. Both here stated that Amazon customers had been "blocked from using Visa cards," a claim that could fairly be described as "big if true."
Visa, an electronic funds transfer facilitator, was one of the largest corporations of its type as of 2020:
Soaring stock prices are propelling credit and debit card companies Visa Inc and Mastercard Inc up the market value charts, where they currently rank 7th and 11th among companies in the benchmark S&P 500 index. The stock prices of both Visa and Mastercard have gained roughly 50% in the past year.

While the stocks may not keep up that torrid pace, Visa and Mastercard would each be worth over $1 trillion by 2023 if their average annual gains of the past three years were to continue, surging past the likes of Facebook Inc and Berkshire Hathaway Inc, if they also maintain their recent pace.

Fueling their rise is a shift toward cashless financial transactions spurred by a rise in online shopping.
CreditCards.com's "Market Share Statistics" reported similar figures, ranking Visa ahead of MasterCard, American Express, and Discover:
Top networks by market share

Visa
Visa is the largest of the four major U.S. credit card networks. For the 12 months ending Dec. 30, 2020, Visa's U.S. credit payments volume was $1.97 trillion, down from $2.15 trillion the year before.

There were 343 million Visa credit cards in circulation in the U.S. and 798 million Visa credit cards in circulation outside of the U.S. at the end of September 2020.4 For comparison, there were 336 million Visa credit cards in circulation in the U.S. and 737 million cards in the rest of the world in September 2017.
As presented on Twitter, the headline had broad implications. Visa, the most common card processor, was purportedly blocked from the platform of Amazon, a very commonly patronized retailer of almost everything.
Complicating matters was that Twitter's curation of the headline centered around a Telegraph Money item, which was hidden behind a paywall. Clicking through to the link led to an article where the complete headline was obscured by a paywall pop-up.
We encountered similar confusion caused by Twitter promoting paywalled Telegraph Money content in October 2021:
A very small snippet of visible text indicated that the Amazon Visa issue applied only to the United Kingdom, and was as of January 19 2022: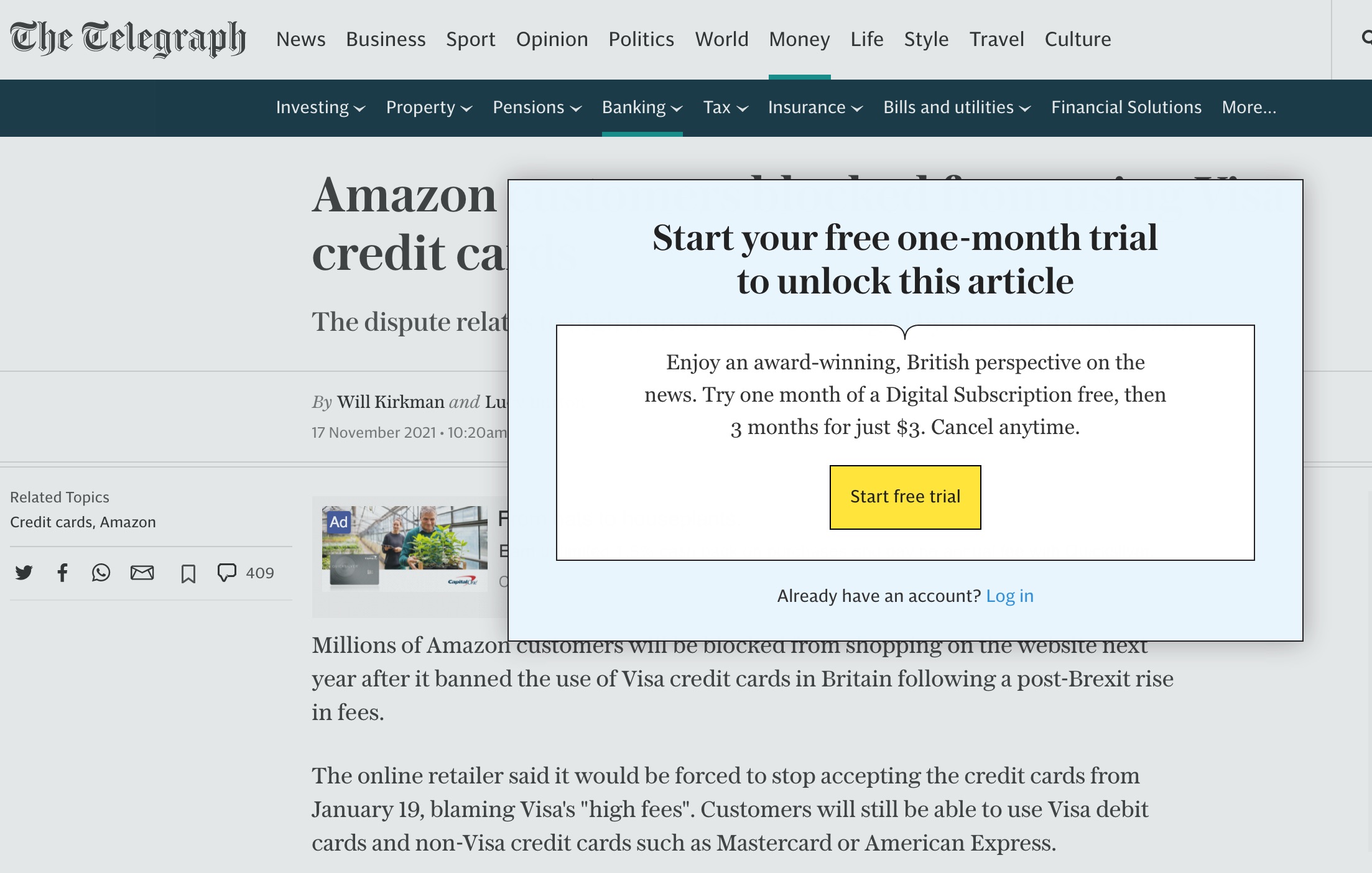 Similar text populated on the dedicated Twitter "event" page for the paywalled headline:
Millions of Amazon customers will be unable to make payments next year after the online retailer banned Visa credit cards in the UK.

In a email sent to customers, Amazon said it would no longer accept the cards due to the "high fees" Visa charged for processing transactions. The ban will come into force on January 19 [2022.]
CNN Business published a Reuters article about the Amazon and Visa issue on November 17 2021, but Twitter didn't promote it. It was not paywalled, and had a far less clickbaitish title — "Amazon won't accept Visa's UK credit cards from January [2022]":
Amazon said on Wednesday [November 17 2021 that] it would stop accepting Visa (V) credit cards issued in the United Kingdom from next year [2022] due to the high fees charged by the payment processor for transactions.

"As a result of Visa's continued high cost of payments, we regret that Amazon.co.uk will no longer accept UK-issued Visa credit cards as of 19 January, 2022," an Amazon spokesperson said in an emailed statement.

Amazon (AMZN) customers can still use Visa debit cards, Mastercard (MA) and Amex credit cards, and Eurocard, the company said in a note to its customers.

Merchants have long disputed with payment processors over transaction fees. A Kroger (KR) unit in 2019 stopped accepting Visa's credit cards, citing excessive fees.
A Twitter "event" page, "Amazon customers blocked from using Visa cards," remained popular on November 17 2021, likely because it left out the fact that the issue applied only to the United Kingdom — and would not even come into effect until January 19 2022. As it appeared on Twitter, the "event" implied that the largest payment processor (Visa) was parting ways with the largest online retailer (Amazon), leading readers to click through to a story that they would not be able to read without a subscription.