As the heavily promoted Amazon Prime Day (although the annual sitewide sale actually lasts for 48 hours) rolled around again on July 11 2023, a Reddit account's post about misleading prices received heavy attention on the popular subreddit r/mildlyinfuriating:
The Reddit Post About Prime Day Prices
Alongside a post ("Saved this to my cart yesterday but decided to wait until today to buy it to get a sale price on Amazon Prime day"), u/QuickWrenn shared a screenshot of an item. The screenshot featured two Amazon product listings, purportedly as they appeared on July 10 and 11 2023, respectively. One listing ("July 10th") showed the footstool listed for $69.08, and the other (labeled "July 11th (Prime Day)") was tagged at "37% off" as part of a "Prime Day Deal" and indicated that the stool's "typical price" was $110.40.
Fact Check
Claim: Image shows a potentially misleading Amazon Prime Day "deal," an Amazon Basics tufted storage ottoman priced at .08.
Description: A Reddit user pointed out a discrepancy in which an Amazon Basics tufted storage ottoman was listed as a Prime Day deal at a discounted price of .08, which was the exact same price it was sold for before the sale. Third-party price tracking apps, Honey and Camelcamelcamel, both erroneously indicated that the item's price had been raised to just under 0 prior to the discount. The article suggests that Amazon had manipulated the prices to create misleading deals, although there's not enough evidence to fully support this accusation.
The item's name was cut off in the screenshot, but the object was visible — an "Amazon Basics Upholstered Tufted Storage Round Ottoman Footstool" in "Burlap Beige." We were able to track  down the item quickly (which was indeed priced at $69.08 and described as marked down from $110.40; the listing is archived here):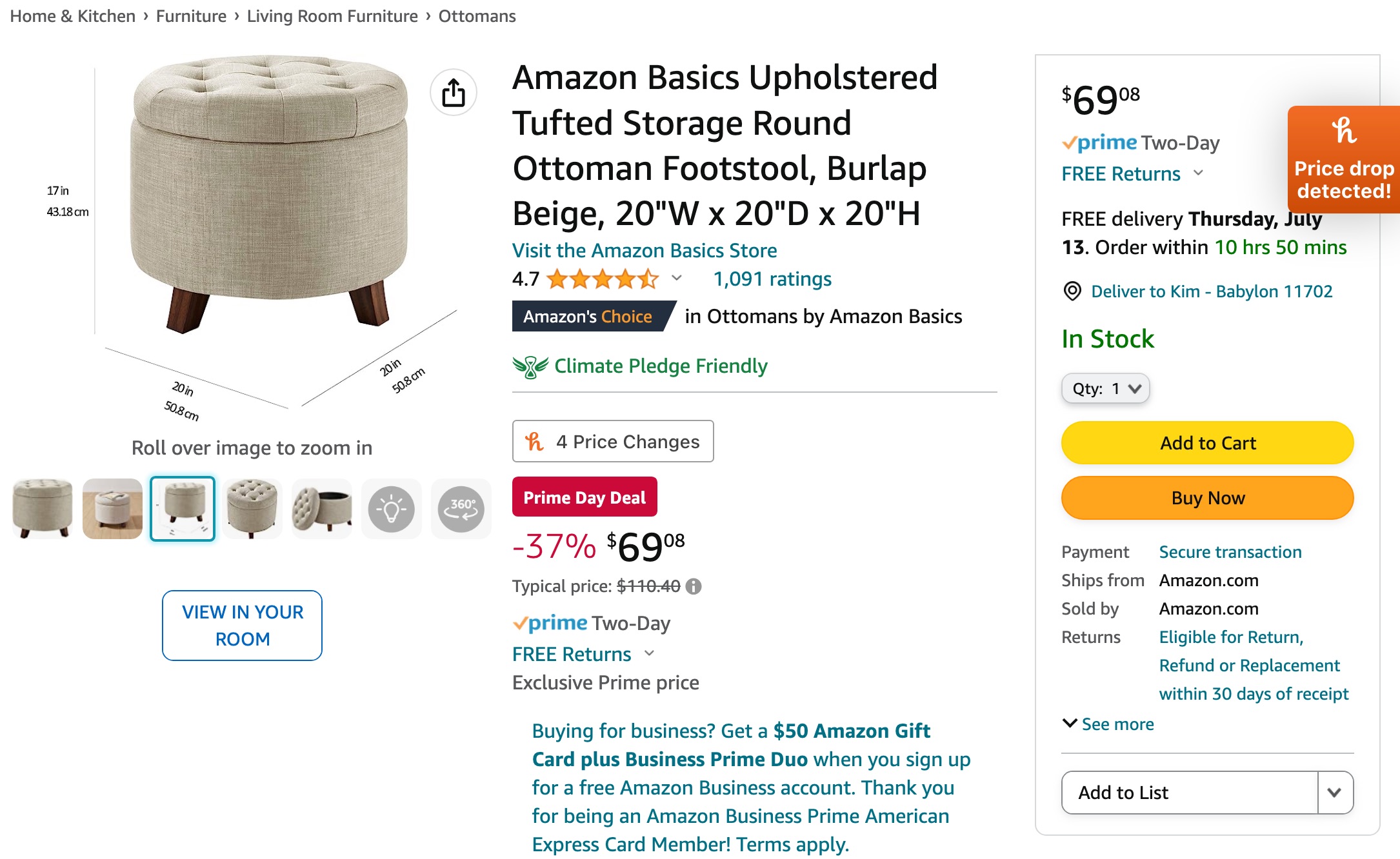 The Amazon Basics ottoman's Amazon Standard Identification Number (ASIN) was B08P5WGM2B.
The Amazon Product Page, Honey, and CamelCamelCamel
As is evident in the image above, we viewed the page with the coupon and cash back app PayPal Honey (formerly "Honey") browser extension activated, one function of which was price tracking.
Amazon shoppers using Honey were likely familiar with the orange tab visible in the upper right hand corner of the image, reading "Price drop detected!" The Reddit post claimed that the item was priced at $69.08 on July 10 2023.
In the "Add to Cart" and "Buy Now" box, information about the product's seller and shipper appeared, indicating whether the product was sold and/or fulfilled by a third party or "Amazon Marketplace" seller. According to the box, the item (part of Amazon's "Amazon Basics" line of knockoff-heavy products) was sold and shipped by Amazon.com, not a third party seller.
Under its name, star rating, and brand, another Honey element appeared, reading "4 Price Changes [detected]." Under that, a large red "-37%" indicated the item was marked down by that amount, and a crossed out "Typical price" appeared: "$110.40."
Clicking the orange "Price drop detected!" square expanded the box, revealing a miniature version of Honey's price tracking. It initially appeared to suggest that the item had indeed been discounted for Amazon Prime Day: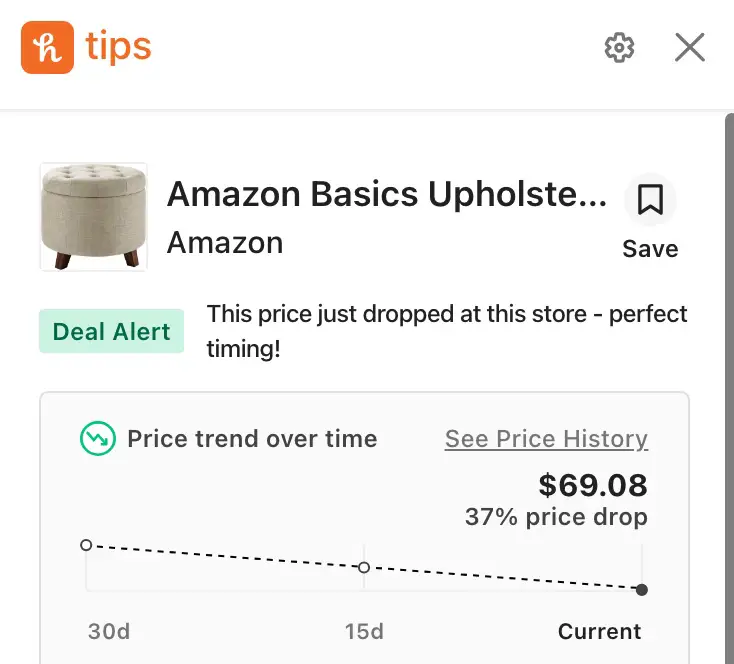 At first glance, it appeared as if the original poster on Reddit might have exaggerated for karma amid Prime Day Reddit discourse. "See Price History" was clickable, and it revealed Honey's price tracking of the Amazon Basics ottoman.
That page is archived here, and it did not honestly represent the item's current or former price. According to Honey's price tracker, the item's "live" price on the afternoon of July 11 2023 was $109.75: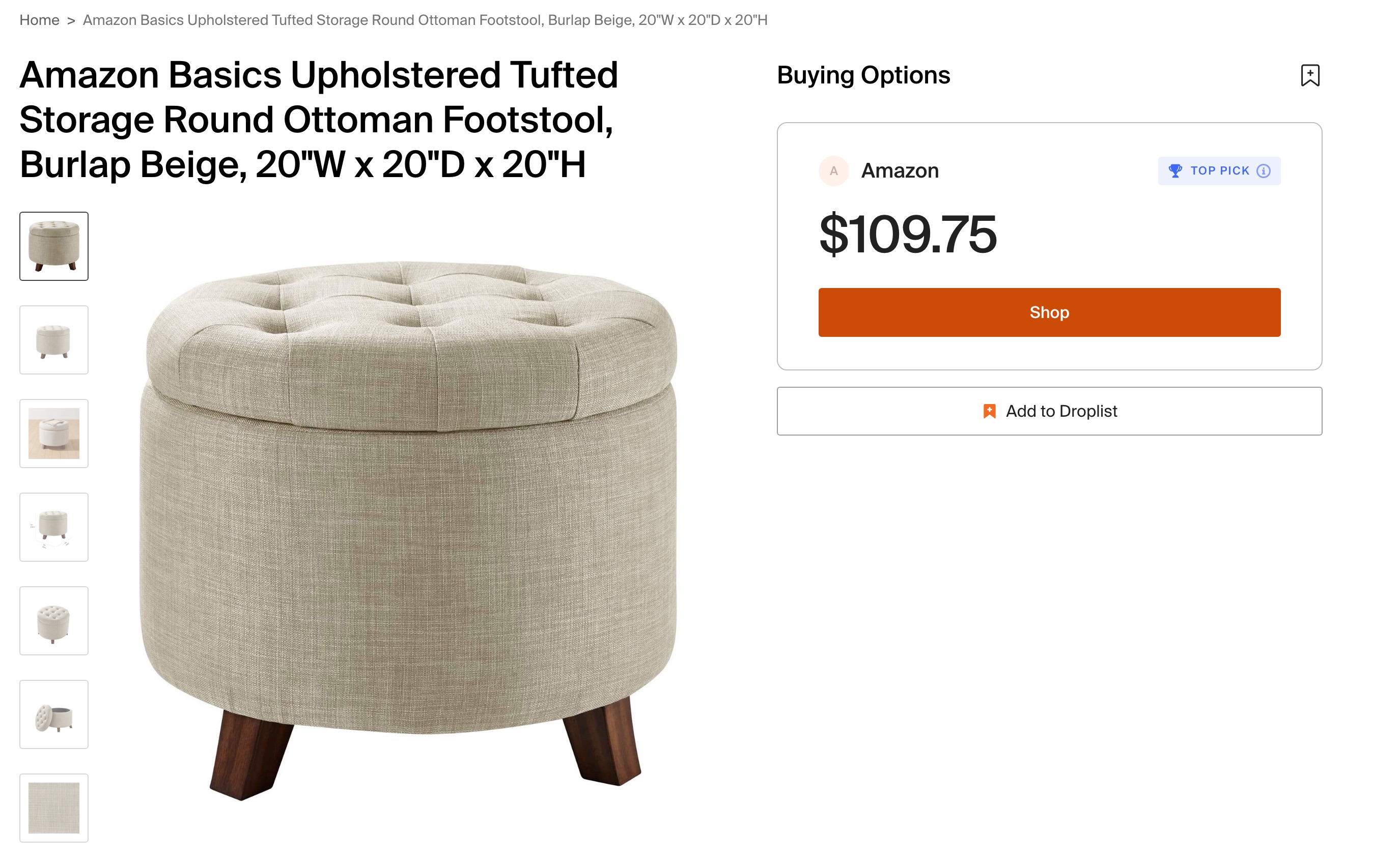 Honey's price history had three time ranges, displaying "30 days" as the default, and ranging up to 120 days. Its 120 price history for the ottoman looked like this, remaining static at under $80 until suddenly shooting up to $109.75 just before the sitewide sale began: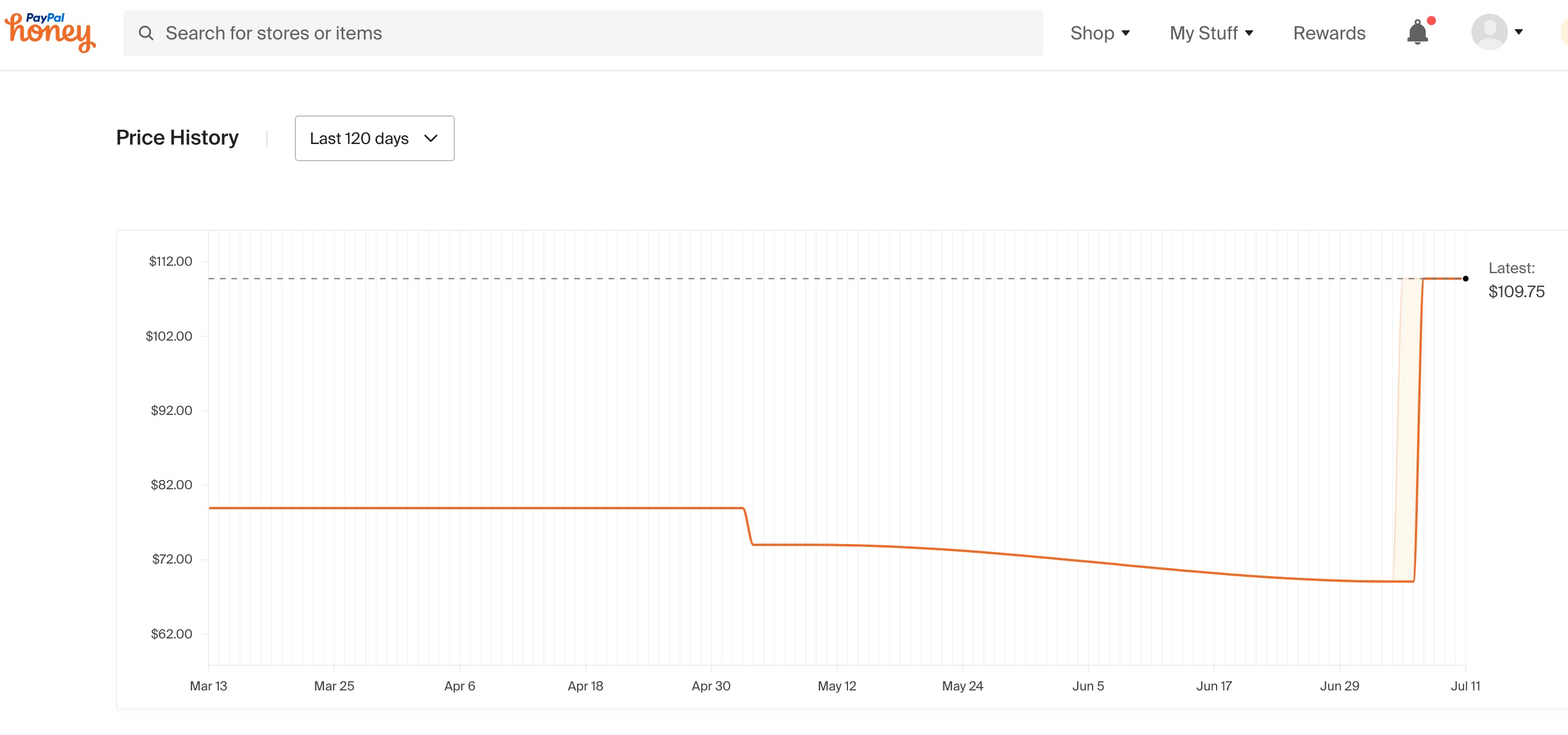 This phenomenon appears to be supported by an article published by the journal Marketing Science in October 2022 about misleading prices on Amazon.com:
This research investigates a newly observed pricing practice by which a seller frames a price increase as a discount by simultaneously increasing the price and introducing a list price, a scheme we call "price-increase and list-price synchronization" (PILPS). To investigate this potentially deceptive practice, we tracked multiple product categories on Amazon over a 13-month period. We find that PILPS (1) is a prevalent practice adopted by a broad range of categories and sellers, (2) allows sellers to simultaneously achieve higher profit margins and a larger sales volume at consumers' expense, and (3) is most effective for and more likely to be deployed by products with advantages in consumer reviews. Current regulations of deceptive pricing focus on the legitimacy of the value of a reference price by, for instance, deterring the use of fake or inflated list prices. PILPS, which misleads consumers by synchronizing the timing of a price increase with list-price introduction, has so far managed to fly under the regulatory radar….
Going as far back as March 13 2023, the item hovered between $72 and $80, dipping from $78.94 to $74.01 between May 3 and 4 2023. On July 6 2023, the item was priced at $69.08:
According to the Reddit post, the first screenshot with the $69.08 was taken on July 10 2023; Honey indicated that the price of the ottoman was $109.75 on July 11 2023 (when it was priced at $69.08), and perplexingly suggested the price had been raised to — and kept at — $109.75 on July 7 2023.
It was possible the discrepancy existed on Honey's side, not Amazon's — but Honey wasn't the only Amazon price tracker. CamelCamelCamel is another Amazon price tracking service, and it too had a price history for the Amazon Basics storage ottoman.
Searching CamelCamelCamel for "B08P5WGM2B" (the Amazon ottoman's ASIN) led to the site's price history. CamelCamelCamel's data matched Honey's, marking the ottoman's July 11 2023 price as "$109.75."
Honey's price tracking was limited to 120 days of history, whereas CamelCamelCamel went back much further. Its price history plotted Amazon.com's price, alongside third party sellers — but the price data largely matched Honey's: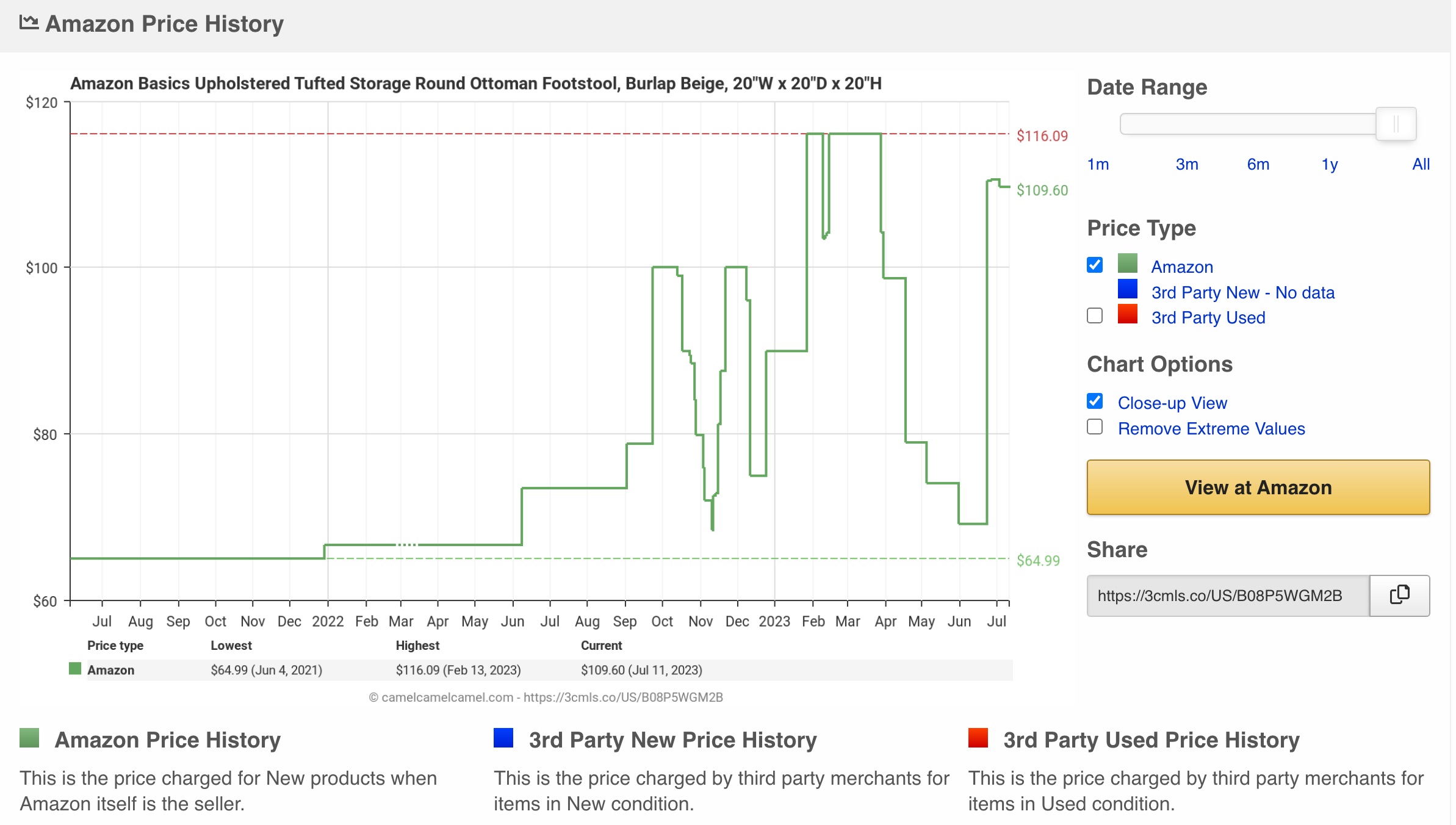 It appeared that both sites were displaying inaccurate real-time and historic pricing data, both indicating the item was priced at $109 on July 11 2023. (Incidentally, the percentage difference between $69 and $109 was between 36 and 37 percent, the "discount" offered on the item listing on that date.)
It was not clear how Honey and CamelCamelCamel both obtained the same inaccurate pricing data.
Amazon Prime Day 'Scams' in the News
Social media accounts and news organizations provided tips for price tracking, recommending CamelCamelCamel as a Prime Day "hack":
… CamelCamelCamel lets you add specific minimum prices (or percentage drops) for everything in your wishlist. Enter the maximum amount you're willing to pay for each item in your list, and then you can tell it to send you an email when any item's price drops to your set spending limit.
People also posted about price discrepancies on Reddit (as seen above), Twitter, and other sites. Again, CamelCamelCamel and Amazon price tracking were often referenced amid warnings about shenanigans by "third party sellers" (but not Amazon.com):
Google Trends data for "Prime Day prices" on July 11 2023 didn't directly point to searches for sneaky price increases; search interest was measured in percentages up to 5,000 percent. Search volume with more than a 5,000 percent increase were simply labeled "Breakout."
At the bottom of the Google Trends page, sections labeled "Related topics" and "Related queries" appeared. In "Related queries," searches for "best prime day deals" and "amazon prime day deals 2023" had a modest 250 percent increase in search interest.
But under "Related topics," three terms appeared. All had "Breakout" levels of search interest (over 5,000 percent), and the top three were "increased," "fraud," and "price adjustment":

Using DuckDuckGo.com, we searched for the phrase "is Prime Day a scam," looking for news and analysis of Amazon Prime Day pricing that way. The results included three news links about which items to buy on Prime Day, followed by a number of articles about "Prime Day scams" published in July 2023: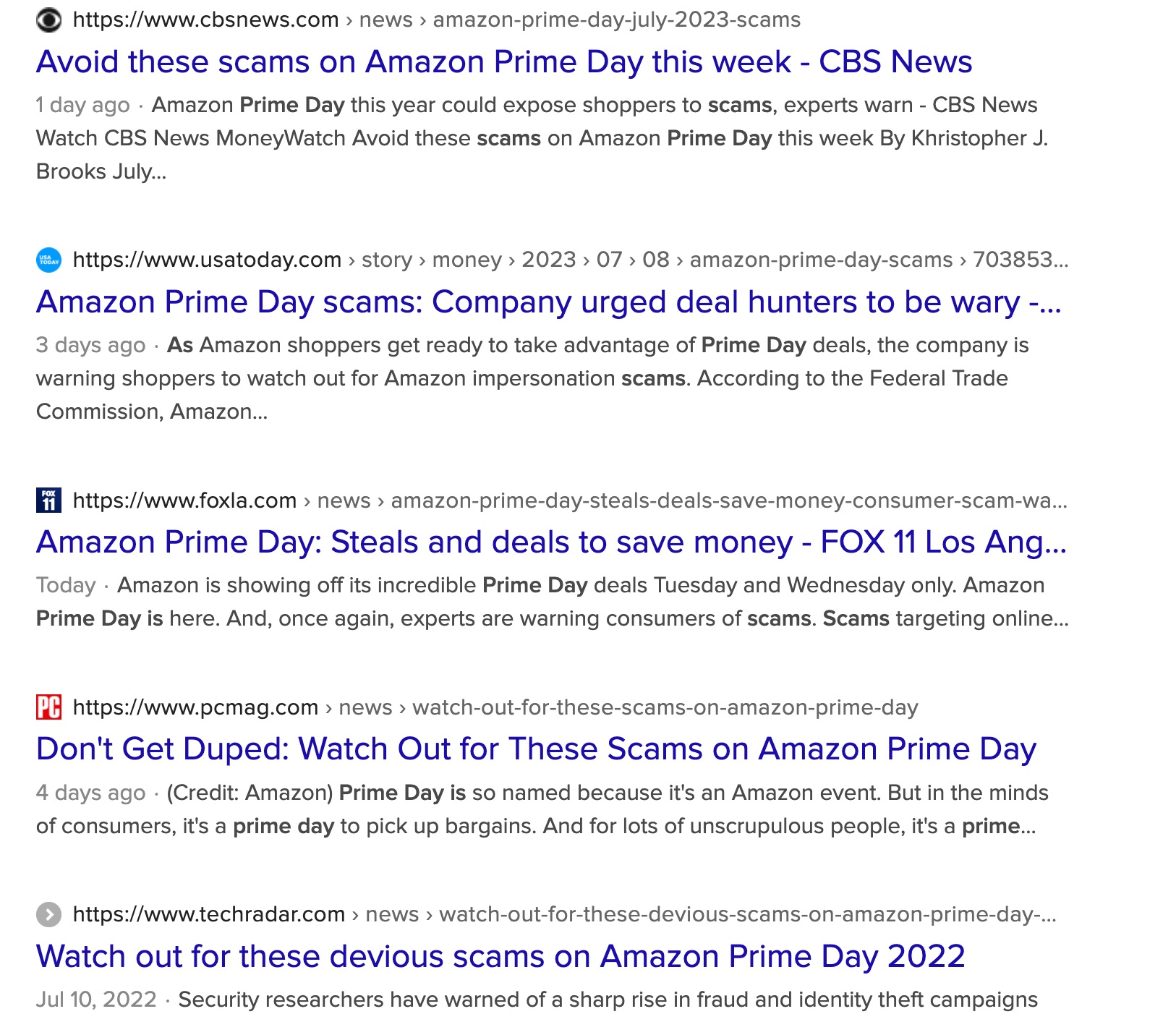 Adding "higher prices" (in quotes) to "Amazon Prime Day" (without quotes) only returned more advertorial-style "news" articles: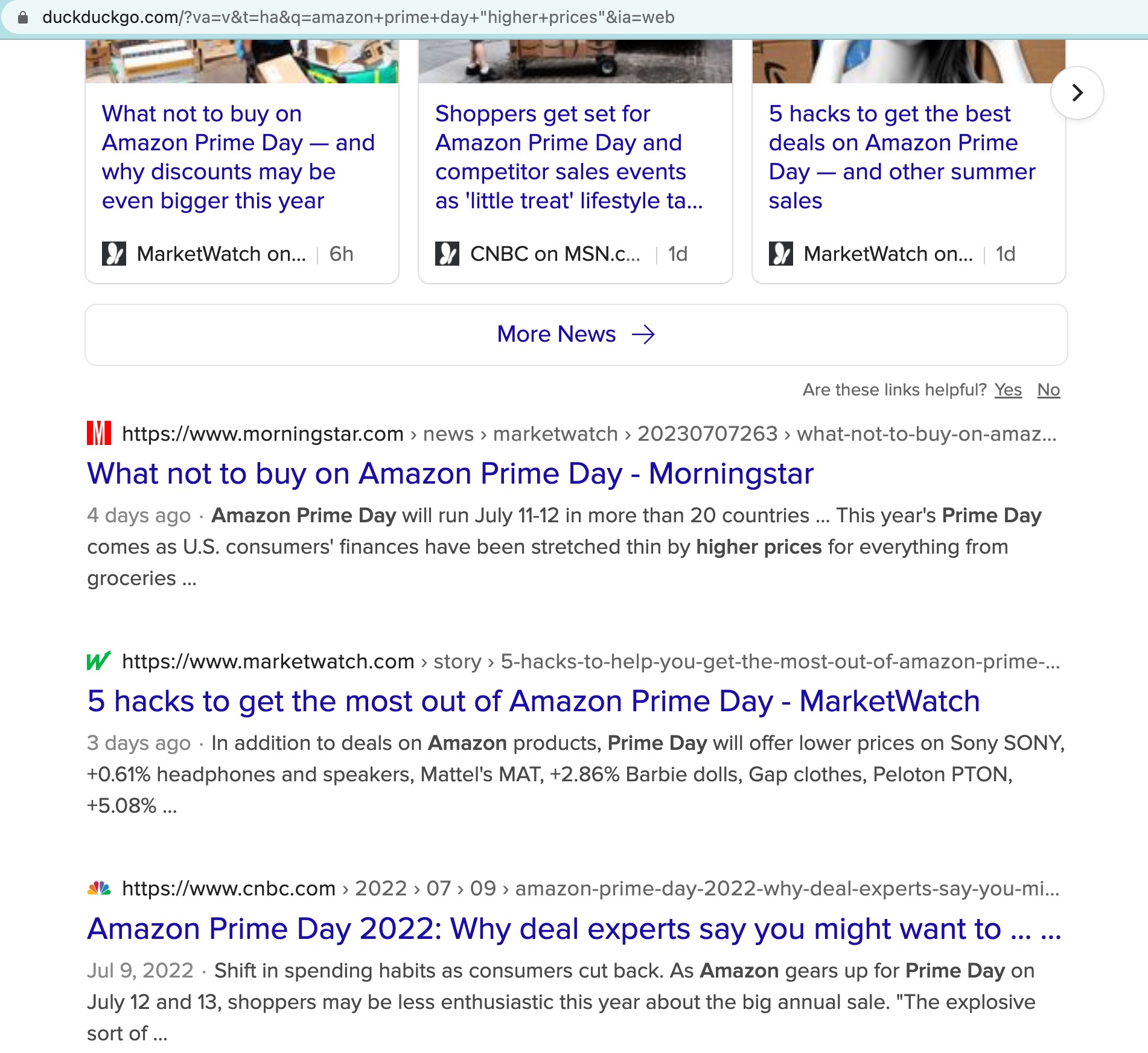 "Prime Day scams" were a widely covered topic in the days leading up to July 11 2023, crowding out any non-news content discussing Amazon Prime day price discrepancies across search engines. The top link was from CBS News ("Avoid these scams on Amazon Prime Day this week"), attributing a warning to the Better Business Bureau (BBB) in one of many articles warning of "fraudsters" purportedly preying on Amazon shoppers:
Fraudsters will employ a number of deceptive tactics, including "phishing" emails and fake websites, social media posts and text messages to trick customers into sharing their personal information, according to the Better Business Bureau.

"More deals are great for consumers, and more people out shopping is great for businesses large and small," the group said in its Prime Day warning to customers. "Just be careful, and don't get so caught up in the excitement that you fall for phishing scams, misleading advertisements and lookalike websites."

A phishing scam happens when a fraudster sends an email or text message to a customer about, for example, a delay in shipping a purchase on Amazon or other e-commerce platform. Such messages will typically include a link where the customer is encouraged to provide account details.
Nothing in the article explained why a recurring Amazon sale might pose a risk to shoppers — but the BBB's widely-reported "warning" ensured that search engines would bury any claims about "scam" sale prices under highly-ranked news articles.
Amazon Prime Day Cannot Be Accurately Covered by News Organizations if Those News Organizations Are Also Amazon Affiliates
Google News considered Amazon Prime Day a specific event, grouping coverage of it into a box of related news links from prominent news outlets — like the New York Times, Insider.com, and CNN.com: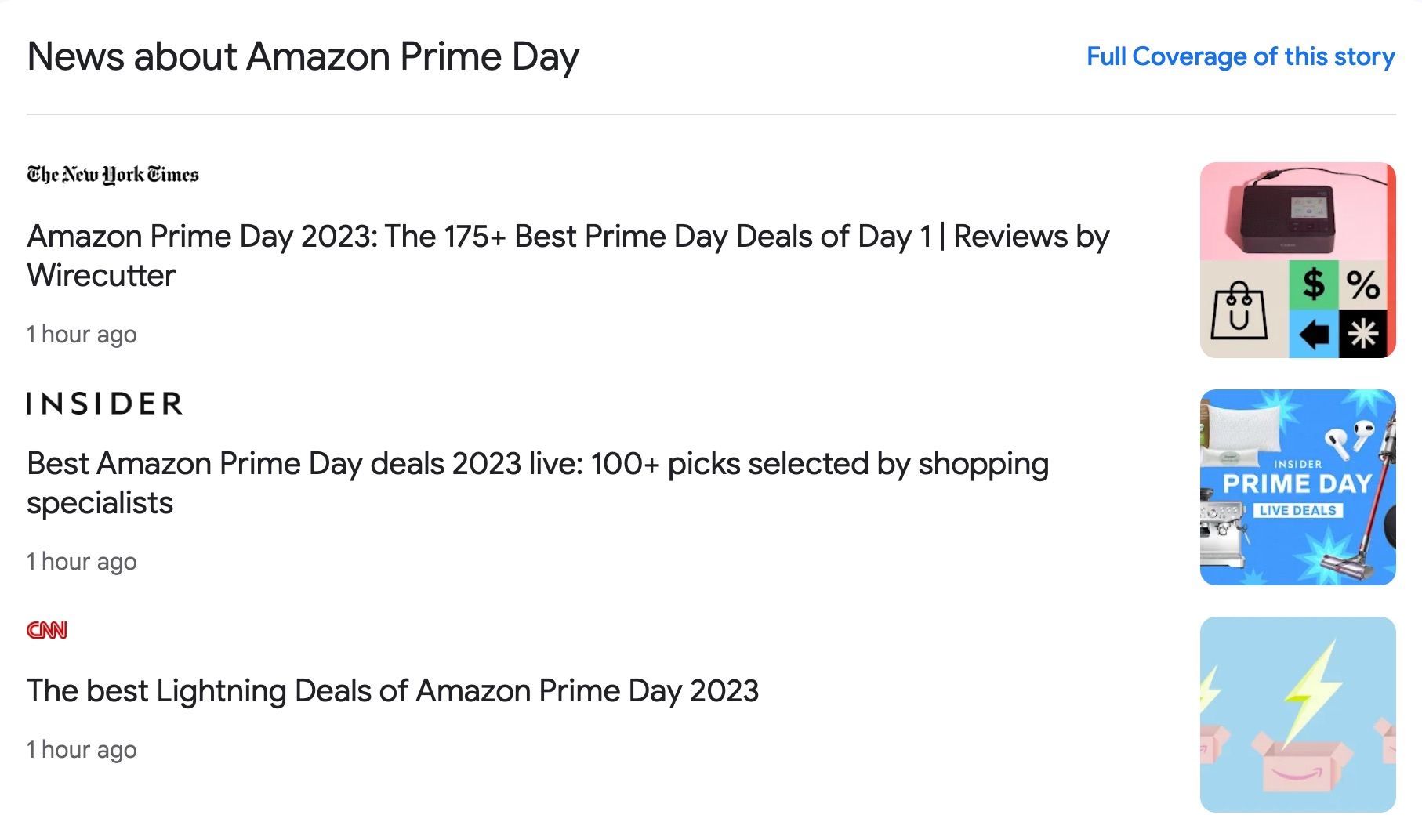 Unfortunately, all three suggested articles were shopping guides, not independent coverage or assessment of the reliability of Amazon's Prime Day pricing claims. By default, Google News displayed those three articles, with a clickable "Full coverage of this story" link at the top.
First was a July 11 2023 New York Times Wirecutter shopping guide, presented as "live coverage"; Wirecutter was the newspaper's product review section. To the paper's credit, it began:
It's Day 1 of Prime Day and Wirecutter's experts have already scanned thousands upon thousands of Prime Day "bargains"—most of which aren't really bargains at all.

Below, you'll find only the best deals on Wirecutter-approved picks that meet our exacting standards.
However, smaller text at the top of the page advised readers that the Times "may earn a commission" from links to Amazon. Participation in Amazon's affiliate program was extremely pervasive for news outlets — and it tended to slant the coverage in a fashion that encouraged some purchasing by readers.
Under that article, Google News highlighted Insider.com's Amazon Prime Day coverage, "Best Amazon Prime Day deals 2023 live: 100+ picks selected by shopping specialists." At the top, text read:
When you buy through our links, Insider may earn an affiliate commission.
Here's what that looked like on the page:

CNN.com's highlighted article was titled "The best Lightning Deals of Amazon Prime Day 2023," published on CNN's "Underscored" section. Its disclaimer was more prominent, and it read:
Content is created by CNN Underscored's team of editors who work independently from the CNN newsroom. When you buy through links on our site, we may earn a commission.

Want more deals? Visit CNN Underscored's Guide to Amazon Prime Day for wall-to-wall coverage of the best discounts to be found during this massive sale.
CNN alluded to "wall-to-wall coverage" of "this massive sale," so we used the site's internal search to see if Prime Day was covered independently from CNN's promotional content. CNN search results were arranged chronologically, and all of its 2023 Prime Day "coverage" was either commission-based, or generally flattering to Amazon: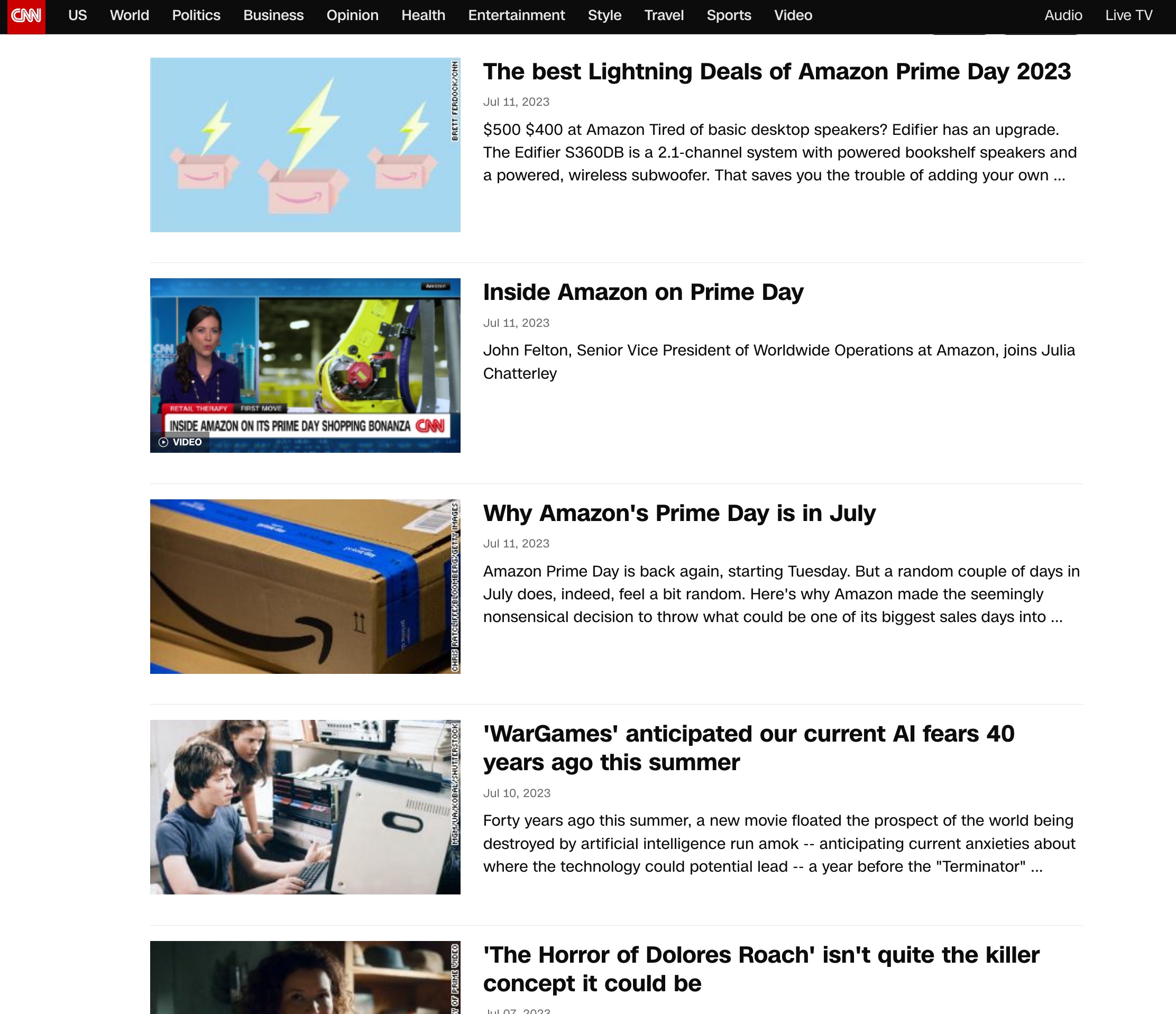 Finally, we clicked through to Google's "Full Coverage" of Amazon Prime Day, in search of any "news" that was not an advertorial. Every article across news sites was selling Amazon products: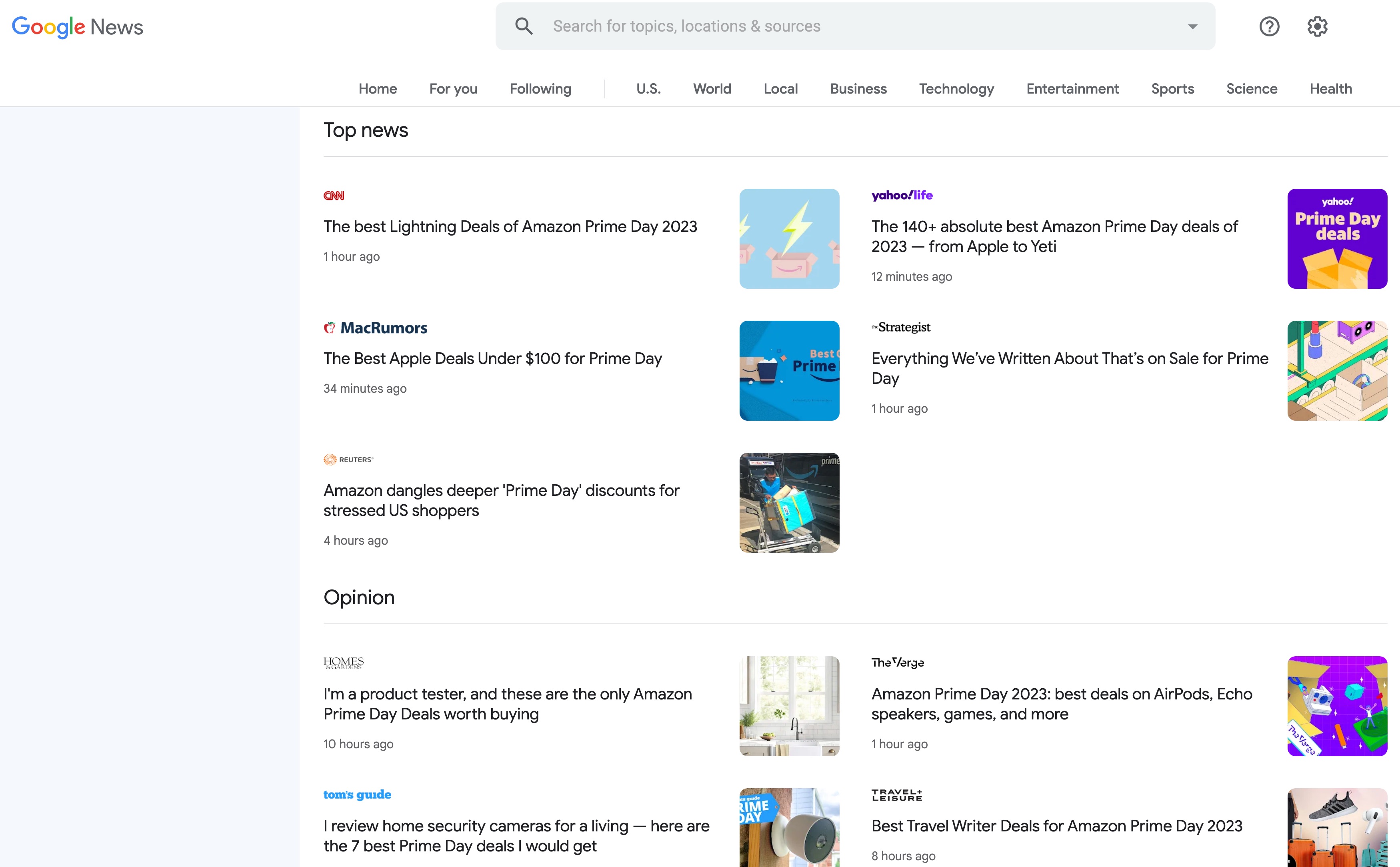 Even the content relegated to "All coverage" was promotional: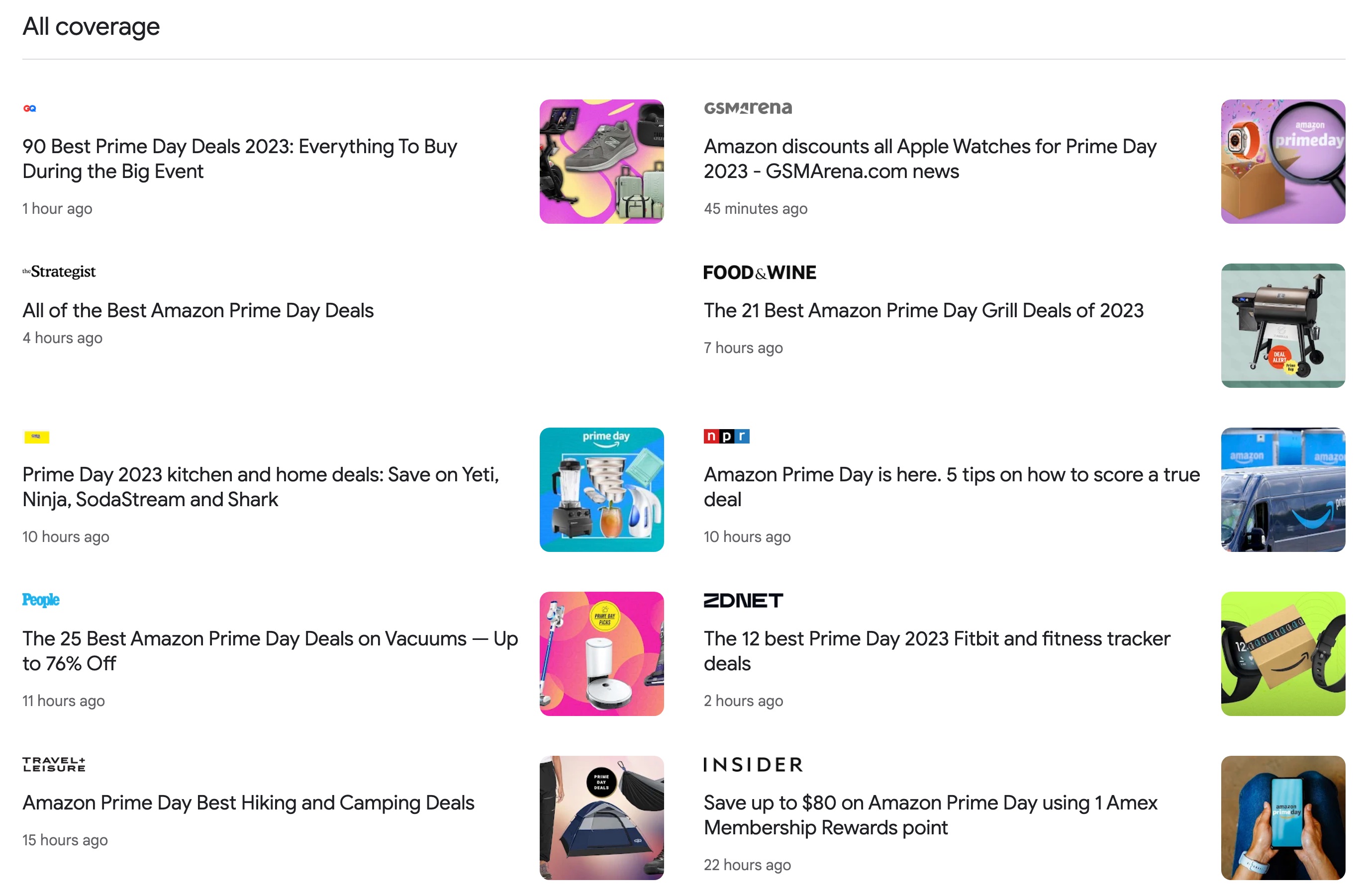 Large mainstream news sites were represented (such as CNN, NPR, Good Morning America, and the New York Times), as well as lifestyle and technology news sites (Food & Wine, People, and Travel + Leisure). All appeared to be earning commissions from Prime Day — if even one independent article about Amazon Prime Day pricing appeared, it would be the proverbial needle in a haystack.
Summary
A July 11 2023 post to Reddit's r/mildlyinfuriating depicted Amazon Prime Day pricing for an Amazon Basics storage ottoman on sale for $69.08, down from $69.08. Third-party price tracking apps Honey and Camelcamelcamel both indicated the price was "currently" 36-37 percent higher, at just under $110. It wasn't clear why both sites presented false price data for the item, or whether that "glitch" affected other products.
Just ahead of Amazon Prime Day, the Better Business Bureau (BBB) warned of "Prime Day scams," an advisory which ensured that search engines would return those news articles to readers trying to find posts about "scam" prices on the site. One tweet warned of third party sellers hiking prices, but the item on Reddit was shipped and sold by Amazon.com (and came from its in-house line, Amazon Basics). Google Trends data for Amazon "Prime Day prices" demonstrated "Breakout" levels of interest in the terms "fraud" and "increased," but the "Related queries" box appeared to be scrubbed of any searches that might paint Amazon Prime Day in a less pleasant light.
Amazon's affiliate guidelines can be found here. In a section titled "Associates Program Trademark Guidelines ("Trademark Guidelines"), one section stipulated that Amazon affiliates "may not use or display the Marks … to disparage us, our products or services," but it wasn't clear whether unflattering coverage of Amazon.com jeopardized the affiliate status of a news outlet like the New York Times or NPR.
Finally, Google News curated a selection of "news" on Amazon Prime Day in 2023. Every single article under "All coverage" involved news outlets promoting Amazon products to earn commissions. Even massive news sites like CNN, the New York Times, and NPR published advertorials for Amazon Prime Day. The Times made a passing mention of "Prime Day 'bargains'—most of which aren't really bargains at all," but didn't link to any independent news coverage or explanation of the phrasing.