On July 7 2023, a Reddit user asked what was going on with Sriracha eBay listings in a post to r/OutOfTheLoop, echoing a bevy similar questions on other platforms:
Sriracha is a very popular chili sauce which originated in Thailand; its best-known American producer is probably California-based Huy Fong Foods:
Fact Check
Claim: In June and July 2023, a Sriracha shortage occurred, leading to rumors that the condiment was "being discontinued."
Description: Claims circulated in June and July 2023 stating that popular chili sauce, Sriracha, was discontinued.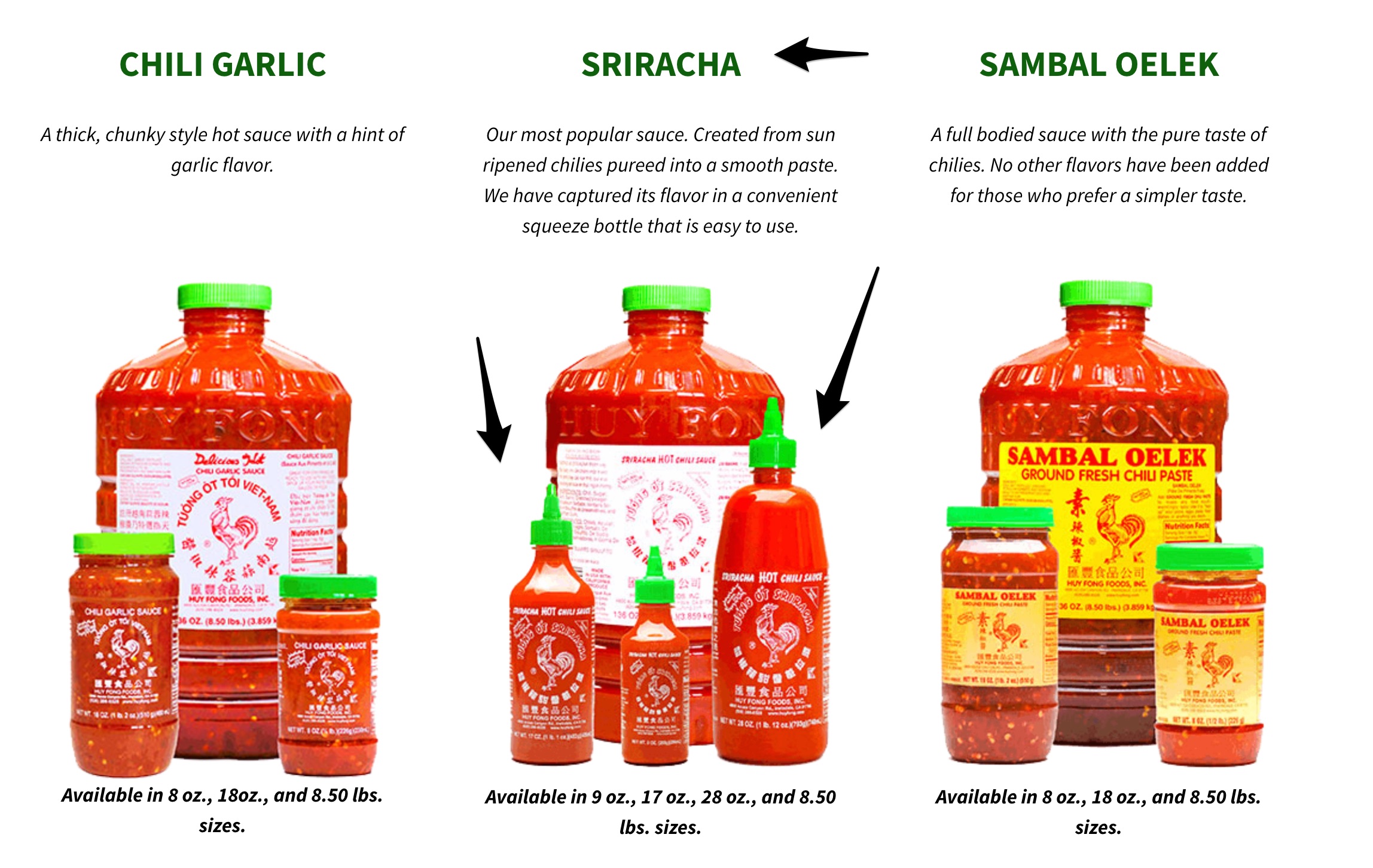 The history of the sauce, which a 2010 Bon Appétit article decreed "ingredient of the year," is also a story of immigration and innovation:
One of the earliest records of sriracha dates back to 1949, when a woman in Thailand made a chili sauce using chili peppers, vinegar, sugar, salt, and garlic. She named it after the small seaside town she lived in, Si Racha.

But sriracha in its most ubiquitous form — a plastic bottle filled with chili sauce and topped with a green cap — was brought to America by David Tran a few decades later.

Starting in 1975, Tran, who is ethnically Chinese but was born in Vietnam, made hot sauces using chili peppers grown on his older brother's farm, located north of Saigon, now Ho Chi Minh City.

[…]

Tran arrived in California in the first week of January 1980. By February, he was back to making chili sauces, naming his company after the ship he had boarded to escape his home country: Huy Fong.
Sriracha Shortages, Sriracha Resellers, and Social Media Discourse
A YouTube video from July 3 2023, "Sriracha is being Discontinued,"  addressed a Sriracha shortage and included a recipe for fans of the condiment to make their own substitutes at home. On June 29 2023, a popular post about Sriracha prices was shared to stock-focused community r/wallstreetbets:
Both Reddit posts referenced expensive bottles of Sriracha, either on eBay or Amazon Marketplace (for third-party sellers on Amazon's platform). Google Trends data demonstrated a spike in searches for Sriracha-related terms, including:
"Why is sriracha out of stock everywhere?";
"Why did they stop making sriracha?";
"Sriracha out of stock";
"Best sriracha alternative," and;
"Why is sriracha sold out?"
Twitter's rapid deterioration limited our ability to perform a functional site search, but we located three tweets about the condiment being out of stock or expensive in third-party markets. Tweets from July 1, July 4, and July 10 2023 mentioned either expensive Sriracha or Sriracha in woefully short supply:
The Sriracha Shortage and Climate Change
Huy Fong's website was sparse, consisting of a single page at huyfong.com; no information about a shortage appeared on it.
Articles typically referenced third-party seller listings for Sriracha when referencing the reported shortage. On June 29 2023, CBS News and CNN reported on the Sriracha shortage, both quoting a Huy Fong spokesperson to confirm the shortage, each featuring similar statements.
CNN's article explained that the chili peppers remained in "short supply," creating cyclical "shortages" for Sriracha itself:
The company recently told CNN that it's still experiencing a shortage of raw materials. "Although some production did resume this past fall season [2022], we continue to have a limited supply that continues to affect our production. At this time, we have no estimations of when supply will increase," a Huy Fong spokesperson said.

"We are grateful for your continued patience and understanding during this unprecedented inventory shortage. We are currently working on trying to avoid future shortages," the company added.

There's been a shortage for the past three years [as of June 2023], as Huy Fong has said that its chili peppers have consistently been in short supply. Last year [2022], it temporarily stopped orders because of the shortage, which also affected its Chili Garlic and Sambal Oelek products.
CBS News cited persistent drought as a factor in chili pepper shortages:
The condiment maker [Huy Fong] has dealt with a shortage of chili pepper inventory for years. The company sent out letters to customers in July of 2020 and again in April of [2022] warning of shortages.

"Currently, due to weather conditions affecting the quality of chili peppers, we now face a more severe shortage of chili," Huy Fong wrote in a letter last year [2022]. "Unfortunately, this is out of our control and without this essential ingredient we are unable to produce any of our products."

While it's not clear where Huy Fong gets its peppers from, production of chiles has been down in a number of locations because of drought. In New Mexico, chile production for 2021 saw a 22% decrease from 2020, according to the USDA's Mountain Regional Field Office of the National Agricultural Statistics Service and the New Mexico Department of Agriculture. Of the 51,000 tons produced in 2021, 46,500 tons were green and 4,500 tons were red. Production increased slightly in 2022 to 53,000 tons, but that still falls well short of the 65,000 tons produced in 2020.
On July 2 2023, The Guardian published an article about the Sriracha shortage as part of its climate change coverage, reporting:
"It is a challenging crop to grow," said Stephanie Walker, a plant scientist at the New Mexico State University, who serves on the advisory board of the Chile Pepper Institute. "Jalapeños are really labor intensive, requiring people to de-stem them by hand before they go for processing."

The special care the chilis require renders them that much more vulnerable to extreme weather conditions, such as the persisting drought in northern Mexico, fueled by the depleted water supply in the Colorado River.

[…]

Moving the crop to an area that is less affected by extreme weather and breeding new varieties of the chilli that is tolerant to heat and drought could help avoid future shortages. Still, that is a longer term solution to the problem hitting American shelves imminently.

"We're going to see these disruptions more often because of climate change," [crop researcher Paul] Gepts said.
A June 26 2023 Los Angeles Times piece ("Can't find Sriracha? Here's why the shortage is a sign of our harsh climate reality") focused largely on the long-ranging effects of drought on the food supply chain — and noted that the issue was likely to persist:
Drought in Mexico is to blame for the shortages that have persisted for the last year [through June 2023], a phenomenon that experts warn will become much more common on a warming planet.

[…]

Huy Fong now sources its chiles from multiple suppliers throughout Mexico, where severe drought conditions have curtailed crops and led to water shortages in many cities and towns.

In a statement, the Irwindale company said it is "still experiencing a shortage of raw material" and has no estimate when supplies will return. It produced some Sriracha in the fall [of 2022], but output was limited.

Although Huy Fong Foods said it is working to avoid a repeat, future shortages in food supplies are all but assured with the current amount of water used in the United States, said Gary Nabhan, an agricultural ecologist and professor emeritus at the University of Arizona.
In June 2021, the United Nations, citing catastrophic climate change, warned that drought was on the verge of becoming "the next pandemic," with food insecurity listed as a major long-term and wide-ranging effect.
Summary
In late June and early July 2023, rumors of a "Sriracha shortage" (or that Sriracha had been discontinued) circulated on Reddit, Twitter, and YouTube — in part due to third-party sellers attempting to sell Sriracha for $70 or more. Huy Fong Foods (Sriracha's manufacturer) confirmed an ongoing shortage to news outlets in June 2023; news about Sriracha shortages also appeared in June 2022. Shortages of Sriracha were intermittent from 2020 onward, caused by drought conditions brought on by climate change. We saw no indication that Sriracha had been officially discontinued, but Huy Fong confirmed it stopped production due to depressed chili pepper crops.