Are the 'Epstein Gurney Photos' Fake?
Claim
"Gurney photos" of Jeffrey Epstein as he was taken to the hospital were doctored, altered, or fabricated.
Like this fact check?

Reporting
Conspiracy theories circulated broadly and relentlessly after the August 10 2019 death of high-profile convicted sex offender and accused sex trafficker Jeffrey Epstein in federal custody, including claims that widely published "gurney photos" of the dead or dying prisoner were falsified, fabricated, or doctored.
A tweet published by the New York Post at 9:52 AM on August 10 2019 and still pinned to the top of its feed two days later shows a man fitting Epstein's description on a stretcher and being transported to an ambulance:
Photos show Jeffrey Epstein as he's wheeled into Downtown Hospital https://t.co/SICqKfCUNS pic.twitter.com/iPJB6xnPtR

— New York Post (@nypost) August 10, 2019
A thread of response tweets was almost entirely commentary disputing the legitimacy of the photographs, the circumstances, and Epstein's death itself. Within a few hours, one of several marked-up, meme versions of the image began spreading:
It didn't take long for this debate to be going around…. pic.twitter.com/lEndDKiRte

— Larry Johnson (@2LarryJohnson7) August 10, 2019
Iterations of the rumor were dispersed, with no central post we could find driving the claims. Typically, users shared versions of the images (often with highlights or commentary on them), along with their own inferences about Epstein's death:
One Facebook post published the morning Epstein died included commentary in which the poster described what they believed were inconsistencies in the news as of that morning:
On channel 1130 am radio this mornin they said he was brought out in cardiac arrest at 3:30 am… then I read he was found hanged. Do they bring hanging victims out on gurney pumping air in them??? Is that epstein??? Wtf something is extremely off. 2 weeks ago he tried killing himself and was taken off suicide right as information starts coming out…
A common theory held Epstein was "switched out" for a lookalike:
https://www.facebook.com/oriana.spratt/posts/2104126213020798
Rumors that Epstein's death was faked with a doppleganger spread both separately and alongside the "gurney" rumors, with one extremely dubious 4Chan post purporting to explain the circumstances from a prison employee's perspective: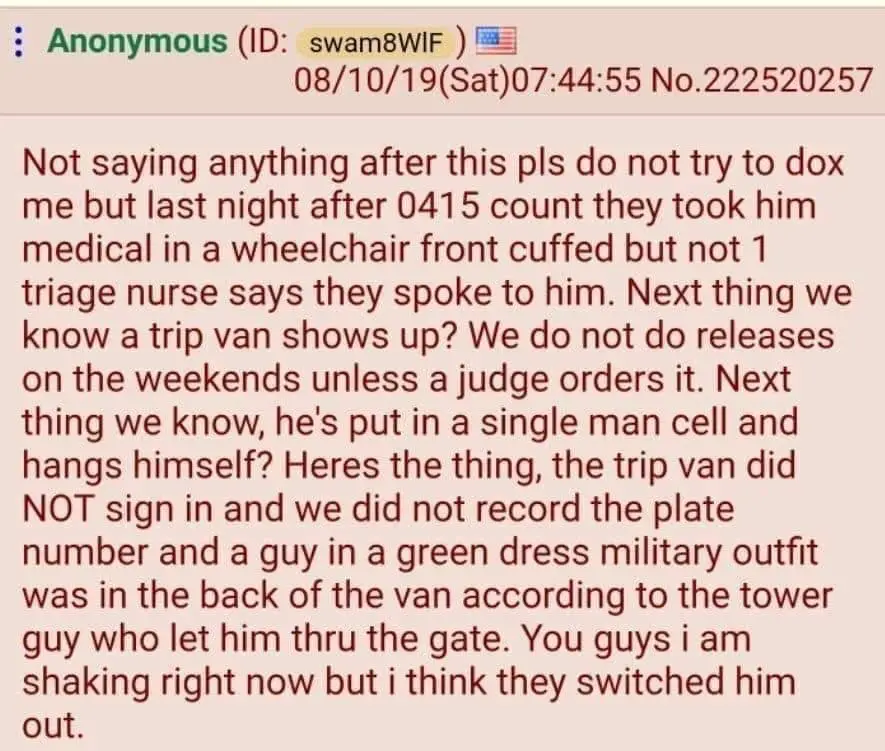 In its entirety, that post provided a dubious firsthand "they switched him out" account:
Not saying anything after this pls do not try to dox me but last night after 0415 count they took him [to] medical in a wheelchair front cuffed but not 1 triage nurse says they spoke to him. Next thing we know a trip van shows up? We do not do releases on the weekends unless a judge orders it. Next thing we know, he's put in a single man cell and hangs himself? Heres the thing, the trip van did NOT sign in and we did not record the plate number and a guy in a green dress military outfit was in the back of the van according to the tower guy who let him thru the gate. You guys i am shaking right now but i think they switched him out.
Marked-up versions of the "gurney" images typically included lines and arrows around Epstein's facial features, while others featured lengthier, but no more illuminating, commentary: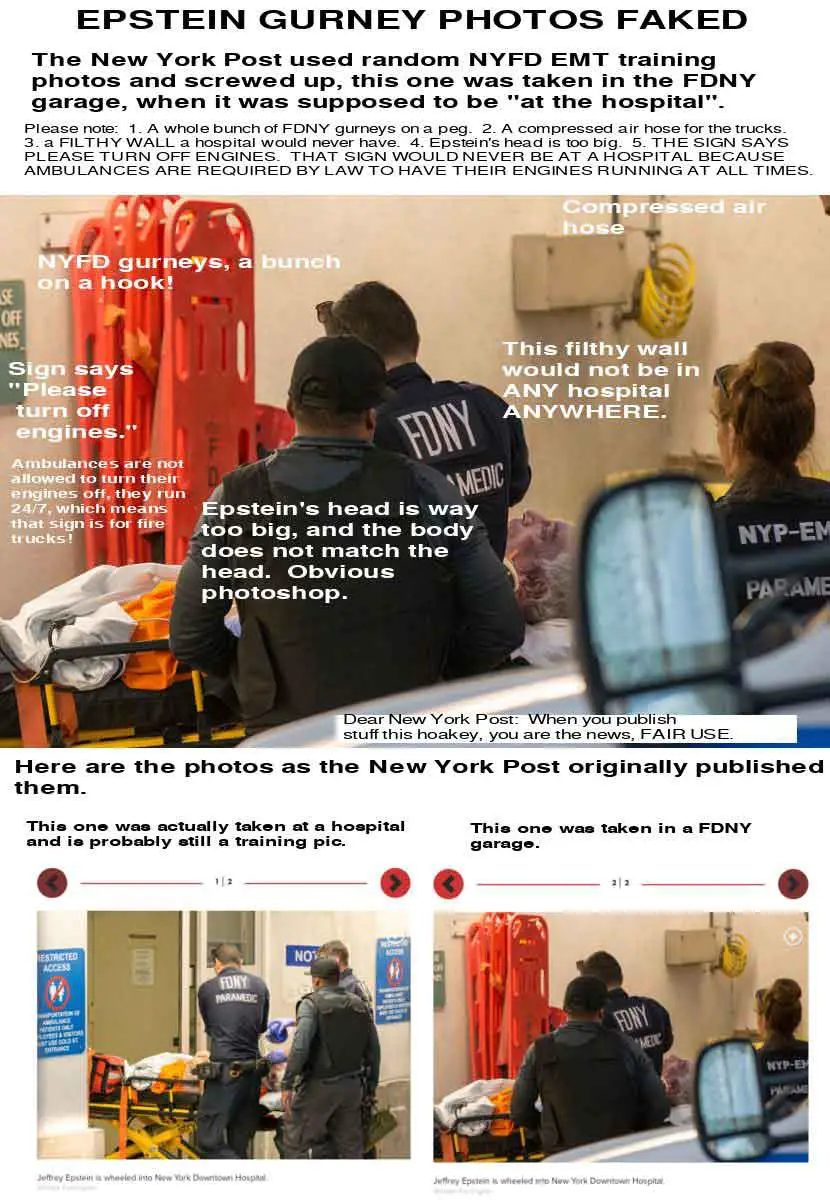 A forum post that appeared with  the above image further maintained that the poster could "prove" the illegitimacy of the images, but there was no "proof" that was not purely inference, as opposed to actual evidence:
EPSTEIN IS NOT DEAD, THE GURNEY PICTURES ARE FAKE AND I CAN PROVE IT!

THEY USED RANDOM TRAINING PHOTOS FOR THE EPSTEIN DEATH HOAX AND ONE OF THEM IS A PHOTO OF EMT'S TRAINING IN A NYFD GARAGE, WHERE THEY PARK THE FIRE TRUCKS. THEY SPLICED EPSTEIN ONTO THE GURNEY IN PLACE OF WHAT WAS PROBABLY A "RESUSCI ANNE" DOLL THAT WOULD BE USED FOR TRAINING. THE PHOTO HAS BEEN POSITIVELY IDENTIFIED AS HAVING ORIGINATED IN AN NYFD GARAGE, AND NOT THE HOSPITAL, WHERE THE NEW YORK POST CLAIMED HE WAS TAKEN.
In other details of the rumor shared in lengthy expositions, people debated whether Epstein was likely to be wearing an orange jumpsuit. Such posts were often shared alongside statements that none of the claims had been verified:
https://twitter.com/tracybeanz/status/1160745282457522182
A common claim in iterations of the "Epstein gurney" rumor was that the facility's cameras had malfunctioned, thereby obscuring the truth of the circumstances around Epstein's purported suicide. Those ancillary rumors were unsubstantiated.
Although the speculation above claimed the images were necessarily "training photos" captured in a New York Fire Department (FDNY) garage, the images could just as easily have been a prison loading dock — explaining the purportedly grimy walls and the presence of air compressors.
Yet another detail of the conspiracy theory includes baseless claims that the man depicted with FDNY personnel was not Epstein, but instead the late Anthony Bourdain, who died by suicide in June 2018:
https://youtu.be/ihe5uMmQtsY
However, Bourdain died in France — well outside the jurisdiction of FDNY. Additional rumors centered around Epstein being visible in the images and not in a body bag. Epstein was transported to a hospital where he was pronounced dead, and not released to the custody of a coroner.
These "Epstein gurney photos" rumors resulted from opinions, speculation, and inferences drawn from images captured by photojournalists as Epstein was transported from Metropolitan Correctional Center to a local hospital where he was then pronounced dead. The claims are inherently nearly impossible to disprove, as they rely solely on gossip and creative inference rather than credible claims to the contrary, and as such they appear to be weaponized specifically to further shake the American public's faith in its own public institutions.