Arizona Election Deniers Wilted When Asked for Proof: Report
Election deniers in Arizona folded when asked to provide proof of their voting-related conspiracy theories, according to a Washington Post report.
The story was based on an investigation into "voter fraud" carried out by then-state Attorney General Mark Brnovich's office before Brnovich, a Republican, was succeeded in the post by Democrat Kris Mayes. Mayes' office, having determined the matter closed, released documents related to that probe to the newspaper.
Former state Rep. Mark Finchem (R), who peddled antisemitic rhetoric in his unsuccessful campaign for the secretary of state office, received a mention in the story: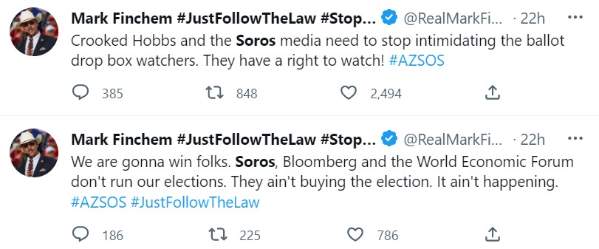 Finchem also publicly supported the lie that Donald Trump won the 2020 presidential election and went so far as to claim that a "source" had told him that 30,000 fake votes had been counted within the state. However, the Washington Post story added:
When questioned by agents, he did not repeat the claim, "specifically stating he did not have any evidence of fraud and that he did not wish to take up our time." Finchem provided four ballots that he said reflected a flawed voting process, but those ballots had not been counted and were unopened.
State Sen. Wendy Rogers (R), who was censured in March 2022 after calling for political opponents to face a "newly built set of gallows," reportedly ducked out of a meeting with investigators, saying that she wanted to "see the 'perp walk' of those who committed fraud during the election."
Despite publicly supporting white supremacist and carrying on Donald Trump's lie, Rogers is now chair of the Arizona Senate Elections Committee.
A September 2022 memo by investigators also conclusively dismissed far right conspiracist groups like True the Vote, whose claims of of election "mules" prompted like-minded residents to go on a voter intimidation campaign in October 2022 that was ultimately quelled by a federal judge.
The memo said that groups of that ilk "did not provide any evidence to support their allegations" and only gave information that could not withstand further scrutiny.
Despite his staff devoting thousands of hours to investigating "voter fraud," records apparently showed that Brnovich used his position to push claims that his office had already debunked:
The innuendo and inaccuracies, circulated not just in the far reaches of the internet but with the imprimatur of the state's attorney general, helped make Arizona an epicenter of distrust in the democratic process, eroding confidence not just in the 2020 vote but in subsequent elections
Brnovich launched his "voter fraud" investigation while campaigning for the GOP nomination in the November 2022 U.S. Senate election, which he lost to Blake Masters — who himself lost in the general election to Democrat Mark Kelly.
Brnovich has yet to comment on why he delayed the report. But according to the Post, he released a statement claiming validation for his work on "election integrity."
"While subjected to severe criticism from all sides of the political spectrum during the course of our investigations, we did our due diligence to run all complaints to ground," the statement read. "Where we were able to debunk rumors and conspiracies, we did so. Nevertheless, we also identified areas we believe the legislature and county officials should address to ensure confidence in future elections."
However, Gov. Katie Hobbs' office has sent a letter requesting that the State Bar of Arizona review Brnovich's conduct, calling it "harmful to our democracy, our State, and the legal profession itself."
Update 2/26/2023, 9:38 p.m. PST: Updated to reflect Gov. Katie Hobbs' call for an investigation into Mark Brnovich's actions while state attorney general. — ag