Did the Trump Campaign Send Armed Men to a Polling Location in Florida?
Claim
U.S. President Donald Trump's re-election campaign sent armed men to a polling place in St. Petersburg, Florida.
Like this fact check?

Reporting
A pair of armed security guards' appearance near a voting location in St. Petersburg, Florida drew concern from observers both on the scene and online, as the story mushroomed on social media into a sign of something more sinister.
According to local news reports, Julie Marcus — supervisor of elections for Pinellas County — said that the pair had told sheriff's deputies that they had been hired by U.S. President Donald Trump's re-election campaign. WFLA-TV posted a photograph provided by city officials of the two guards standing near a tent near the polling place: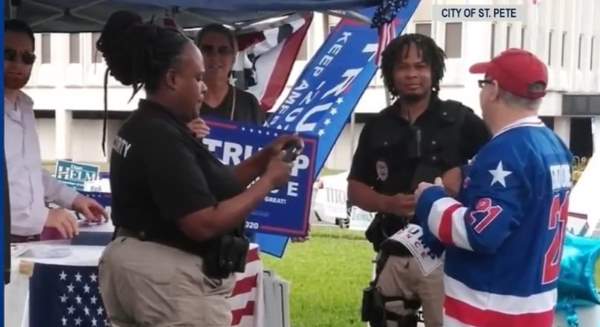 As the story spread online, some social media users described the situation as a case of "armed men" at the polling station: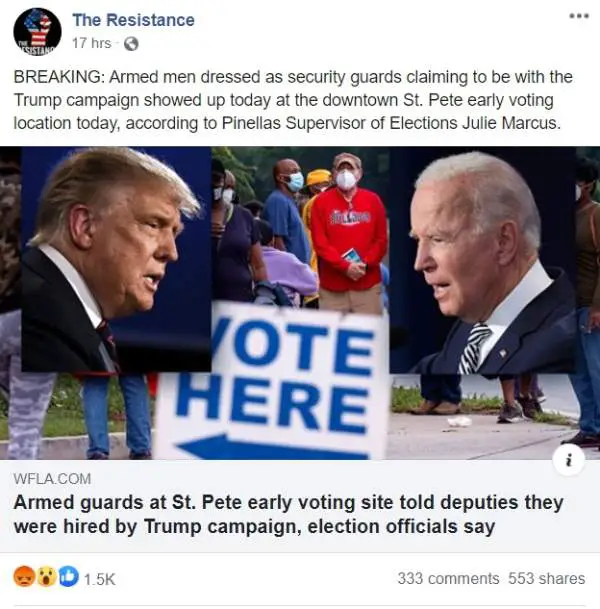 However, Sheriff Bob Gualtieri contradicted Marcus' account, saying that the two guards had told his deputies that they had been hired to "provide security" at the tent, but that there was no evidence that Trump's campaign hired them.
Gualtieri, a Republican running for re-election, said he would station deputies outside each of the county's early voting sites. In January 2020, Attorney General Bill Barr appointed Gualtieri to a federal "commission on law enforcement and the administration of justice" that is slated to report its findings on issues "affecting law enforcement that most impact the ability of American policing to reduce crime" to the attorney general's office in 2021.
The guards' employer, Syotos LLC, said in a statement that the incident was "a huge misunderstanding":
We do not have any employees engaging in poll watching. We had an off duty employee who was picking up a family member who happened to be in the vicinity of a polling location. The employee saw someone they knew near the polling location and had a short conversation. Again, this employee was off duty and was in no way engaging in poll watching. The employee was [stopped] by a local deputy that had every right to ask what was happening. The employee made it clear that they were not affiliated with the polling [booth]. A change of information from the officer to the deputy happened and all information came back valid and true. The officer just had on their gear from leaving work and that was taken out of context.
A spokesperson for Trump's campaign said in a separate statement that "the campaign did not hire these individuals nor did the campaign direct them to go to the voting location."
Robby Thurston, who set up the tent, told the Washington Post that he knew one of the two off-duty guards and that the guard and a friend went to his tent "to show their support for Trump and to pose for pictures in front of the tent."
The tent itself, Thurston said, was 250 feet away from the voting site. According to state law, that would put it outside the 150-foot boundary for "soliciting" voters. Florida is one of six states with a total ban on bringing firearms into voting places.
While there is no record of the guards interacting with voters at the polling place itself, Trump himself has called for supporters "to go into the polls and watch very carefully" as part of his repeated false claims that voting by mail is inherently suspect. Further south in Florida, Miami police said that they would discipline law enforcement officer Daniel Ubeda, who was spotted and photographed wearing a face mask supporting Trump while voting during his shift.
Democratic Party voters in Brevard County — about 150 miles away from where the Syotos guards were spotted — and at least two other states also reported receiving threatening emails designed to look like messages from the right-wing gang the Proud Boys. The group has denied being behind the threats; according to reports, U.S. government officials believe those messages were crafted as part of an Iranian disinformation campaign.