On August 7 2023, author Jane Friedman caused an cross-platform stir when she asserted that artificial intelligence was coming for her work. According to posts she made on various platforms, Amazon was selling AI-generated books published under her name:
Friedman linked to a blog post in her tweet; the second embedded tweet above featured a screenshot of a LinkedIn post published by Friedman on August 7 2023. Friedman's post was updated, but a portion marked "original" explained:
Fact Check
Claim: Amazon is allowing AI-generated "fraudulent titles" to be published under the names of established authors like Jane Friedman.
Description: Author Jane Friedman claimed that Amazon was allowing AI-generated fraudulent books to be published under her name. It was also stated that Amazon initially declined to remove those books. However, in her updates, she noted that Goodreads and Amazon had removed the books.
As of [August 7 2023], there are about half a dozen books being sold on Amazon, with my name on them, that I did not write or publish. Some huckster generated them using AI, hoping to make a quick buck from people who don't realize I'm not the author.

Unfortunately, these scam books were also added to my official Goodreads profile. I don't think the larger public understands that authors don't directly control what books appear on their profile. They are automatically added via Amazon and/or submitted by users. To get them removed is not an easy process.
Friedman published a blog post on August 7 2023, "I Would Rather See My Books Get Pirated Than This (Or: Why Goodreads and Amazon Are Becoming Dumpster Fires.)" It was also updated on August 8 2023, and in it, Friedman explained:
But here's what does rankle me: garbage books getting uploaded to Amazon where my name is credited as the author. (Here's but one example.) Whoever's doing this is obviously preying on writers who trust my name and think I've actually written these books. I have not. Most likely they've been generated by AI.

It might be possible to ignore this nonsense on some level since these books aren't receiving customer reviews (so far), and mostly they sink to the bottom of search results (although not always). At the very least, if you look at my author profile on Amazon, these junk books don't appear. A reader who applies some critical thinking might think twice before accepting these books as mine.

Still, it's not great. And it falls on me, the author—the one with a reputation at stake—to get these misleading books removed from Amazon. I'm not even sure it's possible. I don't own the copyright to these junk books. I don't exactly "own" my name either—lots of other people who are also legit authors share my name, after all. So on what grounds can I successfully demand this stop, at least in Amazon's eyes? I'm not sure.
"Here's but one example" was hyperlinked in the text, and that link led to an Amazon.com error page. That hyperlink appeared to contain an ASIN ("Amazon Standard Identification Number,") B0CDCNNX39.
Third-party price checking website CamelCamelCamel had no record of that ASIN, but a Google search for it returned the remnants of the product page that once existed under that ASIN: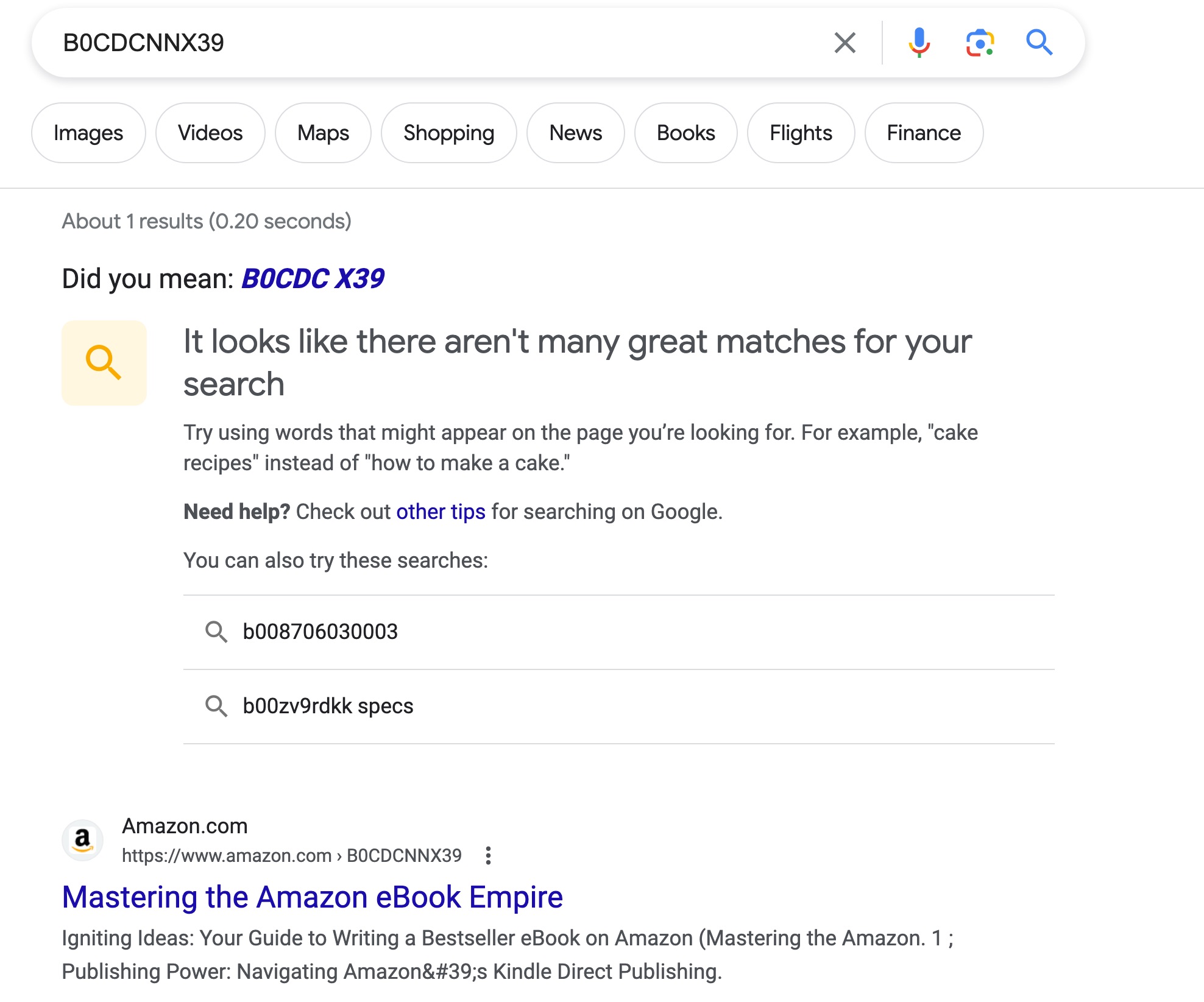 Over on Twitter, at least one person in replies to Friedman's tweet reported a similar recent experience with Amazon and imposter-generated books. Yet another commenter claimed that the same issue had affected talk show host David Pakman:
A separate pair of virally popular tweets from August 7 and 8 2023 made similar claims about authors being impersonated on Amazon. In both of those examples, misleadingly attributed "summaries" of existing books were referenced, rather than entirely new books under the author's names:
Later on August 7 2023, Friedman tweeted and said that Amazon had refused to remove the titles:
However, in August 7 and 8 2023 updates to her blog post that both Amazon and Goodreads had addressed the issue:
Update (afternoon of Aug. 7 [2023]): Hours after this post was published, my Goodreads profile was cleaned of the offending titles. However, the garbage books remain available for sale at Amazon with my name attached.

[…]

Update (morning of Aug. 8 [2023]): The fraudulent titles appear to be removed from Amazon. I'm sure that's in no small part due to my visibility and reputation in the writing and publishing community. What will authors with smaller profiles do when this happens to them? If you ever find yourself in a similar situation, I'd start by reaching out to an advocacy organization like The Authors Guild (I'm a member).
On August 7 2023, highly popular posts on social media and a blog by author Jane Friedman stated that titles likely generated by AI were for sale under her name on Amazon. Friedman further stated that Amazon initially declined to remove the titles. Those posts were followed by a similar, but not identical, series of claims from other authors about AI-generated "summaries" of their works turning up on Amazon.
On August 8 2023, Friedman updated her posts, saying that Goodreads and Amazon had removed the books. We rated the claim Unknown due to its relatively small scope (so far), but we have found no reason to doubt the assertions; we will update when more information becomes available.
Update, September 29 2023, 3:40 PM: On September 20 2023, the New York Times reported that a "group of prominent novelists, including John Grisham, Jonathan Franzen and Elin Hilderbrand" collaborated in a lawsuit filed against OpenAI.
According to the paper, the authors alleged that the use of their collective works to "train" chatbots constituted copyright infringement. The authors further alleged that the training occurred without their knowledge or permission, and that they were not compensated by OpenAI:
More than a dozen authors filed a lawsuit against OpenAI on [September 19 2023], accusing the company, which has been backed with billions of dollars in investment from Microsoft, of infringing on their copyrights by using their books to train its popular ChatGPT chatbot. The complaint, which was filed along with the Authors Guild, said that OpenAI's chatbots can now produce "derivative works" that can mimic and summarize the authors' books, potentially harming the market for authors' work, and that the writers were neither compensated nor notified by the company.

"The success and profitability of OpenAI are predicated on mass copyright infringement without a word of permission from or a nickel of compensation to copyright owners," the complaint said.
Novelist Douglas Preston was quoted in that reporting, and described the experience of discovering arcane details of his novels in ChatGPT's responses:
"That's when I looked at this and said, 'My God, ChatGPT has read my books, how many of my books has it read? It knew everything, and that's when I got a bad feeling."
According to the Times, OpenAI previously claimed chatbot training fell under "fair use," a contention with which the plaintiffs disagreed. Attorney Edward Klaris told the paper:
"[OpenAI has] scraped all this content and put it into their databases without asking permission — that seems like a huge grab of content … I think courts are going to say that copying into the database is an infringement in itself."
On September 21 2023, Canada's CBC news covered the lawsuit, and published a statement from OpenAI. In the statement, the company framed the litigation as "productive conversations" with authors and copyright holders:
OpenAI did not respond to the allegations of piracy, but in a statement to CBC, said: "We respect the rights of writers and authors, and believe they should benefit from AI technology.

"We're having productive conversations with many creators around the world, including the Authors Guild, and have been working co-operatively to understand and discuss their concerns about AI," the statement reads.
CBC quoted Toronto-based copyright attorney Daniel Anthony on the matter of fair use and infringement. Anthony raised questions about the manner in which authors' works are "fed" to AI chatbots:
"Let's assume that a particular AI product was trained on the book Moneyball. How did they acquire a copy of that book? Was it purchased or simply found on the internet (which could even be a pirated copy)? Even if purchased, did the AI 'read' the book, or was a fresh copy made and entered into a database for the training?"
On September 25 2023, ABC News published an article about legal analysts' view of the pending suit, reporting:
The case could fundamentally shape the direction and capabilities of generative AI, either imposing a new set of limits on a mechanism at the core of the technology or cementing an expansive approach to online material that has fueled the rise of products currently offered, legal analysts told ABC News.

"If anyone is going to win on the straight-up copyright infringement claims against OpenAI, this is probably the lawsuit that has the best chance of it," James Grimmelmann, professor of digital and information law at Cornell University Law School, told ABC News.
ABC News paraphrased a statement by OpenAI similar to the one provided to CBC:
OpenAI spokesperson said the company has held constructive discussions in general with creators and remains confident its technology will prove beneficial to them
The authors' lawsuit against OpenAI was pending as of September 29 2023, and legal analysts largely appeared to believe the outcome would potentially have a large effect, no matter which way it went. Legal expert James Grimmelmann posited that if "AI companies win really broadly and all of the claims get dismissed, it basically means anybody can create an AI model by training it on almost any data they can find."