Big Thunder Mountain Kidney Stones Meme
Claim
Disney's Big Thunder Mountain attraction can enable riders with kidney stones to pass them more quickly.
Like this fact check?

Reporting
In June 2021 (and in December 2020), the Facebook page "Did You Know" shared the following meme about Disney's Big Thunder Mountain ride, and its purported effect on painful kidney stones: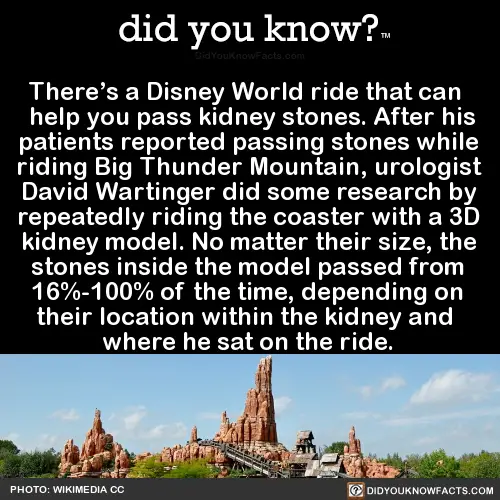 Underneath the "did you know? ™" logo, text read:
There's a Disney World ride that can help you pass kidney stones. After his patients reported passing stones while riding Big Thunder Mountain, urologist David Wartinger did some research by repeatedly riding the coaster with a 3D kidney model. No matter their size, the stones inside the model passed from 16%-100% of the time, depending on their location within the kidney and where he sat on the ride.
On June 22 2021, a Facebook user shared not the meme, but a written post about the rumor that Big Thunder Mountain might be helpful to people dealing with kidney stones:
If you ever find yourself cursed with the unfathomable pain that is a kidney stone, forget rushing to the emergency room at your local hospital. Medical researchers now say you might find relief at Walt Disney World instead.

Seriously. In a medical journal article published in 2016, researchers from Michigan State University detailed how riding Big Thunder Mountain Railroad at Walt Disney World's Magic Kingdom helped patients pass their small kidney stones. (And, trust me, as someone who has been through this — there is no such thing as a "small" kidney stone. Those —-ers are freakin' boulders when they're coming through.)

Found this interesting for us kidney stone sufferers. 😢
On first glance, some of the meme's claims looked shaky. It described just one doctor conducting an experiment involving a model kidney (not humans suffering with kidney stones), and identified variables including the "location within the [model] kidney" and where Wartinger "sat on the ride."
In other words, in terms of advice, kidney stone sufferers might not necessarily achieve relief if the outcome was trustworthy. However, to their credit (and unlike many "fun facts" pages), Did You Know included a link labeled "Source" at the top of the post.
That took us to a press release from Michigan State University (MSU) with the eye-catching headline, "Got kidney stones? Ride a roller coaster." Content of the press release aligned with elements of the meme:
A Michigan State University professor emeritus has discovered that riding a roller coaster helps patients pass kidney stones with nearly a 70 percent success rate.

David Wartinger, a professor emeritus in the Department of Osteopathic Surgical Specialties, led both a pilot study and an expanded study to assess whether the stories he was hearing from patients were true.

His pilot study is published in the Journal of the American Osteopathic Association.

"Basically, I had patients telling me that after riding a particular roller coaster at Walt Disney World, they were able to pass their kidney stone," Wartinger said. "I even had one patient say he passed three different stones after riding multiple times."
According to the press release, Wartinger utilized a "MSU validated, synthetic 3D model of a hollow kidney complete with three kidney stones no larger than 4 millimeters inserted into the replica." Wartinger brought a backpack containing the model kidney onto the ride, for 20 trips, and MSU said his "initial results verified patient reports."
However, the release also noted that Wartinger expanded the research to determine whether the park's other roller coasters had the same effect. Wartinger and another researcher attempted to replicate their results with other rides:
"In the pilot study, sitting in the last car of the roller coaster showed about a 64 percent passage rate, while sitting in the first few cars only had a 16 percent success rate," Wartinger said.

The expanded study, conducted with Mark Mitchell, an MSU resident at the time, included riding the same roller coaster with multiple kidney models attached to the researchers. They discovered even better results while sitting in the back of the coaster, with a passage rate of nearly 70 percent. They also found that both studies showed a 100 percent passage rate if the stones were located in the upper chamber of the kidney.

"In all, we used 174 kidney stones of varying shapes, sizes and weights to see if each model worked on the same ride and on two other roller coasters," Wartinger said. "Big Thunder Mountain was the only one that worked. We tried Space Mountain and Aerosmith's Rock 'n' Roller Coaster and both failed."

Wartinger went on to explain that these other rides are too fast and too violent with a G-force that pins the stone into the kidney and doesn't allow it to pass.

[…]

"You need to heed the warnings before going on a roller coaster," he advised. "If you have a kidney stone, but are otherwise healthy and meet the requirements of the ride, patients should try it. It's definitely a lower-cost alternative to health care."
Attempts to track down the study published by Wartinger were initially hampered by the virality of the rumor. An October 4 2016 item on medical trade website reported:
News is spreading across the country and around the world about David Wartinger, DO, and his findings that moderate roller coaster rides can lead to the passage of small kidney stones.

So far, the results of the study published in The Journal of the American Osteopathic Association have appeared in roughly 850 news reports, including about 140 broadcasted news segments.
That outlet included a link to what looked to us to be the article's original location on The Journal of the American Osteopathic Association's website — but the link redirected to the journal's homepage. We used the Wayback Machine to locate an archived copy of the research.
An abstract for the research, "Validation of a Functional Pyelocalyceal Renal Model for the Evaluation of Renal Calculi Passage While Riding a Roller Coaster," read:
Context: The identification and evaluation of activities capable of dislodging calyceal renal calculi require a patient surrogate or validated functional pyelocalyceal renal model.

Objective: To evaluate roller coaster facilitation of calyceal renal calculi passage using a functional pyelocalyceal renal model.

Methods: A previously described adult ureteroscopy and renoscopy simulator (Ideal Anatomic) was modified and remolded to function as a patient surrogate. Three renal calculi of different sizes from the patient who provided the original computed tomographic urograph on which the simulator was based were used. The renal calculi were suspended in urine in the model and taken for 20 rides on the Big Thunder Mountain Railroad roller coaster at Walt Disney World in Orlando, Florida. The roller coaster rides were analyzed using variables of renal calculi volume, calyceal location, model position on the roller coaster, and renal calculi passage.

Results: Sixty renal calculi rides were analyzed. Independent of renal calculi volume and calyceal location, front seating on the roller coaster resulted in a passage rate of 4 of 24. Independent of renal calculi volume and calyceal location, rear seating on the roller coaster resulted in a passage rate of 23 of 36. Independent of renal calculi volume in rear seating, calyceal location differed in passage rates, with an upper calyceal calculi passage rate of 100%; a middle calyceal passage rate of 55.6%; and a lower calyceal passage rate of 40.0%.

Conclusion: The functional pyelocalyceal renal model serves as a functional patient surrogate to evaluate activities that facilitate calyceal renal calculi passage. The rear seating position on the roller coaster led to the most renal calculi passages.
The work also won a 2018 Ig Nobel for its conclusions:
The Medicine Prize is one of 10 Ig Nobels awarded each year for amusing and mind-bending science. They are all genuine studies and nearly all have been published in peer-reviewed journals
At the awards ceremony, held at Harvard University in Cambridge, US, each winner has 60 seconds to deliver an acceptance speech. The time limit is strictly enforced by an eight-year-girl who says "please stop I'm bored" several times until the speaker finishes.
Patients' reports led urologist Dr. David Wartinger to investigate stories about Disney World's Big Thunder Mountain assisting patients in passing kidney stones. Wartinger visited Big Thunder Mountain and took a model kidney on twenty ride-throughs — finding that the anecdotal claims appeared to have some statistically significant validity. Wartinger and Mitchell attempted to replicate the result on two other coasters (including Space Mountain), but did not achieve the same results. Finally, unlike many "weird facts" pages, "Did You Know" included a credible source — MSU's press release announcing publication of the research.