Bill Clinton Was Expelled from Oxford for Rape-Unproven
Bill Clinton Was Expelled from Oxford for Rape-Unproven!
Summary of eRumor:
Bill Clinton was expelled from Oxford in 1969 after he was accused of raping a woman named Eileen Wellstone.
The Truth:
President Bill Clinton didn't finish his degree program at Oxford, but there's no proof that he was expelled or asked to leave the school because of rape allegations.
And it's true that a woman named Eileen Wellstone came forward in 1999 with allegations that Clinton sexually assaulted her after the two met in a pub, but there's no way for us to say at this point whether those accusations are true or false.
The earliest account we found was a Free Republic article from 2002 that recounted an investigation led by a man named Doug Thompson working for now-defunct publication called Capitol Hill Blues:
According to Thompson's research, the reason that Clinton did not finish his studies at Oxford was that he was removed from the school and the country. The reason was his sexual assault on Eileen Wellstone whom he had met in a pub. Thompson claims to have verified the information from a State Department employee who had known the circumstances in the case.
The report called for fellow classmates or instructors who knew Clinton at Oxford to come forward with information. We actually found accounts from classmates who knew Clinton at Oxford, and they don't appear to jive with the picture of Clinton painted in the article (more on that later).
More recently, accusations that Clinton was expelled from Oxford for rape resurfaced during the 2016 presidential election as Donald Trump faced rape allegations of his own from 11 women.
Roger Stone, a longtime Clinton opposition researcher and Trump supporter, brought the Oxford allegations against Clinton back into the spotlight with social media posts like this one: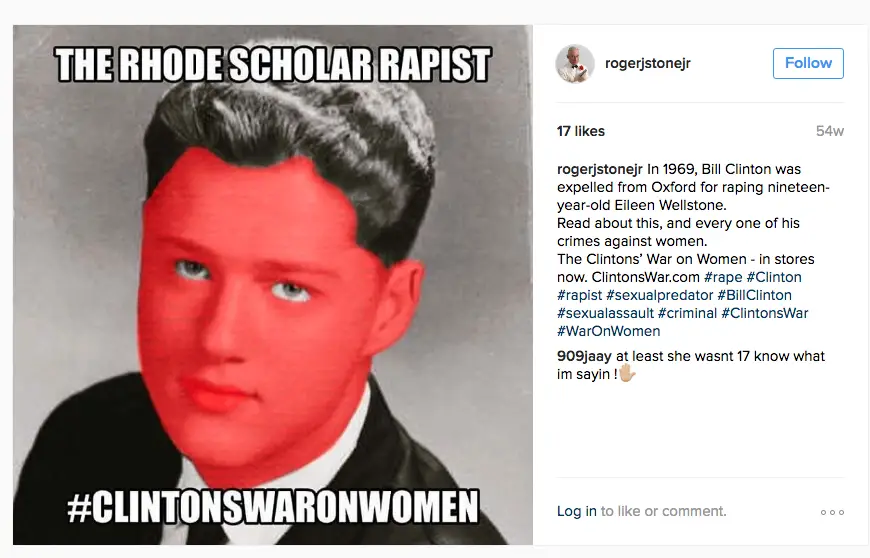 As it turns out, Clinton's time at Oxford was an issue in the 1992 presidential campaign, too. President George H.W. Bush argued on the campaign trail that Clinton's time abroad had tainted his worldview and had left him disconnected with the American people.
That led to the U.K.'s Independent to reach out to Clinton's former classmates and instructors about how Clinton's spent his time there "beside smoking dope."
The article reports hat Clinton was accepted to Oxford on a two-year Rhodes scholarship in 1968 after graduating from Georgetown. Clinton's classmates described him as "a softie" and passionate objector to the Vietnam War, and the draft in particular:
Clinton never completed his degree. In part this was due to his worry about the draft. According to one contemporary, he thought his first year would be his last and so there was little point in doing the work for a two-year degree; in his second year it was too late to start. This was not seen to matter. Many American Rhodes scholars treated their time at Oxford as a version of the Grand Tour. They had their degree and planned to go to law school when they returned to the US; Oxford was an interesting interlude.
And Clinton's fellow classmates don't paint a picture of Clinton as a lady's man or womanizer. At the time, Clinton was described as overweight and out-of-style with modern British trends:
But jokes aside, Clinton was not, in the opinion of the women who knew him well at Oxford, a womaniser. Mandy Merck recalls: 'Bill was plumpish, and ill-kempt, not a ladies' man, although he was flirtatious in an amiable way. In any case, English women at Oxford were indifferent to Rhodes scholars. Mick Jagger-type men with tight hips and flared trousers were in, not wide-bottomed Americans.'
Looking back, Katherine Gieve says: 'My abiding impression of Bill is that he was a softie; he wasn't afraid of expressing his feelings.' Sara Maitland remembers that he took her up to London to the Albert Hall to hear a Mahalia Jackson concert. At the end, Jackson sang, unaccompanied, a version of the Lord's Prayer. 'Bill was just in floods of tears. He said that the music reminded him of home, and it was strange to hear it in the Albert Hall, and it made him just homesick.'
Merck remembers: 'Bill was the first boy I ever 'came out' to. In fact, he was just about the first person outside my circle I ever felt that I could tell I was a lesbian.' While some of the other Rhodes scholars disapproved, Clinton simply treated it as an interesting fact.
In the end, there's no way to prove any of the facts surrounding the Eileen Wellstone's rape accusations. We also can't definitively prove that Clinton was expelled or "quietly asked to leave Oxford" for his conduct there. That's why we're calling this one "unproven."