Bill Clinton Has a Son Named Danney Williams-Reported as Fiction!
Bill Clinton Has a Son Named Danney Williams-Reported as Fiction!
Summary of eRumor:
Bill Clinton fathered a son named Danney Williams with a prostitute from Arkansas.
The Truth:
Reports of Bill Clinton secretly fathering a son named Danny Williams with a prostitute date all the way back to the early 1990s, but they have long since been debunked.
New twists on the rumor surfaced during the 2016 election, but they lack concrete proof that can be investigated. We'll lay out a history of the Danney Williams claims to help put things into perspective.
Rumors about Bill Clinton fathering a "love child" named Danney Williams started on the streets of Little Rock in the 1980s. A local activist and agitator named Robert "Say" McIntosh, who gained infamy for attacking local politicians in the press and with hand-made fliers, started the rumor with a flier that said Clinton wouldn't run for president because of Williams. The Arkansas Times reports that McIntosh had a long history of attacking Clinton by that time:
By the mid-1980s, the library's alphabetized, indexed list of newspaper stories containing the name "Robert 'Say' McIntosh" often runs a full page of tiny type. He hounded Bill Clinton mercilessly about various policies and personal shortcomings (reportedly while on the payroll of assorted Clinton-haters), filling his flyers with scandalous allegations about Clinton…
McIntosh's story, which has been repeated countless times, goes that Clinton, while serving as the governor of Arkansas, was out for a jog in Little Rock in 1984 when he bumped into Bobbie Ann Williams, a 24-year-old prostitute who lived in a nearby housing project. A few days later, Clinton supposedly came back and offered Williams $200 to have sex with him behind some bushes. That supposedly led to an affair that carried on for months before Williams became pregnant with Clinton's son.
The rumor went national in February 1992 when tabloid Globe picked up the story and printed side-by-side pictures in which Danney Williams and Bill Clinton seemed to have similar facial features. The story floated in and out of the headlines for the remainder of the 1990s, mostly built on side-by-side photos of Clinton and Williams that showed similar facial features: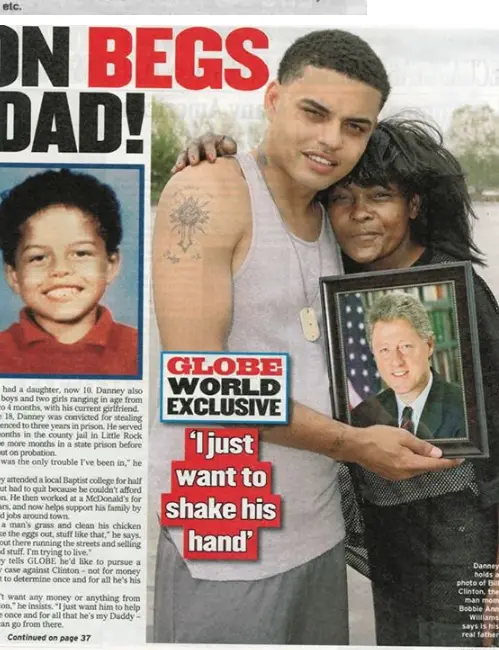 In 1999, however, Time magazine reported that DNA testing had definitively proved that Danney Williams, who was 13 at the time, was not the son of Bill Clinton. We couldn't find an archived version of the story, but the Independent reported a nice summary at the time:
He may be the first president this century to be impeached, but there was some good news for Bill Clinton yesterday, with reports that he was not after all the father of an illegitimate boy in his home state of Arkansas.
In an article headed "Scandal Interruptus", Time magazine's Internet website reported that DNA tests on the boy, Danny Williams, 13, and his mother, Bobbie Ann, had shown no match with Mr Clinton. "There was no match. Not even close," Time quoted a source at the tabloid weekly, the Star, that commissioned the tests. The weekly was reported to have paid Ms Williams and her son to take the tests, intending to compare the results with the information about Mr Clinton's DNA contained in the report of the independent prosecutor Kenneth Starr.
The editor of the tabloid, Phil Bunton, had said that he would publish only if the test showed that Mr Clinton could be the father. But news of the investigation leaked out before the results were ready, reviving rumors that had circulated in Arkansas for years and clogging radio phone- in lines with callers wanting to have their say.
Bobbie Ann Williams, who is black, was said to have told her mixed-race son ever since he was born that Bill Clinton was his father. She says that she was working as a prostitute when her son was conceived and that Mr Clinton was her only white customer that month. However, she never instituted a paternity suit.
Numerous media outlets picked up the story in 1999, including Drudge Report, which, according to a report from the archives of the right-leaning Accuracy in Media non-profit, reported that Williams had been paid a six-figure sum to consent to the DNA testing:
A claim by Bobbie Ann Williams, a Little Rock prostitute, that her son, Danny, was fathered by Bill Clinton has been proven false by DNA analysis. Star, the tabloid that first published Gennifer Flowers' claim that she had been one of Clinton?s lovers, was reported to have paid Williams "a low six-figure" sum for exclusive rights to the story. It arranged to have Danny's DNA checked against that of the President. On January 9, the Drudge Report broke the news that Time magazine had learned that the DNA tests cleared Clinton.
Time ran a short story in its January 15 issue under the headline, "Scandal Interruptus; A bit less Jefferson in William Jefferson Clinton." What Time was trying to do in this strange headline was to remind its readers of the claim that DNA tests had proven that Thomas Jefferson had fathered a son by his slave, Sally Hemings, as it reported that DNA tests had cleared Bill Clinton of fathering a son by a black hooker.
Fast forward to 1999, and Drudge Report appears to be behind a re-surge of rumors that Bill Clinton fathered Danney Williams. The report links to a tweet from Danney Williams that references Clinton being his father, and a video in which Donald Trump' ally, Roger Stone, claims that there was no paternity test without providing any evidence that that was true.
And, in response to accusations from Stone and others that the mainstream media refused to report the story, Daily Beast reporter Olivia Nuzzi followed up on the story in May 2016. She set out to talk to the principle players in the story and to prove or disprove whatever she could. However, she found Danney Williams to be uncooperative. He refused to speak with her and referred her to attorneys who said that they had never represented him. In the end, Nuzzi concluded that "Danney Williams, as he says, is real. Everything past that remains in the rabbithole — the provenance of the supermarket tabloids and professional rumor peddlers."