Did a Video Expose Democrats 'Planning to Cheat' in Georgia?
Claim
A video captured on Facebook shows a Florida attorney telling Democrats how to falsely register to vote in Georgia.
Like this fact check?

Reporting
A right-wing radio talk show host's website appropriated and misrepresented an actual reporter's work involving a Republican-supporting attorney in Florida, offering an excellent object lesson into the way disinformation can be perpetuated by bad actors.
WSB-TV's Nicole Carr reported that the attorney, Bill Price, was seen in a video telling fellow GOP members in Bay County that he tried to register to vote in Georgia (where two Senate seats will be at stake in a January 2021 runoff election) and encouraging them to do the same. According to Carr's story:
Price told the group he's moving to his brother's address in Hiram, Georgia in order to register to vote in the January runoff. He repeats and spells and his brother's name and address, as members of the group jot it down. They can be heard mumbling the address in the background while some write.

"We can truly register at that address?" one woman asks.

"Sure," Price answers, adding they have to plan to show a move, suggesting they have mail sent there.

[…]

"It can be done online or you can request your ballot at your new address in Georgia by mail," Price said. You just go to the secretary of state's website for the state of Georgia and register to vote there."

"If they need a driver's license, I'm going to get a driver's license," he said. "If they need mail, I'm going to have mail there."

"We have to win that election in Georgia, and so I'm moving to my brother's house in Hiram, Georgia and I'm registering to vote," Price says. "And we are going to win that election in January."
Carr further reported that while Price claimed to have been "joking" when he made the remarks, she confirmed that he did, in fact, register to vote in Georgia at his brother's address and stated on an affidavit that he lived in the state — making his "joke" a little less funny.
Carr's story was published on December 3 2020, bearing the headline, "Florida attorney under investigation for registering to vote in Georgia, encouraging others to do the same":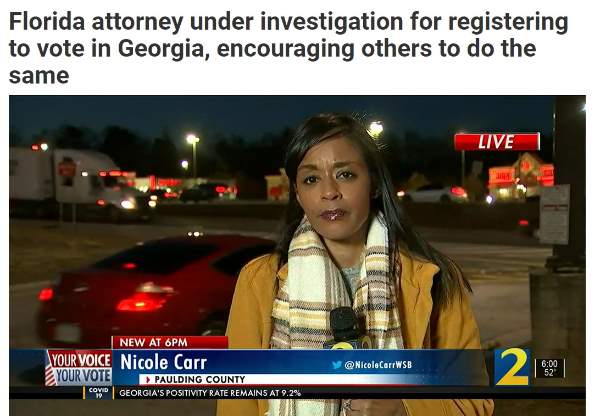 That same day, the blog "DJHJ Media" reposted the majority of it with two major alterations: first, a headline falsely claiming that the footage "exposes Democrats planning to cheat":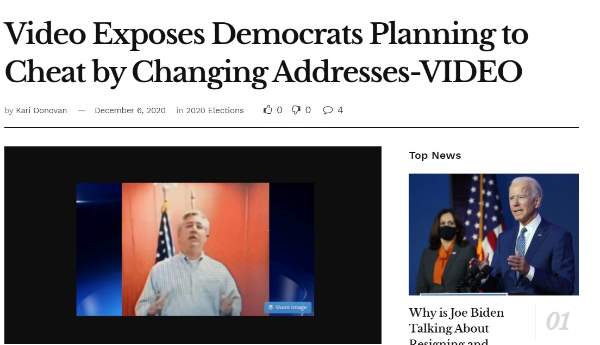 The blog also added a preamble to the story using the same false framing:
A run-off race in Georgia has become the focus of the battle to save America and the Democrats are very publicly showing off a number of tactics they use to overthrow local elections, including having activists change their address to allow them to vote and capture victory.
The aggregation effort went so far as to present Carr's tweets alongside the story:
"If that means changing your address for the next two months,so be it.I'm doing that. I'm moving to Georgia."Our 6 investigation reveals deleted video-a FL attorney telling GOP members how to move to GA,vote in runoffs. It's illegal.There's more,& an investigation @wsbtv #gapol pic.twitter.com/or2PgWQrT1

— Nicole Carr (@NicoleCarrWSB) December 2, 2020
The blog's owner, longtime far-right disinformation purveyor David Harris Jr., then attempted to promote his blog writer's "work" on Twitter, only to draw a response from Carr.
"I'm the reporter," Carr wrote back. "She copied and pasted my work and changed Republican to Democrat. Bill Price is a Republican under investigation by the Georgia SOS and the FL Bar Association."
Carr, who has reported for WSB since 2016, further told us:
The story headline was clearly manipulated, and the disinformation was shared to garner the reaction it got from some people. The facts of the story are clear, and matters of the investigation are attributed to several agencies directly involved in the current probe.
Georgia Secretary of State's office confirmed that they are investigating Bill Price's actions.
"Individuals who attempt to undermine the integrity of Georgia's elections will be investigated and prosecuted to the fullest extent of the law," Raffensperger told WSB. "Those who move to Georgia just to vote in the Senate runoffs with no intention of staying are committing a felony that is punishable with jailtime and hefty fines. They will be found, they will be investigated, and they will be punished."
Despite increasingly shrill false claims to the contrary, Raffensperger's office certified on December 7 2020 — for the third time — that Democratic President-Elect Joe Biden did, in fact, win the 2020 presidential election.