'RubyFreeman_Georgia' Instagram Post
Claim
Ruby Freeman of Georgia posted an election fraud confession to the Instagram page "rubyfreeman_georgia."
Like this fact check?

Reporting
On December 5 2020, a screenshot of an Instagram post began circulating around the usual far-right fringe forums, attributed to a woman named Ruby Freeman (@rubyfreeman_georgia):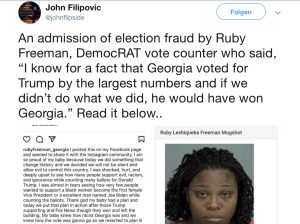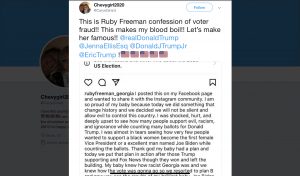 The purported Instagram screenshots were attributed to @rubyfreeman_georgia, which was transcribed in a December 5 2020 Facebook post (paragraph breaks added for readability):
Rubyfreeman_georgia

I posted this on my Facebook page and wanted to share it with the instagram community. I am so proud of my baby because today we did something that change history and we decided we will not be silent and allow evil to control this country. I was shocked, hurt, and deeply upset to see how many people support evil, racism, and ignorance while counting many ballots for Donald Trump. I was almost in tears seeing how very few people wanted to support a black women become the first female Vice President or a excellent man named Joe Biden while counting the ballots.

Thank god my baby had a plan and today we put that plan in action after those Trump supporting and Fox News though they won and left the building. My baby knew how racist Georgia was and we knew how the vote was gonna go so we resorted to plan B and now you see the results of my brilliant baby. Joe Biden is now the winner and I'm looking at all of Georgia with a side eye because I know for a fact that Georgia voted for Trump by the largest numbers and if we didn't do what we did he would have won Georgia. I've seen and I notice many black names who voted for Donald Trump and that really bothers me because y'all the reason he won. My baby told me "Its gonna be our own community who gonna make Donald Trump win" and she was right because Tonald Trump won and it's very sad.

I was nervous about plan B but I'm glad we did it because it saved the country and I will pray for forgiveness. If people find out what me and my baby did we could be in a lot of trouble and possibly jail so I would like to ask everyone to delete all the pictures, videos, and live streams of me and the special ballots. The ones we used are the special Joe Biden ballots that my baby created for us to win. They scanned excellent and increased Joe Biden numbers and helped him beat Donald Trump. I spoke to Dominion people and they said plan B worked all across the country. Special thanks to Stacey Abrams, Keisha Lance Bottoms, and Raphael Warnock. Don't worry Raphael you gonna beat that white bitch because we did it for you and Joe Biden better give us a pardon for it lol.
A December 4 2020 tweet attributed the post to a different Instagram account, @_xocuteaniyahj:
Something stinks !! @RudyGiuliani @JennaEllisEsq @SidneyPowell1 "ballots under the table" lady. Rudy freeman #GEORGIA2020 #georgiahearing #ElectionIntegrity #Trump2020 #ElectionFraud #RudyFreeman pic.twitter.com/rifsduLWl6

— LawOfOne (@lawofone_) December 5, 2020
Attempts were made to archive the Instagram pages and posts of @rubyfreeman_georgia and @_xocuteaniyahj, but neither attempt archived that particular post. The version attributed to @_xocuteaniyahj was also shared to 4Chan's /pol/, where several commenters observed that the claim appeared to be falsified.
Twitter user @lawofone_ claimed that they captured the screenshots on December 4 2020, and that the account changed handles before becoming unavailable:
Yes, instagram. Within minutes of finding the account it was made private. And within hours the account was deleted entirely.

Original of what ? Those are my screenshots lol. My photos were taken on the dec 4th between 12:48 – 12:52 pm

No it changed from Rubyfreeman_georgia to the _xo account. The name was changed and profile was put on private all within that same time frame. No one was bullying her account. I was quietly on there trying to figure out if it was a troll or real
A December 5 2020 Facebook share of the screenshot and ancillary claims (now deleted) was also viewed and shared several hundred times.
It appeared the that claim was boosted by election disinformation purveyor and now notorious lawyer L. Lin Wood on December 6 2020 in a since-deleted tweet, which is archived here. Wood wrote:
Would American Patriots make certain this Instagram post by Ruby Freeman is shared with @BrianKempGA @GaSecofState @GeoffDuncanGA @GabrielSterling @KLoeffler @sendavidperdue?

GA general election was a fraud. Take action to fix it NOW!

@realDonaldTrump @SidneyPowell1 @GenFlynn
Not long after publishing the tweet, Wood admitted that it was unverified and then described it as "disinformation." And on December 5 2020, a version of the screenshot (attributed to @_xocuteaniyahj) was shared to the TigerDroppings.com forum, where people largely opined the claim was "fake AF":
"Looks fake AF"

"Fake. She's dumb but not that dumb."

"Kinda hard to believe this one"

"yeah…i'm gonna go out on a limb and say that's not her."

"Is there a link to this or any proof that it's real? I assume it's deleted by now if real."

"That has to be fake. Or she has the biggest pair of balls coupled with the least functional brain in human history."
Beginning on December 4 2020, searches on Google spiked for several terms related to the screenshots, such as:
"ruby freeman georgia";
"ruby freeman twitter";
"ruby freeman instagram";
"rubyfreeman_georgia instagram," and;
"rubyfreeman_georgia."
As of December 7 2020, the Instagram account for @rubyfreeman_georgia was operational (archived), with an Instagram bio reading:
Allegedly
Parody account. The posts you saw on Twitter about this account are fake and this was never Ruby. Innocent until proven guilty.*Not OG poster of BS
It appeared that a different person had somehow taken over the account. One of their posts provided purported screenshots of the account's creation on December 4 2020, versus a screenshot of the purported source of the claim on Twitter (a tweet by user @safima7):
 

View this post on Instagram

 
A commenter on TheDonald.win responded to a post about the @rubyfreeman_georgia rumor:
No. Fucking Lin is an idiot:

This is fake news:

it's a trolls disinfo: https://www.instagram.com/rubyfreeman_georgia/

Screenshots for those who can't view the IG: https://maga.host/g/sXvn4Kd

Clearly anti trump twitter account they used to make supposed post: https://twitter.com/safima7
That account also posted a screenshot of what appeared to be @safima7 operating the @rubyfreeman_georgia handle, describing it as "a shell account" that was specifically used to start this rumor:
Rumors that someone confessed to electoral fraud via the Instagram account @rubyfreeman_georgia (or @_xocuteaniyahj) began circulating on December 4 2020, receiving a popularity boost when the claim was shared by lawyer L. Lin Wood on December 6 2020. Wood quickly walked the claim back as "unverified," and the @rubyfreeman_georgia account was evidently taken over by someone else after the rumor went viral. Nearly all accounts promoting the claim admitted it was unlikely to be true, and screenshots suggested the original @rubyfreeman_georgia Instagram account was an alt or a "shell account" by Twitter user @safima7 — created to spark "this theory" in early December 2020.
Update, 12/2/2021 (bb): On December 2 2021, almost exactly a year after this disinformation campaign was used to harass and intimidate officials as part of an ongoing attempt to topple a democratic election, Ruby Freeman and her daughter Shaye Moss filed a lawsuit in St. Louis Circuit Court against the people behind The Gateway Pundit:
The election workers, Ruby Freeman, a retired 911 call center worker, and her daughter, Shaye Moss, allege in the lawsuit that Jim and Joe Hoft, twin brothers who operate and write for The Gateway Pundit, conducted "a campaign of lies" that "instigated a deluge of intimidation, harassment, and threats that has forced them to change their phone numbers, delete their online accounts, and fear for their physical safety."

Freeman and her daughter became central figures in some of the many conspiracy theories that circulated among conservatives in the months after the election. Other subjects of similar theories — most notably companies that make voting machines — have also launched lawsuits targeted at media companies that spread misleading or outright evidence-free claims about their roles in the election.

Articles from The Gateway Pundit that named Freeman sparked a feedback loop of accusations that included President Donald Trump and other conservative media outlets.
As a result of the conspiracy theories, the lawsuit says that strangers harassed them with emails and phone calls — and even showed up at their home to abuse them in person and attempt to make "citizen's arrests." A December 1 2021 Reuters story detailed some of the threats:
Freeman made a series of 911 emergency calls in the days after she was publicly identified in early December by the president's camp. In a Dec. 4 call, she told the dispatcher she'd gotten a flood of "threats and phone calls and racial slurs," adding: "It's scary because they're saying stuff like, 'We're coming to get you. We are coming to get you.'"

Two days later, a panicked Freeman called 911 again, after hearing loud banging on her door just before 10 p.m. Strangers had come the night before, too. She begged the dispatcher for assistance. "Lord Jesus, where's the police?" she asked, according to the recording, obtained by Reuters in a records request. "I don't know who keeps coming to my door."

"Please help me."
Despite this, The Gateway Pundit continued to push its conspiracy theories about the mother and daughter throughout 2021.