10,856 Blacks Were Killed By Other Blacks in 503 Days in U.S.-Fiction!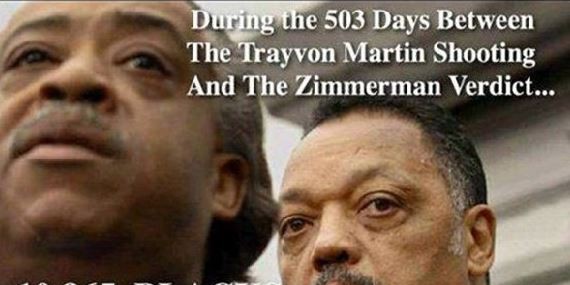 10,856 Blacks Were Killed By Other Blacks in 503 Days in U.S.-Fiction!
Summary of eRumor:
After the not guilty verdict by a jury, self proclaimed neighborhood watcher George Zimmerman was cleared of all charges of the wrongful death of Trayvon Martin.   The rumor included an image of Al Sharpton and Jessie Jackson that alleged that during the 503 days from the incident to the closing of the Zimmerman trail that "10,865 Blacks were killed by other Blacks." Some versions of this eRumor allege that the number is 11,106. Some versions of this eRumor include statistics of the U.S. murder rate and its place with other nations.
The Truth:
The
PolitiFact Florida
site said that this claim is mostly false, saying that "The number sounds extremely precise, but it's actually something of a rough guess based on back-of-the envelope math."
The article said that no one is certain of how many Blacks were murdered by other African Americans in this particular time frame.  It went on to say that "the numbers cited are actually an extrapolation of murder statistics for 2005."
As for the U.S.
number 3 standing in the world in murders, that is a complete fabrication. According to the website
Maps of the World
, the U.S. did not even make the top ten list of murdering countries on this planet.  Other sites on the Internet seem to agree with these numbers.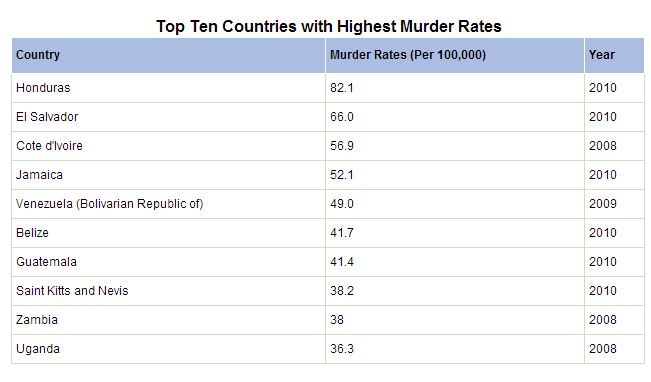 Dates of statistics taken for each country were all over the map and no indication of sources for statistics were found. A possible source for the statistics may have been the United Nations (UN) who has data posted on the Internet.  We found the statistics for murders but each country showed different years for the number of deaths tabulated.  Sorting country murders from that information would not be accurate. Click here for UN data.
Posted 3/16/14.
---
A real example of the eRumor as it has appeared on the Internet:

ALSO:

1. The United States ranks 3rd in Murders throughout the World.

2. If you take out Chicago, Detroit, Washington DC, and New Orleans, the United States is 4th from the Bottom for Murders.

3. These 4 Cities also have the toughest Gun Control Laws in the United States.

4. All 4 are also controlled by Democrats.

It would be absurd to draw any conclusions from this data…