Did Brazil's President Jair Bolsonaro Test Positive for COVID-19?
Claim
Brazilian President Jair Bolsonaro tested positive for novel coronavirus strain COVID-19.
Like this fact check?

Reporting
Four months after rumors that Brazil's president Jair Bolsonaro had tested positive for COVID-19 were debunked, Bolsonaro himself confirmed that he had been infected.
This story has been updated. Please see below.
Bolsonaro announced on July 7 2020 that he had tested positive for the virus, days after his wife Michelle's 80-year-old grandmother was reportedly intubated after contracting the novel coronavirus.
His announcement also came shortly after he struck down parts of a bill passed by the national Chamber of Deputies that would have required both a distribution of face masks to low-income communities and the use of facial coverings in "commercial and industrial establishments, religious temples, teaching premises and also closed places where people are gathering." The Brazilian Congress can overrule the vetoes within 30 days.
Bolsonaro himself has downplayed COVID-19, saying that "at most it would be like a little flu or a little cold" and refusing to wear face coverings even as the virus has infected more than 1.6 million people and killed more than 65,000 of them. Even as he announced that he had tested positive, the president took a mask off and told reporters, "Just look at my face, I'm fine."
"Just look at my face: I'm fine," Bolsonaro says, taking off his mask in front of journalists after announcing he has just tested positive for coronavirus pic.twitter.com/JIHHcjniPl

— Tom Phillips (@tomphillipsin) July 7, 2020
Months earlier, a tweet by journalist Victor Hugo Michel of the Mexican outlet Milenio first stirred rumors that Bolsonaro had been infected; in March 2020 Michel wrote, "Bolsonaro confirmed with COVID. First Latin American president confirmed":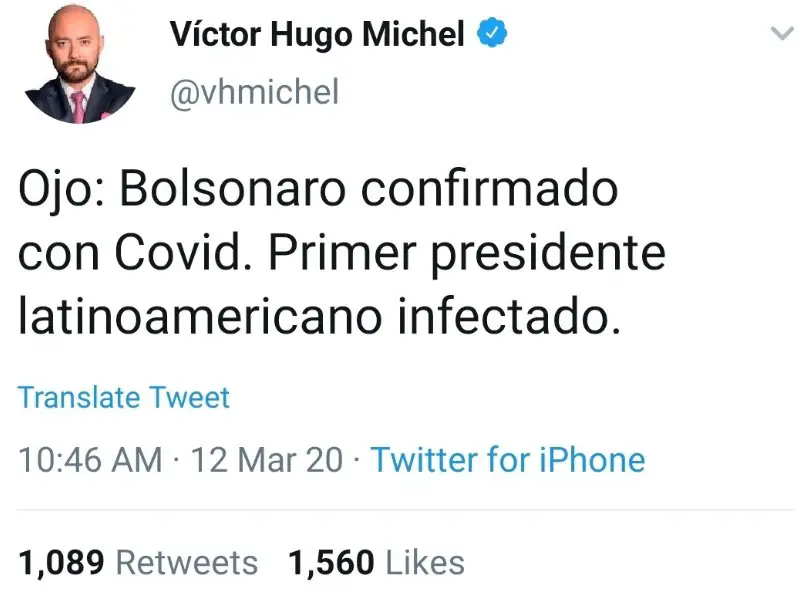 However, Michel quickly took the tweet down and posted a correction: "Apologies for the mistake; my translation was wrong. Bolsonaro is under medical observation after his press secretary tested positive for COVID. Deep apologies for this journalistic error."
Several news outlets both in and out of Brazil confirmed at the time that Fabio Wajngarten, Bolsonaro's press secretary, had tested positive for the disease. Wajngarten was with Bolsonaro when the Brazilian president met with his American counterpart, Donald Trump, at Trump's Mar-a-Lago resort in Florida days earlier.
Wajngarten also posted a photo of himself with the two heads of state on Instagram. On March 13 another official, Miami Mayor Francis Suarez, told the Miami Herald that he also tested positive following an event attended by Bolsonaro and his staff.
The same day Suarez confirmed his diagnosis, the Brazilian news outlet O Dia reported that Bolsonaro himself had tested positive in an initial exam for COVID-19. Bolsonaro rebuked the story on Twitter, calling it "fake news" and saying that he tested negative. His son Eduardo also denied the story in an interview with Fox News.
But the subject re-emerged on July 6 2020, when CNN Brazil reported, citing Bolsonaro himself, the president had shown symptoms of the novel coronavirus. Bolsonaro also said that he was taking hydroxychloroquine, an anti-malaria drug.  The drug had been promoted earlier in the year by Trump as a COVID-19 treatment, but researchers have questioned its effectiveness; in June 2020 the scientific journal The Lancet retracted a study on the matter at the request of the researchers.
Updated March 13, 2020, 10:54 a.m. PST: This story has been updated with a new report of Bolsonaro testing positive as well as his denial; also noted Francis Suarez's announcement that he tested positive for the virus.
Updated July 6, 2020, 3:43 p.m. PST: This story has been updated with a new report, confirmed by Bolsonaro, that he had shown symptoms associated with the novel coronavirus.
Updated July 7, 2020, 9:09 a.m. PST: This story has been updated with confirmation that Bolsonaro tested positive for COVID-19.