Claim
Brazilian President Jair Bolsonaro tested positive for novel coronavirus strain COVID-19.
Reporting
A tweet reporting that Brazil's president Jair Bolsonaro had tested positive for COVID-19 circulated quickly online on March 12 2020 before being taken down. But even as that post was circulated online, Bolsonaro denied a separate report saying that he indeed tested positive.
This story has been updated. Please see below.
The original post, by journalist Victor Hugo Michel of the Mexican outlet Milenio, stated: "Bolsonaro confirmed with COVID. First Latin American president confirmed":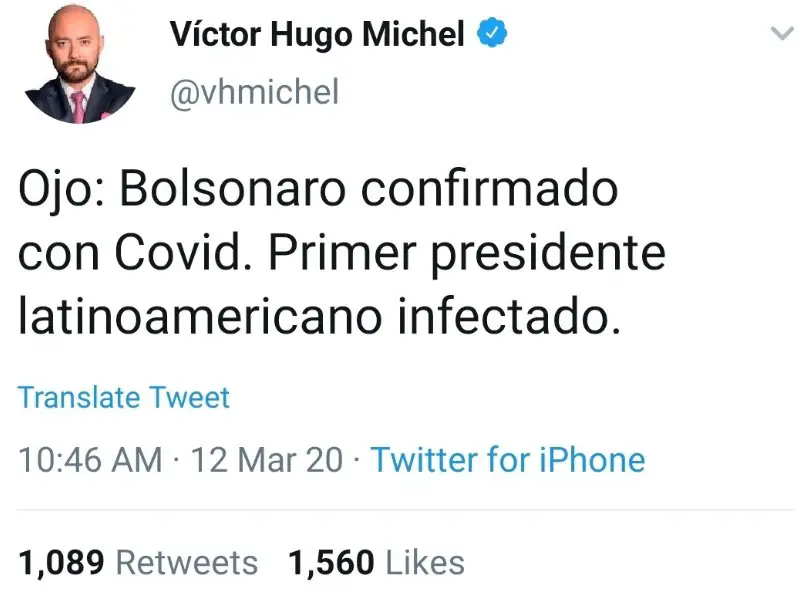 However, Michel quickly took the tweet down and posted a correction: "Apologies for the mistake; my translation was wrong. Bolsonaro is under medical observation after his press secretary tested positive for COVID. Deep apologies for this journalistic error."
Several news outlets both in and out of Brazil have already confirmed that Fabio Wajngarten, Bolsonaro's press secretary, has tested positive for the disease. Wajngarten was with Bolsonaro when the Brazilian president met with his American counterpart, Donald Trump, at Trump's Mar-a-Lago resort in Florida days earlier.
Wajngarten also posted a photo of himself with the two heads of state on Instagram. On March 13 another official, Miami Mayor Francis Suarez, told the Miami Herald that he also tested positive following an event attended by Bolsonaro and his staff.
The same day Suarez confirmed his diagnosis, the Brazilian news outlet O Dia reported that Bolsonaro himself had tested positive in an initial exam for COVID-19. Bolsonaro rebuked the story on Twitter, calling it "fake news" and saying that he tested negative. His son Eduardo also denied the story in an interview with Fox News.
Updated March 13, 2020, 10:54 a.m. PST: This story has been updated with a new report of Bolsonaro testing positive as well as his denial; also noted Francis Suarez's announcement that he tested positive for the virus.