Picture of President Bush and his father fishing in the streets of New Orleans after the hurricane-Fiction!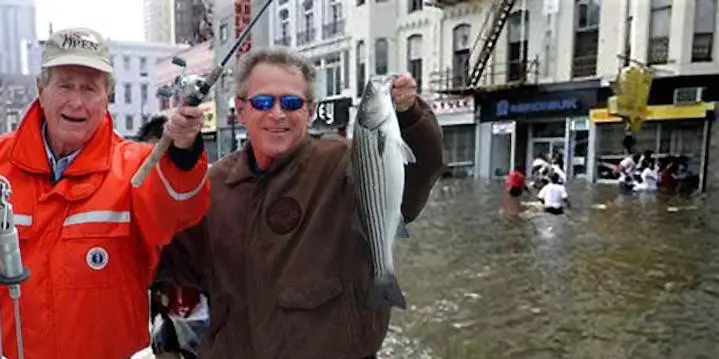 Picture of President Bush and His Father Fishing in New Orleans After Hurricane Katrina-Fiction!
Summary of eRumor:
The email is frequently titled, "Bush's vacation." Attached is a picture of President George W. Bush and his father, former President George H. Bush, enjoying a day of fishing in the troubled waters of New Orleans in the aftermath of Hurricane Katrina.
The Truth:
The picture is obviously a hoax, the product of someone merging two different pictures, one from a Bush vacation and the other from the flooded streets of New Orleans after Hurricane Katrina in 2005. The picture of the Bushes fishing appeared with an Associate Press story by Scott Lindlaw in April, 2004. The president had been fishing with a crew from the outdoor TV show
Fishing with Roland Martin
. Updated 9/17/05
---
A real example of the eRumor as it has appeared on the Internet: