When the meme below appeared on Facebook via the page The Pink Shorts Movement on November 28 2018, we were skeptical: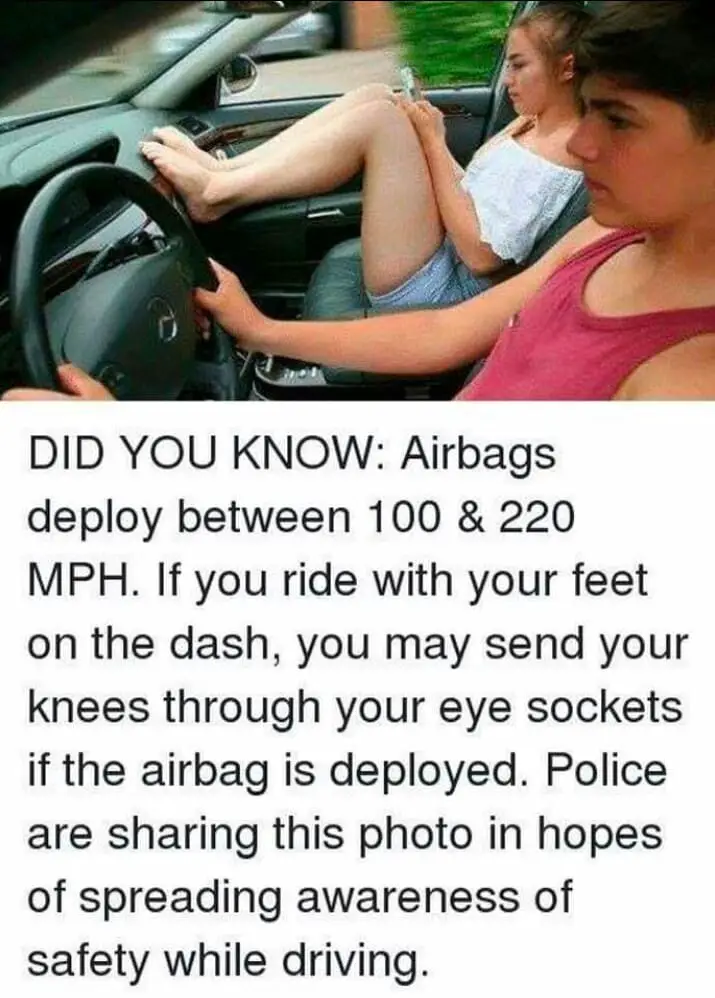 The text read:
DID YOU KNOW: Airbags deploy between 100 & 220 MPH. If you ride with your feet on the dash, you may send your knees through your eye sockets if the airbag is deployed. Police are sharing this photo in hopes of spreading awareness of safety while driving.
It's worth pointing out that police appeared to be doing no such thing — the meme was shared by a civilian-operated Facebook page, not a law enforcement-related one. The claim also appeared to be twofold — first, it contains the claim that driving with one's feet on the dashboard in the passenger seat is unsafe. Second, it attributes a highly specific and gruesome injury to anyone in the described position should an airbag deploy.
The first question was addressed in a 2015 "Ask a Trooper" column, where members of the public posed questions to law enforcement about things like road safety. A reader wrote in to ask whether the commonly assumed passenger seat position of "feet on the dashboard" was safe, particularly in the event of an airbag deployment. In response, a trooper explained that the habit might not be illegal, but it was certainly unwise:
There is no law that prohibits a passenger from placing their feet on the dashboard while the vehicle is in motion.

However, passengers who put their feet up in a moving vehicle could be putting themselves at even greater risk of injury in the event of a crash. It comes down to using good judgement. I would bet that most passengers never think about what could happen to them in the event of a collision when the airbags deploy.

Airbags are designed to cushion the head and chest of an adult passenger sitting in an upright position when wearing a correctly fitted seatbelt. If the passenger is sitting incorrectly, there is a greater risk of injury in a crash. This could result in their knees being forced into their chest or face that could cause a serious injury or death. There is also a risk of leg fractures or spinal injuries.
There is no specific mention of knees through eye sockets, although the officer did say that a passenger's knees could be "forced into their chest or face" and that the injury could be fatal. A separate article published on August 11 2017 profiled a Georgia woman named Audra Tatum, who was a passenger in a car which crashed while her feet were on the dashboard. Tatum was severely injured, but not in the way described in the meme:
"I was going down the road riding passenger in the car with my husband driving and a car pulled out in front of us and we T-boned him at about 45 mph," Tatum recalls. "I had my right ankle crossed over onto my left knee with my foot pushed up against the dash. When we hit, the airbag deployed and it broke the whole right side of my body."
The article was published by a Canadian outlet, and that outlet spoke with a Canadian road safety expert for the piece, who addressed possible serious injuries stemming from a collision during which a passenger's feet are resting on the dashboard. Again, no mention of the specific injury mentioned in the meme was made:
While these incidents are not very common, they're not completely unheard of says Lewis Smith, manager of national projects at Canada Safety Council.

"When you look [at this woman's story] the initial impression is that it's very shocking," he says. "Something as simple and innocuous as putting your feet up on the dashboard can lead to a lot of long-term and severe impact on a person's life. In this case, though, it's not shocking for the folks in the safety industry because it's a simple matter of physics. If you get into a collision and the airbag comes out, which is an explosive force, then it does what an airbag does – it pushes back as a form of resistance. So if your legs aren't secure then they're going to go flying back, and fast."
Experts seem to agree that serious, possibly fatal injuries could occur if a passenger was riding in that position during an accident. But where did the idea their knees could "go through their eye sockets" emerge? A separate August 2017 article from an Australian outlet about Tatum's injuries included an August 3 2017 Facebook post that was very similar to the meme reproduced above: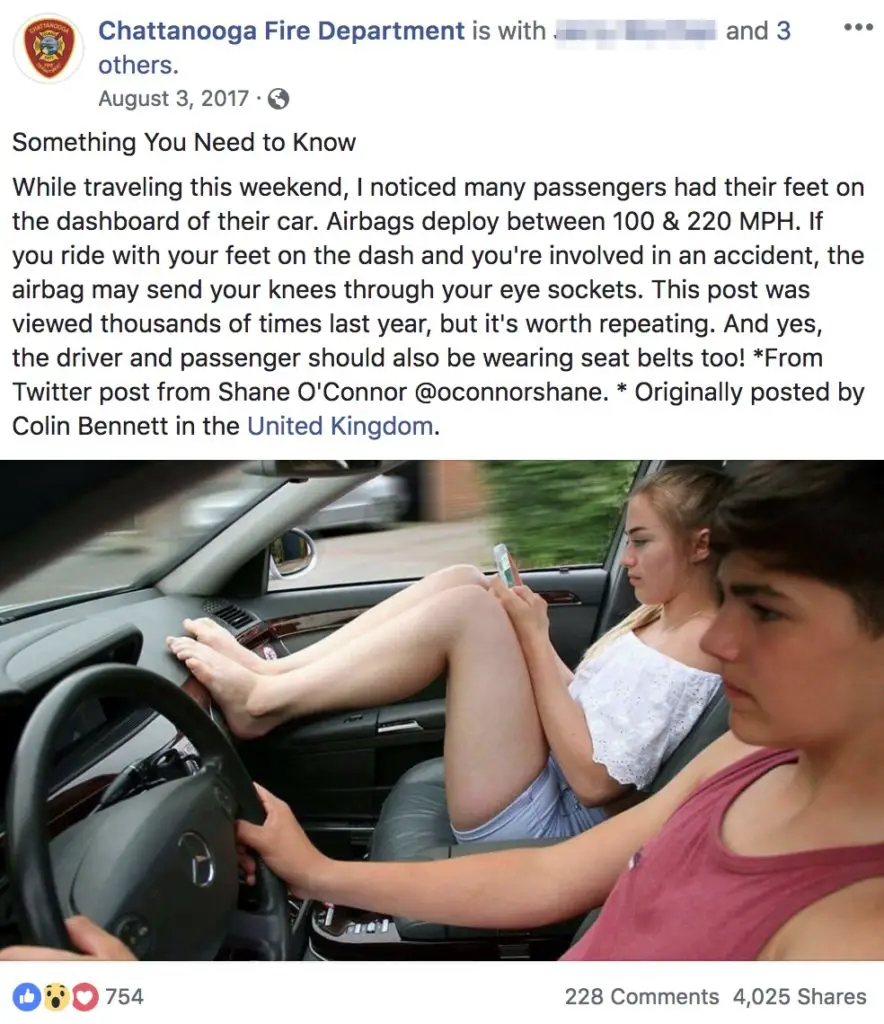 A number of people commenting on the original post claimed to have been injured in car accidents that took place while they rode as a passenger with their feet on the dashboard. Others reported being first responders to accidents in which a front seat passenger was injured by airbags deployed while their feet were in that position. Many described severe, sometimes fatal injuries, but none of those descriptions involved knees through eye sockets:
11 years ago we were t-boned. I had both feet on dash(passenger). The force was so great that I dislocated both of my hips, burnt the bottom of my feet and badly bruised my kneecap. That's not counting all the bruises and bumps. It was a nightmare. Fast forward 10 years I was able to find a doctor willing to replace my hips. The damage was so bad it caused severe arthritis and bone spurs. My right hip actually fused. I couldn't walk right, go up stairs, put on socks, tie my shoes. The pain was horrific 24/7.

---

I ran an auto accident years ago where the victim's legs blew up and back when the air bags deployed. The force was so great it fractured 6 of her 7 cervical vertebrae. She died before the vehicle stopped moving

---

My daughter had it happen to her. Sprained both ankles. Lucky it wasn't worse
Tatum herself was among those who replied, leaving a comment which may have led to the flurry of news articles that immediately followed. She said:
Two years ago yesterday a man in a stolen car pulled out in front of us. I was a passenger. We tboned him at 45mph. My foot was on the dash. The air bag went off… my foot broke my nose. Nose broke ankle. Femur broke into 4 pieces. And arm broke trying to stop impact. I have so many screws and Rods and I am miserable to this day!!!
DON'T RIDE OR LET PEOPLE RIDE LIKE THIS!!!!!! I am disabled at 31 years old from this. No one else was hurt. Just me. I lost my career and all from that day.
Several commenters recounted collisions under the circumstances described, many horrific. However, none of the injuries involved anyone's knees "going through" their eye sockets.
In its post, the Chattanooga Fire Department mentioned but did not link to the original (and more subtle) meme. In August 2017, Colin Bennett, the image's creator, shared a different version of the photograph on the website DriveArrive.co.uk. Bennett's image-based warning simply reinforced the presence of the airbag without claiming any specific gruesome injuries could occur: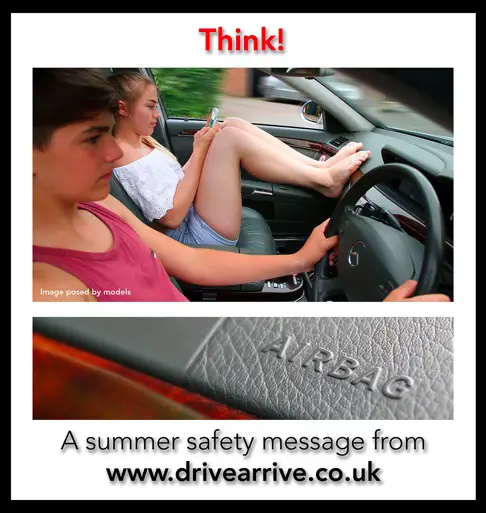 We contacted Bennett to ask about later iterations of the meme, and he expressed similar skepticism regarding the "knees through the eye sockets" claim:
I started the meme nearly 2.5 years ago and since then lots of individuals and organisations have used the original image and done their own stories around it. I was horrified at the knees through the eye sockets comment which has been added and embellished by a sensationalist.

I did a blog on my website some while back that gives more information, dates and my motives behind it. Please see https://www.drivearrive.co.uk/single-post/2017/08/05/Our-Feet-On-The-Dash-Message—again

In my travels this summer especially I have hardly noticed anyone with their feet up on the dash so I guess with my original message which went viral and subsequent uses of it it has done some good.
The meme was created by an individual in the UK and then seemingly modified and shared by the Chattanooga Fire Department (not the police), from which Tatum's comment caught the attention of news outlets' "trending on social media" categories. As is not uncommon, many passed along the claim that a specific injury could result from placing one's feet on the dashboard of a moving vehicle seemingly without determining if a.) such an injury had ever occurred and b.) whether such an injury was even physiologically possible. It also appeared that the confluence of the Chattanooga Fire Department's warning and Tatum's popular comment led readers to believe that she had been injured in the fashion described in many headlines.
It is not difficult to substantiate the claim that riding in the passenger feet with one's feet on the dashboard is dangerous, nor is it difficult to locate individuals who have been gravely injured in that exact manner. However, we were unable to uncover any accounts of anyone being specifically injured by an airbag that forced their knees into their eye sockets in the manner described. The basic message of the meme is fair (don't engage in this behavior), and the aspect of the claim about general danger is certainly supported. However, we were unable to turn up any information suggesting the specific injury described had ever occurred, despite the inadvisability of riding with your knees on the dashboard.