Does a 'Newly Obtained' Photograph Show Donald Trump, Jr. with Accused Spy Maria Butina?
Claim
An image newly obtained in December 2018 depicts Donald Trump, Jr. posing with accused Russian spy Maria Butina.
Like this fact check?

Reporting
On December 10 2018, shortly after accused Russian intelligence asset Mariia Butina reportedly entered a plea deal with prosecutors for working as an unregistered agent of a foreign power, the Facebook page "Occupy Democrats" shared the following photograph showing Butina with Donald Trump, Jr.: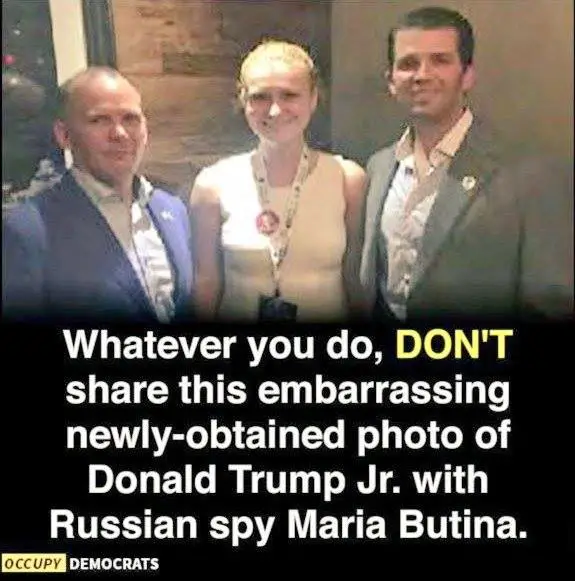 Text overlaying the image read:
Whatever you do, DON'T share this embarrassing newly-obtained photo of Donald Trump Jr. with Russian spy Maria Butina.
The image was blurry and distorted, and some social media users questioned whether it was authentic or even depicted Butina alongside Trump.
It is, however, real. The New York Times published the image with an August 2018 article about Butina and her purported motives. A caption read: "The N.R.A.'s Pete Brownell, left, with Ms. Butina and Donald Trump Jr. at a 2016 dinner hosted by the gun-rights group."
In the piece about Butina's connections to American political operatives and agencies, the Times reported:
In an April 2016 email, [Butina] discussed connecting a Russian nuclear scientist with Representative Dana Rohrabacher, Republican of California, who was visiting Russia at the time. Weeks before the presidential election, she went with J. D. Gordon, a Trump campaign aide, to see the rock band Styx.

She even managed to get a photo with Donald Trump Jr., the president's son, whom she met at a 2016 dinner hosted by the N.R.A. in Louisville, Ky. Separately, she helped [Russian government official, Aleksandr P.] Torshin send a message to the Trump campaign proposing that Donald J. Trump meet President [Vladimir] Putin (the campaign turned them down).

"It was very clear that she was a networker and a bit of a name-dropper," said [granddaughter of President Dwight D. Eisenhower, Susan] Eisenhower, who played down her own encounter with Ms. Butina. "She's the kind of person — and you see them in Washington and all over the place — people who have to get their picture taken with anybody of any moderate importance."
Although the New York Times did not reveal how it obtained the image of Butina and Trump, Jr. (or any of the other images featured in the piece), it did confirm that the photograph shows the two along with the National Rifle Association's Pete Brownell. Although the image was not "newly obtained" in December 2018, the photograph is real and unaltered