'Can't Help Myself' Robot Arm
Claim
Facebook post describes and shows "Can't Help Myself," a robot arm art installation.
Like this fact check?

Reporting
A November 8 2021 Facebook post about Can't Help Myself, a robot arm in a purported art installation, was extremely popular on that platform. It read:
I don't think any piece of art has ever emotionally affected me the way this robot arm piece has affected me. It's called "Can't Help Myself" and it's a robot arm that's programmed to clean up the fluid that's constantly leaking out of itself, that looked like a never ending flow of blood. It has programmed dance moves to make it appear to have human gestures. And at first, it seemed happy and proud of its job, dancing around when it had visitors. But three years later, it looks tired, hopeless, and like it's living in a never ending cycle of constantly trying to put itself back together for the entertainment of other people. And when I found out that it had finally stopped working in 2019, essentially dying, I couldn't help but imagine the relief it must've felt and so I've been in here crying over a robot arm. 🥺 It was programmed this way, it truly couldn't help itself. And no one ever helped him, they just watched.
Two images were attached to the post, supposedly illustrating Can't Help Myself and the robot arm in question as the events described wore on: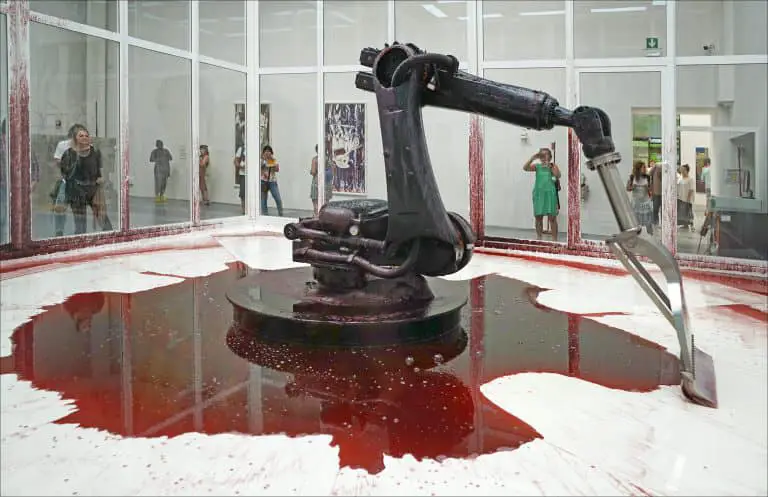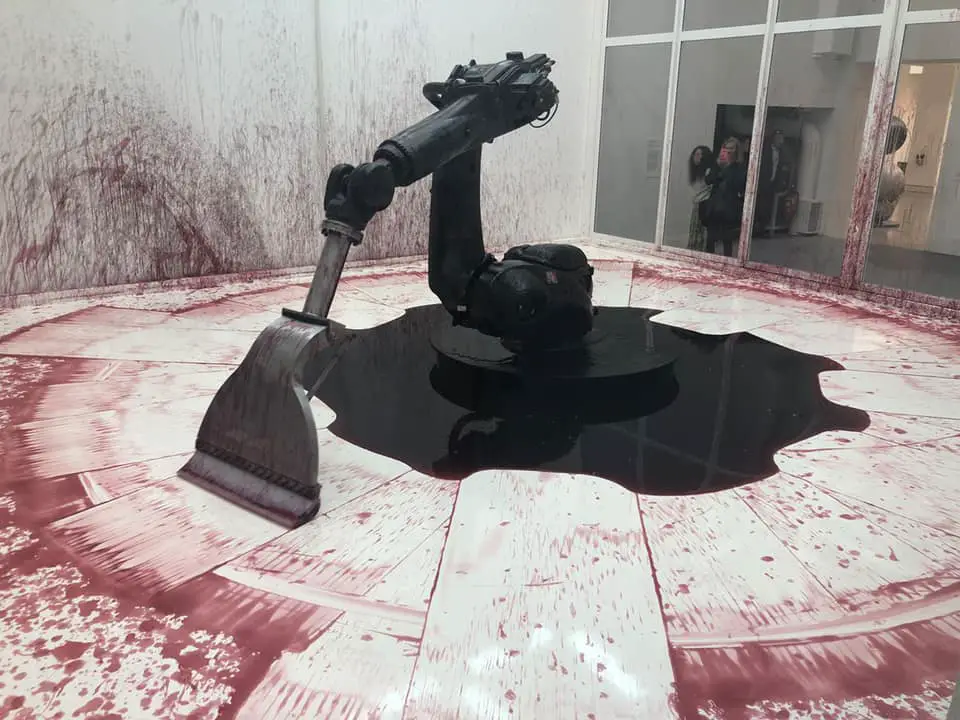 The existence of the Can't Help Myself robot was not difficult to validate. On Guggenheim.org, an entry about the installation indicated that the Guggenheim Museum commissioned the work in 2016 and described the piece:
In this work commissioned for the Guggenheim Museum, Sun Yuan & Peng Yu employ an industrial robot, visual-recognition sensors, and software systems to examine our increasingly automated global reality, one in which territories are controlled mechanically and the relationship between people and machines is rapidly changing. Placed behind clear acrylic walls, their robot has one specific duty, to contain a viscous, deep-red liquid within a predetermined area. When the sensors detect that the fluid has strayed too far, the arm frenetically shovels it back into place, leaving smudges on the ground and splashes on the surrounding walls.

[…]

Sun Yuan & Peng Yu are known for using dark humor to address contentious topics, and the robot's endless, repetitive dance presents an absurd, Sisyphean view of contemporary issues surrounding migration and sovereignty. However, the bloodstain-like marks that accumulate around it evoke the violence that results from surveilling and guarding border zones. Such visceral associations call attention to the consequences of authoritarianism guided by certain political agendas that seek to draw more borders between places and cultures and to the increasing use of technology to monitor our environment.
On December 29 2016, the Guggenheim Museum's official YouTube account shared a time-lapse video of Can't Help Myself going through its motions. Guggenheim.org said in its entry that artists Sun Yuan and Peng Yu worked with engineers and "designed a series of thirty-two movements for machine to perform," alluding to the unsettling feelings described in the November 2021 Facebook post:
Observed from the cage-like acrylic partitions that isolate it in the gallery space, the machine seems to acquire consciousness and metamorphose into a life-form that has been captured and confined in the space. At the same time, for viewers the potentially eerie satisfaction of watching the robot's continuous action elicits a sense of voyeurism and excitement, as opposed to thrills or suspense. In this case, who is more vulnerable: the human who built the machine or the machine who is controlled by a human?
On December 28 2016, Vice.com profiled the artists and Can't Help Myself  in an article headlined, "[Exclusive] The Guggenheim's First Robotic Artwork Is Out of Control." Vice described the piece as part of a larger exhibition slated to run until March 10 2017 — suggesting that the robot in the evocative images might not have simply collapsed into a pool of fake blood and ennui:
An enormous robotic arm, brandishing a giant squeegee, is poised over a pool of dark liquid which ceaselessly oozes outwards. With quick, smooth, aggressive movements, the machine performs a calculated dance, pivoting and dragging its squeegee across the surface in a perpetual labor of wiping the liquid back to the center. Can't Help Myself, presented in the new exhibition Tales of Our Time, is an imposing installation by artists Sun Yuan and Peng Yu which holds the title as the Guggenheim's first robotic artwork.

[…]

The exhibition Tales of Our Time is on view at the Guggenheim Museum through March 10th [2017].
A broader Guggenheim.org entry for Tales of Our Time listed the entirety of the exhibition was slated to run from November 4 2016 until March 10 2017, with no explicit mention of Can't Help Myself or its post-Guggenheim fate:
Tales of Our Time is not a monolithic report on the state of contemporary art in China, nor does it encapsulate any artistic trends or phenomena. Instead, it highlights the unique aspects of each artist's perspective. The artworks—all of which are new commissions—are not just about China; they examine social and political tensions experienced worldwide, exploring themes such as individual and collective memory, migration and urbanization, cultural inclusion and exclusion, and the contradiction of technological development. The tales told in this exhibition consider our seemingly more connected, globalized world as one that is still filled with fractured land, fragmented history, and upended traditions, but, at the same time, they also propose ways to imagine culture differently.
The Facebook post described a point when its author "found out that [Can't Help Myself] had finally stopped working in 2019, essentially dying," ascribing a sense of relief to the robot arm. But a May 2019 DesignBoom.com item reported the appearance of Can't Help Myself at another installation, suggesting that the piece didn't just toil for three years before giving up in despair:
in sun yuan and peng yu's can't help myself, an industrial robot turns and flexes restlessly, programmed to ensure that a thick, deep red liquid stays within a predetermined area. part of the the international art exhibition may you live in interesting times, curated by ralph rugoff for the 2019 venice art biennale, the robot is placed within a transparent 'cage', almost like a creature captured and put on display.
DesignBoom.com's piece said that Can't Help Myself had been shipped to Venice, Italy, for an exhibition between May 11 and November 24 2019. A linked website explained that it appeared in a presciently titled exhibition through November 2019, May You Live In Interesting Times (concluding just before the sudden emergence of a global pandemic):
The 58th International Art Exhibition, titled May You Live In Interesting Times, took place from 11th May to 24th November 2019. The title is a phrase of English invention that has long been mistakenly cited as an ancient Chinese curse that invokes periods of uncertainty, crisis and turmoil; "interesting times", exactly as the ones we live in today.

The 58th Exhibition is curated by Ralph Rugoff, currently the director of the Hayward Gallery in London. Between 1985 and 2002 he wrote art and cultural criticism for numerous periodicals, publishing widely in art magazines as well as newspapers, and published a collection of essays, Circus Americanus (1995). During the same period he began working as an independent curator.
On May 11 2019, the art exhibition in Venice shared video footage of Can't Help Myself on the first day of its Italian installation:
 

View this post on Instagram

 
Contemporary art site Galleria Continua maintained several pages documenting the work of Sun Yuan and Peng Yu, Can't Help Myself among them. A "Biography" page mentioned both exhibitions, but it did not describe the fate of the robot after the 2019 exhibition ended — the artists' official website also didn't document the piece's current status.
A viral Facebook post about Can't Help Myself, a robot arm endlessly falling behind its task of shoveling blood-like liquid, correctly named the piece and its functionality. The post stated that "it had finally stopped working in 2019, essentially dying," a claim we were unable to substantiate. Can't Help Myself was commissioned by the Guggenheim Museum for a broader exhibit (Tales of Our Time) in 2016 through 2017. That exhibition ended, and in May 2019, Can't Help Myself traveled to Venice for the May You Live In Interesting Times exhibit through November 2019. We were unable to substantiate the claim that the robot had stopped working at any point, and if any further exhibits were slated for after November 2019, the piece likely fell victim to the "interesting times" that the world first began to enter just one month later.