Chinese Media Walks Back Reports Linking Doctor's Death to Coronavirus
Claim
62-year-old doctor Liang Wudong died while helping treat patients for coronavirus in the Chinese city of Wuhan.
Like this fact check?

Reporting
A January 2020 story about a 62-year-old doctor who reputedly died "at the front lines" of fighting a coronavirus outbreak in China was walked back by state media within the country after the report spread internationally.
Both the China Global Television Network (CGTN) and the People's Daily initially reported that Dr. Liang Wudong had been helping combat the outbreak in Wuhan when he died. The latter outlet also included a photograph of a man identified as Wudong: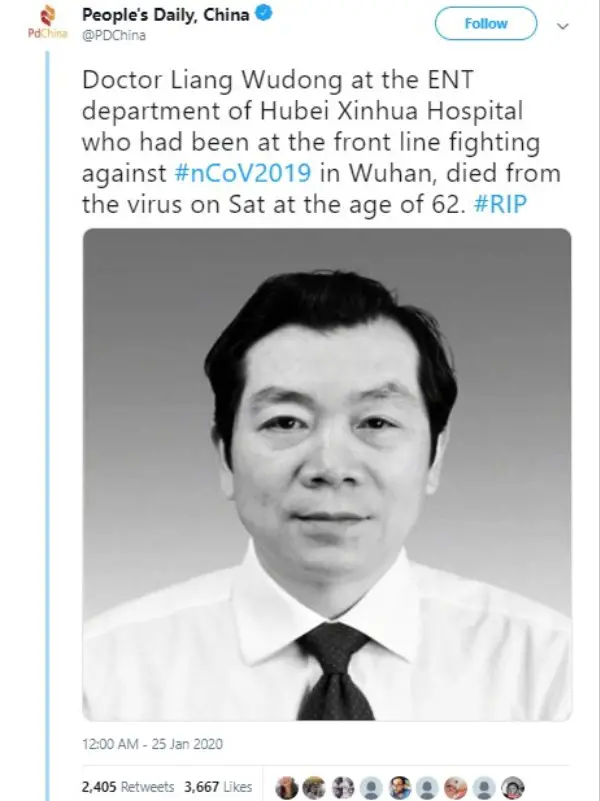 The story then spread outside China then internationally, with several news organizations reporting on Wudong's death.
A Facebook post on February 1 2020 also celebrated Wudong, in a post featuring both the photograph of him that had already been published as well as one of an unidentified man on the floor of a hospital: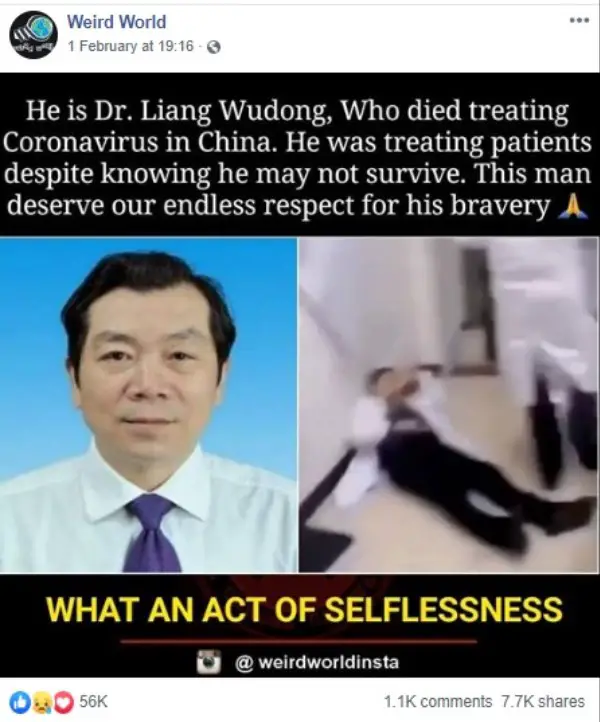 But on January 25 2020, the same organizations that had originally reported his death sent follow-up tweets saying that Wudong had actually retired from medicine in March 2019. The People's Daily listed the new information as a correction, saying that hospital officials in Wuhan added "that Dr. Liang had heart diseases." The CGTN called its tweet an update to its original reporting.
Wudong was also mentioned by name in a CGTN on-air report about the stress that the virus was putting on doctors in the area, described as "ground zero" for the outbreak, though he was listed as being "suspected" of dying from the virus.