'Christians Against Ms. Marvel' Facebook Group
Claim
Angry Christians created a Facebook group called "Christians Against Ms. Marvel" in June 2022.
Like this fact check?

Reporting
On June 8 2022, a tweet about the Facebook group "Christians Against Ms. Marvel" was wildly and virally popular:
Thanos was right, half of humanity needs to go pic.twitter.com/bl8jiwd9fs

— Julian Tesolin (famous era) (@TesolinJulian) June 8, 2022
For context, the Disney Plus show Ms. Marvel debuted on June 8 2022. A Wikipedia entry explained its premise concisely:
Kamala Khan, a fangirl of the Avengers, particularly Carol Danvers / Captain Marvel, struggles to fit in until she gains her own powers.
The June 8 2022 tweet mused that "Thanos was right, half of humanity needs to go." A screenshot from a mobile device showed a Facebook group called "Christians Against Ms. Marvel," and its about section read:
Ms Marvel might be the biggest slap in the face for conservative Christians to date!!! Disney has decided that the face of this franchise should not be Carol Danvers but should instead be a gay Muslim. no more straight Christian characters from Marvel. those days are over. please join us as we let Disney know that we will not BE CANCELLED!!!
Twitter was not alone in noticing the seemingly popular group. Entertainment sites published blog posts about the purportedly hateful group, like wegotthiscovered.com's "Why Christians are trying to cancel 'Ms. Marvel'":
It seems like these people have not seen or read Ms. Marvel as the show clearly dictates that Ms. Marvel and Captain Marvel are two different characters. Even the show indicates that Kamala Khan looks up to Carol Danvers. These "Christians" should be flattered. Also, Kamala Khan is not (at least not yet confirmed) to be a gay character. Just because a pride shirt appeared in the show doesn't mean she's automatically gay.

Also, why are they upset about a young Muslim girl when a Norse God had four movies and appeared in every Avengers film? If these are truly "conservative" Christians, shouldn't they be up in arms against that too, especially if they remember the first commandment? One TikToker noticed this and FrankDomenic gave a possible reason as to why Thor gets a pass.
IGN India also covered discourse about the group in "There Is Already a Hate Group Against Ms. Marvel and It Is Just Pathetic." "Christians Against Ms. Marvel" did exist as a Facebook group on June 9 2022 — but it was not created in June 2022.
Visiting the private group's page indicated it was created by somebody who goes by "Wade Wilson," which is also the name of a character known by another moniker — Deadpool. Prominently displayed on the landing page was a section titled "History," and it explained of the group:
Group created on September 26, 2019. Name recently changed from Christians Against Doctor Strange in the Multiverse of Madness[.]
At the end of that section, Facebook added a "See more" link. That opened a pop up with a litany of group name changes: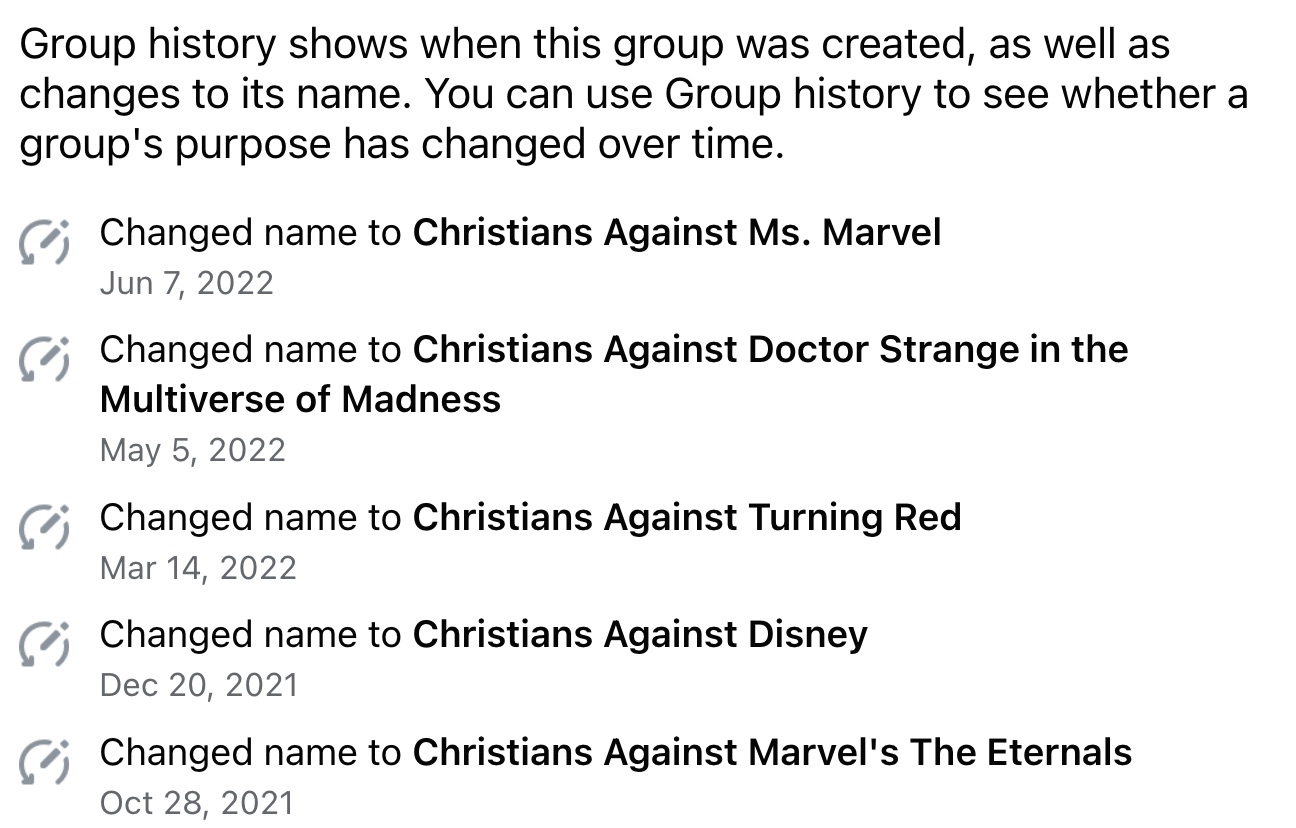 Before "Christians Against Marvel's The Eternals," name and focus shifts further included:
Changed name to Christians Against Spider-Man: No Way Home
Sep 16, 2021

Changed name to Christians Against Shang Chi and the Legend of the Ten Rings
Aug 17, 2021

Changed name to Christians Against The Little Mermaid II (BOYCOTT HALLE BAILEY!!!)
Jul 19, 2021

Changed name to Christians Against The Loki Series
Jun 7, 2021

Changed name to Twisted Tea for Mitch McConnell
Dec 30, 2020
That last entry appears to reference this meme:
The origins of the meme stem from an incident at a Circle K store in Elyria, Ohio on December 24 during the early morning.  A video shared within hours of the incident by Twitter user @terencessb, who informs he did not shoot the video, shows a belligerent and possibly intoxicated white guy harassing a black guy who is waiting to buy, you guessed it, a can of Twisted Tea. The mouthy white guy is saying the n- slur repeatedly to the guy.  The black man goes to pick up the can of Twisted Tea which prompts the white man to verbally dare the black man to hit him with the can. The can at first falls to the floor of the store and the black man picks it up and hits the white guy in the face with it.

[…]

Of course, as with any viral media on the internet, the deux ex machina of the video took on a life of its own.  Pictures of cans of Twisted Tea take on a new meaning on social media including memes concerning the United States Senate Majority Leader, Mitch McConnell being hit with a Twisted Tea or the threat of hitting McConnell with a Twisted Tea.
"Christians Against Ms. Marvel" was not the group's only variation that caught the eye of entertainment site reporters. In June 2021, Scifi.radio published "Christian Groups Boycott Disney's 'Loki'" — but noted the group was likely "just a trolling group," and described an earlier iteration of the group not on the list above:
It should be noted that the Christians Against the Loki Series group on Facebook is likely just a trolling group, as the previous name of the group was "Dogecoin to the Moon", and changed only recently. It didn't acquire its seventeen thousand members on the strength of a Christian anti-Loki movement, but gained its following when it was called something else entirely.

[…]

Christians Against the Loki Series complained "God has once again set us on a task to remove smut from our children's viewing. Not only is Loki glamorizing false prophets by promoting the Norse religion, he will also be 'gender fluid.' Disney has been leading the charge with liberal propaganda and we cannot allow them to continue. We will boycott this show as well as Disney+ and all their shows."
A viral tweet featured a screenshot of the Facebook group Christians Against Ms. Marvel on June 8 2022, and entertainment news sites often reported on the group as a sincere movement. Anyone who visited the group could see that its name had been changed from a similar group of Christians purportedly protesting Doctor Strange in the Multiverse of Madness. In actuality, the group changed from "Twisted Tea for Mitch McConnell" to "Christians Against The Loki Series" on June 7 2021. Since then, the group's name has changed to match the release of Marvel films, and seemed to regularly fuel entertainment blogs describing its existence as a "hate group," rather than a trolling group.