Did CPAC Attendees Wave Russian Flags Before a Trump Speech?
Claim
Attendees of the 2017 Conservative Political Action Conference (CPAC) waved Russian flags before a speech by then-United States President Donald Trump.
Like this fact check?

Reporting
Attendees at the February 2017 Conservative Political Action Conference (CPAC) were duped into showing "support" for then-United States President Donald Trump by activists highlighting his apparent deference to Russian counterpart Vladimir Putin.
Two activists, Jason Charters and Ryan Clayton, took responsibility for distributing close to a thousand Russian flags at the event with Trump's name written on them; photographs and images of the doctored flags quickly spread online: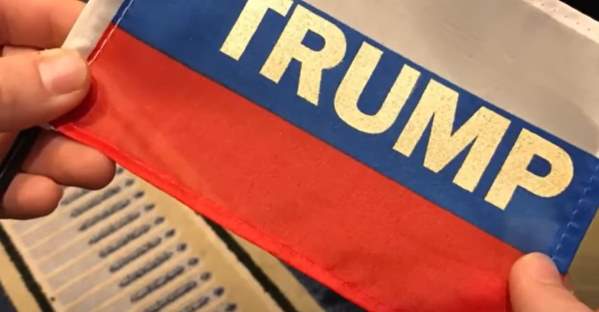 Activists prank CPAC attendees into waving Russian flags at Trump https://t.co/RRzCRhnHGK pic.twitter.com/xmEGEHwuOt

— Talking Points Memo (@TPM) February 24, 2017
Crowd at CPAC waving these little pro-Trump flags that look exactly like the Russian flag. Staffers quickly come around to confiscate them. pic.twitter.com/YhPpkwFCNc

— Peter Hamby (@PeterHamby) February 24, 2017
Trump's #CPAC Speech:

An abject nightmare come-to-life where Americans proudly wave Russian flags pic.twitter.com/tlC4i8RcQt

— LiNC😷LN PARK (@linc0lnpark) February 24, 2017
"Some call it a false flag operation," Clayton told NBC News at the time. "I like to call it a true flag operation because Trump's definitely the wrong kind of red, white and blue."
The duo, part of the activist group Americans Take Action, said their stunt went smoothly.
"I asked people if they wanted a Trump flag and they took it," Charter told Huffington Post. "There were only about five people who said, 'Wait a minute, this is the Russian flag.'"
As the Huffington Post summarized at the time:
Trump has come under fire since the campaign for his strangely laudatory statements about Putin and for appearing to call on the Russian government to hack into campaign rival Hillary Clinton's emails. Michael Flynn stepped down as Trump's national security adviser earlier this month after it was revealed that he discussed easing sanctions against the country with Russia's ambassador before Trump was sworn in as president. Trump has also expressed skepticism about intelligence officials' findings that Russia was responsible for hacking Democrats' emails and spreading fake news harmful to Clinton in a bid to sway the election toward Trump.
NBC further reported that the two men's antics went beyond passing out the flags:
CPAC staffers kicked out Clayton three times from the conference, and Charters got the boot once. Charters was escorted outside by security after he stood up during Trump's speech and called Trump "Putin's puppet" and a "fascist."
After the event, Americans Take Action parlayed the prank into sales of replica "Traitor Trump Flags" for $6 (size small) and $13 (size large) versions of the flag.
The ties between Trump's and Putin's administrations have continued to be revealed even after the former lost his 2020 bid for re-election; a report published by the Department of Homeland Security (DHS) in May 2022 showed that Chad Wolf, wrongfully installed by Trump to lead the agency, ordered changes to findings regarding Russian interference benefitting Trump during that year's election.
Update 8/4/2022, 12:58 p.m. PST: This article has been revamped and updated. You can review the original here. — ag