A Chicago comedian revealed on March 30 2021 that he was the creator of at least one Twitter account that had users wondering whether it was a real "ambassador" for Amazon, as the tech megacorporation faced both a unionization vote and more scrutiny on the online behavior of its own "news" account.
According to the British newspaper The Telegraph, Amazon denied any connection to "Darla at GYR1." That account drew coverage from several tech news sites for downplaying safety concerns at Amazon facilities and using a profile photo that was apparently generated online.
In one notable tweet, "Darla" argued against taking part in a union saying, "What bothers me most about unions is there's no ability to opt out of dues! As a single mother with two boys I'm barely scraping by as it is, and now unions want to come to Amazon and make them take a piece of my salary. No thanks!"

The tweet was shared several hundred times on the platform before the entire account was finally suspended. On March 30 2021, comedian Robby Appleton took credit for creating "Darla." He also provided us with screen captures of the account's earliest tweets four days earlier to confirm that he still had access to that account despite it being suspended: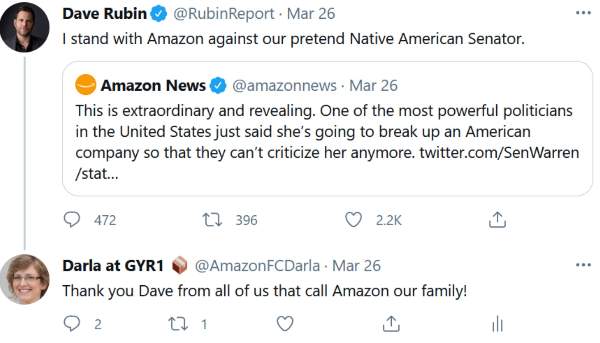 He told us:
I saw a few accounts following that similar formula that seemed (and I still believe are) real, like AmazonFCYola, and it struck me as so odd that Amazon was clearly directing their hourly employees to do PR for them on Twitter. It was also weird that none of the accounts were getting much engagement, like whoever at Amazon came up with this didn't have a plan for it. I thought it could be fun to see how closely I could walk the line between the real accounts and obvious satire, so I made Darla.
The Telegraph reported that the company refused to provide it with a list of legitimate Twitter "ambassador" accounts, adding:
All in all, The Telegraph counted more than 150 accounts that falsely described themselves as FC ambassadors, compared to nine that seemed genuine. The majority of fakes were obvious jokes in otherwise ordinary profiles; others ran the gamut from marked parodies to genuine, sometimes subtle attempts at deception.
However, Appleton said he was only responsible for Daria; the person who created "Burt at OK4," another account that also received a lot of attention before quickly being suspended, has not come forward:

Appleton took his own account into private mode after creating Darla, but he did tell his own followers about the gag prior to the account being suspended.
"I didn't realize Darla was picking up steam until Sunday afternoon, when my notifications started getting unmanageable," he told us. "I told everyone about the account at Seder Sunday night, we had a laugh about it, and I thought it would slow down Monday morning."
The account gained visibility in the midst of an unionization drive from Amazon workers at a facility in Bessemer, Alabama; around 5,800 workers were expected to take part in a vote on the matter on March 30, 2021. The workers would be represented by the Retail, Wholesale and Department Store Union (RWDSU) if they vote to unionize.
"Even though we don't know how the vote will turn out, we believe we have opened the door to more organizing around the country," RWDSU president Stuart Appelbaum told ABC News. "We have exposed the lengths to which employers will go to crush their employees trying to gain a union voice — this campaign has become the prime example for why we need labor law reform in this country."
Appleton said that he has been following both that dispute and the aggressive posts made by real Twitter accounts associated with the company against Democratic Party lawmakers like Rep. Mark Pocan and Senators Bernie Sanders and Elizabeth Warren; the tactic has been linked in news reports to "dissatisfaction" of the company's chief executive officer, Jeff Bezos.
In one instance, the company's "official account for news," @AmazonNews, questioned Pocan on reports that delivery workers were forced to relieve themselves in bottles while on duty in order to maintain their required delivery pace:
You don't really believe the peeing in bottles thing, do you? If that were true, nobody would work for us. The truth is that we have over a million incredible employees around the world who are proud of what they do, and have great wages and health care from day one.
That tweet was quickly met with documentation from both The Intercept and Motherboard showing that the company is aware that drivers do feel forced to use their vehicles or find spots outdoors in lieu of bathrooms.
Caroline Highsmith, who works at the Bessemer facility, told Motherboard:
You're sitting there and you have to go take a piss, but you don't want to rack up "time off task." So you're like man, if I just hold it for another hour, I can go to the bathroom. If you go to the bathroom a normal amount … it starts becoming a problem. We can be written up, you can be fired.
Appleton said that he felt he had "limited time" left on the account after the New York Times reported that Amazon had reported Darla to Twitter. He said that he planned to finish a presentation he was planning to release as Darla, "Big Unions, Bigger Problems," in case the platform reverses the suspension, but otherwise he said he thought that "Darla's moment has probably passed":
"I hope everyone who came angrily at Darla on Twitter can keep that same energy with their legislators and with executives," he said. "Workers' rights are an important fight and it's great to argue passionately for them on Twitter, but that's not the only or even primary place this battle is happening."