Did Teachers in South Dakota Compete in a 'Dash for Cash' Event?
Claim
Teachers in Sioux Falls, South Dakota took part in a "Dash for Cash" event in December 2021 in which they competed to grab as many $1 bills as possible.
Like this fact check?

Reporting
A reporter's account of a "Dash For Cash" promotion in South Dakota in December 2021 unintentionally turned into a glimpse at something more dystopian.
Annie Todd of the Sioux Falls Argus Leader newspaper documented the contest, hosted by the local hockey team, on Twitter. In the contest, $5,000 in $1 bills were dumped onto a mat at the center of the rink. Ten local teachers — selected through an application process — were given the chance to grab as many bills as possible to collect money for use in their classrooms.
Todd, the newspaper's breaking news reporter, also reported on the contest for the Argus-Leader. Her story included more information on the teaching climate in the state:
South Dakotan teachers earned an average of $49,000 in 2020, according to South Dakota News Watch. The state ranks 49th in teacher salary in the United States.
But that kind of context was not present in her tweets about the contest, which included one saying "Here they go!" placed over footage of the teachers as they grabbed for the money: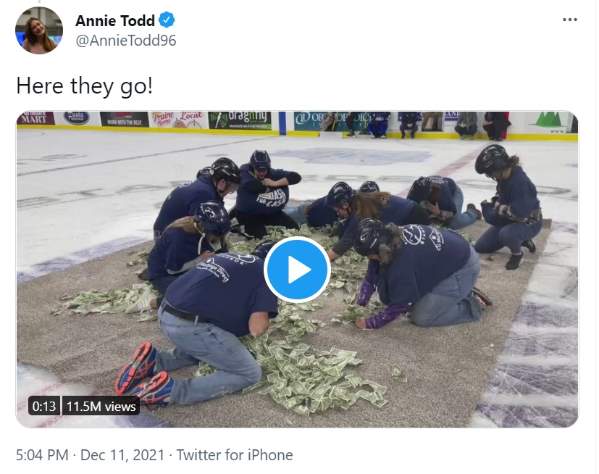 The Sioux Falls event was not the first of its kind; in just one example, a similar event was held in Green Bay in 2019. But Todd's footage spread online and spurred criticism of the sight of educators being put in the position of "competing" for money in public view, framed as a feel-good event.
JUST IN: An arena in South Dakota is holding a "Dash for Cash" where teachers get on their knees and fight for one dollar bills that they can use for classroom supplies while spectators watch and cheer. (h/t @AnnieTodd96) pic.twitter.com/jIht84Ls9W

— No Lie with Brian Tyler Cohen (@NoLieWithBTC) December 12, 2021
Disgusting & dehumanizing. Tax billionaires already. This is dystopian.

South Dakota arena holds a "Dash for Cash" where teachers get on their knees & fight for $1 bills to use for class supplies as people watch & cheer.😳

SD ranks 29th in K-12 educationpic.twitter.com/JCaLabloYd

— Qasim Rashid, Esq. (@QasimRashid) December 13, 2021
Todd's story quickly drew comparisons to a vein of reporting that, as Vox summarized in November 2019, covers events or gestures that might be charitable in nature but often expose institutional inequalities:
Last year, a young boy sold his Xbox to a stranger online to buy a car for his single mom to drive herself to work ("Good kid. Sad story," someone responded). A few weeks ago, an elementary school student gave his teacher his birthday money because he heard about how underpaid teachers are. Last year, a stranger donated supplies to six random teachers after one of them posted her salary on Facebook. The internet has hosted a myriad of stories depicting people whose bosses or coworkers or customers gave them cars to get to their jobs, after walking 20 miles overnight to their first day, or 12 miles to work roundtrip, or walking to work every day for a year. It's a rose-colored coverup of public resource failures.
We contacted the Argus Leader seeking comment but have yet to hear back.
Meanwhile, Todd's colleague, education reporter Morgan Matzen, responded to the criticism surrounding the story by posting a thread of their newspaper's past reporting on the low pay for South Dakota's teachers.
— Morgan Matzen (@bymorganmatzen) December 13, 2021
"I hope … the absurdity of that image of teachers on their hands and knees in the middle of a hockey rink, trying to grab money, brings attention to the education funding needs that exist here in Sioux Falls, across South Dakota and across the U.S.," Democratic Party state Sen. Reynold Nesiba told the Washington Post.
The Post also reported:
According to a recent report by the National Education Association, South Dakota teachers in the 2019-20 fiscal year earned an average annual salary of about $49,000, behind only Mississippi. In terms of per-student spending, the state ranked 38th, having spent about $10,800 per student in the fall term of that year, according to the report.

In the United States, the average teacher salary was about $64,000 in 2019-20, and per-student spending was slightly more than $13,500, according to the NEA report. Meanwhile, 1 in 4 American teachers reported they considered leaving the classroom by the end of the last academic year, a survey by the Rand Corp., a nonpartisan research organization, found. The reasons may include the stresses of the modern education system combined with pressures imposed by the pandemic, The Post reported.
Those statistics were not mentioned in the reporting by the Argus Leader and local station KELO-TV promoting the event. Instead, their coverage included quotes from the teachers, as well as officials from officials representing both the Sioux Falls Stampede hockey team and CU Mortgage Direct, the company which provided the money.
"With everything that has gone on for the last couple of years with teachers and everything, we thought it was an awesome group thing to do for the teachers," Ryan Knudson from the mortgage company told Todd. "The teachers in this area, and any teacher, they deserve whatever the heck they get."
We also contacted KELO-TV and the Stampede; neither the station nor the team have responded. Meanwhile, CU Mortgage Direct refused to relay a message to Knudson seeking comment.
"We don't have time to answer questions right now, but we appreciate your call," said an employee.
Later on December 13 2021, the Stampede and CU Mortgage Direct released a joint statement saying that each of the 10 teachers who took part in the event would get $500 on top of the money they collected there. The 21 other teachers who applied for the contest but were not selected would also receive $500.
"Although our intent was to provide a positive and fun experience for teachers, we can see how it appears to be degrading and insulting towards the participating teachers and the teaching profession as a whole," the statement read. "We deeply regret and apologize to all teachers for any embarrassment this may have caused."
Meanwhile, the Argus Leader published a follow-up story by Todd telling readers how they can donate to local teachers; the story, written by Todd, acknowledged that its coverage had spread online and the criticism it received.
Updated 12/14/2021 12:21 p.m. PST: Updated with follow-up statements by the Sioux Falls Stampede and CU Mortgage Direct, as well as follow-up coverage by the Sioux Falls Argus Leader.