Delta Union-Busting 'Video Games' Poster
Claim
Delta Airlines created a union-busting poster urging workers to buy video gaming consoles with would-be union dues.
Like this fact check?

Reporting
On May 9 2019, a poster attributed to Delta Airlines apparently urging workers to forgo union dues in favor of purchasing video gaming consoles circulated on Facebook and Twitter:
lol fuck off @Delta pic.twitter.com/fMNOeW9uFG

— Eoin Higgins (@EoinHiggins_) May 9, 2019
Above a rendering of a video game controller, blue and red text urged Delta employees to purchase expensive consoles instead of paying union dues:
UNION DUES COST AROUND $700 A YEAR

A NEW VIDEO GAME SYSTEM WITH THE LATEST HITS SOUNDS LIKE FUN. PUT YOUR MONEY TOWARDS THAT INSTEAD OF PAYING DUES TO THE UNION.
The image also featured Delta's logo and a website: DontRiskItDontSignIt.com. Eoin Higgins' tweet above was shared more than 50,000 times in under six hours:
Yikes, @Delta. Call us when Xbox makes a model that can raise wages, guarantee paid leave, and make jobs safer and more secure. Until then, we're sticking with the #union. #1u https://t.co/8Bb8phfzeK

— Transp. Trades Dept. (@TTDAFLCIO) May 9, 2019
Union contract:
✅ Can afford a new video game system
✅ Guard against bad bosses
✅ If I get laid off my boss has to negotiate the terms with my union
✅ Free access to lawyers
✅ More benefits

Video game system: you have $700 less

Delta help me I'm not sure what to decide

— Brett Banditelli (@banditelli) May 9, 2019
Reminder that companies only start printing anti-union myths and propaganda once they start seeing worker power in action and realize what they are up against.

Keep it up Delta employees! ✊🏿✊🏼✊🏾 https://t.co/UV8wlJ6tKg

— Game Workers Unite ✊🏿✊🏽✊🏾 (@GameWorkers) May 9, 2019
Wow. Delta would give you plenty of time to play video games when they fire you for no good reason because you're an At Will employee. But a union contract protects your paycheck from arbitrary terminations. @AFLCIO @EoinHiggins_ pic.twitter.com/bM9cTtWn0o

— RWDSU (@RWDSU) May 9, 2019
The image shared by Higgins was also shared to Reddit's r/WTF and r/ChapoTrapHouse:
https://www.reddit.com/r/ChapoTrapHouse/comments/bmjued/gamers_please_dont_rise_up/
In response to questions about the origin of the image, Higgins said that he would explain further in an upcoming article:
I'll have answers to that and more in a piece

— Eoin Higgins (@EoinHiggins_) May 9, 2019
Delta's anti-union site DontRiskItDontSignIt.com featured a "printables" section, but the viral "video games" poster had either been removed, or it had never appeared on the site to begin with. However, many of the available images closely resembled the poster: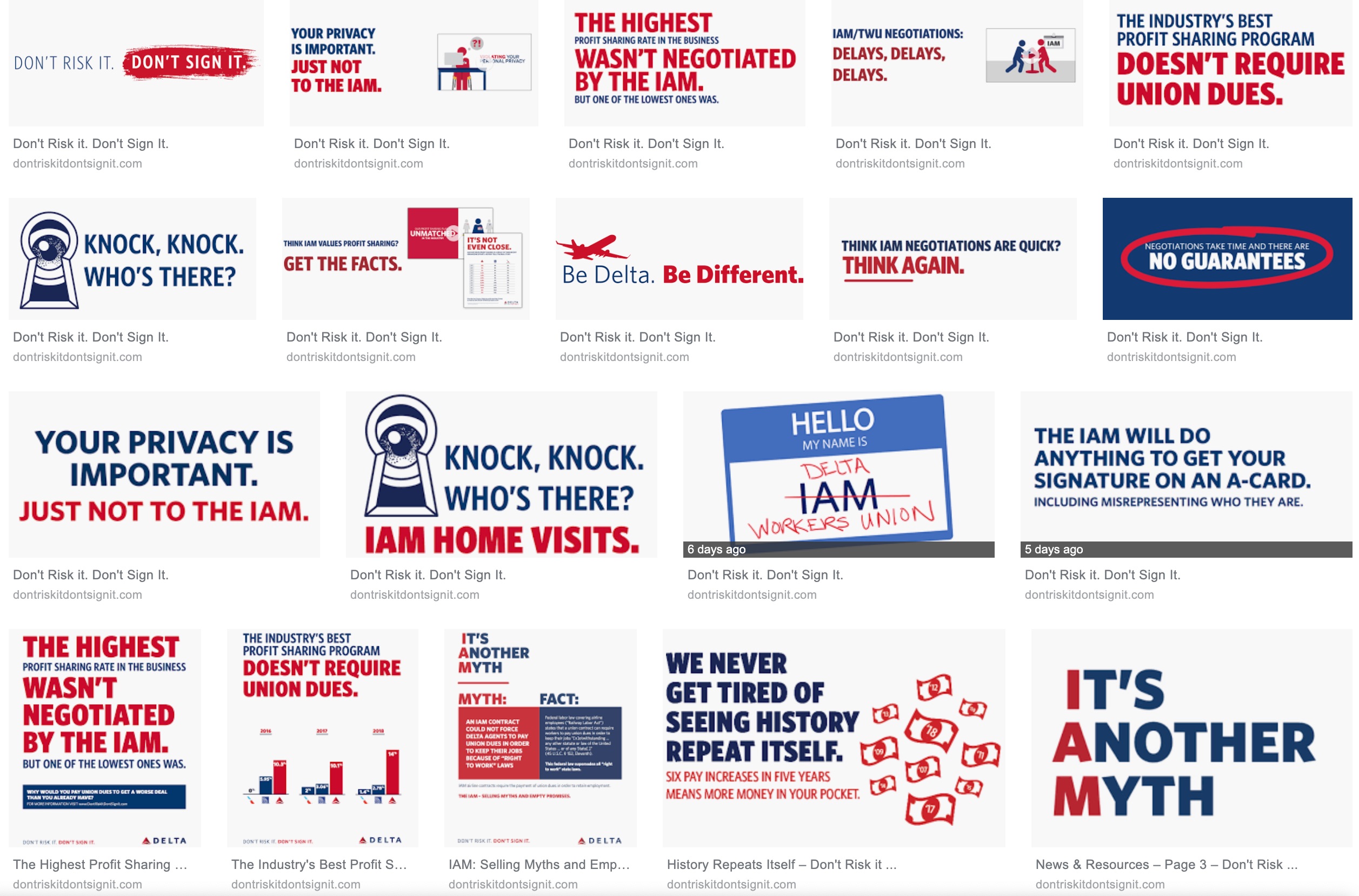 One of the "printables" available as of May 9 2019 (archived here) featured a structure similar to the circulating image:
However, we were unable to locate any images of the same poster uploaded to the internet prior to Higgins' tweet. On the day the tweet began circulating, IAM issued a statement about attacks from Delta on the website IAMDelta.net and on Twitter:
Our statement on @Delta's attack on their own employees. #DoBetterDelta pic.twitter.com/2Kby5wTkbu

— Machinists Union ✈️🚊🚀 (@MachinistsUnion) May 9, 2019
We contacted Delta and the International Association of Machinists (IAM, the target of Delta's union-busting efforts) to ask about the origin and authenticity of the "video games" poster. We have received no response from the airline, but the union confirmed their existence on Twitter:
In employee break rooms.

— Machinists Union (@MachinistsUnion) May 9, 2019
There was more than one poster in the same vein, all of which shared the aesthetic of the website:
Video games, baseball, and football? Really @Delta? Our workers want a voice on the job. #GameOverDelta #1u pic.twitter.com/AdSgxSxVHh

— AFL-CIO (@AFLCIO) May 10, 2019
According to investigative journalism site Sludge, the site and posters are the work of a public relations firm that is notorious for its aggressive campaigns:
FTI employees don't just create websites and messaging. They also work as undercover agents for some of their clients.

Earlier this year, FTI employees posed as journalists for Western Wire—another website that shares a server with Delta's anti-union site—and attempted to question attorneys working with environmental nonprofit EarthRights International about its lawsuit against ExxonMobil. Legal ethics prohibit attorneys from speaking with representatives for opposing parties without their attorneys being present, so the attempt by FTI to question the EarthRights International attorneys under the guise of journalism can easily be seen as an attempt to circumvent legal ethics to gather intel for their client, ExxonMobil.
We asked Delta for comment, but have not yet heard back.