Democrats Holding Emergency Meetings to Replace Hillary Clinton-Unproven!
Democrats Holding Emergency Meetings to Replace Hillary Clinton-Unproven!
Summary of eRumor:
Democratic Party leaders have secretly met to discuss replacing Hillary Clinton as the party's presidential nominee.
The Truth:
There has been talk about Democratic leaders talking about a plan to replace Hillary Clinton if she were to withdraw from the party's ticket for health reasons — but Clinton would have to voluntarily remove herself from the ticket for that to happen.
And despite rumors and calls for Democratic leaders to put together a contingency plan should Clinton's health render her unable to continue — there's been no indication that those meetings have actually taken place, or that Clinton has considered removing herself from the party's ticket.
The flap started after bystander video showed a dazed Clinton being propped up by campaign staffers before she was put inside a van and whisked away from a 9/11 event in New York City. The video fueled (unfounded) rumors that Clinton was secretly suffering from serious health complications, and possibly even Parkinson's disease.
During the fallout, former MSBNC and Al Jazeera America host David Shuster tweeted that he had learned from Democratic operatives that the DNC would stage an emergency meeting in the coming days to pick a replacement for Clinton because she could not campaign with pneumonia. Shuster then deleted his original tweet and tweeted a correction that said the DNC would "consider" choosing a replacement for Clinton: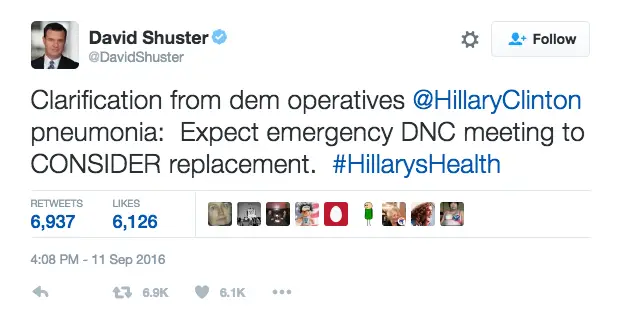 Shuster's tweets fueled lots of speculation, and it appeared to be warranted when Don Fowler, the DNC chairman from 1995 to 1997, called for party leaders to meet to discuss a contingency plan for the "extremely unlikely" event that Clinton would withdraw from the ticket for health reasons in an interview with Politico:
A former Democratic National Committee chairman says President Barack Obama and the party's congressional leaders should immediately come up with a process to identify a potential successor candidate for Hillary Clinton for the off-chance a health emergency forces her out of the race.
"Now is the time for all good political leaders to come to the aid of their party," said Don Fowler, who helmed the DNC from 1995 to 1997, during Bill Clinton's presidency, and has backed Hillary Clinton since her 2008 presidential bid. "I think the plan should be developed by 6 o'clock this afternoon."
It should be noted, however, that Fowler said he expected Clinton to fully recover from pneumonia. Still, he said the party would be "mistaken" to not have a contingency plan based on existing bylaws that empower the DNC to name a replacement candidate that fits specific guidelines or parameters.
Vox explains that the Democratic and Republican parties have similar bylaws for choosing a replacement candidate, and the first rule for both is that Clinton or Donald Trump would have to choose to willingly relinquish the nomination:
Nobody can force them to do so — only the nominees can make the decision to give up their position as their party's presidential candidate, according to Elaine Kamarck, a senior fellow in governance studies at the Brookings Institution. (Of course, a candidate could also die, forcing the parties onto the same track as if he or she had dropped out.)
But if a candidate did decide to voluntarily step aside, he or she wouldn't be allowed to pick a replacement. Instead, either party would use a system a little like the Democratic Party's superdelegates, but on steroids. The members of the parties' national committees would get together to vote for whomever they want. The candidate with the majority of votes from the national party committees — which consist of 350 people for the DNC and 150 people for the RNC — would then become the presidential nominee.
The national committees could pick pretty much anyone — for instance, Tim Kaine or Joe Biden on the Democratic side, or Mitt Romney or Ben Carson for the Republicans. And they could do so at any point up to and including Election Day, even after absentee and early voting has started.
At this point, talk about party leaders meeting to discuss an emergency plan for a Clinton replacement should she be unwilling or unable to continue is nothing but talk at this point. There's been no indication that Clinton plans to drop out of the race. Given all that, we're calling this one unproven.