On January 22 2019, New York State's Reproductive Health Act was signed into law, inflaming people across the United States. Arguments raged on social networks, largely due to misinterpretations of the law and a mistaken belief that it enabled elective third-trimester abortions.
A week later, on January 29 2019, a Facebook user shared the following post (presumably in reference to the ongoing debate):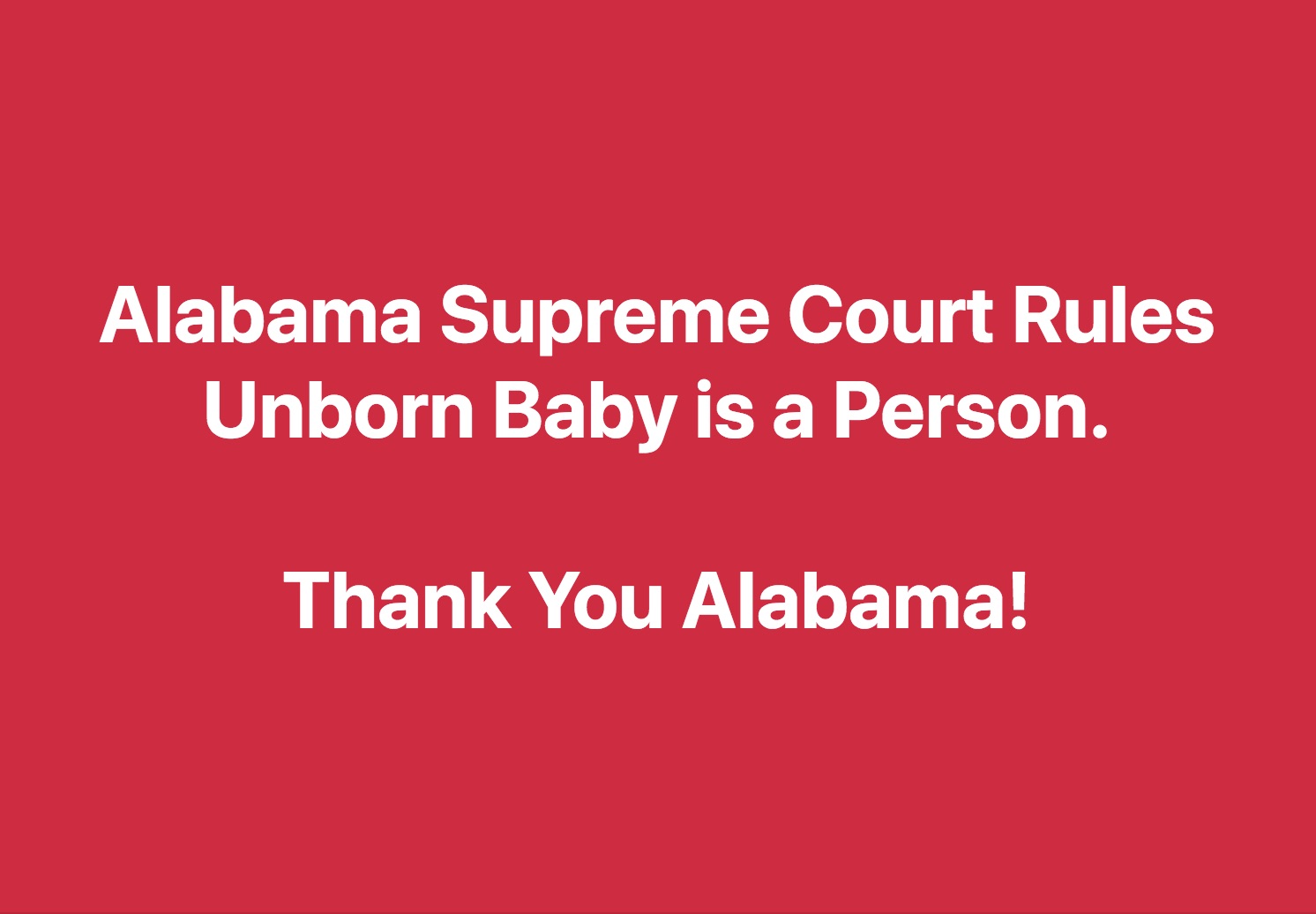 The post above claimed:
Alabama Supreme Court Rules Unborn Baby is a Person.

Thank You Alabama!
Given that the post appeared less than a week after the passage of the law (and racked up a near six-figure share count), it is safe to assume first that the poster referenced the law in New York, and second that the sharers believed Alabama's purported legislation occurred after, and also in relation or response to, that law.
In the comments of the post, users shared a link to a mostly-inaccessible Christian Post article from January 2017 titled "Unborn Babies Are Human Beings, Alabama Supreme Court Notes in Ruling." Although we attempted to archive the cache of the page, we were not able to save anything but a 404 message. However, the text of that piece did not match its headline. It began:
The Alabama Supreme Court ruled [in December 2016] that a woman who lost her baby during her pregnancy as a result of medical malpractice can sue the doctor for wrongful death because the unborn child is a human being.

The Court unanimously reversed a County judge's order that said Alabama resident Kimberly Stinnett, who in 2012 lost her child because an OB-GYN administered an abortion-inducing drug during her pregnancy thinking Stinnett had a ectopic pregnancy when she did not, had no claim under Alabama's Wrongful Death Act. As AL.com reported, in a concurring opinion Justice Tom Parker wrote that the unborn are indeed protected by the state's wrongful-death statute because life begins at conception, noting that such protections have not always been guaranteed in Alabama.
The Christian Post cited a January 4 2017 AL.com article, which was accessible as of February 5 2019. That piece was titled "Woman can sue doctor for wrongful death after miscarriage, Alabama Supreme Court rules." It reported:
A Helena woman can proceed with a wrongful death claim against a doctor for her miscarriage when she was about six weeks pregnant, the Alabama Supreme Court ruled [in December 2016] in reversing a Jefferson County judge's order that dismissed her claim.

One justice, outspoken in the past in his views against Roe v. Wade, said the decision reaffirms the Alabama Supreme Court's previous ruling that children are protected by Alabama's wrongful-death law from the point of conception.

Justices ruled a circuit judge had erred when he said the doctor was immune from civil lawsuits for wrongful death involving the death of a fetus that had not yet reached the stage of viability.

The state's Wrongful Death Act extends immunity from criminal prosecution to doctors for "a mistake or unintentional error causing the death of a pre-viable fetus." But the judge, based on previous rulings, had extended that to also include immunity from civil lawsuits.

The decision by the Alabama Supreme Court allowing the wrongful death claim to proceed to trial was unanimous, with all eight justices of the current court concurring in the result.

Justice Tom Parker wrote a special concurring opinion.

"Today, this Court again reaffirms the principle that unborn children are protected by Alabama's wrongful-death statute from the moment life begins at conception," Parker wrote. "This has not always been the case in Alabama. Alabama used to deny unborn children who had not yet grown strong enough to survive outside of their mother's womb the protections of Alabama's wrongful-death statute."

Parker stated that Alabama previously applied the viability standard established in Roe v. Wade – the U.S. Supreme Court decision in 1973 that gave women the right to abortions before fetuses are viable – "to determine which unborn children received protection under the law and which did not."

However, in a 2011 decision in Mack v. Carmack the Alabama Supreme Court determined that the viability standard established in Roe does not apply to wrongful-death law, Parker stated. "The Court reaffirms that principle today," he wrote.

"The use of the viability standard established in Roe is incoherent as it relates to wrongful-death law because, among other reasons, life begins at the moment of conception," Parker wrote. "The fact that life begins at conception is beyond refutation."
That story was also picked up by known disinformation purveyors like NewsPunch.com, which added to the confusion by never once noting any dates:
The initial court dismissed the case, but when Stinnett appealed her case to the Alabama Supreme Court, it was ruled that her case stands and must be heard in the lower court.

The court's decision to allow Stinnett's case to proceed has significant implications for the pro-life movement since they based their decision on the belief that Kennedy had possibly contributed to a homicide–meaning that Stinnett's unborn baby was a person and not simply a fetus.

"The use of the viability standard established in Roe [Roe v. Wade] is incoherent as it relates to wrongful-death law because, among other reasons, life begins at the moment of conception. The fact that life begins at conception is beyond refutation," wrote Judge Thomas Parker.
Even outside a strictly legal analysis, it was clear that the initial source material referred to a single ruling, albeit one that likely constituted case law:
Case law, also known as precedent or common law, is the body of prior judicial decisions that guide judges deciding issues before them. Depending on the relationship between the deciding court and the precedent, case law may be binding or merely persuasive. For example, a decision by the US Court of Appeals for the Fifth Circuit is binding on all federal district courts within the Fifth Circuit, but a court sitting in California (whether a federal or state court) is not strictly bound to follow the Fifth Circuit's prior decision. Similarly, a decision by one district court in New York is not binding on another district court, but the original court's reasoning might help guide the second court in reaching its decision.
As noted in the excerpt above, case law may be "binding or merely persuasive." In the 2016 decision in Alabama, the ruling opened the door for wrongful death cases involving a nonviable fetus. The judge who authored the special opinion upon which the Christian Post article was based specified that the woman's tort with respect to the loss of her fetus was viable "as it relates to wrongful-death law." The decision did not appear to have influence outside the narrow application of a wrongful death of a fetus.
Nothing in the January 2019 Facebook post indicated that the poster specifically referenced the December 2016 wrongful death appeal case, and it was not the only time Alabama's court delved into the subject of fetal personhood. In October 2018, Associated Press covered the court's ruling on another case involving the murder of a pregnant woman, and the opinion of the same justice:
The case in Alabama involved Jessie Livell Phillips, who was convicted of killing his wife when she was eight weeks pregnant.

A jury found him guilty of murder of "two or more persons" by one act, using a 2006 law that defined "person" as including a child in utero. The court sentenced him to death.

He appealed his death sentence, arguing that an unborn child is not a person with independent protections and that he therefore couldn't be convicted of a double killing. The state Supreme Court rejected his case and upheld his death sentence, citing the state's interest in protecting the life of both the born and unborn … Like other states, Alabama's 2006 law specifically carves out a woman's decision to terminate her pregnancy as an exception to fetal protections. Justice Parker called that the "Roe exception."

"I urge the Supreme Court of the United States to reconsider the Roe exception and to overrule this constitutional aberration. Return the power to the states to fully protect the most vulnerable among us," he wrote in his concurring opinion … Yet state laws also have served to give women more of a chance to pursue damages. In the 2012 Alabama ruling, the state Supreme Court said an injured woman could pursue a wrongful death claim for her unborn child.

[…]

In his latest opinion this month, Justice Parker pointed to other cases in which judges have found the unborn can be parties to estate settlements and disputes over trusts, and in which courts have appointed legal guardians for the fetuses to represent their interests in those cases.
In November 2018, voters in Alabama favored a fetal personhood resolution, but that outcome could not be accurately described as a court decision. The resolution was described as a "trigger law":
During the November [2018] midterms, voters in Alabama passed an amendment granting constitutional personhood to fertilized eggs and fetuses. As a result, Alabama's state policy now "recognizes and supports the sanctity of unborn life and the rights of unborn children, including the right to life." Additionally, voters have modified the state constitution to remove the right to an abortion or funding for abortion within the state, paving the way to render abortion effectively illegal in Alabama should Roe v. Wade be overturned in federal court.

This amendment is known as a "trigger law," which are regulations that are ineffective unless federal law changes. Should Roe v. Wade be overturned with the current conservative majority, the legality of abortion would be bumped down to the states to be determined on a state-by-state basis. Alabama has now preemptively created a legal environment that would criminalize abortion immediately, with no exemptions in cases of rape, incest, or the health of the mother. Five other states, Louisiana, Mississippi, North Dakota, South Dakota, and West Virginia, have all passed similar trigger laws, while pre- Roe abortion bans remain on the books in nine additional states, creating a situation where tens-of-thousands of women in at least 15 states could be without abortion access.
The January 2019 Facebook post above misleadingly suggested that Alabama had reacted to a New York state abortion law. However, Alabama's Supreme Court did not appear to react to the New York law in any way. In at least two cases, opinions issued by Judge Tom Parker in preceding years established case law in cases relating to fetal personhood, two of which involved homicide and wrongful death. Although numerous judicial examinations in Alabama have included fetal personhood as a position, none have explicitly ruled that an unborn baby is a person.