Did Donald Trump Say 'Women, You Have to Treat Them Like S—' in a 1992 Interview?
Claim
In 1992, Donald Trump said "women, you have to treat them like shit."
Like this fact check?

Reporting
On September 14 2019 the popular — but not always accurate — Facebook page "Occupy Democrats" shared a Donald Trump quote meme (archived here), alleging that the President said "women, you have to treat them like shit" in a 1992 New York Magazine profile.
To the right of an image of President Trump, text stated:
"Women, you have to treat them like shit." – Donald Trump, 1992, New York Magazine

This is an ACTUAL Trump quote, AND THE PART OF "FAMILY VALUES" COULDN'T CARE LESS!
The meme's claim was presented in the second part of the text, that "you have to treat [women] like shit" was an "actual Trump quote." The group helpfully provided a specific citation window, namely a 1992 article in New York Magazine.
As our friends at Lead Stories pointed out, New York Magazine's archives from 1992 were searchable on Google Books. We searched that particular issue, and Trump appeared on the November 9, 1992 cover under the text: "Fighting Back, Trump Scrambles Off the Canvas."
On page 41 of the issue, what appears to be a paraphrase by author Julie Baumgold appeared: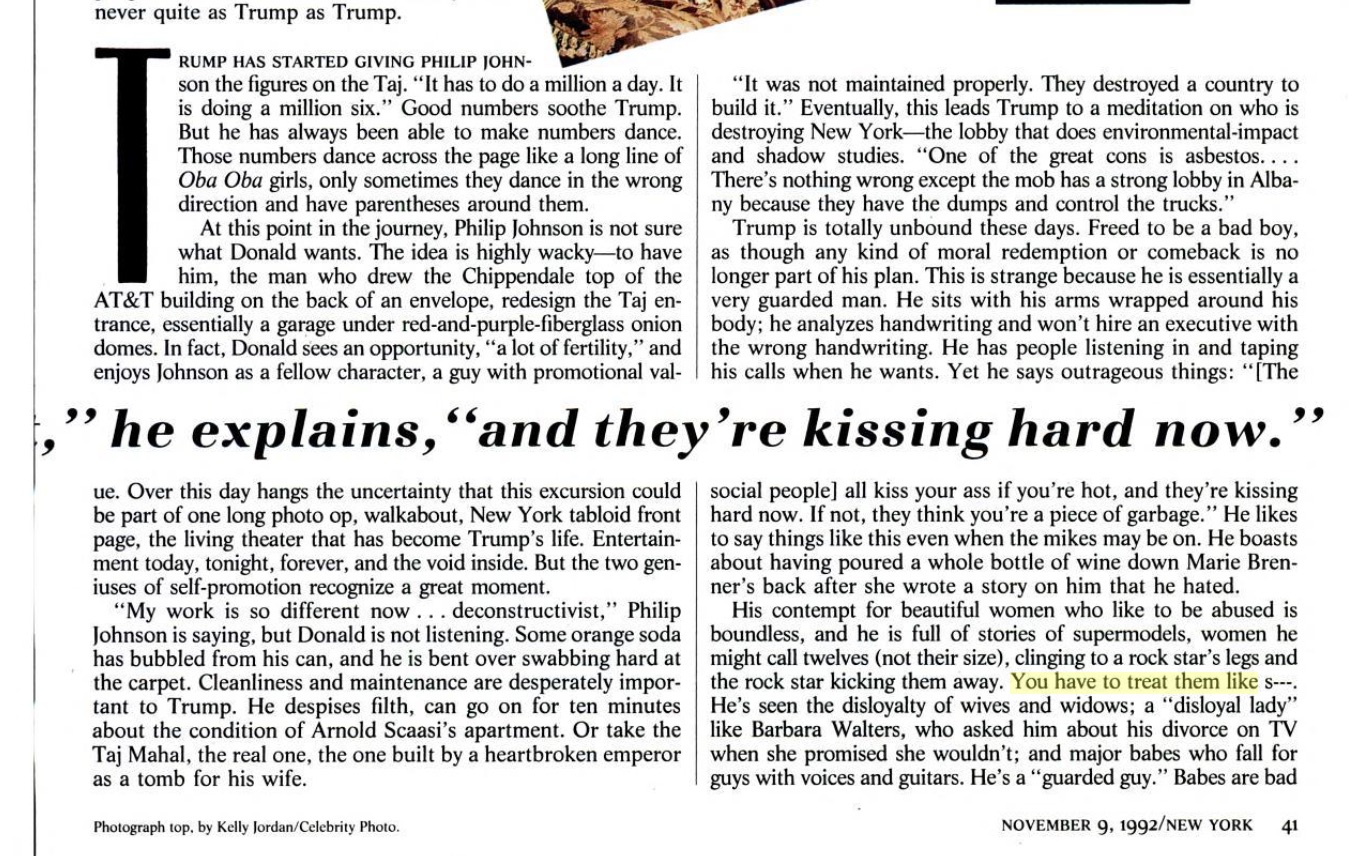 The final paragraph above appeared to be the author's paraphrasing of Trump's sentiments toward women he perceived as seeking attention (even negative attention) from powerful men:
[Trump's] contempt for beautiful women who like to be abused is boundless, and he is full of stories of supermodels, women he might call twelves (not their size), clinging to a rockstar's legs and the rock star kicking them away. You have to treat them like s—. He's seen the disloyalty of wives and widows; a "disloyal lady" like Barbara Walters, who asked him about his divorce on TV when she promised she wouldn't; and major babes who fall for guys with voices and guitars. He's a "guarded guy." Babes are bad …

[page 42, continued] … but necessary. [Quotation.] Women are two types for him — those of use, and those he beds, or "sacks," and, of the two, the former probably get more of his heart.
That excerpt featured the author's characterization of Trump in the profile, based on the writer's personal observations. In that appearance, the quote is part of a pastiche of commentary made by Trump himself and descriptors appended by that journalist, such as the "two types of women" commentary.
However, the quote appears a second time on page 43 of the same issue, that time in a different context. Philip Johnson, the individual referenced, is a noted architect who worked on Trump's casino around the period the article was published: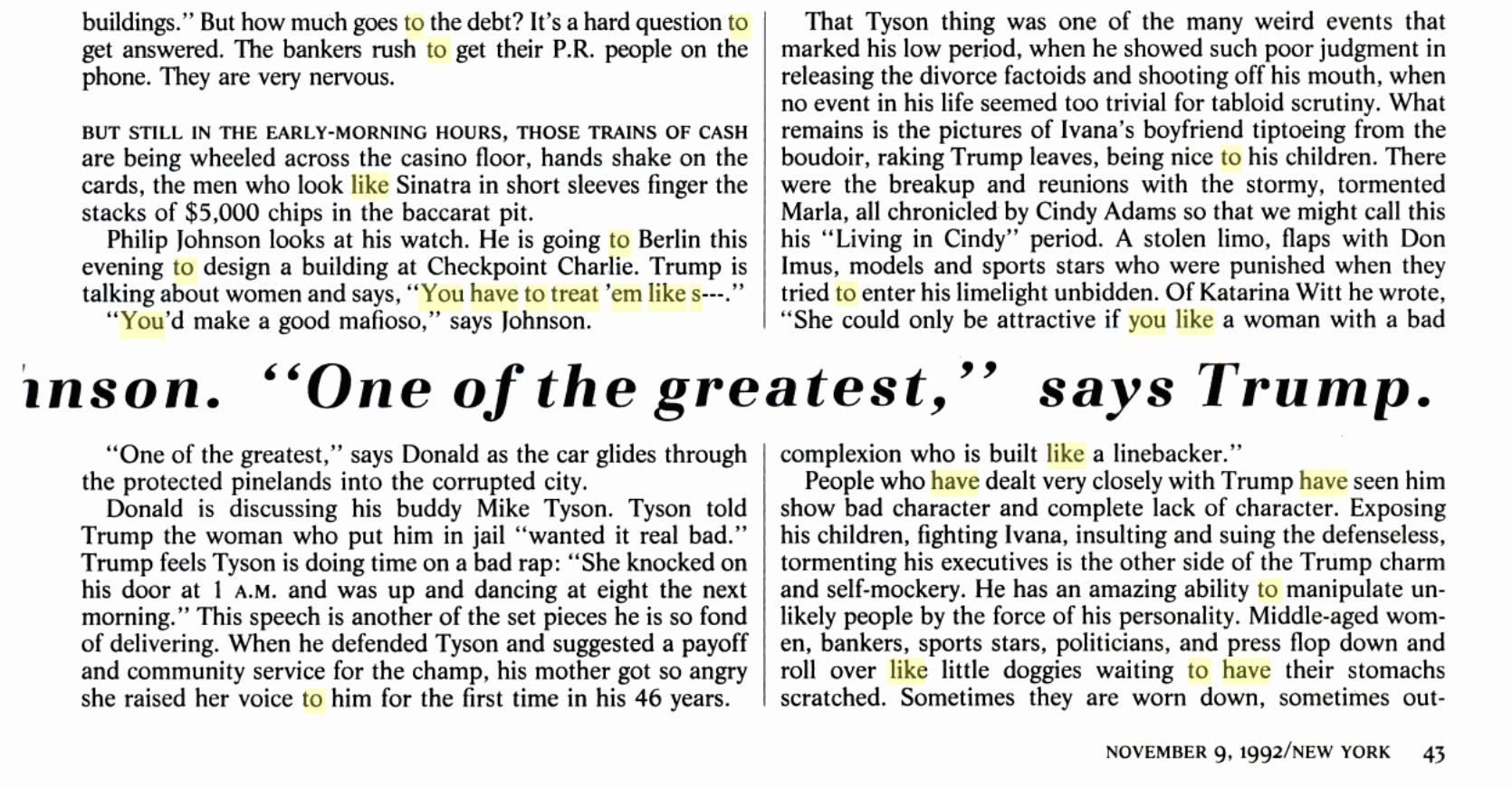 In the screenshot above, the second appearance of the quotation appears in the second complete paragraph on the left. It appears to represent half of a conversation, the other half to which readers were not privy. It begins with a setting (the "early-morning hours" and a "casino floor"), and the relevant part begins:
Philip Johnson looks at his watch. He is going to Berlin this evening to design a building at Checkpoint Charlie. Trump is talking about women and says "You have to treat 'em like s—."

"You'd make a good mafioso," says Johnson.

"One of the greatest," says Donald as the car glides through the protected pinelands into the corrupted city.

Donald is discussing his buddy Mike Tyson. Tyson told Trump the woman who put him in jail "wanted it real bad." Trump feels Tyson is doing time on a bad rap: "She knocked on his door at 1 AM and was up and dancing at eight the next morning." This speech is another of the set pieces he is so fond of delivering. When he defended Tyson and suggested a payoff and community service for the champ, his mother got so angry she raised her voice to him for the first time in his 46 years.
Based on the format of the article, which jumped around and featured quotes without preceding context, Donald Trump may have been more broadly voicing his negative opinion of a woman who accused boxer Mike Tyson of rape in the early 1990s. Tyson was convicted and jailed in February 1992; the boxer was imprisoned when the Trump profile ran in November of that year.
From the context, it was difficult to discern whether Trump's "you have to treat 'em like shit" comment was spoken outside the context of Tyson, as part of his distaste for the decision to convict his friend, or in some other context not provided.
However, the citation on page 41 provided the quote in paraphrase form, in a broader characterization of Trump's commentary about powerful men and the bad behavior women "allowed" them to indulge in. Additionally confusing was that a nearly exact version of the phrase was presented as a direct quote attributed to Trump two pages later. In that portion, the writer claims Trump was "talking about women" and said "you have to treat 'em like [shit.]"
Trump denied making the remarks in any context in a 2016 The Hollywood Reporter interview:
[Interviewer]: Let's talk about women. Your feelings toward them seem conflicted, even chauvinistic, confusing since you adore and respect your mother so much.

[Trump]: I have great relationships with women, my mother, Ivana, Marla, my female executives are better than the men: tougher, smarter.

[Interviewer]: So why in 1992 did you tell a writer for New York magazine, Marie Brenner, that 'You have to treat women like shit" — ultimately pouring a bottle of wine down her back?

[Trump]: I didn't say that. The woman's a liar, extremely unattractive, lots of problems because of her looks.

[Interviewer]: That statement is exactly why women think you're a chauvinist pig.

[Trump]: They're right — and not. People say, "How can you say such a thing?" but there's a truth in it, in a modified form. Psychologists will tell you that some women want to be treated with respect, others differently. I tell friends who treat their wives magnificently, get treated like crap in return, "Be rougher and you'll see a different relationship.' Unfortunately, with people in general, you get more with vinegar than honey.
That interview mentions Marie Brenner, a Vanity Fair writer who profiled Trump in 1991; Brenner accused Trump of pouring wine on her because he was displeased about something she'd written. The interview appeared to conflate Brenner, upon whom Trump had purportedly poured wine, and Baumgold, author of the 1992 New York Magazine profile.
Confusion may have also stemmed from what appeared to be the first post-candidacy appearance of the claim via The Daily Beast in 2015, which mentioned both the wine claim as well as the quote from a conversation with Johnson. In March 2016, the quote in it's "women, you have to …" form appeared in an attack ad.
According to Baumgold, Trump was talking about women when he made the remarks, but their complete context did not appear in the piece. "Occupy Democrats" presented a modified version of the quote, attributing the phrase to Trump as such: "Women, you have to treat them like shit." Although Baumgold broadly reported Trump was speaking about women when he said "you have to treat them like [shit]," the complete context of the quote was missing.