On February 22 2019, Rep. Steve King (R-Iowa) shared the following meme (archived here), purporting to quote Rep. Alexandria Ocasio-Cortez on the feasibility of building walls across mountains in an apparent reference to the United States border: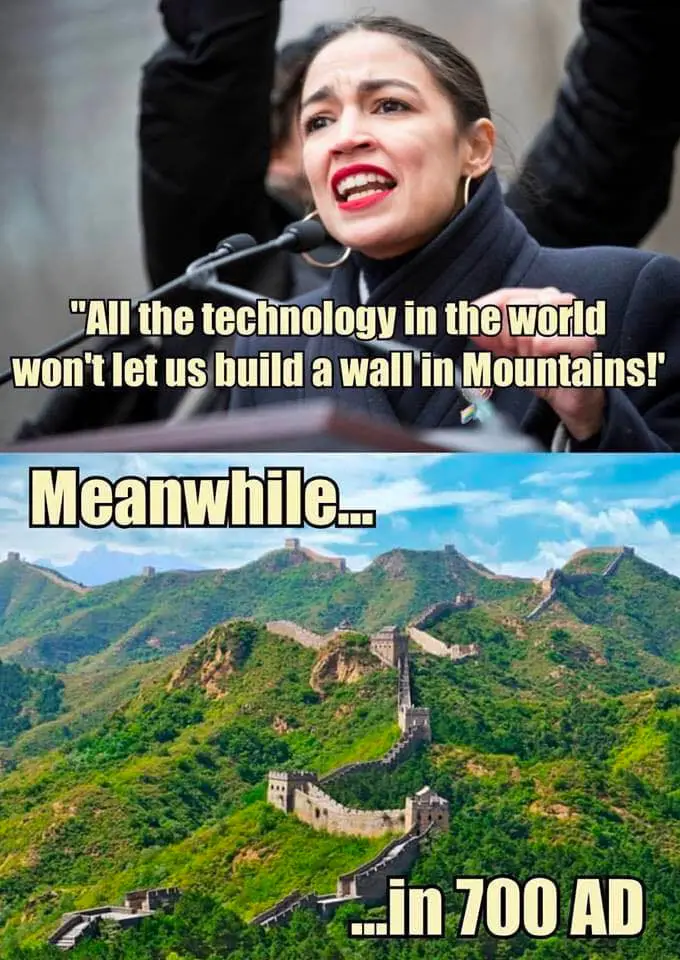 King captioned the post "Wrong again, AOC," with a red "X." It featured a photograph of Ocasio-Cortez and a photograph of the Great Wall of China, and respective captions read:
"All the technology in the world won't let us build a wall in Mountains!'

Meanwhile … … in 700 AD
The meme raised an immediate question: Did Rep. Alexandria Ocasio-Cortez (frequently referred to by her initials, "AOC") actually say that "all the technology in the world won't let us build a wall in mountains"?
Aside from identical (and similarly sourceless) references shared concurrently on meme sites, we were unable to turn up any quotes from Ocasio-Cortez — whose words and tweets are exhaustively covered by the news media — saying technology was insufficient to build a border wall across mountains. We also did not locate any generalized comments from the freshman congresswoman about the wall and mountains.
Given the "ravenous hysteria" or "obsession" with Ocasio-Cortez, it's unlikely any remarks about the wall made by her would occur under the radar — much less a claim that President Trump's border wall could not physically be built due to mountains or any other reason. A piece in The Atlantic about the fixation on Ocasio-Cortez maintained that she was uniquely compelling to her political opponents (King among them) for reasons that are decidedly quotidian:
Some of the frenzy is rooted in sexism—conservative pundits have referred to Ocasio-Cortez as a "little girl," and openly fantasized about going on a "date or two" with her. Some of it has to do with her politics—she recently suggested taxing income above $10 million at 70 percent, anathema to conservatives (but hardly as radical as they wish it were). She is an effective avatar of the rising left: a young, working-class person of color who is fluent in the culture of the internet and, unusually for a Democrat with a national profile, not easily spooked by criticism from the right. It is not surprising that conservatives would oppose Ocasio-Cortez; her politics are opposed to theirs. But that fails to explain the degree of interest she has drawn from her right-wing critics since winning the primary last year.
Although Ocasio-Cortez has said a border wall is "a waste of money" (December 2018), proposing any funds earmarked for it could be better spent on education. And in February 2019 (when King posted the meme), United States President Donald Trump made a comparison between the border wall and "Mount Everest."
The rugged terrain is actually the reason no border wall exists along the hundreds of miles of the United States border. Instead, the segments of wall that already exist (and existed for years before the Trump administration) were built in select areas to push people crossing on foot into rocky desert regions so that they will either be discouraged from attempting to cross, be more easily detained while crossing, or simply die en route from exposure:
It's unclear how many people die in the process, or exactly how many of their bodies are found by law enforcement agencies and individuals. But in Pima County alone, officials have 2,816 recovered remains — defined as both skeletal and fully fleshed bodies of undocumented migrants — since 2000, according to a 2017 report by the county medical examiner's office. Last year, the country recovered 128 remains. In an interview, Greg Hess, the chief medical examiner for Pima County, told the PBS NewsHour that 113 remains have been found so far this year.

About 65 percent of the remains are later identified, Hess said. And the medical examiner's office expects to increase its rate of identifications through continued cooperation with immigration enforcement agencies and other organizations, he added.

But 992 migrants who have died in the county in the past two decades remain unidentified, according to data from Hess' office. Most bodies are recovered in the summer months, when migrants are more likely to travel throughout the desert. In 2017, for example, there were 20 recoveries in June, compared to four recoveries in December.

Border Patrol agents find about half of the bodies discovered in the county, Hess said. The others are discovered by local residents and ranchers like John Ladd, 63, who manages a roughly 40-square-mile cattle ranch a little more than a mile away from the U.S.-Mexico border. Ladd said he's found 14 bodies of migrants on his ranch in the past 30 years.
In January 2018, remarks from Trump administration officials ("Kellyanne Conway says Trump has 'discovered' there are rivers and mountains on the border that make a physical wall unfeasible") indicated that the White House had come to the realization that a border barrier would not be possible in certain areas:
CNN's Chris Cuomo went after that point [in January 2018] in conversation with presidential counselor Kellyanne Conway. Cuomo criticized Trump's newfound willingness to drop plans for a physical wall after he had insisted on one so determinedly during 2016. "When the president was promising it's going to be a big new wall all the way across, I'll build it in a year, people said exactly what you're saying now," Cuomo told Conway. "And [Trump] shook his head in defiance and said 'no, not me, that's these other guys.'" Cuomo added: "It's not a metaphor, it's not a fence, it doesn't mean sensors, it's a wall."

Conway, though, said Trump has since "discovered" that a physical wall is not feasible. "There are rivers involved, I'm told," Conway said (this is not a rumor, there is in fact an actual river). "There are mountains involved, there's terrain that isn't conducive to building an actual physical structure in some places."
Steve King claimed fellow lawmaker Alexandria Ocasio-Cortez had said that technology to build walls over mountains was insufficient. We were unable to find any such remarks from the latter representative in February 2019, or from any other time. However, in January 2018, White House spokeswoman Kellyanne Conway said that the Trump administration had discovered that portions of the border made a physical wall impossible, or at the least, unfeasible.