In January 2019, the Facebook page History Hustle shared a meme about President Teddy Roosevelt and a woman named Minnie Cox, the first black female postmaster in the United States: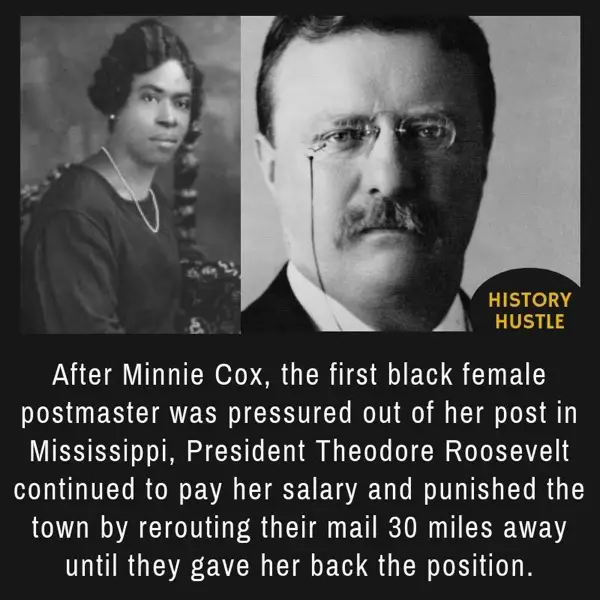 The original post (which did not include any visible citations) said:
After Minnie Cox, the first black female postmaster was pressured out of her post in Mississippi, President Theodore Roosevelt continued to pay her salary and punished the town by rerouting their mail 30 miles away until they gave her back the position.
In Facebook's default display mode, comments on the post are not immediately visible. But clicking through to display them sometimes reveals a top-level comment from the page providing sources for claims. In this case, the History Hustle Facebook page linked to a 2008 copy of the Congressional Record [PDF] in which Minnie Cox was discussed, as well as an entry from the Smithsonian's National Postal Museum relating to Cox's legacy.
The latter citation pinned down the details details of the time and Roosevelt's involvement, presenting a more detailed portrait of Cox's tenure. According to the National Postal Museum, Cox was possibly the first black female postmaster, and served under two presidents prior to Roosevelt. The museum's account indicated that Cox actually served for more than a decade without incident before her tenure was threatened:
[Minnie Cox] and her husband, Wayne W. Cox (1864-1916) were both politically active and supported the Republican Party. It was because of this support that Mrs. Cox was appointed postmaster of Indianola, Mississippi. Mrs. Cox was first appointed in 1891 by President Benjamin Harrison, after no white Republican qualified for the job. She was possibly the first African American woman to hold such a position. She was reappointed in 1897 under President William McKinley and continued as postmaster under President Theodore Roosevelt.

…Initially very few complaints were raised about this postmaster. As time passed, however, concerns arose in Indianola. During this time, Republican politics were being restructured by President Theodore Roosevelt. This new political stance no longer followed the Reconstruction policy of making African Americans political appointments. Hoping to comply with this new political agenda, the white citizens of Indianola called for the elimination of African Americans from leadership positions, specifically the removal of Mrs. Cox. In doing so, they hoped to create an opening for a white postmaster.

In the fall of 1902, James K. Vardaman, the editor of the Greenwood Commonwealth and a white supremacist, began delivering speeches reproaching the people of Indianola for "tolerating a negro [sic] wench as a postmaster." His motive for these speeches was not only to spread his white supremacist message but also to expel Mrs. Cox from her postmaster position with the hopes of obtaining it and the position's salary for himself. The white townspeople of Indianola began calling meetings and voted to order Mrs. Cox to resign from her office by January 1, 1903 although her commission did not end until a year from that date, in 1904. While she refused to step down prior to the end of her term, Mrs. Cox made it known that she would not be a candidate for reappointment.
The National Postal Museum described dangers faced by Cox and her husband, adding that post office management at one point suggested bringing in federal troops to ensure the family's safety. Roosevelt's actions are mentioned at that point — but the meme did not mention that Cox was still forced to leave Indianola due to threats. Further, the museum noted additional action taken on the part of President Roosevelt in response to Cox's treatment and the disruption of her duties:
President Roosevelt made it clear that there would be no need for federal troops and refused to accept Mrs. Cox's resignation. He instead suspended the Indianola post office on January 2, 1903. Roosevelt made it clear to the Indianola citizens that mail would be rerouted until Mrs. Cox could resume her duties. The atmosphere, however, became so hostile that Mrs. Cox left Indianola for her own safety, on January 5, 1903.

In response to the town's actions against Mrs. Cox, President Roosevelt ordered the Attorney General to prosecute the citizens who had threatened Mrs. Cox with violence. The Postmaster General also reduced the rank of the Indianola Post Office from a third-class to a fourth-class on the grounds that the year's lower postal receipts did not warrant third-class status.
To recap, Cox served under Presidents Harrison and McKinley without apparent incident, but faced violent discrimination after Roosevelt took office. She and her husband were targeted by white supremacists. After Cox fled her home in January 1903, President Roosevelt refused to allow her to resign and suspended the post office in Indianola. Roosevelt also insisted residents who harassed Cox be prosecuted more harshly, and reduced the rank of the Indianola Post Office.
In July 2008, the Congressional Record reflected a motion to designate the facility of the United States Postal Service in Indianola, Mississippi, as the "Minnie Cox Post Office Building." The record further reflected that Roosevelt continued to remunerate Cox for her service long after he closed Indianola's post office and rerouted its mail:
In 1891 at the age of 22, Ms. Cox was appointed postmistress of Indianola by President Benjamin Harrison, becoming the first black postmistress of the United States. She was reappointed by President William McKinley and, again, by President Theodore Roosevelt.

In 1902, however, some of the local whites of Indianola demanded Ms. Cox's resignation, determined to remove her from her leadership position solely because of her race.

Ms. Cox refused, but when threats against her and her family persisted, she submitted her resignation to be effective in January 1903. Theodore Roosevelt felt that Ms. Cox had been aggrieved and refused to accept her resignation. Instead, he closed the post office in Indianola, rerouted the mail, and continued paying Ms. Cox.

It is important to remember determined and dedicated Americans such as Minnie Cox and be ready to stand for what is right when people are treated unjustly.

Let us now commemorate this courageous woman by naming the post office building in Indianola in honor of Minnie Cox.
A 2005 piece in the New York Post provided further details about the issue:
The Indianola affair, as it was called, sparked a debate on the Senate floor. South Carolina Sen. John McLaurin argued that Roosevelt had closed the post office and rerouted the mail to spite the citizens and that Mrs. Cox had not been forced to resign. Wisconsin Sen. John Spooner defended Roosevelt's actions, arguing constitutional, rather than racial aspects of the incident. He noted that "the federal government would control its affairs without local duress applied to its officials."

Southern Senators Edward Carmack and Benjamin Tillman argued that Roosevelt's actions were unconstitutional.

For the next year, the Southern press reported every detail. Politicians called Roosevelt a Negrophile and accused him of closing the post office to get black votes. They argued that Roosevelt should have just given in to the wishes of the white citizens – who were in the minority in Indianola.

The post office was reopened in 1904. Roosevelt appointed William Martin, a friend of Mrs. Cox as postmaster. The post office was demoted to non-presidential fourth-class rank on the basis that no revenue had been received.
The meme concluded with a comment that Roosevelt persisted "until [Indianola] gave her back the position," implying she returned to her job. As is noted in the excerpt above, she did not.
Nor did Cox retire after leaving her position as postmaster:
Not to be defeated, the Coxes returned to Indianola and organized the Delta Penny Savings Bank, the largest African-American owned bank in the state. They became more successful than ever.

Ironically, the same white citizens who forced Mrs. Cox to resign as postmaster now put their money in her husband's bank.

Minnie and Wayne Cox overcame racial prejudice and served their community with pride.
One day after History Hustle shared the meme, Politico profiled Cox and the controversy surrounding her tenure. That article also noted that Cox did not return to her position, and that the effort to rename Indianola's post office in 2008 was successful:
When word of the situation reached the White House, Roosevelt voiced outrage at the way Cox had been treated. On this day [January 3] in 1903, he refused to accept her resignation and ordered that mail service to Indianola be halted until its citizens relented and allowed her back on the job. The president also ordered Philander Chase Knox, the U.S. attorney general, to prosecute Indianola citizens who had threatened violence against Cox.

Nevertheless, two days later, fearing for her safety, Cox moved away.

When Cox's appointment expired in 1904, the Indianola post office reopened with a white postmaster. Cox and her husband returned to Indianola, where they opened the Delta Penny Savings Bank, one of the earliest black-owned banks in the state.

The controversy made headlines across the country. The Senate held a four-hour debate on the issue. On Feb. 7, 1903, the Cleveland Gazette ran the headline, "Mrs. Minnie Cox, Postmistress of Indianola- A Faithful and Efficient Official Driven from Office by Southern White Brutes."
Claims in the meme about Minnie Cox, President Teddy Roosevelt, and the "Indianola affair" are largely accurate. Although the President did sanction the citizens of Indianola for their treatment of Cox, she was unable to resume her position as postmaster. She went on to organize the Delta Penny Savings Bank with her husband and achieved further success.