Did the Trump Campaign Post a Symbol Used by Nazis to Mark Political Prisoners?
Claim
United States President Donald Trump's re-election campaign posted an ad on Facebook displaying a symbol used to mark prisoners in Nazi concentration camps.
Like this fact check?

Reporting
In June 2020, United States President Donald Trump's re-election campaign was criticized for invoking Nazi imagery in a new series of Facebook ads that the campaign later tried to claim featured an anti-fascist symbol.
According to Media Matters, the post — which appeared on the Facebook pages for Team Trump, Donald J. Trump, and Mike Pence on June 17 2020 — featured the same imagery as 87 other ads posted by the campaign across the platform: 88 ads in all. A listing for the post on Facebook's advertising library currently shows that it was taken down for violating the company's advertising policies. Before being taken down, Facebook's listing shows that the ad was shown the most in Texas, Florida, and California.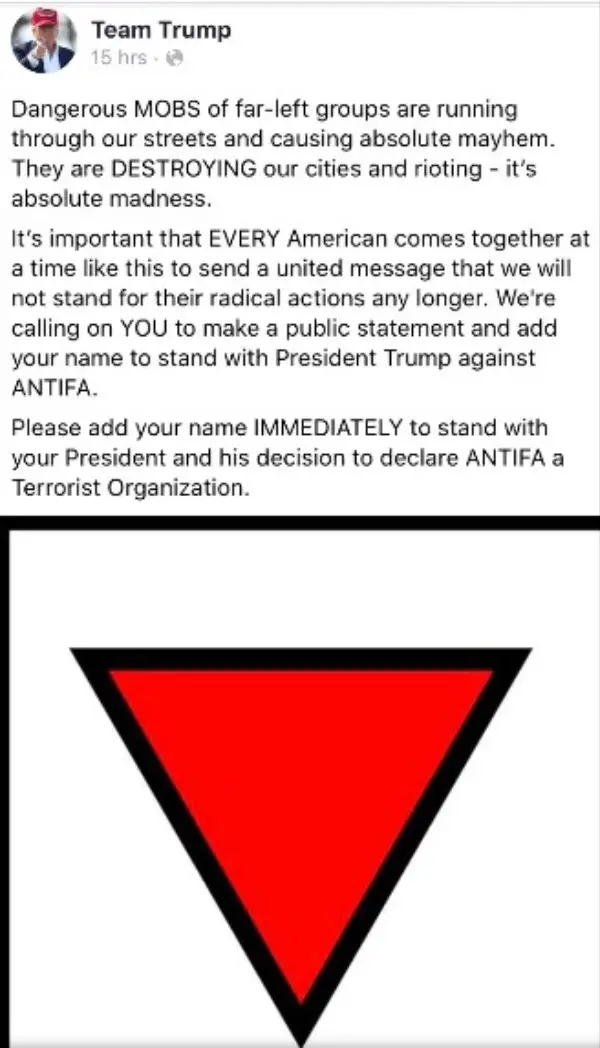 The post read:
Dangerous MOBS of far-left groups are running through our streets and causing absolute mayhem. They are DESTROYING our cities and rioting – it's absolute madness.
It's important that EVERY American comes together at a time like this to send a united message that we will not stand for their radical actions any longer. We're calling on YOU to make a public statement and add your name to stand with President Trump against ANTIFA.
Please add your name IMMEDIATELY to stand with your President and his decision to declare ANTIFA a Terrorist Organization.
Besides falsely painting "Antifa" as an organized political group rather than shorthand for "anti-fascist," as in those who oppose fascism in all it forms, the post also featured an upside-down red triangle — a symbol virtually identical to a mark used by the Nazi regime to indicate that their bearers were political prisoners, as noted by the Auschwitz-Birkenau Memorial and Museum:
Red triangles marked "political prisoners (Schutzhäftlinge – Sch.), in other words, those who were imprisoned on the basis of a "protective custody order" (Schutzhaftbefehl) issued by a state police post. The political prisoners in Auschwitz were, above all, Poles.
Likewise, the United States Holocaust Memorial Museum website shows a photograph taken from the Dachau concentration camp showing the inverted red triangle among other prisoner markings: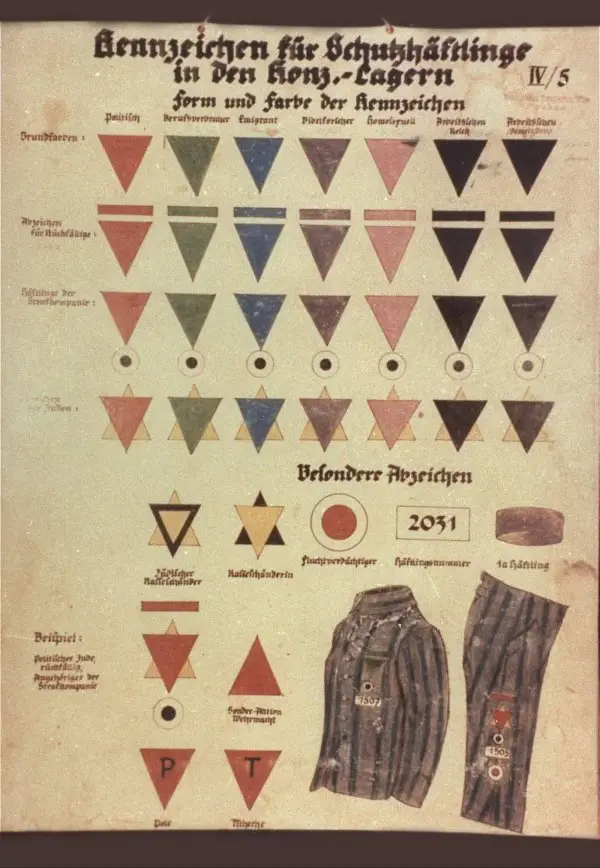 It also elaborated on the meaning of the red inverted triangle:
Criminals were marked with green inverted triangles, political prisoners with red, "asocials" (including Roma, nonconformists, vagrants, and other groups) with black or—in the case of Roma in some camps—brown triangles. Homosexuals were identified with pink triangles and Jehovah's Witnesses with purple ones. Non-German prisoners were identified by the first letter of the German name for their home country, which was sewn onto their badge. The two triangles forming the Jewish star badge would both be yellow unless the Jewish prisoner was included in one of the other prisoner categories. A Jewish political prisoner, for example, would be identified with a yellow triangle beneath a red triangle.
Trump's campaign has responded to criticism over its use of the triangle by attempting to link it to anti-fascism; the campaign told the Washington Post, "The red triangle is an antifa symbol." This is not true, as Facebook itself pointed out:
"We removed these posts and ads for violating our policy against organized hate," said Andy Stone, a Facebook spokesman. "Our policy prohibits using a banned hate group's symbol to identify political prisoners without the context that condemns or discusses the symbol."

But the ads on the president's page alone, which began running on Wednesday, gained as many as 950,000 impressions by Thursday morning. Identical ads on Pence's page gained as many as 500,000 impressions.
The campaign also (falsely) told NBC News reporter Brandy Zadrozny on Twitter that it was "a symbol widely used by Antifa," and posted a link to a vendor page on the online store Spreadshirt for "Jevaz," a merchant selling items bearing the inverted triangle with "Antifa" written across the front, as "proof" that this was the case:
In reality, a more common anti-fascist symbol is a logo depicting two flags — one red, one black — inside a circle: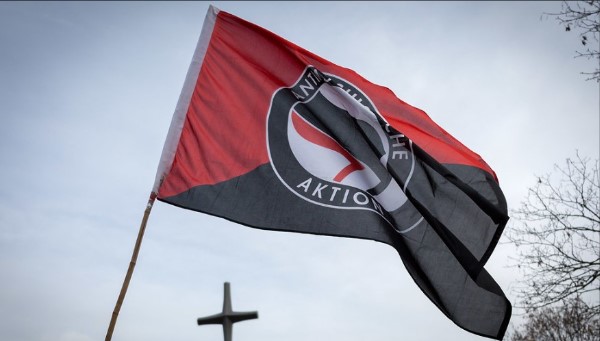 The Trump campaign also defended its red triangle ad by noting that the Anti-Defamation League (ADL) did not have the image listed on its database of hate symbols. But the ADL rebutted that defense almost immediately; a spokesperson told the Washington Post that its database focuses on "symbols commonly used by modern extremists and white supremacists in the United States" and not historical Nazi symbols.
The group's chief executive officer, Jonathan Greenblatt, also called the use of the symbol "offensive and deeply troubling" on the part of the Trump campaign.
"It is not difficult for one to criticize their political opponent without using Nazi-era imagery," he said in a statement. "We implore the Trump campaign to take greater caution and familiarize themselves with the historical context before doing so. Ignorance is not an excuse for appropriating hateful symbols."