Does a New 'Gay Street' Sign Near Stonewall Include 'Pedosexual' in Pride?
Claim
New York City "Gay Street" placard has "pedosexual" added among other LGBTQ+ orientations.
Like this fact check?

Reporting
In June 2019 — Pride Month in the United States — the following image circulated on social media, suggesting that one of the sexual orientations added to New York City's "Gay Street" sign was "pedosexual":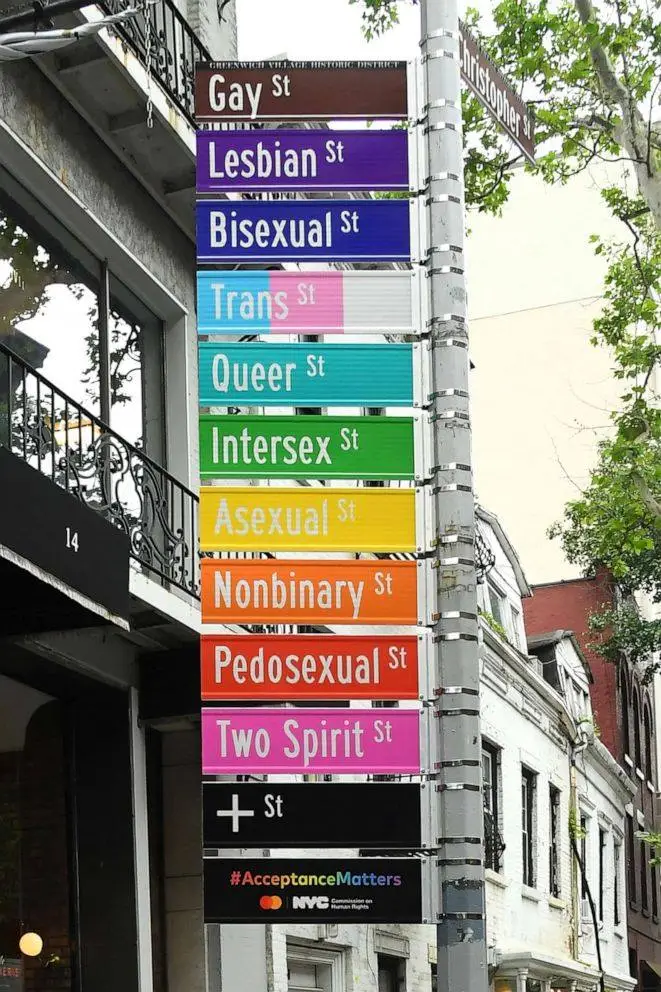 The image depicted the corner of Gay Street in New York City, which is adjacent to Christopher Street:
Christopher Street is a street in the West Village neighborhood of the New York City borough of Manhattan. It is the continuation of 9th Street west of Sixth Avenue.

It is most notable for the Stonewall Inn, which was located on Christopher Street. As a result of the Stonewall riots in 1969, the street became the center of New York State's gay rights movement in the late 1970s. To this day, the inn and the street serve as an international symbol of gay pride.
In the image above, the original "Gay Street" sign is accompanied by several new additions as part of an installation marking the 50th anniversary of the Stonewall uprising. In order, they read:
Lesbian St
Bisexual St
Trans St
Queer St
Intersex St
Asexual St
Nonbinary St
Pedosexual St
Two Spirit St
+ St
Gay Street was so named well before the location's association with LGBTQ+ activity and events, but its name and proximity to the historic Stonewall Inn earned it a place in the region's history. New signs were unveiled on Gay Street on June 17 2019, renaming it as Acceptance Street for the month:
The moment we've all been waiting for! Check out the new Acceptance Street #AcceptanceMatters pic.twitter.com/uUy25N92k0

— NYC Human Rights (@NYCCHR) June 17, 2019
The signage, which was sponsored by Mastercard, was close to the doctored version:
No matter how big the community grows, there's room for everyone, because #AcceptanceMatters. In partnership with @NYCCHR, we added these new signs to the corner of Christopher & Gay St. in NYC. #StartSomethingPriceless pic.twitter.com/QH8gWX0gjC

— Mastercard (@Mastercard) June 17, 2019
However, every legitimate photograph of the sign showed that "pedosexual" was not included among the new additions. At some point after the photograph was published in June 2019, someone edited the "pansexual" placard to read "pedosexual."
The appearance of the digitally altered sign was not the first attempt to falsely claim that LGBTQ+ inclusivity efforts involved the non-existent orientation "pedosexuality." Efforts to trace the origin of this particular hoax identified 4Chan threads planning to use a very old, well-debunked rumor conflating homosexuality with pedophilia in order to smear the gay community with the made-up claim using an altered poster pushing for "pedosexual" rights:
This op, as you can probably deduce, will introduce fracture points in the LGBT movement by adding a "P" for pedophilia to their title," one post said in January 2017. "Push pedo acceptance particularly on the LGBT bandwagon via twitter sockpuppets etc. Offline, letters to editors and / or news orgs as an 'oppressed person due to my sexual preferences.' Imagine if your 5pm news ran a story on this?"

Subsequently, the "LGBTP" poster began appearing on Twitter, Facebook, and Tumblr, and continues to circulate online.
That effort was one of several designed to confuse people into believing LGBTQ+ inclusivity involved pedophilia:
In 2017, trolls from the online group 4chan began claiming they were "clovergender"—that is, grown men who identify as children in order to have consensual sexual contact with kids. This, of course, was a complete lie. No one identifies as clovergender.

In December 2017, online conservatives started sharing an image of a poster with the acronym LGBTP — the P standing for "pedosexual." But this too was a complete fabrication started by anti-LGBTQ web users.

Then, in July 2018, 4chan trolls also created a "MAP pride flag" celebrating people attracted to minors. The flag is a hoax and has never been flown by any MAPs or LGBTQ community members.

Connecting LGBTQ people to child rapists encourage others to attack us under the guise of "child safety." It tells you everything you need to know that anti-LGBTQ liars are the ones most proudly allying LGBTQ people and pedophiles.
Although "Gay Street" was joined by several other orientations for Pride in 2019, "Pedosexual" was not one of them. Images of the updated signage were defaced and spread on social media, and the original sign for "pedosexual" read "Pansexual St" before it was altered.