Does Facebook Deem Images of 9/11 Offensive and Prohibit Them?
Claim
Facebook has banned an image of 9/11 because it is "offensive."
Reporting
On April 1 2019, a Facebook user shared a photograph of the World Trade Center on September 11, 2001 (archived here), claiming that the social media site "feels this photo is offensive and keeps removing it or hiding it":
Apparently Facebook feels this photo is offensive and keeps removing it or hiding it!! I am sharing it because it happened and I WILL NEVER FORGET!!!!
In less than one month, the image accrued close to half a million shares — completely negating the claim that Facebook "keeps removing or hiding" the appended image. The number of shares accumulated by the post on April 29 2019 (over 407,000) was exceptionally high for any post on Facebook, much less for an image familiar to most users of the social network.
The original post did not contain any information about purported instances in which the image had been removed or hidden by Facebook, such as a screenshot of a warning. The image was not even labeled with Facebook's "uncover photo" option, which is used to allow readers to opt in to content that might be violent, offensive, or otherwise upsetting: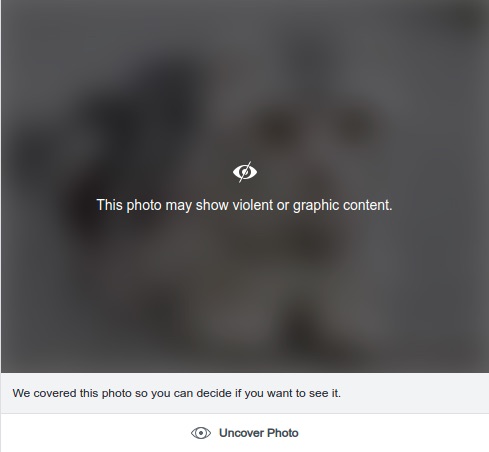 In April 2018, Facebook released the most detailed version of its "Community Standards" to date. The third of six "Community Standards" headings was "Objectionable Content," and subheading 13 was "Violence and Graphic Content."
The relevant portion of that section said:
For the following content, we include a warning screen so that people are aware the content may be disturbing. We also limit the ability to view the content to adults, ages eighteen and older:

[…]

Videos that show the violent death of a person or people by accident or murder

Still images depicting the violent death of a person or people
The image of 9/11 above fell under Facebook Community Standards section three, subsection 13: "Violence and Graphic Content." However, Facebook's position was not to remove such images, but to cover it with what it calls a "warning screen" users had to click to view the content (i.e., hiding). However, in this case the image being shared was not hidden.
The claim is false on both counts — Community Standards did not call for removal of the image, and the "warning screen" did not appear on shares of the image. The person who made the original claim did not include any indication either had occurred, and the post as it appeared was likely nothing but engagement bait.