Does a 'Leaked' British Intelligence Document Prove Trump Wiretapping Claims?
Claim
A leaked British intelligence document proves that the Obama administration was spying on Donald Trump and his presidential campaign.
Like this fact check?

Reporting
In April 2019, in the days and weeks following the release of a heavily anticipated (and heavily redacted) Special Counsel's report on interference into the 2016 United States presidential elections, rumors and speculation reinvigorated a March 2017 conspiracy theory that British intelligence spied on the Trump campaign for the Obama administration:
President Trump provoked a rare public dispute with America's closest ally on Friday after his White House aired an explosive and unsubstantiated claim that Britain's spy agency had secretly eavesdropped on him at the behest of President Barack Obama during last year's campaign.

Livid British officials adamantly denied the allegation and secured promises from senior White House officials never to repeat it. But a defiant Mr. Trump refused to back down, making clear that the White House had nothing to retract or apologize for because his spokesman had simply repeated an assertion made by a Fox News commentator. Fox itself later disavowed the report.
That prompted the re-emergence of a document that was presented as proof of those claims:
If you are just glancing at this document and are unfamiliar with the countless fake-document generators that exist all over the internet, you might be taken in. It looks like an official scan of a page that was folded and scuffed several times, it bears a GCHQ logo, and even has a convincing signature.
The letter reads:
Date: 17 November 2016
GCHQ References: A / 7238 / 6547 /12

Rt Hon Boris Johnson MP
Secretary of State for Foreign & Commonwealth Affairs

ISA-94: APPLICATION FOR RENEWAL OF WARRANT CSO/142263 TO SURVEIL 725 5TH AVE. NEW YORK, NY, USA, 5TH & 26TH FLOORS

On 28 August 2016, GCHQ/CSO filed for permission to execute Project FULSOME at the request of the US President, seeking intelligence gathering into the Trump Organization and Donald J. Trump for President, Inc., both located at 725 5th Avenue, New York, NY, USA. Activities include foreign and US domestic signals collection, in regards to communications with Russian hostile actors.
IOCCO approved FULSOME on 15 September 2016, allowing 90 days of initial SIGINT gathering, with the potential for renewal, should the situation allow. This memo's purpose is to request a 90 day renewal of FULSOME's original charter, with further potential for renewal, thereafter.
Since FULSOME's start, a clear collection of actionable leads have accrued, both from the Trump campaign itself, from former MI5 agent Michael Steele, and from others (see fig. 1-7 in attachment).
US National Security Adviser Rice has requested that we continue our surveillance, during the transition period, as internal US intelligence is potentially compromised by the incoming Trump administration.
For these reasons, we are requesting that FULSOME's charter be renewed for another 90 days.

Sincerely,

Robert Hannigan
GCHQ

*This communication is deemed Top Secret STRAP3 and must not be discussed, copied, shared, or distributed,*
There is a glaring initial tell that this document might be a hoax: It's written in American English rather than its British counterpart. To be more specific, the language used in this letter sounds like an American interpretation of British cadence. It also has sentence fragments and misplaced punctuation that would not pass muster as an official document, even an internal one.
The details in this letter also collapse under the tiniest amount of scrutiny. For one thing, its author confuses former Republican National Committee chair Michael Steele with Christopher Steele, the former British intelligence officer who produced the document now known as the Steele dossier, which detailed information about and allegations against Donald Trump.
Further, Christopher (not Michael) Steele was a former MI6 agent, not MI5. This is significant not just because it is a basic and glaring error, but because MI5 deals with security issues and threats within Britain, whereas MI6 focuses on foreign rather than domestic concerns.
Finally, the header and signature have been lifted from a real document to give it a sheen of respectability — former GCHQ director Robert Hannigan's January 2017 resignation letter (note the seal at the bottom of the page and the comparative sloppiness in the faked document):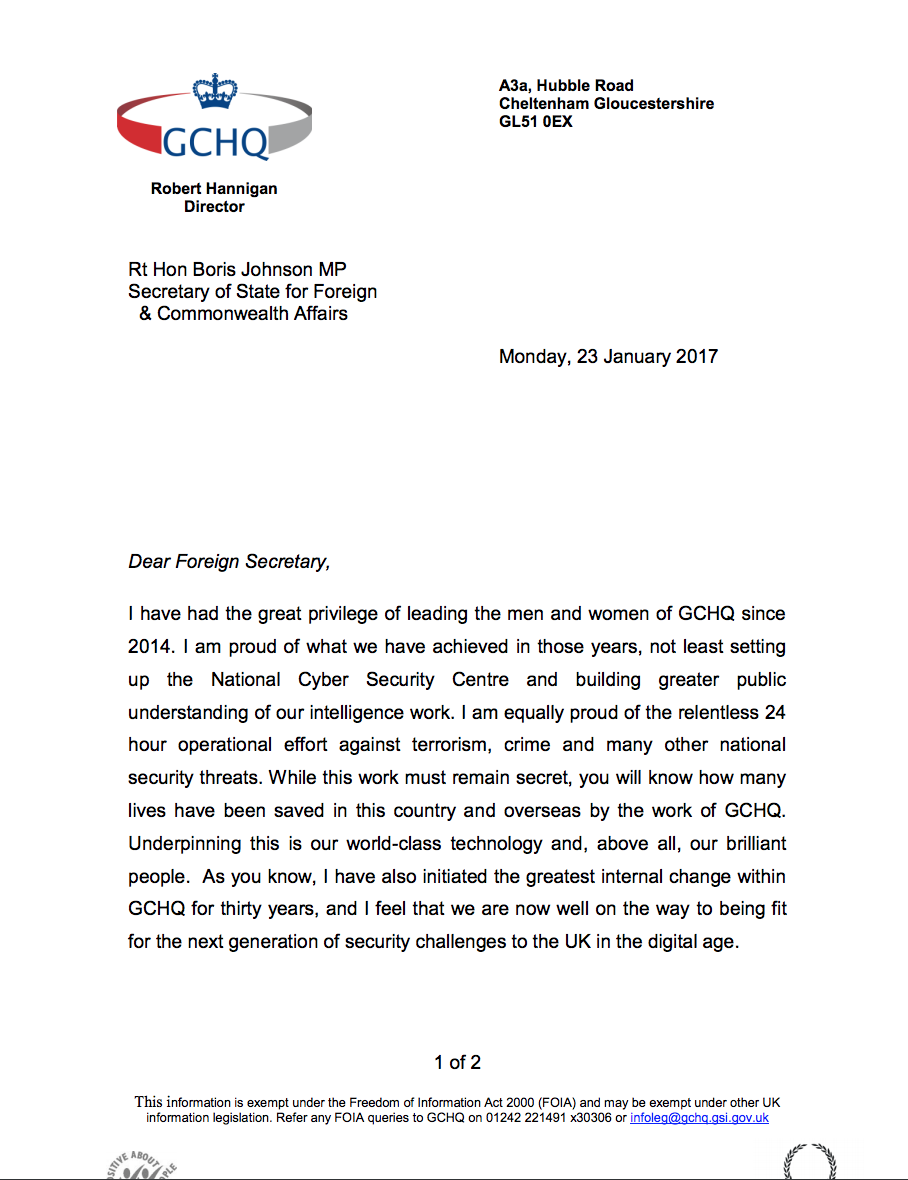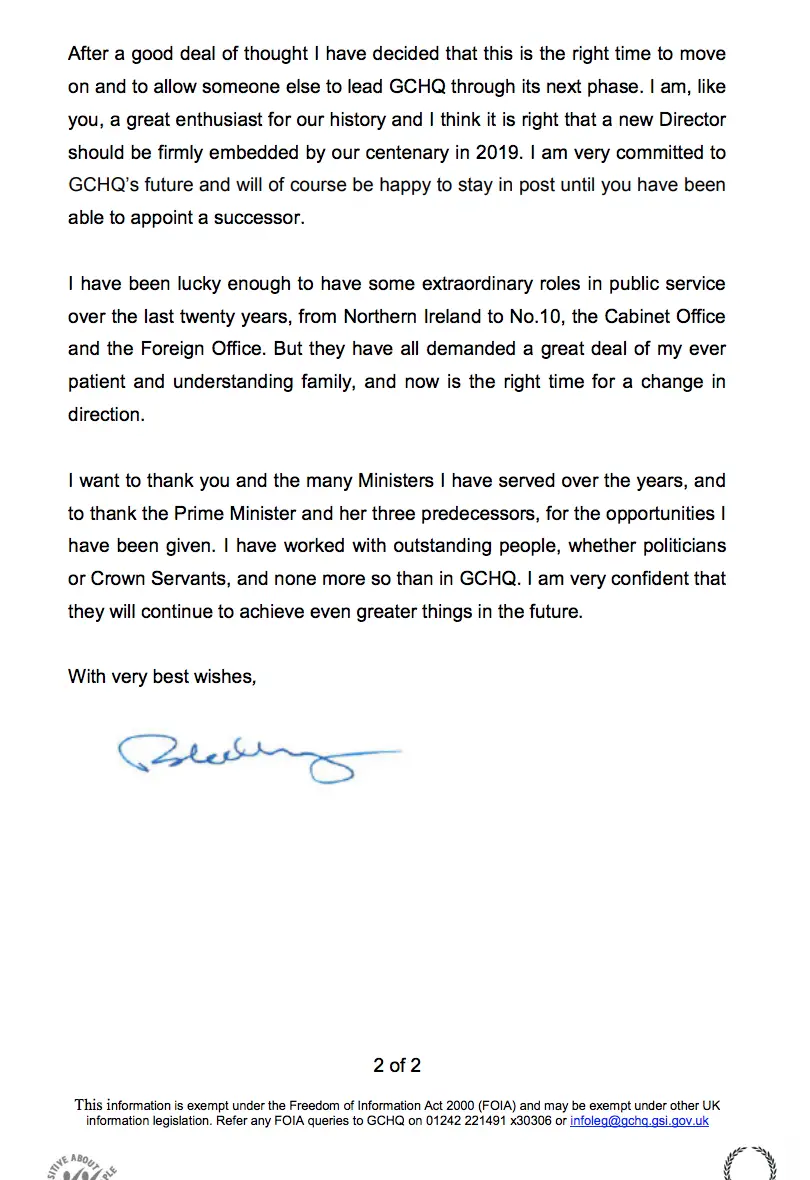 The signature on Hannigan's publicly available resignation letter is identical to that on the faked document: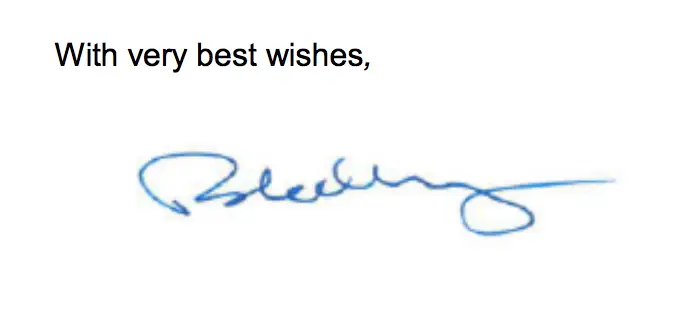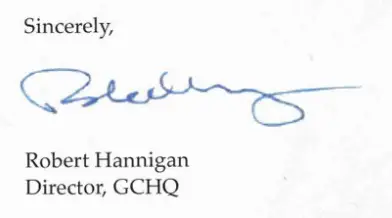 The Atlantic Council's Digital Forensics Research Lab was able to pin down the origin of this particular piece of disinformation, which turned out to be — as with so many other hoaxes — 4chan:
The forgery was not released into an information vacuum. Three months earlier, on March 16, 2017, Fox News commentator Andrew Napolitano, a former judge, claimed:

Sources have told me that the British foreign surveillance service, the Government Communications Headquarters, known as GCHQ, most likely provided Obama with transcripts of Trump's calls…by bypassing all American intelligence services.

The Trump White House took up the claim, which triggered a sharp response from both GCHQ and 10 Downing Street. Napolitano was reportedly suspended from Fox for two weeks for his comments.

The forgery appears aimed at reviving and bolstering Napolitano's story, and thus feeding the ongoing conspiracy theory that the Obama White House abused its power against Trump.

Rapid exposure

The forgery was exposed almost as soon as it was posted. According to an archive of the 4chan page, it was placed online at 20:54:49 on June 22, 2017. At 21:13:34, less than nineteen minutes later, another anonymous user replied that it was fake.
Despite the immediate debunking, this hoax has swirled around the internet since that initial appearance in June 2017 in attempts to prove or bolster Donald Trump's claim that his presidential predecessor Barack Obama ordered a tap on his phones just before the 2016 election. Trump made that claim via tweet in March 2017, citing no evidence then or ever:
Terrible! Just found out that Obama had my "wires tapped" in Trump Tower just before the victory. Nothing found. This is McCarthyism!

— Donald J. Trump (@realDonaldTrump) March 4, 2017
The ensuing fallout enveloped the United States Department of Justice and the Federal Bureau of Investigation despite an immediate and unequivocal denial from the Obama administration:
No Obama administration official interfered in Justice Department investigations or ordered surveillance on any American, much less President Trump, a spokesman for former President Barack Obama said Saturday.

"A cardinal rule of the Obama Administration was that no White House official ever interfered with any independent investigation led by the Department of Justice," Obama spokesman Kevin Lewis said in a statement.

"As part of that practice, neither President Obama nor any White House official ever ordered surveillance on any U.S. citizen," he added. "Any suggestion otherwise is simply false."
Unfortunately for the creators and defenders of the hoax, Trump admitted on April 25, 2019 during a rambling call to Fox News host and presidential adviser Sean Hannity that he had simply made it up to see what would happen — and that the international response proved him right:
"I don't know if you remember, a long time ago, very early on I used the word 'wiretap,' and I put in quotes, meaning surveillance, spying you can sort of say whatever you want," Trump said, saying it garnered attention "like you've never seen."

"Now I understand why, because they thought two years ago when I said that just on a little bit of a hunch and a little bit of wisdom maybe, it blew up because they thought maybe I was wise to them," Trump continued. "Or they were caught. And that's why. If they weren't doing anything wrong it would've just gotten by, nobody would've cared about it."

"It was pretty insignificant I thought when I said it, and it's pretty amazing," he added.